CITY HALL — Alderpeople approved Mayor Brandon Johnson's choices Wednesday to lead the City Council's legislative committees for the next four years, officially killing a bid for independence that sprung up days before the April 4 runoff.
Following some tepid debate, alderpeople voted 41-9 in favor of the new committee leadership posts and assignments proposed by Johnson.
The new structure boosts the number of Council committees from 19 to 20 and installs close Johnson allies in powerful posts.
Ald. Pat Dowell (3rd) will lead the finance committee, Ald. Carlos Ramirez-Rosa (35th) will head the zoning committee and Ald. Jason Ervin (28th) will chair the budget committee. Dowell and Ramirez-Rosa backed Johnson ahead of the Feb. 28 mayoral election, and Ervin endorsed him during the April 4 runoff.
The Council also approved Ald. Walter Burnett (27th) as the city's first Black vice mayor. Historically a mostly symbolic role, Crain's reported Wednesday Burnett's new position could come with a staff and budget, unlike recent past vice mayors.
Burnett was stripped of his chairmanship of the Council's Committee on Pedestrian and Traffic Safety under the restructure.
Wednesday's vote follows months of political machinations between alderpeople and more recently, the incoming Johnson administration over the balance of power in the city's legislative branch.
The City Council has historically been a rubber stamp for the mayor, who usually appoints political allies as committee chairs. Committee leaders hold enormous power over whether an ordinance receives a hearing and vote in the council.
In March, alderpeople approved a controversial plan to increase the number of City Council committees from 19 to 28 and to choose leaders from their own ranks in a bid to declare independence from the mayor's office.
But Johnson this month proposed his own plan to install many of his allies to lead council committees, and to keep the number of committees at 20.
Notably ousted from the new leadership structure was Ald. Scott Waguespack (32nd), chair of the powerful finance committee and one of the organizers of the push for independence this spring.
Speaking on the Council floor Wednesday, Waguespack gave what amounted to a resignation speech from the finance committee, which he took over four years ago from indicted — and now retired — Ald. Ed Burke (14th).
"Working together with the city finance and budget teams, I'm proud that we have built the fiscal stability in the city not seen in years," Waguespack said, reading from a prepared statement. "I will continue to serve as a voice for integrity, independence and reform in this City Council, as I always have, and I hope to forge a productive working relationship with the new administration."
Waguespack was ultimately one of the nine alderpeople to vote against Johnson's leadership picks.
Also in opposition was Ald. David Moore (17th), who decried the restructuring as undemocratic, and said he and others were left out of the conversations around Council power.
He urged alderpeople and Johnson to "tear up" the committee plan and start again.
"You have to include everybody and we cannot go behind closed doors. You cannot cut deals with certain people to give you certain positions just to say yes," Moore said.
"The foundation is wrong, and I hope we could go back, tear this up … And have a process that's fair, a process that clear, when selecting our chairmen, with the input of this great mayor."
Ald. Marty Quinn (13th) also voted against the measure Wednesday.
In a rare public comment March 30, Quinn spoke in favor of the Council selecting its own leaders.
Under that plan, the Southwest Side alderperson would have chaired the newly created Committee on Executive Appointments — a committee which will not be created under Johnson's committee structure.
In a statement Wednesday, Quinn said the committee assignments as backed by Johnson didn't square with his support for a "strong and independent City Council."
"I am proud of our collaborative effort and historic attempt to establish ourselves as a co-equal branch of city government," the statement read. "I thought we may see a competing proposal when we elected a new mayor, and I cannot support one that does not represent an independent effort."
After the committee structure passed, Ald. Anthony Beale (9th), who voted against the measure, abruptly announced he was resigning from the Council's zoning committee — an apparent response to Ramirez-Rosa taking over its leadership.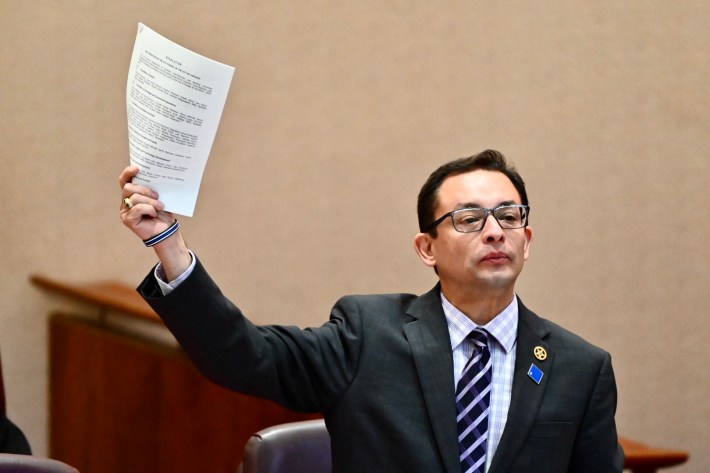 But numerous City Council members who backed the independence bid in March also voted in favor of Johnson's committee leaders Wednesday, including Ramirez-Rosa, who on top of zoning chair is set to become Johnson's Council floor leader.
In March, Ramirez-Rosa spoke in support of allowing Council members to appoint their own committee chairs, saying it would lead to historic levels of diversity among Council leadership.
After Wednesday's vote, Ramirez-Rosa touted Johnson's "Unity Plan" in a text message as "now the most diverse and progressive leadership structure adopted in our city's history."
On Wednesday, he cast one of the 41 votes in support of Johnson's plan. Ald. Michelle Harris (8th), one of the backers of the independent Council structure, also voted in support. Harris will continue to chair the City Council's Rules Committee.
Under the leadership plan, Ald. Matt O'Shea (19th) will continue to chair the city's aviation committee, even though that body rarely met over the past four years.
Ald. Andre Vasquez (40th) will chair the Committee on Immigration and Refugee Rights. As the arrival of thousands migrants built into a humanitarian crisis, the committee went more than a year without meeting under former chair Ald. Ariel Reboyras (30th).
In the last term, "there were committees that had budgets and didn't meet at all," Vasquez said Wednesday. He acknowledged that some of the new committee chairs had less council experience than veterans who were shut out of leadership posts. He urged the chairs to work hard and show more urgency in taking on pressing issues.
"I believe in seniority but I also believe in labor," Vasquez said.
Both O'Shea and Vasquez voted in favor of the new committee assignments.
The full list of committees and their newly approved leaders:
Committee on Aviation — Ald. Matt O'Shea (19th)
Committee on the Budget and Government Operations — Ald. Jason Ervin (28th)
Committee on Committees and Rules — Ald. Michelle Harris (8th)
Committee on Contracting Oversight and Equity —Ald. Emma Mitts (37th)
Committee on Economic, Capital and Technology Development — Ald. Gilbert Villegas (36th)
Committee on Education and Child Development — Ald. Jeanette Taylor (20th)
Committee on Environmental Protection and Energy — Ald. Maria Hadden (49th)
Committee on Ethics and Government Oversight — Ald. Matt Martin (47th)
Committee on Finance — Ald. Pat Dowell (3rd)
Committee on Health and Human Relations — Ald. Rossana Rodriguez-Sanchez (33rd)
Committee on Housing and Real Estate — Ald. Byron Sigcho-Lopez (25th)
Committee on Immigrants and Refugee Rights — Ald. Andre Vasquez (40th)
Committee on License and Consumer Protection — Ald. Debra Silverstein (50th)
Committee on Pedestrian and Traffic Safety — Ald. Daniel La Spata (1st)
Committee on Police and Fire — Ald. Chris Taliaferro (29th)
Committee on Public Safety — Ald. Brian Hopkins (2nd)
Committee on Special Events, Cultural Affairs and Recreation — Ald. Nicholas Sposato (38th)
Committee on Transportation and Public Way — Ald. Greg Mitchell (7th)
Committee on Workforce Development — Ald. Mike Rodriguez (22nd)
Committee on Zoning, Landmarks and Building Standards — Ald. Carlos Ramirez-Rosa (35th)
Listen to "It's All Good: A Block Club Chicago Podcast":