CHICAGO — The mayor's race could come down to which campaign does a better job of wrangling last-minute voters on Election Day, according to a new study.
A recent poll from Northwestern University shows a dead heat between mayoral candidates Paul Vallas and Brandon Johnson — with more than 10 percent of the electorate still undecided.
That sets the stage for an "absolutely critical" day of organizing Tuesday, with campaigns vying to punch up sluggish turnout from February's first round of voting, said Jaime Dominguez, a Northwestern political science professor behind the new poll.
"A final push to get out the vote is going to make the difference," Dominguez said. "There's just such a large number of undecideds, and both candidates need to find ways to elevate enthusiasm amongst their base."
A neck-and-neck race with more than 200,000 vote-by-mail ballots out means there may not be a clear winner by election night, said Max Bever, Chicago Board of Election Commissioners spokesperson. Experts similarly warned of that possibility ahead of the Feb. 28 election, and multiple aldermanic results weren't determined until mid-March.
Turnout for February election jumped once mail-in ballots were counted, finishing just below 36 percent.
Early votes this time are "performing closer" to the 2015 municipal election, which saw 34 percent turnout during its first round in February jump to 41 percent in the April runoff, Bever said.
Community organizers are also anticipating a bump in turnout with two mayoral candidates instead of 10 and greater awareness about the race.
"When we talk to folks, we're sensing more energy because it's super competitive," said Grace Chan McKibben, executive director of the Coalition for a Better Chinese American Community. "And the campaigns themselves are doing intense get-out-the-vote work already, from the many televised debates to meet-and-greets and money for ads."
Lashon Fouché, who didn't vote in the first round, said she'll now do her homework and cast a ballot.
"Sometimes I'm unsure if voting matters because there are so many back-door agreements made in politics," Fouché said. "But I feel guilty every time I miss my opportunity to vote."
Margo Stockdale, a supporter of Brandon Johnson, also said she'll vote after opting not to mail in her ballot in February.
"It seems way more important this go-around. It's a lot closer," Stockdale said.
Other Chicagoans "remain hesitant" as they wait on Johnson, making his first mayoral bid, to build credibility through endorsements or see if "something more negative about Vallas being conservative pops up," Dominguez said.
And Latino voters could be "the key swing vote" as the largest constituency outside Johnson's and Vallas' bases of support, Dominguez said.
RELATED: How Could A Vallas-Johnson Runoff End? Did Your Ward Show Up To Vote? 7 Maps, Charts To Help You Understand The Election
Dick Simpson, a former alderman and a University of Illinois Chicago political science professor, said many undecided voters are stuck between contrasts in the candidates on the top issue: public safety.
"They don't like Vallas' links to police and Johnson's past talk about defunding. Some undecideds have a 'both and' opinion on increasing policing and doing social programs," Simpson said. "Neither campaign has galvanized that bloc of voters. Not all of them will turn out."
Vallas — who's been endorsed by the city's largest police union — has pledged to fill Police Department vacancies by rehiring hundreds of officers who retired or moved to other cities. Officers will be eager to return to Chicago when he's mayor because of new department leadership and more consistent schedules, he's said.
But similar tactics haven't worked elsewhere, and Vallas has only vaguely said the police union has a list of officers he'd reach out to bring back.
Johnson has vowed to hire and promote 200 detectives and to invest in fixing social issues that drive crime. But he's also faced some criticism for a 2020 radio interview where he described defunding the police as an "actual, real political goal."
More recently, Johnson has backed away from that and said he supports a more holistic approach to public safety.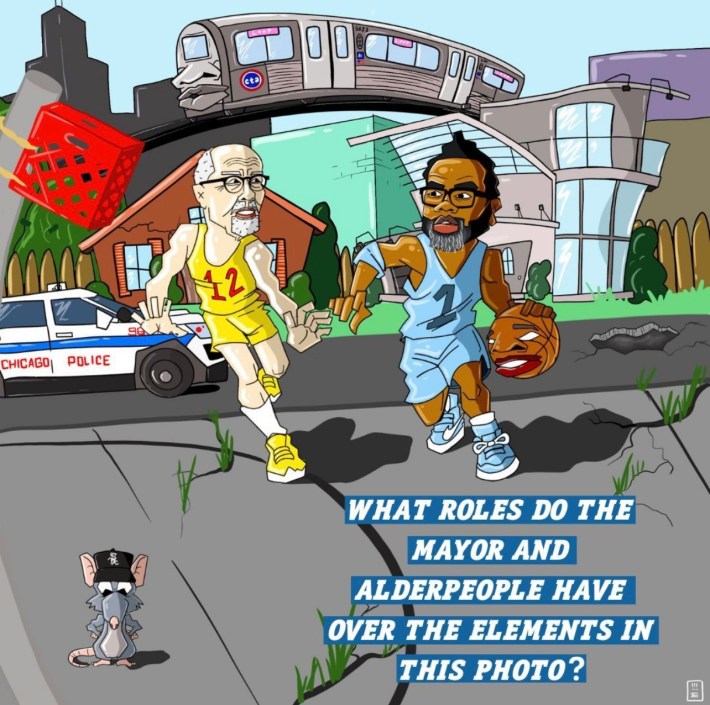 Even with a tight race, Simpson doesn't expect turnout to be much higher than 40 percent because there aren't many aldermanic contests going to runoffs — there are 14 — and there are not enough volunteers for either mayoral hopeful to "make a direct personal appeal to all hundreds of thousands of voters," he said.
Camille Williams and Alex Boutros, outreach workers with civic engagement nonprofit Chicago Votes, said they've signed up hundreds more young people to vote by partnering with their schools to bring them to the polls.
But engagement is still lackluster among the youngest voters, who cast just 3 percent of ballots in February. Vallas has gotten older voters to come early, while Johnson has the most to gain from courting young voters, Simpson said.
Chicago Votes has released a voting guide with art of Johnson and Vallas standing in front of a pothole, police car, CTA train and modern home to show "how we're directly impacted by who the mayor is," Boutros said.
"We can try our best, but this is a systemic issue. A lot of people still feel like the system isn't built for us, that their vote doesn't matter," Williams said. "That's long been the culture in Chicago."
Subscribe to Block Club Chicago, an independent, 501(c)(3), journalist-run newsroom. Every dime we make funds reporting from Chicago's neighborhoods.
Click here to support Block Club with a tax-deductible donation. 
Thanks for subscribing to Block Club Chicago, an independent, 501(c)(3), journalist-run newsroom. Every dime we make funds reporting from Chicago's neighborhoods. Click here to support Block Club with a tax-deductible donation.
Listen to "The Ballot: A Block Club Chicago Podcast":