CHICAGO — Chicagoans had their pick of the litter when it came to mayoral candidates Tuesday — but the vast majority didn't bother to vote.
Less than a third of the city's registered voters had cast a ballot as of Tuesday night, although some mail-in ballots are still being counted. The turnout is less than it was in the 2019 and 2015 elections, when 35.5 percent and 34 percent of voters cast ballots.
Community organizers said they are disappointed but not surprised by poor turnout in Tuesday's election, even though people are tapping into more ways to vote. A record number of vote-by-mail ballot requests and higher early voting had signs pointing to a more robust turnout this time around, but Chicagoans were slow to the polls on Election Day.
The mayoral election trails significantly behind citywide turnout for presidential elections and even gubernatorial elections, which saw 73.3 percent and 46.4 percent turnout in their last cycles.
The next election is the April 4 runoff, when mayoral finalists Paul Vallas and Brandon Johnson will face off. Experts said that could see higher turnout — but there are a number of factors that are keeping potential voters away from the polls.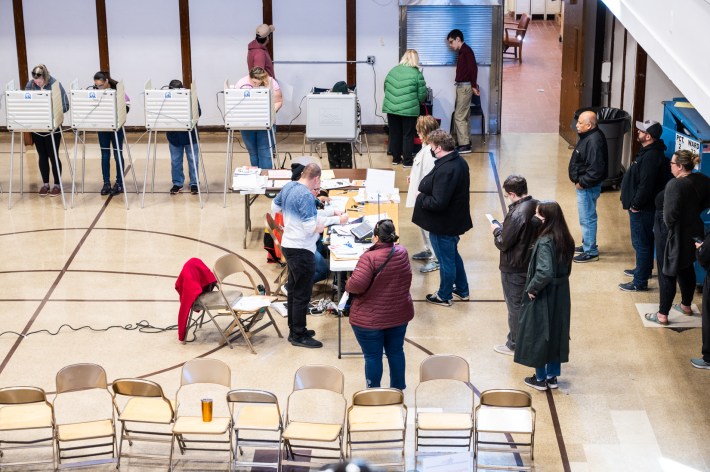 Low Awareness
Camille Williams and Alex Boutros, outreach workers with civic engagement nonprofit Chicago Votes, said many Chicagoans told them they didn't even know there was a city election. Fewer understood how a runoff works or what an alderman does, Boutros said.
"We keep running into this same issue — that we do not have an informed electorate," Boutros said. "Most people don't understand the importance of municipal elections, how it impacts the potholes on your street to if schools get closed. That's large part due to our large media only really focusing on how presidential elections affect us."
Boutros said city government should publicize voting on the same scale as it does other things, like reminding people to file taxes or to stay home to stop the spread of COVID-19.
But low voter awareness has long been the "intention of the city's machine politics," Boutros said.
"Because less people voting has long shown to keep the status quo," Boutros said. "We're trying not to just tell people they should go vote, but to teach them about the power their vote can have."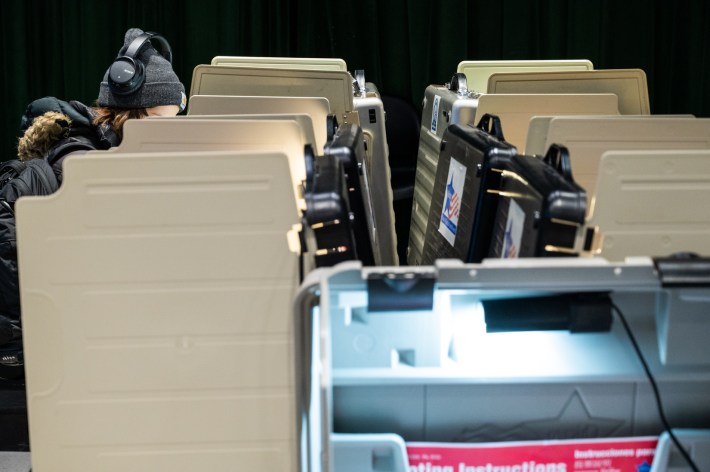 Trouble Engaging Young People
Chicagoans 55-64 cast the most ballots in this election, followed by those 65-74 years old. The city's youngest voters — those 18-24 and 25-34 — had the lowest turnout, according to election board data.
Chicago Votes wants to teach students civics at younger ages, and it is working with Chicago's public schools and City Colleges to bring hundreds of young voters from their classrooms to the polls, Williams said.
While young people are showing out to organize around issues like mental health, police brutality and gun violence, that participation is not translating to votes, Williams said.
That's because many new voters don't see themselves in their officials or feel like their votes make a difference, Boutros said.
"They've come to know leaders in Chicago who've had a lot of campaign promises that haven't come to fruition," Boutros said. "There's a lack of trust."
Lashon Fouché said she didn't vote because she didn't have time to inform herself about candidates' platforms.
"I didn't think it would be wise to randomly pick," Fouché said. "Politics feels out of sight and out of mind."
Margo Stockdale, 26, a supporter of Brandon Johnson, said her mail-in ballot was sent to the wrong address, and she didn't have time after work to cast a ballot on Election Day.
"It was mostly just a timing thing for this one," Stockdale said. "And the polls were looking good for B.J."
Too Many Choices From 'Another Group Of Crooks'
Dick Simpson, a former alderman and a University of Illinois at Chicago political science professor studying corruption, said there are two main factors that drive voting: a clear difference in candidates and sense that a person's vote matters.
With a crowded nine-person mayor's race, Simpson said he suspects many people had a hard time making up their minds.
"It's hard to have a clear impression of who you want to back with so many choices," Simpson said. "And then there's also people who think city elections just bring in another group of crooks."
Simpson said there could be further voter discouragement as the pandemic drags on and Chicagoans struggle with the economy.
"Quiet polls speak loudly about dissatisfaction in government," Simpson said.
Grace Chan McKibben, executive director of the Coalition for a Better Chinese American Community, which is trying to improve voting accessibility, said many non-voters this election cycle expressed cynicism about heightened crime "and a feeling that leadership can't change that situation much."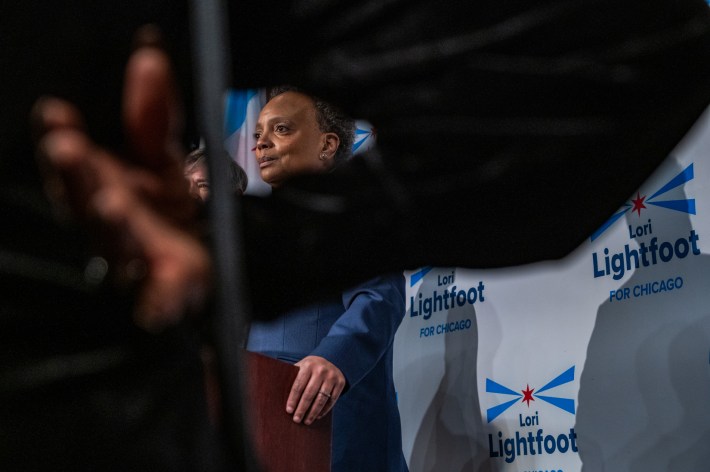 With casting votes now "easier than its ever been" and record-setting piggy banks for campaigns currying votes, elections board spokesperson Max Bever said voters might not have candidates that get them "fired up."
The mayor's race is now down to Johnson and Vallas.
Stockdale said she'll cast a ballot in the runoff, "where my vote counts."
Simpson said turnout should be higher in the April 4 runoff.
"But not by much," he said.
Listen to "It's All Good: A Block Club Chicago Podcast":