EDGEWATER — The race to succeed Ald. Harry Osterman (48th) is down to affordable housing developer Joe Dunne and business owner and political organizer Leni Manaa-Hoppenworth.
Manaa-Hoppenworth and Dunne emerged as the two top vote-earners from a 10-person field in the open 48th Ward race. Dunne garnered 26 percent of the vote and Manaa-Hoppenworth 23 percent of the vote in the Feb. 28 election.
The two will face off in the April 4 runoff to determine the 48th Ward's future and the political makeup of the City Council.
Osterman is leaving the post after first being elected in 2011. He is part of a wave of retirements on the City Council, including open seats to represent most of the city's north lakefront.
The 48th Ward includes Edgewater, a northern portion of Uptown and East Andersonville.
More on the candidates: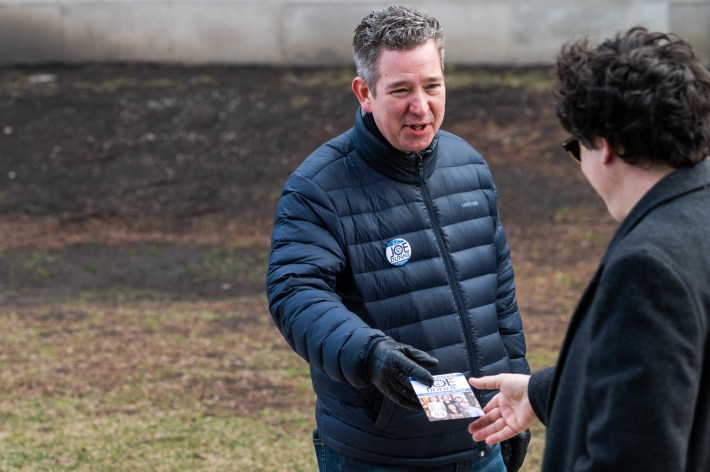 Joe Dunne
After years of working with city officials and communities on development projects, Dunne said he is ready to make the jump to public service. Many elected officials and building trades groups are stepping in to make that a reality.
An Edgewater native, Dunne spent years as vice president of real estate development at Bickerdike Redevelopment Corporation, a nonprofit group that builds affordable housing in the city. Dunne took a leave from the job for the campaign and would resign if he wins the election, he said.
The job requires building consensus among city officials and neighbors as well as shepherding projects from start to finish, experience Dunne said would translate well to the job of alderperson.
"I think I can step in and be an effective representative right at the outset," Dunne said. "I've been working around and with city government for over 20 years. I've worked with a number of the aldermen who will remain and I've worked with our communities."
Dunne said he has spent a lot of time on the campaign trail talking about issues of public safety and community development. As alderperson, Dunne said he would work to address crime in the short-term while working on community development to improve underlying issues contributing to crime.
That includes bringing in police to address public safety, adding youth programs and building up commercial corridors — like the Bryn Mawr Historic District — that have issues with crime, he said.
"There's a two-pronged approach," Dunne said. "One is sort of immediate solutions and trying to deal with crime. The other is longer-term solutions and trying to deal also with … the root causes of crime, to try to help develop neighborhoods in the city that are underdeveloped and create economic opportunity, create positive opportunities for young people."
Dunne also said he would prioritize more affordable housing in the ward and institute a community decision-making process for topics like development.
Dunne has been endorsed by Osterman, who is leaving his post after three terms. He has also been endorsed by former Gov. Pat Quinn, former Ald. Mary Ann Smith, Sen. Heather Steans and Rep. Greg Harris.
Dunne has also been endorsed by a litany of unions and trades groups, including the powerful Service Employees International Union, the American Federation of State, County and Municipal Employees and the Chicago Federation of Labor.
Dunne's campaign had more than $138,000 in its coffers as of Friday. His largest contributions come from Chicago Land Operators PAC ($12,500) and LIUNA Chicago Laborer's ($10,000). Osterman's campaign committee has also contributed $4,000 to Dunne, records show.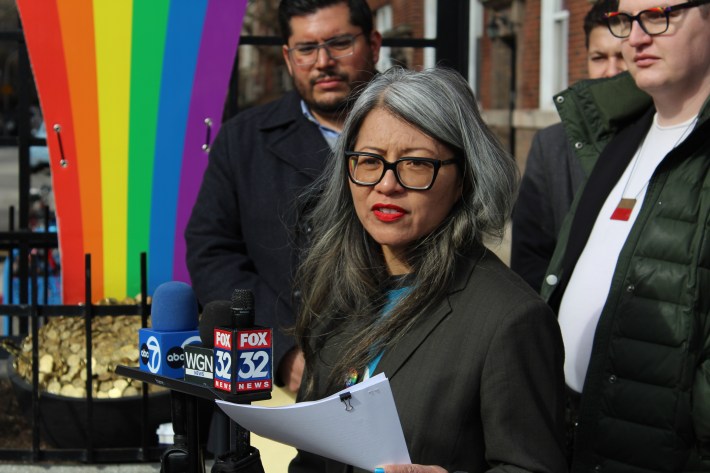 Leni Manaa-Hoppenworth
A business owner and political organizer, Manaa-Hoppenworth defeated other progressive candidates to advance to the runoff. Now, some of the city's progressive organizations and politicians are backing her campaign.
Manaa-Hoppenworth owns a photography business and is owner and co-founder of Chicago Dance Supply. She also sits on the board of the Andersonville Chamber of Commerce.
A resident for more than 20 years, Manaa-Hoppenworth helped co-found grassroots political group Indivisible Illinois in 2017 and helped organize the local editions of the Women's March.
Manaa-Hoppenworth said she entered the race to advance "equitable quality of life for all." That message got through, she said, as Manaa-Hoppenworth defeated other challengers that had the backing of political power players like the Chicago Teachers Union and the Democratic Socialists of America.
"People needed to hear my name," Manaa-Hoppenworth said. "Putting me in front of the voters and having them realize that I cared about this community was the thing that pushed me over the top."
Manaa-Hoppenworth said she would center "equity" in her work as alderperson, including by addressing housing insecurity and access to health care. She supports lifting the ban on rent control to boost affordable housing and wants to expand mental health care in the ward and city.
Manaa-Hoppenworth would use her experience with the chamber and as a business owner to help commercial corridors fill vacancies, and she would work to ensure a transparent and collaborative decision-making process, she said.
"People want to know that I'm going to be available to them no matter what their issue is," Manaa-Hoppenworth said. "People want to know how we're going to move forward. That's going to take whole communities to be in those conversations."
Mayoral candidate Brandon Johnson endorsed Manaa-Hoppenworth in her bid. Manaa-Hoppenworth, who identifies as queer, stood with progressive, LGBTQ-identifying alderpeople last week in criticizing mayoral hopeful Paul Vallas' equal rights record.
Manaa-Hoppenworth also has been endorsed by Ald. Maria Hadden (49th) and Rep. Theresa Mah, and she's garnered support from One Northside, Asian American Midwest Progressives and the LGBTQ Victory Fund.
Manaa-Hoppenworth had just shy of $60,000 in her campaign coffers as of March 10, state election records show. That includes a $24,500 transfer to her campaign from Mah's campaign accounts.
Subscribe to Block Club Chicago, an independent, 501(c)(3), journalist-run newsroom. Every dime we make funds reporting from Chicago's neighborhoods.
Click here to support Block Club with a tax-deductible donation. 
Thanks for subscribing to Block Club Chicago, an independent, 501(c)(3), journalist-run newsroom. Every dime we make funds reporting from Chicago's neighborhoods. Click here to support Block Club with a tax-deductible donation.
Listen to "The Ballot: A Block Club Chicago Podcast":