NORTHALSTED — A group of LGBTQ-identifying elected officials and community leaders denounced mayoral candidate Paul Vallas Wednesday, accusing the former schools chief of a "quarter-century-long pattern" of anti-LGBTQ actions.
Vallas, who came in first in the Feb. 28 election with 33 percent of the vote, is in a runoff with Cook County Commissioner Brandon Johnson, who secured 22 percent of the vote.
Both edged out incumbent Mayor Lori Lightfoot. The race is going to a runoff April 4 since no one candidate had more than 50 percent of the vote.
Vallas has come under fire for engaging with anti-LGBTQ rhetoric after his Twitter account liked homophobic and racist posts, and after Vallas spoke at a fundraiser for Awake Illinois, a group criticized for its transphobic and homophobic rhetoric.
Vallas told the Tribune he does not "personally manage" his Twitter account and later claimed a hacker liked the controversial posts. He also told the Reader he wouldn't have attended the Awake Illinois fundraiser if he'd known about its "hateful rhetoric."
But the community leaders who spoke out Wednesday morning said Vallas doesn't stand with the community, saying some of his decisions as Chicago Public Schools CEO in the '90s limited LGBTQ education in schools.
"A quick review of his track record shows that when he has been in a position of power and authority, he has used that power and authority to harm the cause of LGBTQ civil rights," said Ald. Carlos Ramirez-Rosa (35th).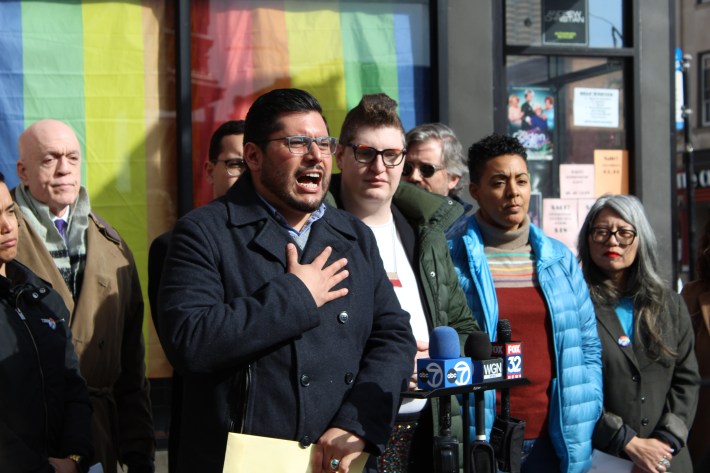 Ramirez-Rosa was joined by Alds. Rossana Rodriguez-Sanchez (33rd) and Maria Hadden (49th); Alderman-elect Jessie Fuentes (26th); 48th Ward aldermanic candidate Leni Manaa-Hoppenworth; state Rep. Greg Harris; and Cook County commissioners Kevin Morrison and Anthony Quezada.
Equality Illinois CEO Brian Johnson and Stephanie Skora, an LGBTQ community organizer who supports Brandon Johnson, also criticized Vallas.
A spokesperson for Vallas' campaign did not comment and referred Block Club to the candidate's LGBTQ platform.
The spokesperson also referred Block Club to Ald. Tom Tunney (44th), who endorsed Vallas in February.
Tunney, the city's first openly gay City Council member, told Block Club that Vallas has been a "friend of the community" since at least the late '80s.
"You have to put things as a context as where we were as a city and as a society on LGBT issues," Tunney said. "So I think we have to give him some credit for being progressive at the time in the position he was in at CPS."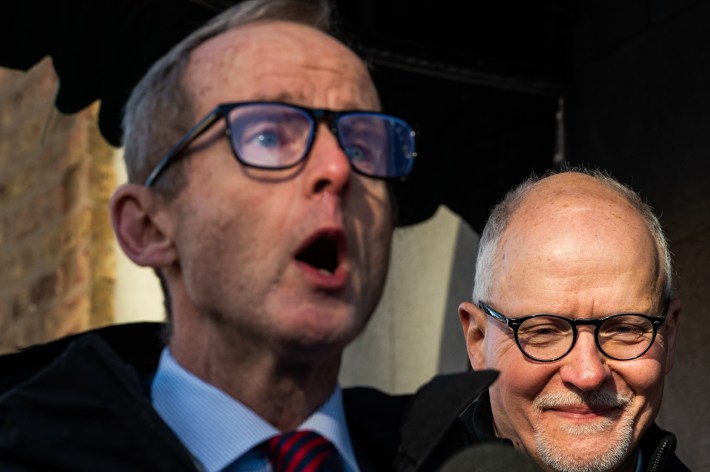 Differing Accounts Of Vallas' LGBTQ Record
After endorsing Vallas for mayor, Tunney starred in an ad in which he says the candidate "has been a passionate ally to our community for decades."
Standing in front of the Center on Halsted, Chicago's largest LGBTQ community center, Tunney praises Vallas' "track record of significant contributions to the LGBTQ+ civil rights movement that goes back to the early '90s."
Ramirez-Rosa criticized the ad during Wednesday's news conference, calling on Tunney to "stop misinforming the public" and highlighting two of Vallas' actions in the '90s that he said harmed the community.
Ramirez-Rosa accused Vallas of using his power as CPS chief in 1999 to cancel LGBTQ inclusivity training at the schools.
Vallas walked back plans to show principals a documentary about how teachers can discuss gay identity with students, according to an Associated Press article from that time.
After school officials said every principal in the district would view the documentary at training sessions and receive a copy for their school, Vallas said he never intended for the video to be shown to principals, according to AP.
"If a principal wants a copy of the tape, they can request it," Vallas said at the time.
Three years earlier, Vallas was criticized for his decision to remove a coming-of-age novel about a Black lesbian from the South Side from the district's required reading list, Reader columnist Ben Joravsky reported in 1996.
Vallas insisted at the time the book was removed from the list because it contains sexual content.
"It's a good book, and I'm not a censorship guy, but there's an immediate issue of whether this sort of sexually explicit language is appropriate for ninth graders," Vallas told Joravsky at the time.
Ramirez-Rosa said the actions were part of a "quarter-century-long pattern with this man."
"Tom Tunney appeared in an ad that said Paul Vallas had been a champion of LGBTQ civil rights since the 1990s, but the record shows that is not the case," Ramirez-Rosa said. "What Paul Vallas was doing in the 1990s — when Tom Tunney claims that Paul Vallas was a champion of LGBTQ civil rights — he was banning books, doing the same exact things that MAGA Republicans like Ron DeSantis are doing today."
Tunney told Block Club that Vallas' actions as schools chief need to be examined in the context of where society stood on LGBTQ rights at the time.
Tunney highlighted Vallas' work as the city's budget director in Mayor Richard M. Daley's administration to include same-sex domestic partners in city contracts so they could be covered by their partner's insurance, which the Wall Street Journal covered in 1997.
"You've gotta look at 1996 and 1999, and Paul was very progressive at the time," Tunney said. "I was in the community doing work to make our community part of our city and culture, … and he has been a lifelong friend and done a lot of things for the time that today might not seem to be enough or reactionary."
Tunney also said Vallas' participation in the Awake Illinois fundraiser was a "clumsy mistake and he's admitted that."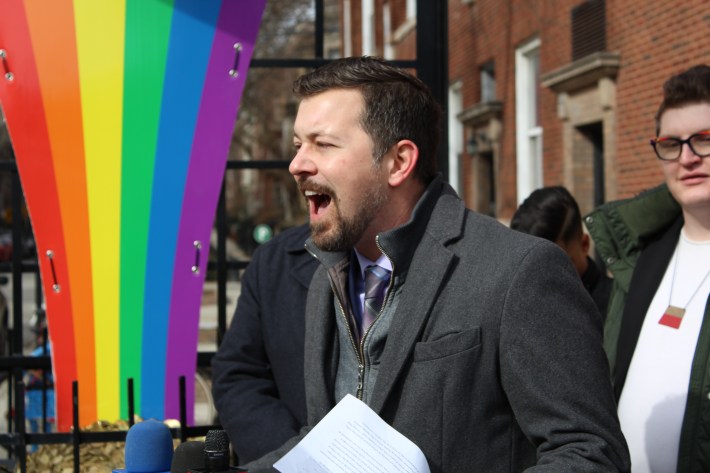 The Candidates' LGBTQ Platforms
Vallas and Johnson have rolled out LGBTQ rights policy proposals during their campaigns.
Vallas' LGBTQ platform strongly emphasizes public safety, promising to create police training that prepares officers for calls within the community, ensuring safety along the Northalsted strip and holding people accountable for hate crimes.
Other points include promoting inclusion education in CPS, ensuring compliance with city equality laws, guaranteeing equal access to services and businesses and including LGBTQ-owned businesses in city contract hiring.
Vallas also proposed creating a Northalsted Neighborhood Revitalization Zone, a partnership between communities and government that would establish a committee of key stakeholders to help deal with neighborhood issues and give a direct line of communication with the mayor's office.
That could help the LGBTQ-friendly entertainment district hire a public safety detail and improve the streetscape, which was done in 1998, Tunney said.
Tunney reviewed Vallas' LGBTQ plan and thinks it has an "overemphasis on North Halsted Street and the North Side that is not reflective" of Vallas' full platform, Tunney said.
"I think he knows that in every community — all parts of the city — we have a lesbian and gay community that needs to be resourced," Tunney said. "I know that's how he feels."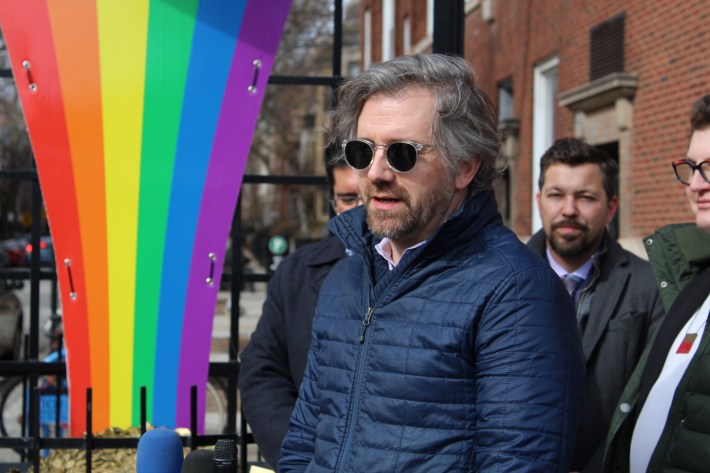 Johnson's LGBTQ rights plan emphasizes the wave of anti-LGBTQ legislation across the nation and promises to further invest in Chicago as a "regional hub for LGBTQ community and culture."
Johnson also focuses on LGBTQ public safety, promising to investigate hate crimes against the community and improving the solve rate of murders of transgender people in the city.
Johnson's plan promises to address gender-based discrimination and pay disparities that affect girls, women, transgender and gender non-conforming people.
Johnson also proposes working with state officials to expand health care access for LGBTQ people, investing in the community and ending misgendering in official records or identification.
Morrison, the first openly gay person elected to the Cook County Board of Commissioners, said Johnson has proven his support for the LGBTQ community through his work as a commissioner, supporting Morrison's efforts to eliminate transphobic language from the Cook County code.
Morrison endorsed Johnson during Wednesday's news conference.
Brian Johnson, whose Equality Illinois group is the state's largest LGBTQ advocacy organization, said Brandon Johnson has a record that's "undeniable" and "absolutely 100 percent pro-LGBTQ equality."
Equality Illinois also endorsed Brandon Johnson for mayor on Tuesday, Brian Johnson said.
"We've seen community leaders and on-the-ground community leaders from across the city — the North, South and West sides — telling us that Brandon Johnson has shown up for them [and] asked how he can support, not just in the middle of a campaign," Brian Johnson said. "It was a clear signal to us that there was no equal in this race about which mayoral candidate will stand up for queer people on the North, West and South sides."
Subscribe to Block Club Chicago, an independent, 501(c)(3), journalist-run newsroom. Every dime we make funds reporting from Chicago's neighborhoods.
Click here to support Block Club with a tax-deductible donation. 
Thanks for subscribing to Block Club Chicago, an independent, 501(c)(3), journalist-run newsroom. Every dime we make funds reporting from Chicago's neighborhoods. Click here to support Block Club with a tax-deductible donation.
Listen to "The Ballot: A Block Club Chicago Podcast":