CHICAGO — As newly appointed Ald. Timmy Knudsen (43rd) was sworn in last week to replace Michele Smith, his colleagues greeted him with congratulations — and words of warning.
"Welcome aboard, buckle your seatbelt and kiss your family goodbye," said Ald. Susan Sadlowski Garza (10th), who earlier this month announced she will not seek reelection to "take care of my family and myself."
Sadlowski Garza and Smith are two of 15 alderpeople who will not return to City Council in 2023, a council exodus that hasn't been seen in decades, council members and political observers said.
Thirty percent of council members elected or reelected four years ago have announced their retirement, resigned or announced runs for other offices. That includes former Ald. Patrick Daley Thompson (11th), whose conviction for federal tax fraud forced his resignation, and Ald. Michael Scott (24th), who abruptly resigned in June and took a job with film studio Cinespace.
Ald. George Cardenas (12th) is stepping down from the City Council to run for a seat on the Cook County Board of Review.
Alds. Sophia King (4th), Roderick Sawyer (6th) and Raymond Lopez (15th) have announced bids to unseat Mayor Lori Lightfoot. Ald. Tom Tunney (44th) is retiring and has been floated as a potential challenger to Lightfoot. City laws prevent alderpeople from running to retain their seat if they are seeking the mayor's office.
Alds. Leslie Hairston (5th), Howard Brookins (21st), Ariel Reboyras (30th), Carrie Austin (34th), James Cappleman (46th) and Harry Osterman (48th) round out the list of alderpeople who won't return next year.
After years of clashing with mayors and seeing fresh-faced progressives defeat long-time incumbents, many of the City Council's elder members are bowing out. 
The Great Resignation seems to have hit City Hall, observers said.
City Hall's Great Resignation speaks volumes about the culture of Chicago government and could open the door for major shifts in the city's politics and governance, they said.
"A lot of people who have been there for a long time keep waiting for it to get better," veteran political consultant Delmarie Cobb said. "They may have served under Daley and then thought Rahm would be better. Then they served under Rahm and thought Lori would be better."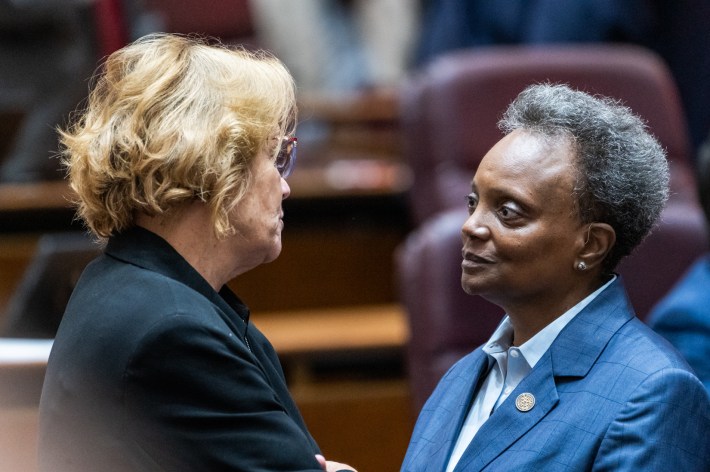 The Great Resignation
City Council hasn't seen this level of turnover in decades, experts said. To find a similar situation, one would have to look back to the post-World War II era, when returning servicemen ran for office, politics professor and former 44th Ward Ald. Dick Simpson said.
Another parallel is the Council Wars of the 80s that pitted Mayor Harold Washington against a bloc of white alderpeople led by Ed Vrdolyak. The struggle ended with a large aldermanic turnover following a special election in 1986, Simpson said.
City Council in 1991 had 13 new members after a wave of retirements and incumbents' defeats, said Joe Moore, who was a freshman alderperson representing the 49th Ward that year.
"To have this many drop out in one way or another before the election is unusual," said Simpson, who recently retired as a political science professor at the University of Illinois Chicago.
While the number of retirements at City Council may be unprecedented in modern times, it follows a larger national trend. More than 47 million people quit their jobs last year after reconsidering their priorities during the coronavirus pandemic, according to the Bureau of Labor Statistics. The trend has continued into this year.
Many of the alderpeople bowing out of City Council have served multiple terms and are older. In some of those cases, the fatigue of public life and burnout fueled by the pandemic caused them to reconsider their futures.
The pandemic put local elected officials front and center in the government's response, as they helped coordinate vaccination drives, provide vulnerable people with protective equipment and assist struggling businesses.
It also forced council members to conduct business from home, requiring many non-digital natives to adopt new technologies.
"It's just been a stressful, demanding time," Simpson said. "So if they had already served a considerable period of time … that pushed a number of them over the edge."
Ald. James Cappleman (46th) said his decision to retire after three terms was due to a health scare that surfaced early during the pandemic. With hospitals overwhelmed, Cappleman had to put off health screenings for months, furthering his scare and causing him to reconsider his public life, he said. Cappleman turns 70 next month.
"COVID was a time for a lot of us to rethink what we want to do with our lives," he said. "We've all been City Council members for well over a decade. These days, 70 is not so old."
"Exhaustion" didn't drive Ald. Leslie Hairston (5th) to retire, but "COVID gave me an opportunity to reflect" before she decided not to seek reelection for the seat she's held since 1999, she said. It's a decision Hairston has considered for several years, even before her razor-thin victory in the 2019 election, she said.
"Twenty-four years is still a respectable amount of time," Hairston said. "It's an incredible commitment to the community that I live in and that I serve. … While this administration has a different style, I think, for me, it was the time to move on and do something different."
The pandemic has coincided with other historical moments, like police killing Breonna Taylor, George Floyd and numerous other Black people that spurred protests in 2020, considered to be the largest political movement in U.S. history.
Donald Trump's presidency led to a coarsening of political debate that's also infiltrated local politics, said Moore, who represented Rogers Park in City Council for 30 years before becoming a City Hall lobbyist and political consultant.
"You also have a situation where the voters remain very angry," Moore said. "Social media has taken this anger to a new level; it's become even more toxic than it already was. And I just think a lot of my former colleagues have just decided it's not worth it."
Moore was among the long-serving alderpeople who lost reelection in 2019, when progressive upstarts also unseated 36-year incumbent Patrick J. O'Connor (40th), 12-year incumbent Toni Foulkes (16th) and nine-year incumbent Proco Joe Moreno (1st).
Cappleman and Hairston each won their reelection bids that year by a handful of votes.
With a progressive movement flourishing in Chicago and amid larger political angst, some entrenched alderpeople may be unwilling to face a potentially challenging reelection, observers said.
"Chicago is still trying to decide where it is going," Simpson said. "And the mayoral election and the automatic elections will determine that."
'Fresh Eyes'
There will be plenty of political impacts of the mass resignation at City Council, including a loss of leadership and institutional knowledge, experts said.
Chicago mayors have long held major sway — despite the city having a strong-council, weak-mayor system on paper — and an influx of freshmen alderpeople could make the mayor even more powerful, Simpson said.
With so many seats up for grabs, there is likely to be a new political voice at City Hall, some observers said. In a City Council long defined by entrenched ward bosses, some fresh perspective in the legislative body is likely a good thing, most political observers said.
The Great Resignation is providing a "great opportunity" for would-be candidates to step up, Cobb said.
"That's why you get new people; you get fresh eyes," Hairston said. "Their goals don't necessarily have to be my goals, but their goals do have to be [setting] the 5th Ward as the No. 1 priority."
After making major gains in the last elections, progressives aligned with the Democratic Socialists of America are seeking more representation on the council. The Chicago Teachers Union, which has seen successes in recent aldermanic races, is also hoping to play a large role in the election.
But a number of progressives with potential to change the council's culture are too "disillusioned" to run for the open seats, Cobb said. She's concerned that, combined with the fundraising difficulties they face compared to "machine" candidates, could lead to business as usual at City Hall in 2023.
"I'm seeing people who should run who aren't, and I'm seeing people who shouldn't run are," she said. "That's a little disheartening."
The aldermanic election is Feb. 28. 
"The election will probably affect the future of Chicago not only immediately, but over the next several decades, because the new aldermen are likely to stay in power, or at least in the City Council, for quite a while," Simpson said.
Listen to "It's All Good: A Block Club Chicago Podcast":