GRANT PARK — Softball leagues are being ousted from Grant Park this summer due to the city's NASCAR deal and other big-ticket festivals like Lollapalooza, frustrating longtime players.
Daniel Lally has been organizing the Architect-Engineers 16-inch Softball League since 2016. He's been playing in the recreational league at Grant Park since 2013 and the league itself has been around since the early 1940s.
When Lally reached out to start the permit process for the 2023 season, Park District officials said a full season would not be possible.
"It looks almost impossible to run a consistent Softball League down at Grant Park this Spring/Summer," a park supervisor for Grant Park wrote in an email Lally provided to Block Club Chicago. "I know you are aware of the events that are being held in Grant Park this year. We may have a couple windows of time that we could host a quick tournament or a couple games.  A full season does not seem doable."
The only month available is for local teams is in April, the supervisor wrote, adding that event shutdowns start in early May and run through September.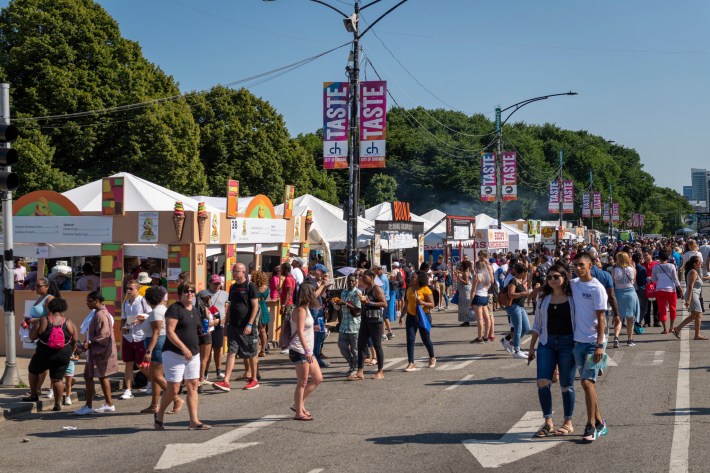 "I may have a weekend or 2 in June. I could try to help you find an alternate location if needed," the park supervisor said.
This is the first year the league will be unable to play at Grant Park due to the park's special events schedule, Lally said. In 2017, no softball leagues played due to the fields being renovated, but they returned in 2018.
Lally and other league organizers are worried this could be the beginning of the end of their softball tradition in Grant Park.
"Are we really not gonna play at Grant Park again, moving forward? I mean, yeah, we've always had Lollapalooza as kind of a constraint at the end of the season, but with Sueños being introduced in 2022, and now the street racing and concert series with NASCAR," Lally said.
A spokesperson for the Park District told Block Club Friday it's "working to balance the needs and interests of all park users."
Grant Park has been home to numerous softball leagues and tournaments for over 80 years, according to the Chicago 16-Inch Softball Hall of Fame.
Tournaments were wildly popular in the 1980s when many industries and city departments had teams and leagues. Examples include the Accountant's League, Legal League, Advertising League and the Chicago Police League, just to name a few.
Michael Stern, an umpire and organizer of several corporate leagues, has been playing 16-inch softball in the park for 34 years. After hearing from other leagues being rejected for permits, he hasn't bothered to put in his application saying he's "pissed."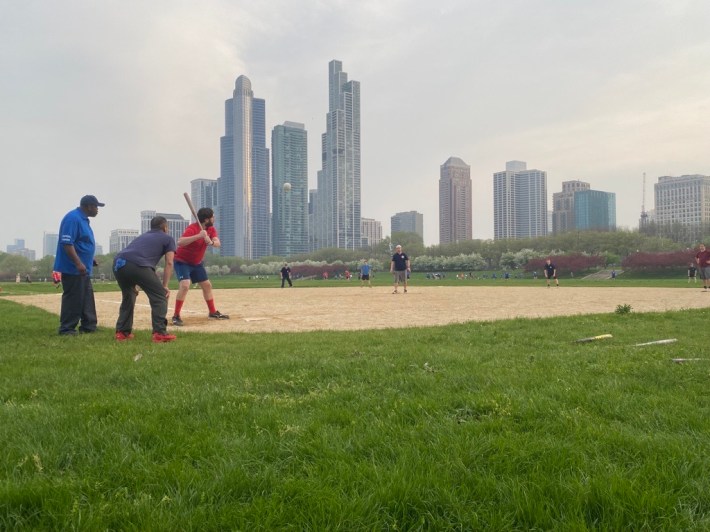 "We're being shut down because the park district is more interested in generating revenue than they are about keeping traditions that have been going on in the park for almost 100 years now," Stern said.
Traditionally, the softball season has run from May through early July, with two to four leagues playing every night Monday through Thursday, Stern said.
"I would like to see people working at Grant Park who actually give a give a s— about softball," Stern said.
The leagues were previously able to coexist with Lollapalooza, which has been coming to Grant Park since 2005, but with the addition of numerous other festivals the softball season has gotten shorter and shorter.
Last year, Lally's league had to take a one-week break in the middle of the season due to Sueños, a Latin music festival. Sueños is back May 27-28 this year.
The park will also be shut down for two weeks mid-summer, June 22-July 5, to accommodate a two-day NASCAR street race through Downtown. The partnership between NASCAR and the city will see races held over the next three years.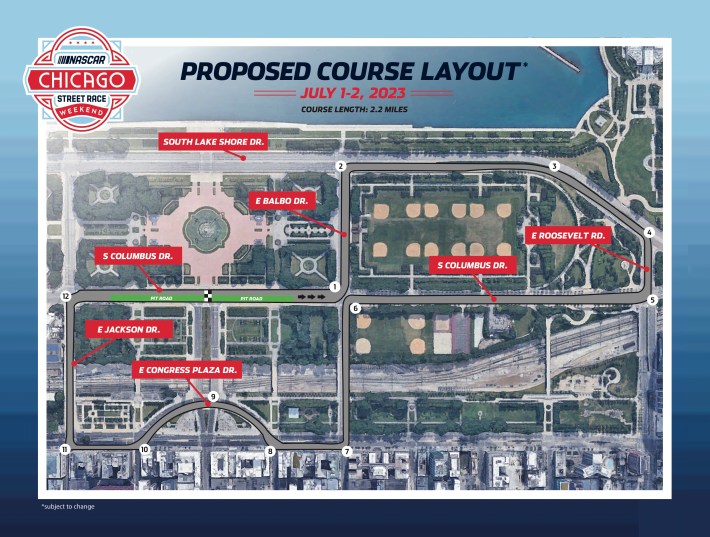 As the Grant Park Framework Plan is updated by the Park District, some worry the softball fields could be erased altogether.
"I hope I'm wrong," Stern said. "But until I see it, I'm not convinced that we will be playing softball at Grand Park ever again."
In the meantime, Lally is working to move the league to the West Loop's Union Park. But he knows he'll be up against other leagues looking to do the same. Union Park is the closest and most convenient from Downtown, Lally said.
Those who live locally will be able to take the Green Line or drive, with parking accessible near the park. But Lally and Stern are aware that the relocation will not be as convenient for those traveling into work from the suburbs.
"These people are killing softball … either they either don't understand that or just don't care," Stern said.
The Park District has come under fire in recent years for allowing large festivals to take over neighborhood parks. West Siders say Douglass Park has essentially been taken over for the entire summer by festivals, and Belmont Cragin residents were caught off guard when Riis Park was announced as the site for a new festival this summer without their knowledge.
Park District officials have vowed to work more closely with neighbors before signing off on these mega-fests in community parks, but some residents say the city should build a dedicated festival space like Henry Maier Festival Park in Milwaukee.
Rachel Azzarello, who lives near Douglass Park, said she is not against festivals — but she also wants access to her park.
"People want to go to festivals, right? You need to find a permanent place that all of these promoters can have their events that aren't in the middle of a residential neighborhood."
Listen to "It's All Good: A Block Club Chicago Podcast":