DOWNTOWN — Officials will consider ways to slow down drivers around Grant Park as part of a revamp of the bustling and sprawling park.
The Park District hosted a community meeting Wednesday with UrbanWorks, kicking off the first event in a series of six public meetings that will help officials update the Grant Park Framework Plan. The plan, also called Chicago's Front Yard Reimagined, will provide guidelines for improving the famed Downtown park's role as a public space and destination.
The framework plan was last updated in 2002, officials said at Wednesday's meeting.
Officials from UrbanWorks, a local architectural firm, told attendees they should think of ways the park can be improved. For example, the softball field could be turned into pickleball courts or maintenance yards could become public green space, the officials said. But neighbors were most concerned with looking for ways to reduce traffic around the park.
"Why are there 12+ lanes of dangerous noisy car traffic cutting through the park?" neighbor Ash Heyer asked in the chat for the meeting.
"How do we connect Grant Park to the lake without DLSD in the way?" wrote Carl Beien, another resident, referring to DuSable Lake Shore Drive.
Dominick Hart, a senior project architect with UrbanWorks, said a reduction in lanes and slowing of traffic will considered along with grade separation.
"I think the number of lanes as well as their size and composition will be reconsidered," Hart said.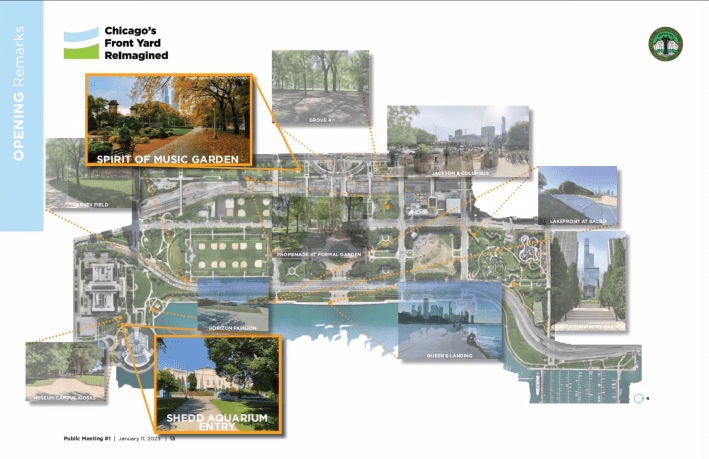 Many cyclists and pedestrians have said crossing DuSable Lake Shore Drive at Balbo Drive is extremely dangerous. In March, a cyclist was killed while crossing at the same intersection when a driver hit him.
Residents won't know what feedback is incorporated into the 2023 framework plan until the end of the year. Public engagement sessions will be held through July before design and planning can take place, and eventually the final report will be released.
The next public meetings are Jan. 24 at the Chicago Cultural Center, Feb. 2 at the Art Institute of Chicago and Feb. 8 at Columbia College. They are held 5-7 p.m.
Each meeting will be an open house, so residents can come and go at any time. Each will be set up exhibition-style, where attendees can vote on five topics and participate in interactive activities, which have not been revealed yet.
Feedback will be taken to stakeholders before coming back for another public meeting on an undecided date.
Listen to "It's All Good: A Block Club Chicago Podcast":