PORTAGE PARK — The Clarendale, the new senior living complex at Six Corners, is getting growing interest from prospective tenants as its May opening draws near, project officials said this week.
Residents will move into the 10-story, $130 million senior living complex at 4747 W. Irving Park Road in May, and about 50 percent are people from the Northwest Side, said Amelia Howard, executive director of The Clarendale. She shared the news at a Monday night community meeting hosted by the Old Irving Park Association.
"We have gotten some [people] from out of state and Downtown, but the majority, and the more we build, we're getting more Portage Park interest," Howard said.
The other residents are people from Florida, Texas, Arizona and other states who have family on the Northwest Side — and may have grown up here — and want to be close to their relatives, Howard said.
"It feels good that we are bringing people back to Portage Park," she said.
The Clarendale will have 258 rental apartments: 114 independent living units, 98 assisted living units and 46 memory care studio suites, leasing officials announced at the information office's ribbon-cutting last year.
Rents will be $4,400 a month for independent living, $6,000 for assisted living and $7,200 for memory care, Dan Walsh, senior vice president of real estate development at Ryan Companies, said in 2018. Company officials said they hope to avoid annual rate increases for residents.
Most of the independent living units are now full, and there are 80 people who have paid their deposit and are ready to move in, she said.
Eleven of the 114 independent living units will be marked as affordable and cost $1,173-$1,407 a month — and 900 people applied to be on the waitlist for the units, Howard said.
That whopping number is another example of the dire need for affordable housing on the Northwest Side — especially for veterans and seniors. Other affordable buildings in the area have seen similarly high application numbers.
Officials plan to send out rental applications for those units 30 days before the complex opens on a first-come, first-served basis, Howard said.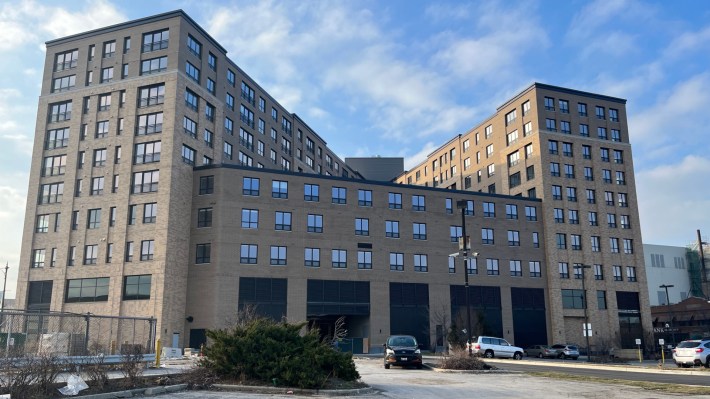 Residents will get amenities like restaurants, private dining for events, a theater, continuing education programs, a salon, transportation to local shopping, medical care, yoga and more.
Tenants for the ground-floor retail spaces of the development have not been picked, but project leaders hope for more restaurant or food options, like a bakery; health care providers and a bank as an anchor tenant, said Paul Lloyd, associate executive director of the retirement community.
As it sits now, the building has six storefronts, though they could be broken up into smaller footprints depending on the tenants chosen, Lloyd said.
When the Target across the street puts up its sign and begins to move into the former Sears building, which is also under construction and will be turned into luxury apartments, more retail will want to move into The Clarendale's ground-floor spaces, Howard said.
"I'm excited about Novak across the street from us … you see so much construction and progress. They have moved us in the right direction, and we need that," Howard said. "Target was a big answer for us."
Target is slated to open in the fall, officials previously said. A long-awaited Aldi grocery store will be built in the corner lot behind The Clarendale and is scheduled to open late this year, company representatives previously told Block Club.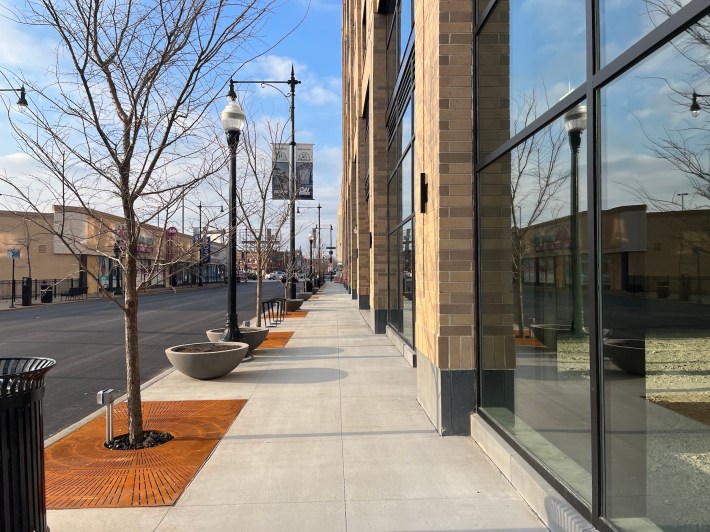 The Clarendale will have 150 employees, which includes nurses, security, concierge services, restaurant and dining staff and personal drivers, Howard said.
To accommodate for the influx of older people moving into the area, the Six Corners traffic lights will be slowed down, Howard said. The team is looking into other ways to make sure its residents are safe when crossing the busy intersection.
"It would be nice if we could offer a crossing guard, nicely dressed, out there during high-traffic times," Howard said with her fingers crossed. "Pray for me, because I have to find a salary for that because it's not in my budget in no form or fashion because we're a unique project."
Benches, planters, wider sidewalks and a pedestrian island have been installed outside as construction wraps inside. Two murals near the back promenade will be installed, Howard said. That space will be open to the public.
Listen to "It's All Good: A Block Club Chicago Podcast":