PORTAGE PARK — A veteran restauranteur opened a Cuban cafe in Portage Park that he hopes will liven up the neighborhood.
CopaCubana Cafe, 5800 W. Irving Park Road, opened last month in the former spot of Bub's Place, which served chicken, gyros and hamburgers but closed at least four years ago.
CopaCubana serves authentic Cuban cuisine made by "one of the best Cuban cooks in Illinois," said owner Roberto Ameneiro, who grew up in Portage Park but now lives in Kenosha. He plans to move back to the area soon, he said.
"It used to be very alive, this neighborhood, and I want to bring it back," Ameneiro said. "It's a beautiful area and has a lot of potential and traffic, especially on Irving Park Road."
Ameneiro, who co-runs a Chicago political radio talk show on WCGO 1590-AM the weekends, is part Cuban, Italian and American. He owned a Greek restaurant in Kenosha for 14 years. Despite moving away decades ago to manage that restaurant, Ameneiro still frequented the Northwest Side. He loves Portage Park and remembers dining at Bub's Place as a kid, he said.
After it closed, Ameneiro thought it would be worthwhile to open a restaurant in its place, but he assumed the building would be torn down. Then he saw a "For Lease" sign plastered on its door about six months ago and took his chance, he said.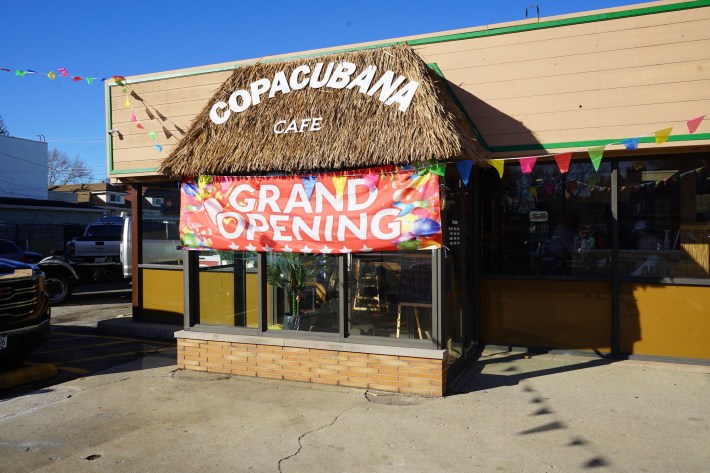 "Everybody wanted it when I came in" to the storefront, Ameneiro said. "There were seven or eight people at the same time as me. [The realtor] was checking everybody's credit, but nobody had good credit but me."
Once Ameneiro took over the building, he sold his Greek restaurant for $1 million to devote time to the Portage Park restaurant. He renovated the interior and added fresh ceiling tiles and wall paint, and he plans to replace the floor in the spring, he said.
CopaCubana serves up Cuban breakfasts and sandwiches, typical island platters with plantains, seasoned meat and rice, yuca fries, jibaritos and Cuban pastries. The restaurant also offers catering, the owner said.
The popular menu items are the shop's Cuban and Ropa Vieja sandwiches, Ameneiro said.
Ameneiro's goal is to "bring the neighborhood alive" with more traffic and honor part of his culture to attract the diverse population of Portage Park — and spice up the business strip that's gone quiet in recent years, he said.
As the restaurant sees more people and establishes itself in the community, Ameneiro hopes to transform it into a tropical summer spot with palm trees, colorful flowers, an outdoor patio, colorful lighting and an indoor mural called "Pipo's Corner" to pay homage to his Cuban roots and his parents, he said.
Ameneiro wants the place to "light up the whole street" when exterior renovations are complete, he said.
"People are going to drive by and say, 'What the heck?' … They're going to think they're in Miami or Cuba," Ameneiro said.
The restaurant has received a good response from the community, Ameneiro said. A grand opening celebration was held on the owner's birthday last month. It was attended by members of the Portage Park Chamber of Commerce and Ald. Nick Sposato (38th).
"I am thrilled to have them," Sposato said. The lot "was somewhat of an eyesore, but now it looks really nice. I am confident he will do well and thrive in the community."
CopCubana is a few blocks away from another Cuban restaurant on the strip. Tropicuba Cafe opened its second location at 5606 W. Irving Park Road in 2021. Ameneiro said his restaurant has different dishes, though more Cuban offerings for the neighborhood is always good, he said.
"I moved to Wisconsin, but I keep coming back — I can't get away from here," Ameneiro said. "It's changed a little bit, but people change a little bit. … It's still a great neighborhood."
CopaCubana is open 6 a.m.-10 p.m. daily.
Watch our "On The Block" TV show on The U, CW26 and MeTV.
Listen to "It's All Good: A Block Club Chicago Podcast":