JEFFERSON PARK — An affordable housing development that took more than four years to get off the ground could be completed by the end of the summer — and the long list of people hoping to move in includes some people who opposed affordable units in the area, the developer said.
Developer Full Circle Communities' seven-story building at 5150 N. Northwest Highway, which is across from the Jefferson Park (16th) District police station and close to the Jefferson Park transit station, is leasing its 75 affordable apartments to veterans and older people. It will have 40 on-site parking spots.
After long construction delays, work on the development began in January 2020. Developers are planning for a mid-September move-in date, said Josh Wilmoth, CEO of Full Circle Communities.
"I'm looking forward to seeing it complete, seeing people use that space and take advantage of their own homes," Wilmoth said.
Wilmoth said the development has received more than 700 applications, and about 150 of them are from veterans or people who have disabilities, who are at the top of the company's interest list.
Advocates for affordable housing on the Far Northwest Side have long said there is a large need for this kind of housing. The applications are proof, Wilmoth said.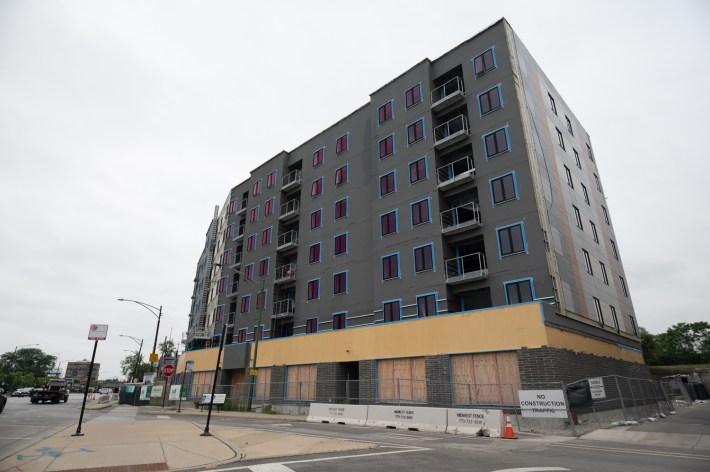 Forty-five of the 75 apartments will be set aside for Chicago residents making no more than 60 percent of the area median income, which is $47,400 for a family of four. Fifteen apartments will be set aside for those who earn no more than 30 percent of the area median income, which is $24,600 for a family of four, while 15 apartments will be rented at the market rate.
Veterans will get prioritized for placement in the units, all of which will be built to be accessible for people with disabilities. They will rent for $200-$2,000 per month, Wilmoth said.
The building will also offer amenities like in-unit laundry, a game room, bike storage and a bike repair shop, a dog run, patio and a commercial space that will be leased by Friendship Community Place, the nonprofit that houses Friendship Presbyterian Church.
A self-storage facility that is also part of the development was approved by City Council in May 2017 and began construction in 2019.
RELATED: Controversial Jefferson Park Affordable Housing Complex Set To Get State Tax Credits — On Arena's Last Day In Office
After years of furious and racially charged debate over the development's opposition from some members of the community — which also included worries about density and increased traffic — Wilmoth said he has seen people change their perspective about the project once they learned more about it.
Wilmoth said some people who were initially skeptical have now applied to be on the building's waiting list.
"People fear that which they don't know, that which is new to them or that which they can't really imagine," he said. "When the community writ large sees that [the building] is not dissimilar from any other apartment building in the community in terms of professional management, amenities and access to opportunity, there's a shifting perspective."
Full Circle Communities is also behind the 48-unit affordable housing complex at 6001 W. Lawrence Ave., which survived a potential cutback in units last year.
Joel Baum, a veteran with disabilities who served in the military during the 1960s, qualifies to rent a two-bedroom in the building and is on the waiting list. He was instrumental in helping the project win City Council approval in 2018 after he made the difficult trek to City Hall to voice his support.
"There is a great, unmet need for affordable housing for veterans" in the area, said Baum, who uses a wheelchair. "We have a lot of people returning from various wars who need housing, and this housing is designed for people in wheelchairs. Where we are right now is not designed for someone like myself."
It's now a waiting game for Baum and his wife to see if they will get a new home. They live close to the development in a garden unit that is too small and inadequate for their needs. Because of its single window and difficult access to the outdoors, Baum said he doesn't have a good view of his neighborhood and has not been outside the entire pandemic.
The 82-year-old Chicago native has lived in Jefferson Park for eight years after bouncing around assisted living homes, and he wants a place to call his own — one with a nice view of the neighborhood and easy access to it.
"One of the advantages of the new building is it has elevators, so I can roll out my front door, take the elevator down and get outside," he said. "I want a window where I can see the trains go by, see the suburban and city sprawl. That's important to me."
'This Is Just The Beginning Of What It Means To Build Relationships'
Shawna Bowman, cofounder of Neighbors for Affordable Housing and the pastor at Friendship Presbyterian Church, said Baum's story represents the importance of having an affordable housing development on the Northwest Side and wants it to be inclusive of others with similar needs.
"I want us to be aware and excited that people might want to come live in the neighborhood who maybe aren't from there but work or commute nearby and have a long commute currently — to see the opportunity that this can be welcoming of new people," Bowman said. "But I also want us to hold onto the truth that there are people already living on the Northwest Side that are in dire need of affordable housing."
Bowman said organizers are excited for the project's completion after years of activism, which spurred other community groups to fight for more affordable housing.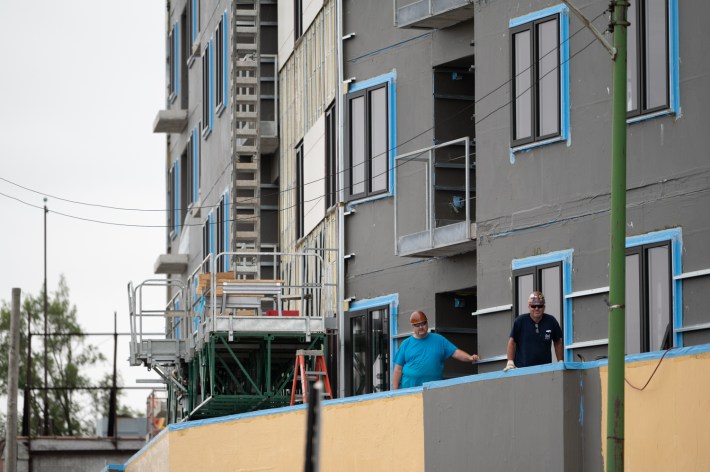 After looking all over the Northwest Side for a new home, Bowman said leasing the ground floor of the affordable housing development as a multipurpose space for the church was a perfect "full-circle" fit, since the development aligns with the nonprofit's goal of accessibility and inclusion.
Friendship Community Place, which rebranded in 2020 after the church moved out of its Norwood Park location, seeks to be a community space with shared resources that can assist the congregation and the neighborhood at large. In addition to hosting Sunday worship, the group plans to host art classes, community meetings and cooking workshops in its full-service community kitchen, which will be used by people from the neighborhood.
Bowman said Friendship is looking to partner with other nonprofits, service providers and local entrepreneurs that want to offer their resources and talents to the community. Those interested in collaborating can email to Bowman at shawna@fpcchicago.org.
"Our goal is to create a community space so people who live in the building can experience integration into the community," Bowman said. "One of my fears is we worked so hard to get this building built so [people] think we are done now, but really this is just the beginning of what it means to build relationships, welcome people from the neighborhood into the space and also to welcome new neighbors."
Subscribe to Block Club Chicago. Every dime we make funds reporting from Chicago's neighborhoods.
Already subscribe? Click here to support Block Club with a tax-deductible donation. 
Listen to "It's All Good: A Block Club Chicago Podcast" here: