Get more in-depth, daily coverage of Chicago politics at The Daily Line.
JEFFERSON PARK — After more than two years of furious and racially-charged debate, state officials are set to approve tax credits for a 75-unit affordable housing complex in Jefferson Park on Friday.
Illinois Housing Development Authority is set to award the crucial tax credits to developer Full Circle Communities' five-story building at 5150 N. Northwest Highway at its meeting set for Friday morning, according to its agenda.
The authority is set to act on Ald. John Arena's final day in office as alderman of the 45th Ward — after Arena lost his seat in part because of his unwavering support for the development across the street from the Jefferson Park Transit Center.
Opponents argued the development has the potential to bring violent crime and undesirable residents into one of the city's safest neighborhoods.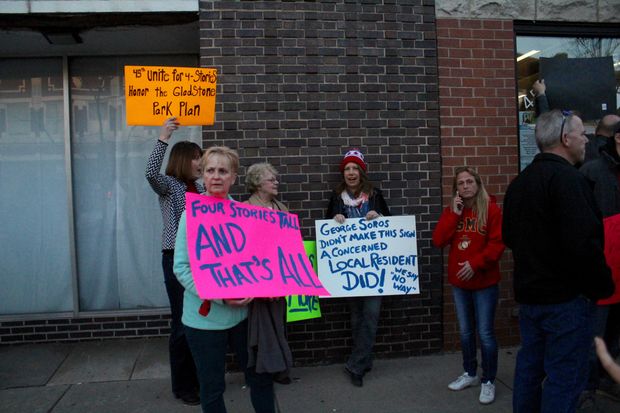 Others objected to the development because they said it would overwhelm already crowded schools and worsen gridlocked traffic in an area many value as a suburban-like haven.
Ald.-elect Jim Gardiner (45), who had the support of the project's opponents, ousted Arena in February, winning 50.92 percent of the vote, according to final results.
Gardiner did not return a phone message Thursday from The Daily Line.
Arena said he would wait for the Authority to vote Friday before declaring victory. The City Council unanimously approved the residential portion of the project in September.
Despite losing his seat, Arena said it was not bittersweet but "all sweet" to see the project win the tax credits that will allow construction to begin as soon as this summer.
Sara Gronkiewicz-Doran helped found Neighbors for Affordable Housing to support the proposed development in 2017, shortly after Arena unveiled the plan. The group organized marches in Jefferson Park and campaigned for it door-to-door.
"This is such an exciting moment," Gronkiewicz-Doran said. "It has been an incredible labor of love."
Gronkiewicz-Doran called it "incredibly poignant" that the tax credits were set to be approved on Arena's last day in office.
"Ald. Arena showed tremendous courage and bravery," Gronkiewicz-Doran said. "I can't think of a prouder legacy to leave behind, one that will have concrete and lasting impact."
Mary Shapiro, who is also a member of Neighbors for Affordable Housing, said she had no doubt the development cost Arena his seat.
"He had to really stick his neck out," Shapiro said.
Chicago Housing Initiative Executive Director Leah Levinger said the approval of the affordable housing development was a "momentous achievement after a momentous fight."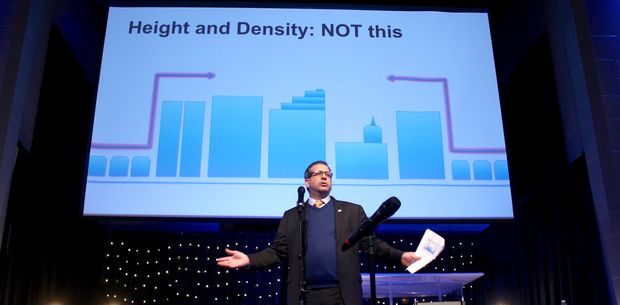 Arena said he did not think its ultimate success of the development at 5150 N. Northwest Highway — which he said "was cast as the boogeyman," would define his record after two terms in office.
"My legacy is building on the empty lots that sat there for 20 years," Arena said, noting that 307 new apartments are set to be built around the Jefferson Park Transit Center, 86 of which are earmarked for Chicagoans with low and moderate incomes.
"I got into this to move the needle in this stagnant area," Arena said. "I'm very proud that that's what I've done. There isn't a corner of the ward that hasn't benefited from our work."
A self-storage facility that is also part of the development was approved by the City Council in May 2017 after a fierce debate that saw Arena urge his colleagues to defer to him and approve the development despite the widespread opposition that helped reshape the debate over affordable housing throughout the city.
That part of the development is already under construction.
Full Circle Communities CEO Josh Wilmoth said the apartments could be complete by the late fall of 2020.
"We are absolutely thrilled to bring this high-quality development to Jefferson Park," Wilmoth said.
Forty-five of the 75 apartments will be set aside for Chicago residents making no more than 60 percent of the area median income, which is $47,400 for a family of four. Fifteen apartments will be set aside for those who earn no more than 30 percent of the area median income, which is $24,600 for a family of four, while 15 apartments will be rented at the market rate.
Veterans will get prioritized for placement in the units, all of which will be constructed to be accessible for people with disabilities. They will rent for between $200 and $2,000 per month, Wilmoth said.
In March, the Chicago Housing Authority agreed to subsidize 40 percent of the building's units with $21.5 million worth of housing vouchers during the 30 years. The agreement calls for 20 of the building's tenants be taken from the CHA waiting list and 10 units set aside for homeless veterans.
Access Living Housing Community Organizer Cathleen O'Brien said the units would be ideal for disabled people, because they are accessible and located near public transportation as well as shops and stores.
"This is a very, very, very important development," O'Brien said. "We do believe this sets the stage for others like it."
Levinger said she was hopeful that the next proposal would face an easier path — now that affordable housing advocates had notched the first victory in a 50-year effort to bring low-income housing to the Far Northwest Side and crafted a "road map" to victory.
"It is a meaningful first step in the effort to desegregate our city's resources," Levinger said.
Arena said he was also optimistic that Mayor-elect Lori Lightfoot, and a larger Progressive Caucus on the City Council, would approve developments similar to the one at 5150 N. Northwest Highway, which developers have dubbed Veterans Circle.
In September, Lightfoot called the project the "exact kind of neighborhood-driven project needed to address the gentrification and housing insecurity that plagues our city."