COOK COUNTY COURT — The 46-year-old Chicago woman accused of strangling a pregnant teen and cutting her full-term baby from her womb pretended for months that she was pregnant, prosecutors alleged in court Friday.
Clarisa Figueroa wasn't pregnant though, and in fact had already had a tubal ligation to prevent a pregnancy, prosecutors said.
She's now accused of luring Marlen Ochoa-Uriostegui, 19, to her Southwest Side home under the pretense of selling a stroller and baby clothes to the expectant mother.
Once there, Figueroa and her daughter, Desiree Figueroa, strangled her with a coaxial cable, cut the baby boy from her and put her body in a trash can behind their home, leaving her there for weeks, prosecutors said.
In a bond hearing Friday, prosecutors laid out a chilling timeline leading up to the murder, including a trail of clues left on Facebook as Clarisa Figueroa apparently tried to fool the world into thinking she had a baby coming in May. She also allegedly put out a call looking for a woman expecting in May and researched how to strangle a person.
The mother and daughter were both ordered held without bond Friday during a hearing that recapped the details of a grotesque murder that stunned the city and made headlines worldwide.
Also held without bond was Clarisa Figueroa's boyfriend, Piotr Bobak, 40, who allegedly helped conceal the murder.
Authorities say Clarisa Figueroa had lost her adult son, Xander, in 2018 to natural causes, and intended to raise Ochoa-Uriostegui's baby as her own.
That child, now named Yovani Yadiel Lopez, survived his mother's murder but suffered brain damage. He is now in critical condition, fighting for his life. His despondent father, Yovani Lopez, said it will take a miracle for him to survive.
In court, prosecutors said Figueroa told her family in October that she was pregnant — a surprise considering her previous tubal ligation.
In December, Figueroa even posted an ultrasound to Facebook, purportedly showing her fetus, prosecutors said.
In February, she posted that was going to call him "Xander" — just like her dead son — and posted a photo of a crib and a decorated nursery, prosecutors said.
On March 5, in that same 32,000-member Facebook group — called "Help A Mother Out" — she posted "Who is due in May where is the May mamas at."
That led to a conversation in the group with Ochoa-Uriostegui, who was seven months pregnant at the time. Figueroa offered her new baby clothes, and suggested she contact her directly, prosecutors said.
Around April 1, Figueroa told her daughter, Desiree, that she needed help killing a pregnant woman and taking a baby, prosecutors said.
Around that time, Ochoa-Uriostegui came to their home in the 4100 block of West 77th Place, prosecutors said.
Figueroa told her daughter she needed help killing her — which her daughter refused.

"On April 1, 2019, the victim, defendants Clarisa and Desiree, and Desiree's boyfriend were all in the basement together at the defendant's home," prosecutors said. "Defendants Clarisa and Desiree kept acting strange and on numerous occasions went into a separate room together. It appeared to Desiree's boyfriend that she was shaking at times. Desiree's boyfriend told her that he would call the police if they were to kill the victim."
Ochoa-Uriostegui eventually left safely, but returned to the home on April 23 for more clothes, prosecutors said.
"While there, the victim sat on the couch in the living room.
Defendants Clarisa and Desiree turned up the volume of the music and went into the kitchen together," prosecutors said.
"While in the kitchen, they discussed their plan to strangle the victim and cut the victim's baby out of her."
The Figueroas returned to the living room, and Desiree Figueroa distracted the teen with a photo album of her dead brother, Xander. That's when Clarisa Figueroa ambushed her from behind with a coaxial cable, prosecutors said.
After she died, Clarisa Figueroa used a butcher knife to crudely remove the child. They then put the dead teen into a garbage bag and hid her in a trash can on the side of their garage, police said.
After that, Clarisa Figueroa called 911 and said she had just given birth, but the baby wasn't breathing. The Chicago Fire Dept. arrived, and found Clarisa Figueroa holding the baby, which still had its umbilical cord attached, prosecutors said.
They were both rushed to Advocate Christ Hospital in Oak Lawn. The boy had no brain activity, however.
When Clarisa Figueroa was examined at the hospital, she showed no signs of having delivered a baby, prosecutors said.
While her mother was at the hospital, Desiree Figueroa took Ochoa-Uriostegui's phone and car to a sister's home, prosecutors said.
A red light camera captured images of Desiree Figueroa driving the victim's car. In addition, a cell phone ping from the victim's car was recorded near the sister's home, prosecutors said. The car was later parked not far from the crime scene.
The next day, Ochoa-Uriostegui's husband reported her missing. Police went to her Facebook account and saw she had been in contact with Clarisa Figueroa, prosecutors said.
Officers then went to Figueroa's house, but were told the woman was at the hospital after just giving birth.
Investigators later got DNA samples from Figueroa and her boyfriend, Bobak, as well as from Ochoa-Uriostegui's husband. Figueroa and Bobak weren't the parents, the tests showed.
Meanwhile, Bobak tried to start raising money for the gravely-ill newborn, opening a GoFundMe page, including posted a photo of the boy in the neo-natal intensive care unit, prosecutors said.
Authorities got a search warrant for Figueroa's home on May 14, and found Bobak cleaning a rug outside with bleach. Clarisa and Desiree Figueroa were also there, prosecutors said.
Officers soon found Ochoa-Uriostegui body in the garbage can.
Ahead of the hearing, the family of Ochoa-Uriostegui called for the court to deny bond for the three people charged in her death.
Inside the Cook County Criminal Courthouse Friday morning, the family called for "justice for Marlen" in the case that has attracted international attention.
"We are requesting that the Cook County State's Attorney Kim Foxx and members of her office give no bond to these individuals," said Julie Contreras, spokeswoman for the family and chair of LULAC National Immigration Committee.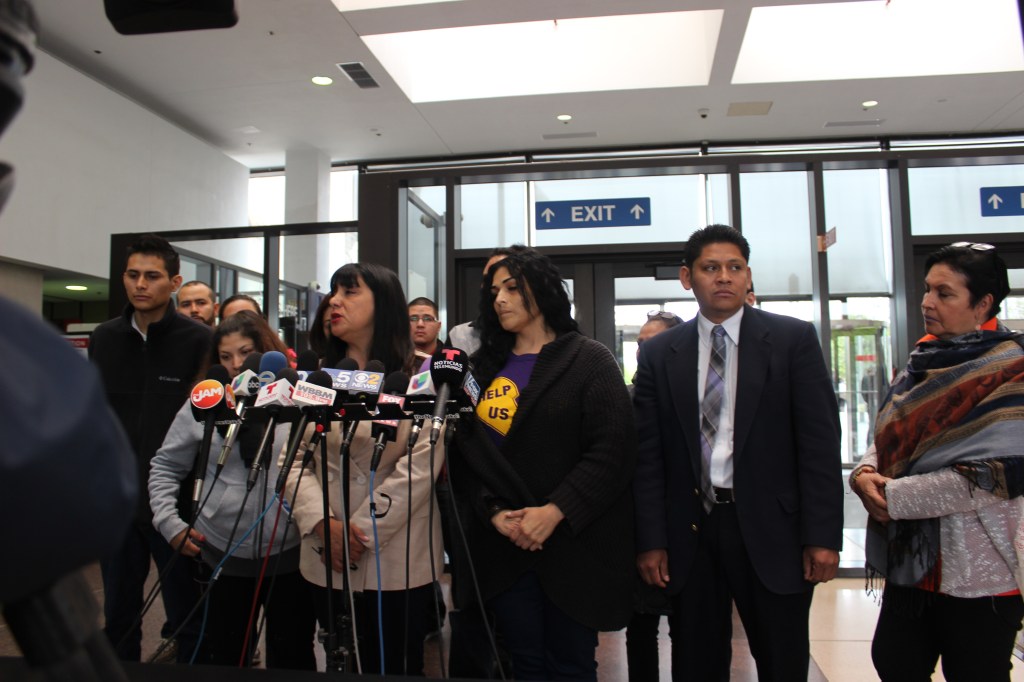 Contreras called the people charged in the murder "monsters" and said denying bond would help the family and ensure public safety. 
"Individuals who confess to heinous murders should not be allowed to post bond. It's not just about the victims' families, it's about public safety. If someone confesses to a murder, then they should not have the right to live free among us," Contreras said.
Ochoa-Uriostegui's body was found in a garbage can in the backyard of Figueroa's Southwest Side home in the 4100 block of West 77th Place on Wednesday. The suspected murder weapon — a coaxial cable — was also in the trash can, police said.
After the murder and baby removal, Clarisa Figueroa called 911 and told emergency responders she had given birth to an unresponsive child, police said.
"Words really cannot express how disgusting and thoroughly disturbing these allegations are, and I'd like to offer my sincere condolences and prayers to Marlen's family, who instead of celebrating the arrival of a new life into their family are now mourning Marlen's loss," Police Supt. Eddie Johnson said at a Thursday afternoon press conference.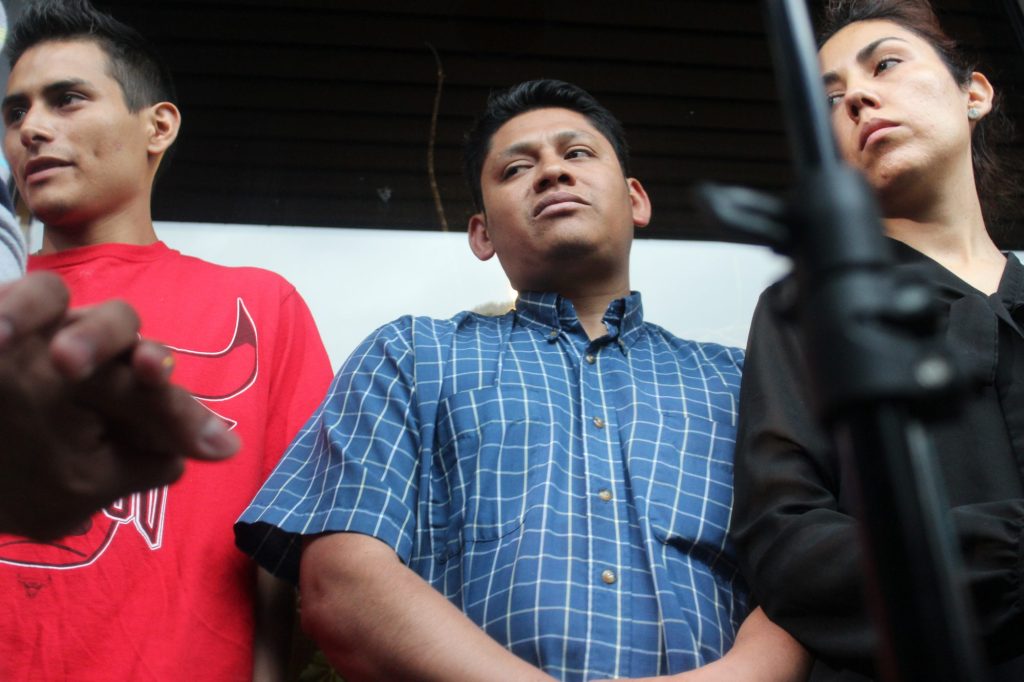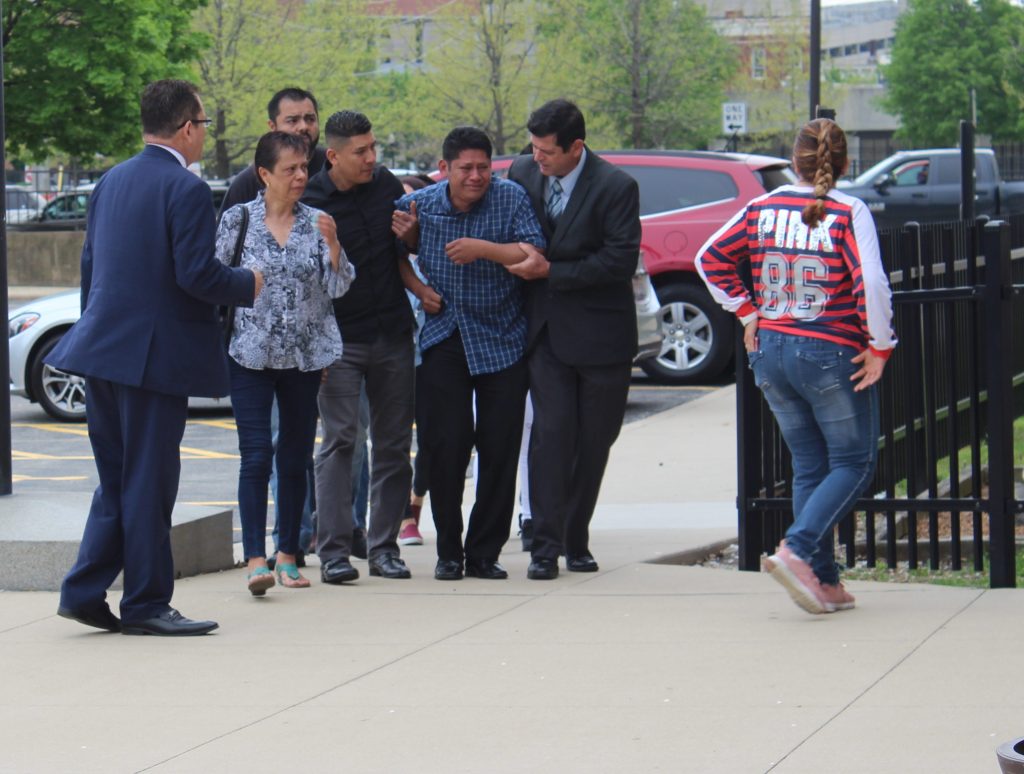 As rain poured down outside the Cook County Medical Examiner's office Thursday, Yovani Lopez, the husband of the slain 19-year-old, told a crowd of reporters that it was "painful to lose someone" with whom he shared so many happy moments.
Lopez remembered his wife as a studious and intelligent woman who loved her family, including her 3-year-old son.
"She didn't deserve it," he said. "This is not the outcome we wanted, but she's been found and she's at peace with God."
Lopez said his newborn son Yovani Yadiel Lopez was in "grave condition" at Advocate Christ Medical Center in Oak Lawn.
"He's in a coma and the doctors said. …the manner in which he was taken out of her body left him with brain damage," Lopez said.
"We need a miracle to save him. We are hoping and praying he recuperates. He's an angel and blessing my wife left for us."
Previous coverage:
Three Charged In Murder Of Little Village Teen Who Had Her Unborn Baby Stolen From Her Womb
Pregnant Little Village Mom Was Picking Up A Stroller When She Was Murdered, Had Baby Stolen From Her Womb
Pregnant Little Village Teen Found Murdered, Her Unborn Baby Stolen From Her Womb
Persons Of Interest Questioned In Disappearance Of Pregnant Teen Marlen Ochoa-Uriostegui