ALBANY PARK — Two neighbors are challenging Ald. Rossana Rodriguez-Sanchez (33rd) as she runs for reelection.
Samie Martinez, a former chief of staff for Ald. George Cardenas (12th), and Laith Shaaban, an investment adviser and affordable housing developer, are running against Rodriguez-Sanchez to represent the 33rd Ward in City Council. The ward covers parts of Irving Park, Albany Park and Avondale. 
Rodriguez-Sanchez was elected in 2019 in one of the closest battles for a City Council seat. She beat then-Ald. Deb Mell by a razor-thin 13 votes. Because the results were so tight, no one could declare victory or concede defeat until mail-in ballots were counted. Mell conceded defeat after 25 days of counting votes. 
Shaaban is facing a challenge to his candidacy. Nick Carusi — who has worked on previous campaigns for Iris Martinez, Deb Mell and her father, former Ald. Dick Mell — challenged the validity of signatures on Shaaban's nominating petitions. A hearing before the Chicago Board of Election Commissioners has yet to be set to review the challenge. 
The election is Feb. 28. If no candidate receives at least 50 percent of the vote, the top two finishers will go to a runoff April 4.
Here's more on each candidate.
Rossana Rodriguez-Sanchez
Rodriguez-Sanchez, originally from Puerto Rico, was the ward's first Latina alderperson and the fifth Democratic Socialist elected to City Council when she prevailed in 2019.
Rodriguez-Sanchez has been an outspoken advocate of allocating funds to city-run mental health clinics and creating a network of social workers and medical professionals to answer mental health crisis calls.
Two years ago, Rodriguez-Sanchez introduced her Treatment Not Trauma ordinance, based in part on the Crisis Assistance Helping Out On the Streets program, known as CAHOOTS, which has been used in Eugene, Oregon, for more than 30 years.
Rodriguez-Sanchez also invited the Alliance of Local Service Organizations and Metropolitan Family Services to bring violence interrupter teams to Albany Park and Irving Park to help address gun violence in those neighborhoods. 
Rodriguez-Sanchez has also advocated for more affordable housing in the ward and has helped push through the construction of the Maria Elena Sifuentes and Oso Apartments affordable housing developments. 
Rodriguez-Sanchez also introduced and passed legislation to protect abortion and gender-affirming care and worked to codify Chicago as a sanctuary city for immigrants. 
If elected, her second term goals include expanding affordable housing options within the ward, advocating for the Bring Chicago Home ordinance, increasing funding around mental health and addressing shootings with with a comprehensive system that incorporates public safety, public health, violence interruption and other holistic measures.
"I'm excited to continue refining and formulating with the community what treatment of trauma needs to be," she said. "Allocating the necessary funds from the city to create sustainable structures of care to help us take away stress from the city's 911 system."
She's also looking forward to the completion of a new $5.8 million artificial turf soccer field at Roosevelt High School that was approved earlier this year, she said.
"Roosevelt is 100-years-old and the kids there have never had a home game. So I am looking forward to seeing their first home game at the high school this fall," she said.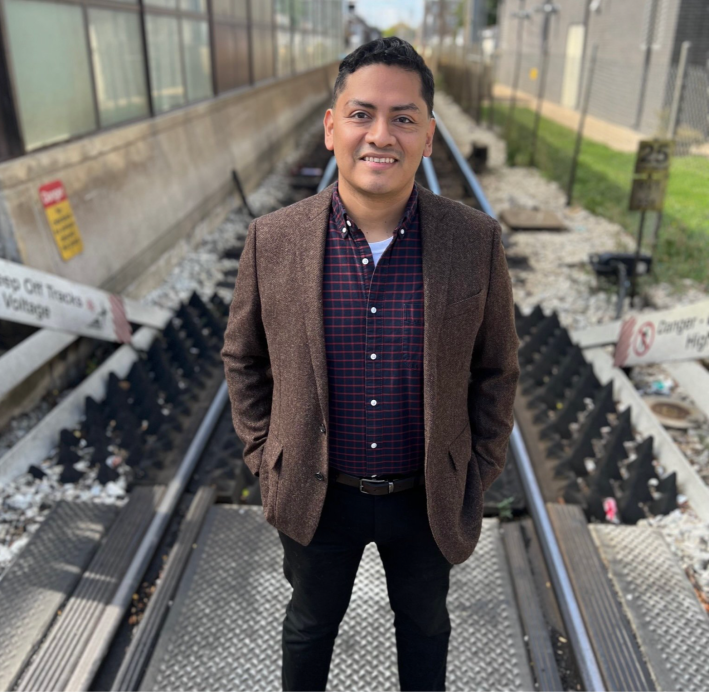 Samie Martinez
Martinez, an Albany Park resident and son of Mexican immigrants, is a project coordinator with the city's department of planning and development. Before that, he served as chief of staff for Ald. George Cardenas (12th), who retired from council this year. 
Martinez's platform includes a focus on support for small business, investment in Chicago Public Schools support services and creating job opportunities for at-risk youth and public safety, according to his website.
Martinez supports expanding eligibility for city's Neighborhood Opportunity Fund so businesses along Montrose Avenue and Irving Park Road in the 33rd Ward can qualify for grants, according to his website. He also would prioritize improving infrastructure, like replacing and adding street lights, repairing sidewalks, mitigating flooding in alleys and upgrading streets, according to his website. 
Regarding job opportunities for youth, Martinez proposes offering a subsidy to local small businesses that hire people who are 16-21. 
To fund this and other programs, Martinez wants to implement a coordinated program to sell city-owned vacant property valued at $50,000 or more. 
"I completely understand that not every young person in our community is destined for college. Howeve,r everyone does need to earn a living, and the first job opportunity they have will set the tone for their future," Martinez said in a statement.
Laith Shaaban
Shaaban was a project manager at LGIM America, previously worked in municipal banking at another financial institution and is a developer building affordable housing in Chicago.
Shaaban's also a member of Horner Park Neighbors, a founding member of the Northwest Safety Coalition and was appointed to the Chicago Commission on Human Relations Advisory Council on New Americans in 2020 by Mayor Lori Lightfoot.
"Growing up in an immigrant family, growing up an Iraqi American wasn't always easy. But it instilled in me the power of hope and success. The belief that in America, hard work and dedication can lead to a better life. Nowhere in this city are those ideals truer than in our ward," Shaaban said in a statement.
Shaaban's platform includes lowering property taxes for Chicagoans.
"This opportunity can often lead to life-changing inter-generation wealth that only the middle and upper class have access to today," Shaaban said in a statement.
Other initiatives include working with state officials to improve funding for public education and covering teachers' pensions. 
Shaaban also advocates for the creation of a gun violence prevention office, hiring more cops and making sure they follow the consent decree, securing more funding for evidence-based violence prevention programs and giving at-risk youths jobs. 
Listen to "It's All Good: A Block Club Chicago Podcast":