ANDERSONVILLE — A celebrated LGBTQ-friendly cocktail bar could start growing less than two years after opening in Andersonville.
The owners of Nobody's Darling, 1744 W. Balmoral Ave., want to expand into the neighboring space at 1746 W. Balmoral Ave. They are trying to get a zoning change to operate a tavern there.
The Black-woman-owned bar, which caters to LGBTQ women, opened in May 2021, taking over a space that once held one of the city's last remaining lesbian bars, Joie De Vine.
Nobody's Darling looked to provide a welcoming space especially to LGBTQ-identifying women, as many similar bars have closed locally and across the country.
It did just that, garnering acclaim along the way.
Nobody's Darling was named one of five finalists for best bar program in the country by the James Beard Foundation, considered the Oscars of the food and drink industry. The establishment has also been profiled in the Washington Post and NBC News.
"We really didn't anticipate the level of excitement we would generate," co-owner Angela Barnes said at a community meeting Monday.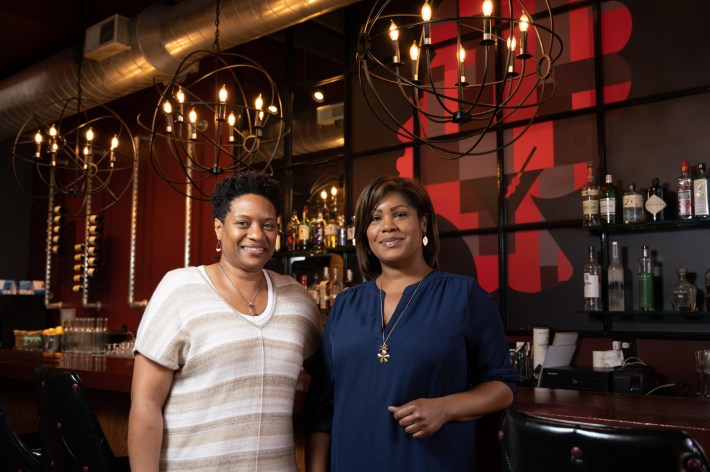 The owners' expansion plans include creating a 10-foot opening in the wall separating the two spaces. The new side would have a smaller bar and additional tables and seating, the owners said.
The expansion would increase Nobody's Darling's capacity from 65 to about 110, they said.
"The vibe will be more subdued" on the newly expanded side, Barnes said. "We're really excited for our plans."
Nobody's Darling received more than $68,000 in city grants for the expansion through the Chicago community development grant initiative.
Ald. Andre Vasquez (40th) is considering the zoning request and is taking neighbors' comments for two weeks before making a decision, representatives said at the meeting. To fill out a feedback form on the proposal, click here.
If the plan is approved, work could begin early next year and take about two to three months, the owners said.
Listen to "It's All Good: A Block Club Chicago Podcast":