MCKINLEY PARK — Longtime Southwest Side Ald. George Cardenas (12th) is stepping down from the City Council at the end of the month as he takes on a new elected role with the Cook County Board of Review.
Cardenas, who was elected to the 12th Ward seat in 2003, will resign Nov. 30, he said in a letter to Mayor Lori Lightfoot Tuesday.
His resignation has been planned for months. Cardenas won his primary bid for the Cook County Board of Review and is running unopposed in next week's general election.
In his resignation letter, Cardenas touted achievements like building new schools including Back of the Yards High School and dual-language school Calmeca Academy in Brighton Park; building a new park and library in Little Village; improving infrastructure throughout the area; and securing funding to renovate schools and build new playgrounds and athletic fields.
"When I first ran for office, communities in the 12th Ward faced immense challenges and lacked fundamental resources. As alderman, I maintained a laser-like focus on the real issues affecting my constituents. My staff and I have worked diligently to be efficient, responsive and accountable," Cardenas wrote.
"I have had the privilege of working to uplift the communities of the 12th Ward, and I am proud of the legacy this work leaves behind," the alderman continued. "I am confident that the work has changed the lives of residents in the 12th Ward for the better. It is my hope that my successor builds on these efforts and is a leader who is not afraid to make tough decisions to keep our communities healthy and safe."
Cardenas previously endorsed his former chief of staff Anabel Abarca to succeed him. The 12th Ward covers most of McKinley Park and Brighton Park, and part of Little Village.
"I am confident that Anabel has the leadership skills, government experience, and vision to succeed me as alderwoman of the 12th Ward. Anabel will be a strong advocate for public safety, equitable development and infrastructure, and a leader in environmental justice issues," Cardenas said of Abarca in September.
Cardenas was born in Durango, Mexico and his family immigrated to the U.S. when he was a young child, settling in Little Village, according to his bio. He graduated from Lane Tech College Prep in 1984 and enlisted in the U.S. Navy, receiving an honorable discharge. He then received degrees in accounting and political science from Northeastern Illinois University, according to his bio. He worked for Fortune 500 companies before going into government.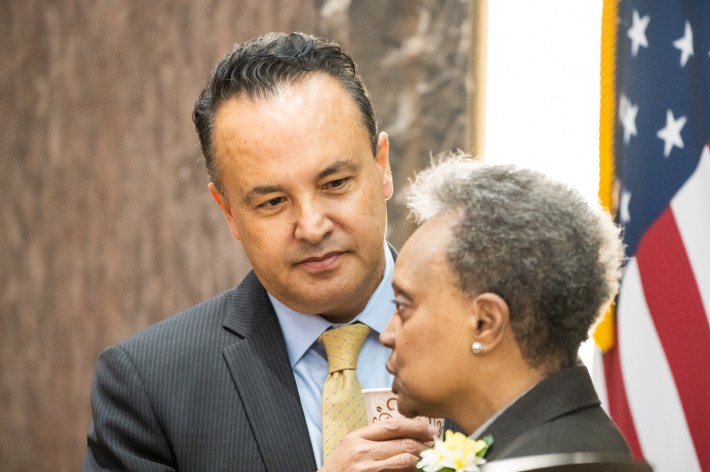 Cardenas heads the council's Environmental Protection and Energy Committee and is Mayor Lori Lightfoot's deputy floor leader. The mayor praised Cardenas in a tweeted statement, calling her ally "a devoted public servant for nearly two decades."
"The Cardenas family immigrated from Durango, Mexico, to Chicago in search of the American dream. Alderman George Cardenas' accomplishments and work honor that hope of a better life and provide a template for future leaders," Lightfoot tweeted.
"His leadership and insight both in and out of council chambers make him a superb colleague & confidante, and an even better friend. In the 12th ward, Alderman Cardenas has fought for infrastructure improvements, economic development, & improved City services for all residents. … I will do everything possible to ensure that the next Alderman for the 12th Ward follows George's model of integrity, advocacy, and delivery."
Cardenas' resignation allows Lightfoot to appoint her fourth alderperson in a chaotic year of City Council turnover.
Lightfoot appointed Ald. Timmy Knudsen (43rd) in September to replace Ald. Michele Smith, who abruptly resigned in August after 11 years representing the ward.
In June, Ald. Monique Scott (24th) replaced her brother, Ald. Michael Scott, who resigned to take a job with Cinespace and later was appointed to the Chicago Board of Education.
In March, Ald. Nicole Lee (11th) replaced convicted Ald. Patrick Daley Thompson, who was forced to resign following his conviction for income tax fraud.
Several other aldermen either are running for mayor or not seeking reelection in 2023.
Alds. Raymond Lopez (15th), Roderick Sawyer (6th) and Sophia King (4th) are vying to upend Lightfoot's reelection bid.
Alds. Leslie Hairston (5th), Susan Sadlowski Garza (10th), Howard Brookins Jr. (21st), Ariel Reboyras (30th), Carrie Austin (34th), Tom Tunney (44th), James Cappleman (46th) and Harry Osterman (48th) all are stepping down when their terms expire in May.
Watch our "On The Block" TV show on The U, CW26 and MeTV.
Listen to "It's All Good: A Block Club Chicago Podcast":