HUMBOLDT PARK — Asha Adisa and Kai Black recorded their first full-length album together from a closet-turned-recording-studio inside their Humboldt Park home.
Their blend of post-punk and neo-soul tumbled out of speakers in the space on weeknights and weekends, Adisa's verses floating smooth yet strong over Black's tight drums and meandering basslines.
The duo and romantic couple took turns mixing the neon tiles of recorded audio that tumbled across the screen. The resulting project, "VISCERA!," came out Halloween. It's Adisa and Black's first full-length album under the moniker Orisun and focuses with unflinching openness on their experiences as Black, gender-queer rock musicians.
"The name just sort of fit the way I've been feeling for a while," Adisa said. "Being a person of alternative identity, you have this feeling that you're some kind of grotesque creature, some kind of thing. … It's a truly visceral experience to live in a body that is marginalized; it's something that you can physically feel all the time."
Both Adisa and Black were more or less always musicians. Black started playing drums at age three, an eager participant in his large family's regular jam sessions in St. Louis. Adisa was raised by a gospel singer mother in the outskirts of Chicago with a preacher for a grandfather. Their youth was dominated by choir and theater. Neither Adisa nor Black played rock growing up.
"I had this weird preconception of what kind of music I was supposed to make," Adisa said. "Being perceived as a Black woman, there are types of music that you're expected to make, and it's not generally rock music."
After high school, Adisa moved to Washington D.C. to study music at Howard University. They wanted to major in music history but were turned off by the department's focus on classical music. They also struggled as a pansexual person; their friends were mostly fellow Christians who didn't like their girlfriend.
In 2013, Adisa dropped out and moved back to Chicago, where they bounced between jobs and started recording their own music. They drifted away from Christianity toward various non-western belief systems, a self-exploration that ultimately led them to come out as nonbinary. Shedding their identity as a Black woman led Adisa to stop worrying about other people's expectations regarding their music. They began embracing the influence of bands they'd loved since childhood — Paramore, Interpol, The Decemberists.
Like Adisa, Black reinvented themselves musically as an adult.
After high school, they went to Columbia College. While studying there, they formed a girl band (at the time, Black identified as a lesbian) called Highness with four other students.
The group classified its genre as neo-soul, but Black's thrashing drum parts along with the guitarist's forceful riffs brought it to garage and basement shows.
"We accidentally made punk jazz music," Black says.
Highness dissolved in 2016 when several members decided to pursue other projects. Black began pursuing their own solo career but was unable to keep making neo-soul music.
"I couldn't even write it," Black says. "I came to a point where I just had a lot of empty tracks with no words."
Black explored their gender more deeply. They'd already begun using they/them pronouns in 2015, but in 2017, they began medically transitioning as trans-masculine.
Black and Adisa met at an open mic that same year. The event was at a DIY bookstore, mostly friends and friends of friends seated on the floor. Adisa played some of their own songs, one of their rare performances in front of other people. The set was straightforward — them, a guitar, and their voice. Black was struck by Adisa's rich vocals and wanted to collaborate.
"I just couldn't believe that he wanted to work with me," Adisa says. "I had seen Highness, I knew about his other projects. He's a really, really impressive and powerful musician."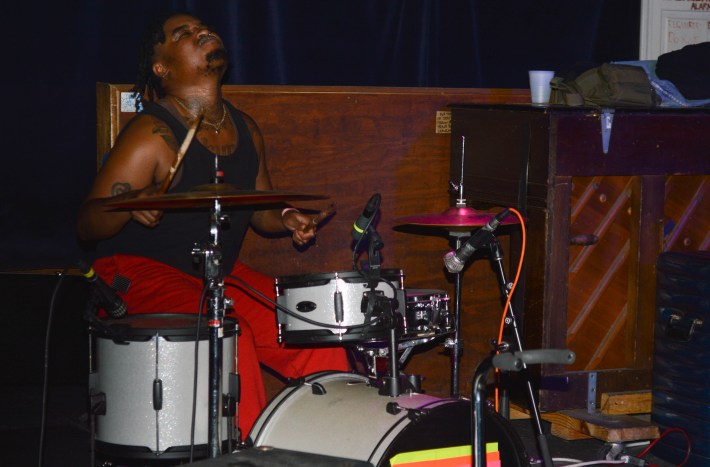 Adisa shared some of their records with Black. Convinced that the songs were worth more than the haphazard treatment Adisa had given them before quietly releasing them, he offered to "add some baselines, polish it up, give it a facelift [and] put that girl back out there."
Adisa returned Black's empowerment. As they started collaborating, they taught him that liking rock music didn't delegitimize them as a Black person. They also showed him how to mix their own music. Black had wanted to master programs like Logic as a solo artist but found that previous collaborators answered with impatience when they asked them to explain the process.
Most importantly, Adisa gave Black a sense of self-worth.
"They affirmed everything that I did, [and] that's how you treat growing human beings," Black says. "You need to be affirmed on everything that you f—— create, to be nurtured and pushed forward to make more and create deeper. When I was able to do that, I felt free."
As Adisa and Black worked together, they began exploring a budding romantic connection. They've been dating for more than three years.
'If You Can See Yourself There, That's The First Step'
The name "Orisun" — pronounced oh-ree-SHOON — comes from a concept within Yoruba tradition referring to one's divine connection to the spiritual realm. This connection enables people to choose their own destiny for each lifetime they experience. Adisa was interested in self-actualization several years before they met Black. Then Black brought it up during a conversation late one night.
"I was realizing that this world is f—– crazy, and then also realizing my power," Black says. "You're the creator and the creation; basically, anything you want [in] your life, if you can see yourself there, that's the first step of making it real."
Adisa told Black that they'd already written a song from that perspective. "Sim" compares living for other people's expectations to living in a simulation. Black helped Adisa re-record and release the track as part of a single earlier this year.
VISCERA!'s bodily focus builds on the headier feelings of alienation underlying most of the duo's existing music; one track, "Feral," relays the skittishness and discomfort of interacting with other people while dealing with anxiety and trauma. The album continues the thread of seemingly disparate influences within Orisun's older music but leans harder, with more intensity and experimental chord progressions. They've already played some of the tracks at venues like Cole's and Green Mill.
"The songs are very incisive, and there's a lot of rage," says Malcolm Riordan, a music photographer who has followed Orisun for over a year. "But it also seems very cathartic when you see them perform it. These ruminations on culture and Chicago and the world, white supremacy."
One of Orisun's goals as Black rock musicians playing in predominantly white spaces on the North Side is to challenge racial preconceptions about their chosen genre and remind people that rock came from Black artisanship.
"This music … is ours, actually," says Black. "We can gain it back; we can claim it as our own."
Listen to "It's All Good: A Block Club Chicago Podcast":