LINCOLN PARK — Timmy Knudsen, former chair of the city's Zoning Board of Appeals, is the new 43rd Ward alderman, filling a vacancy left by Ald. Michele Smith when she retired in August.
Chicago's City Council voted Wednesday to approve Mayor Lori Lightfoot's appointment of Knudsen, which she announced Monday evening. Knudsen will now serve the rest of Smith's term, which ends in May. He's already announced his campaign to run to keep the seat after that.
"I'm truly humbled to be in the chamber this morning," Knudsen said after his appointment. "The outpouring of support from the people in this room, the 43rd Ward and across the city of Chicago has been overwhelming and energizing."
Knudsen is the third alderman Lightfoot has appointed this year, following Ald. Nicole Lee (11th) to replace convicted Ald. Patrick Daley Thompson and Ald. Monique Scott (24th) to replace her brother, Ald. Michael Scott.
At 32, Knudsen is now the youngest alderman. He's also the first openly gay representative of the 43rd Ward, he said — making him the sixth member of the city's LGBT caucus.
"Representation matters, and having the opportunity to share my own experiences and uplift those of other diverse communities is a responsibility I take seriously," Knudsen said.
Ald. Tom Tunney (44th), who chairs the Council's LGBT caucus, said "gay is good," but Knudsen will have to contend with demanding neighbors who pay high taxes.
"What are you going to do for your constituents?" Tunney asked. "You have a very demanding neighborhood. They pay a lot of taxes. […] How are you going to deliver, keep your neighborhood safe and keep them represented on this very diverse City Council?"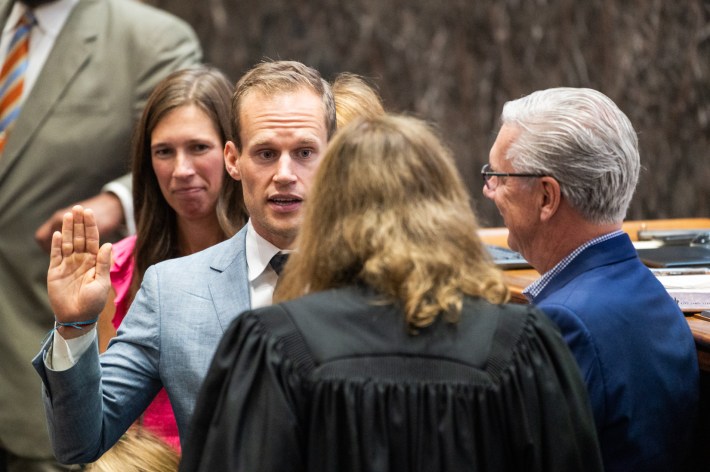 Knudsen, who's spent the last several years living in Old Town and Lincoln Park, was part of Lightfoot's 2019 campaign finance team. He's also a partner at Croke Fairchild Morgan & Beres, although he's been on a leave of absence since July 27, according to its website.
In his legal role, Knudsen has counseled start-up companies, founders and their investors, according to Lightfoot's office.
He also founded the pro-bono practice at his law firm, which represents LGBTQ asylum seekers in Chicago and Tijuana, Mexico. He's given legal services to more than 40 asylum seekers through this work, according to Lightfoot's office.
"As I have throughout my legal career, my public service chairing the Chicago Zoning Board of Appeals and my time as a grassroots organizer, I will be an advocate and consensus builder as alderman," Knudsen said Monday. "I bring a passion for private sector results to public service and am honored to have a new way to give back to the community I call home."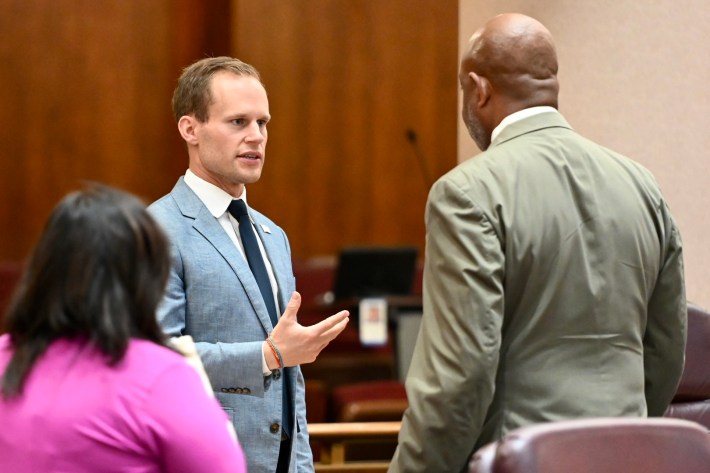 Knudsen launched his campaign for 43rd Ward alderman six weeks ago, and has spent that time gathering hundreds of signatures and meeting with residents at Oz Park, over coffee and by knocking on doors, according to a statement Knudsen released Monday.
Knudsen highlighted public safety, schools and communication as key issues he'd address as alderman. He promised to immediately look to invest aldermanic menu dollars into public safety initiatives.
"Neighbors have told me that they want an alderman who will fight for public safety and public schools, foster open dialogue and champion local community leaders and organizations every step of the way," Knudsen said. "As alderman, I will work every day to answer that call."
Knudsen's campaign has received support from prominent LGBTQ community leaders, including activist Art Johnston, co-founder of the Illinois Federation for Human Rights (Equality Illinois) and owner of Sidetrack. He was also endorsed by the Victory Fund, a political action committee dedicated to increasing LGBTQ representation in government.
The City Council also presented Smith with a resolution thanking her for 11 years of service as a Chicago alderman. Smith's colleagues praised her intellectual approach to leadership, attention to detail and willingness to ask the tough questions, especially during budget season.
Knudsen praised Smith's leadership over the 43rd Ward office and thanked her for sharing her knowledge with him over the years, including over coffee at the Golden Dagger.
"I'm hoping to lean on you for a bit if you're up for it and take as many lessons from you as I can," Knudsen said.
Lightfoot commended Smith for being a "fierce advocate for a very tough ward."
"Your counsel, clear-headedness and way to analyze problems and get to the other side and toward resolutions […] leaves a great legacy of accomplishment," Lightfoot said.
Smith said she would remain active within the 43rd Ward by working with neighbors to establish the North Branch Park Preserve, a proposal for a 24-acre, publicly owned riverfront park and nature preserve along the east bank of the Chicago River between North Avenue and Cortland Street.
"Thank you again for the opportunity to serve our community as alderman," Smith said. "It's been the honor of my life to serve."
Listen to "It's All Good: A Block Club Chicago Podcast":