EDISON PARK — A Far Northwest Side community organizer and attorney is running for the 41st Ward seat held by Ald. Anthony Napolitano.
Paul Struebing officially announced his candidacy last week. He wants to bring fresh leadership to the ward, improve public safety, boost business vitality and address quality of life issues, he said.
Struebing, a community representative on the Ebinger Elementary School Local School Council, grew up in suburban Arlington Heights and moved to Edison Park in 2018 with his wife. His family has ties to the neighborhood that span decades, and some still live in the ward, he said.
Struebing also serves as the vice president of the Edison Park Community Council, which engages neighbors on civic and social issues facing the area, according to its website.
"I'm running because I love this part of the city and I believe that we can do great things for folks and that city government can do more," Struebing said. "We should expect more from city government."
Last year, Struebing spearheaded a push for a safety overhaul of Northwest Highway, helping gather about 800 signatures on a petition asking city officials to study the street and see how it can be made safer for pedestrians and bicyclists. After almost a year, a study was done on the area because of the neighbor efforts, said council members who also worked on the initiative.
Struebing is focusing his campaign on public safety issues that could make residents feel more secure, like pushing for the city to hire more police officers and detectives, creating safer streets and calming traffic on busy roads in the ward such as Northwest Highway and Touhy Avenue, which have seen numerous crashes and deaths.
At the beginning of the year, retired police officer Richard "Rick" Haljean died in a hit-and-run while crossing Touhy. He was the second pedestrian killed in two years, according to the community council.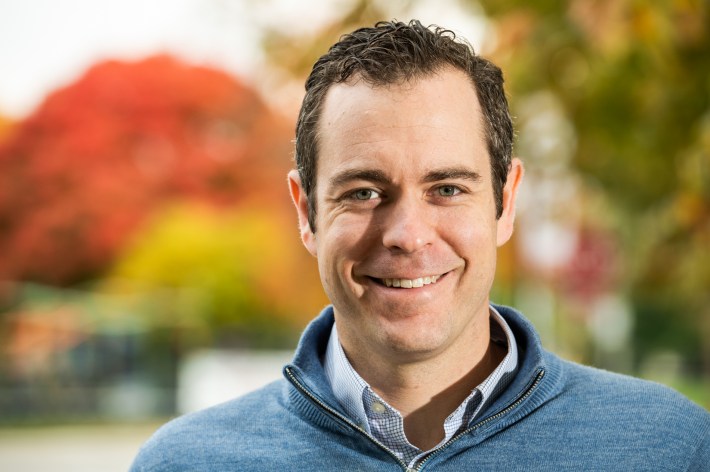 "Part of feeling secure in the neighborhood is also being confident that your kid can ride their bike to school and get there in one piece or being confident that your elderly neighbor can go to the grocery store and pick up food and not get run down crossing Northwest Highway or Touhy," Struebing said. "So we're focused on all of those aspects of public safety because that's a key component to our neighborhoods on the Northwest Side; we're all kind of hemmed in by big roads."
Other focuses include improving parks, libraries and education, and incentivizing more businesses to open in the ward. Creating shopping corridors can boost economic development and bring in people from other neighborhoods and the suburbs, Struebing said.
Struebing also wants to increase the quality of life for his neighbors, which means improving issues like flooding because of the area's proximity to the Des Plaines and Chicago rivers, addressing pollution due to O'Hare's closeness and planting more trees to create healthier air, save people money on energy bills and make the neighborhood prettier, he said.
"You want to be on a tree-lined street; you don't want to be on a street that's been clear-cut. And, unfortunately, we have had a lot of old trees die because of disease, but we need to replenish those as quickly as possible," he said.
Vicki Parker, an Edison Park resident who worked with Struebing on the Northwest Highway petition, supports his aldermanic run because of his strong leadership and organizational skills, his law knowledge as an attorney and his volunteer work for neighbors, she said.
"He is a doer when it comes to actually effecting change in the neighborhood," Parker said. "When I look at politics, they tend to be showy. … He has done it quickly without needing a lot of accolades. I really believe that."
Napolitano is running for re-election and will host a virtual fundraiser next month, according to the Friends of Anthony Napolitano Facebook page. Campaign representatives did not return requests for comment.
Struebing is the alderman's first challenger and said a change in leadership would also help the ward better support its many city workers.
"The people who live up here do a lot of work for the city," he said. "They should get out of city government what they put into it."
Listen to "It's All Good: A Block Club Chicago Podcast":