CHICAGO — A "supercell" rainstorm Sunday inundated streets and caused cars to stall and water pipes to burst across the city's North Side, leaving hundreds of Chicagoans with flooded basements and entire blocks under water.
Residents reported basements flooded with more than 1 foot of water and impassable intersections on the North Side, including in Lincoln Square, Albany Park, Portage Park, Uptown, Edgewater and Ravenswood. 
RELATED: Chicago's Rain Continues Monday — But The Rest Of The Week Should Be Sunnier
By 7 p.m. Sunday, the rain had largely subsided and water had receded into the city's sewer system, providing some relief for residents who spent the better part of Sunday pumping water out of their homes, slogging through swamped sidewalks and checking inundated car engines. 
Noe Torres, of Lincoln Square, said his basement was flooded with 2-3 feet of rain. Water rose up to the produce crisper section of his refrigerator, knocked over shelves and took hours to drain, even with the assistance of a Shop-Vac.
"I don't remember anything like it, and I've been here 25 years," Torres said. "Where the table is floating? Water in the fridge? I've never had that happen before." 
Zach Yack, a meteorologist with the National Weather Service, described the storm as a "supercell," a type of rotating thunderstorm that dumps enormous quantities of rainfall over a relatively small area. The supercell developed west of the city and tracked northward, Yack said. With extremely low wind, the storm stalled over the North Side, dropping close to 4 inches of rain in about two hours.
"These storms are typically able to produce very efficient rainfall rates, and this one was no exception in that regard," Yack said. "Unfortunately, when it became slow-moving and then kind of parked over the northern side of Chicago for a while, it produced several inches of rain in a short period of time. Not many places can handle that."
While the South Side also experienced heavy rain, it was spared the worst of the flooding, Yack said. 
Earlier in the day, videos and photos on social media showed cars stalling under at least 2 feet of water beneath the Metra line at Ravenswood and Lawrence avenues, standing water at the Kennedy Expressway exit at Kostner Avenue, massive flooding on Western Avenue between Montrose and Lawrence and burst water pipes spewing like geysers at the intersections of Argyle Street and Wolcott Avenue in Lincoln Square and Montrose Avenue and Harding Avenue in Old Irving Park. 
A video also showed a massive water spout outside Diversey River Bowl at Diversey Parkway and Logan Boulevard — although the bowling alley remained open for operation later Sunday, with lanes undamaged, an employee said.
As of Sunday night, residents were still reporting significant flooding near Ravenswood under the Metra Line.
The day began with light rains about 7:30 a.m., with the heavy rainfall starting across the city 8-8:30 a.m., said Casey Sullivan, a meteorologist with the National Weather Service. The rain fell at a rate of about 2 inches per hour, Sullivan said.
Initial reports showed 3.35 inches of rain in Uptown, 3.35 inches of rain at Edgewater Beach and 3.64 inches in Old Irving Park, Sullivan said. Portage Park had received more than 4 inches of rain by about 11 a.m. 
"Most of the Near North Side is between 3-4 inches," Sullivan said. 
The National Weather Service had a Flood Advisory in effect until 1:45 p.m. and a Beach Hazard Advisory until 4 p.m. City officials warned residents of high waves to 7 feet around midday. 
Ald. Andre Vasquez (40th) said he heard reports of heavy flooding across the entire city. 
"I called into the incident center, and they said they're seeing it citywide," Vasquez said.
Chicago's sewer network has an "inlet control valve system" that intentionally limits water intake during heavy rainfall events so as to not overwhelm the wastewater system, with the streets acting as a temporary holding area.
For that reason, the street flooding is normal, Vasquez said. But residents who experienced over-the-curb basement flooding should file a ticket with 311 and reach out to local officials to report the issues, according to a city news release.
"If it's flooding on the street, that's intentional. If there's flooding in the basement, submit the request so the Department of Water Management can follow up once the rain stops," Vasquez said. 
To help avoid flooding, residents should refrain from running their dishwasher or washing machine during storms and disconnect downspout connections from the sewer system and redirect water flow to areas with permeable surfaces where stormwater can be absorbed, officials said.
Despite the deluge, Chicagoans trudged on, refusing to let Mother Nature impede a busy weekend of street fairs and sporting events. Printers Row's Lit Fest continued, albeit partially indoors, while the Chicago Bears won a surprise victory over the San Francisco 49ers even though Soldier Field had an inch of standing water about two hours before kickoff.
After coming back from a halftime deficit to win 19-10, quarterback Justin Fields led the offensive line in a celebratory, face-first endzone slip-and-slide, roaring at fans in jubilation. 
Vasquez said the city should expect more heavy storms like Sunday's, and he would press city officials to continue improving one of the world's largest wastewater and sewer systems. A multi-million dollar project to build out the city's water intake tunnels, called TARP, or Deep Tunnel, is set to be completed in 2029 to alleviate flash-flooding problems.
Meanwhile, Vasquez said people living in flooded basement or garden apartments should reach out to their local officials if they need housing assistance. 
"The reality is that it is climate change," Vasquez said. "These storms are getting stronger. These storms are getting harder. … I'm trying to figure out, are we doing enough to plant native plants and rain gardens to absorb more of this as it continues to happen? These are long-term strategies."
More photos and videos of the flooding: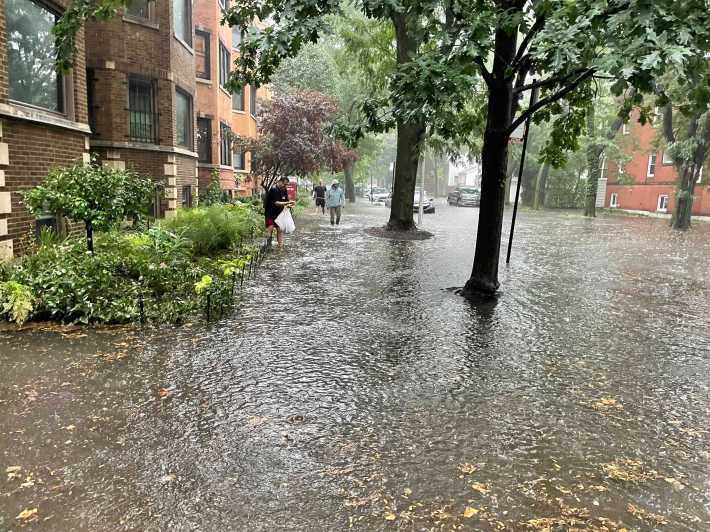 Listen to "It's All Good: A Block Club Chicago Podcast":