CHATHAM — A South Side alderperson's former chief of staff is challenging Ald. Michelle Harris (8th) in next year's election, but Harris said she's committed to her reelection bid.
Sean Flynn is running for the 8th Ward seat, which includes parts of South Shore, Grand Crossing, Chatham, Burnside, Pill Hill, Avalon Park, Calumet Heights, Cottage Grove Heights and Pullman. Flynn, who announced his candidacy Tuesday, served as Ald. David Moore's (17th) chief of staff until this month.
Flynn is challenging incumbent Harris, who is in her 16th year on City Council. She told Block Club she is seeking reelection in February even as a rash of her colleagues are resigning or retiring.
"In my mind, an alderman is like a gardener," Flynn said. "A gardener has the responsibility of securing and beautifying the area and helping it grow. If given the job, my purpose would be to secure, grow and beautify the 8th Ward. That's the most important thing that I think I could do as an alderman."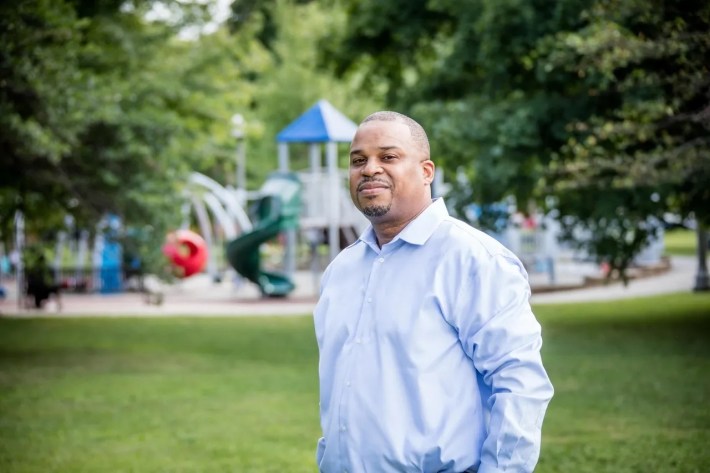 'I Want To Be A Breath Of Fresh Air'
Flynn grew up the youngest of four boys in a single-parent home, hopping from South Side neighborhoods such as West Pullman and Chatham, according to his bio. 
Flynn dropped out of high school and became a young father of three children before getting a barber's license and working in the field for eight years.
As a father of teens, he "became more sensitive to the crime and violence" in Chicago, and he changed careers to work as an at-risk youth mentor in Altgeld Gardens, Englewood and Morgan Park, he said.
Flynn earned a master's degree in public administration from the University of Illinois Chicago before working with Moore and Ald. Leslie Hairston (5th), he said in a news release. He moved to Calumet Heights three years ago.
If elected, Flynn's top concerns will be reducing crime, enabling economic development, increasing traffic safety and encouraging community development, he said.
Preventing crime and building community begins with bringing more soft skill training, mentorships and vocational opportunities to youth in the ward who may not have positive role models, Flynn said.
Flynn would pull financial resources from the state and build a coalition of neighborhood churches, community centers and leaders to "create a consistent program that addresses the specific needs for young people," he said.
Neighbors on Flynn's block don't know each other or are afraid to leave their homes because of carjackings and nearby crime, he said. Drivers race down Stony Island "like it's the Indy 500," and vacant stores are an eyesore, Flynn said.
The ward needs a "fresh pair of eyes," Flynn said. Under his leadership, the 8th Ward could become a destination sprinkled with economic developments such as coffee shops, thrift stores and "beautiful boutiques," Flynn said.
"Anybody that sits in any particular spot long enough is going to look at the same problem over and over until they don't see it," Flynn said. "Everything requires upgrades. … It's no different with government.
"Ald. Harris did the best she could with what she had. However, this is a different age we're living in. You need new solutions to solve these complex problems. Doing it the same old way that's been done is not going to get it done."
Flynn's time working with Moore, Hairston and constituents taught him the problem-solving skills a community needs to thrive, he said.
"I want to be a breath of fresh air that moves the entire community forward," Flynn said. "I hope to be a template and an example to the city, the state and the country of what you can do when you put the right people that truly care and are passionate on the street right now to work with the residents."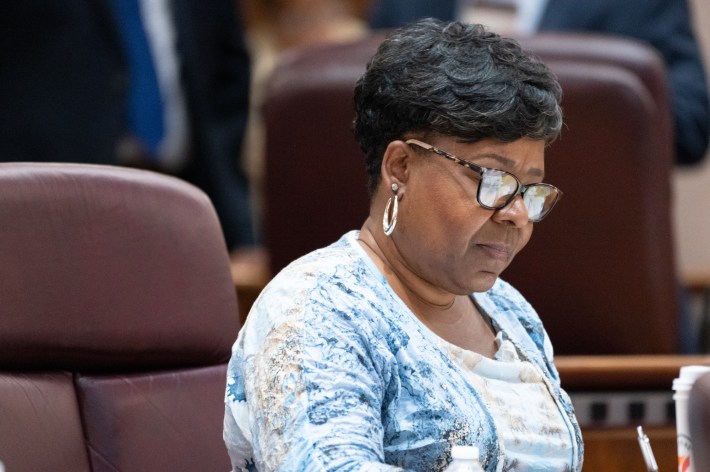 Harris 'All In Now' For 2023
Harris is "absolutely, positively not going anywhere," she said. 
Harris was appointed to City Council in 2006, filling Todd Stroger's seat after he left to become president of the Cook County Board of Commissioners. Harris was elected in 2007 and easily won reelection in 2011, 2015 and 2019. 
Lightfoot appointed Harris a council floor leader in February 2021. She also is chairperson of the Rules Committee and led the creation of the controversial new ward map. 
Over the years, Harris has championed major feats, such as building South Shore International College Prep, remodeling Rosenblum Park, rebuilding Jesse Owens Park and adding a $53.6 million indoor track and field facility to Gately Park, she said. She's best known as the "parks queen," she said. 
But there's still work to be done, Harris said. There are "several major projects on the hook" that only she can complete, Harris said.
"Not that I would leave anything to Sean Flynn, who's never done a thing in his life, but he's a new resident here, and I think he moved over here as an opportunist because I've got enough time to retire," Harris said. "But I'm not old, and because I'm still not old, I feel like I can get out there and work hard to continue to deliver for my community. 
"I'm all in now. These people are revving me up, so I'm ready to go."
Developments still in the works for Harris' ward include a $60 film studio in South Shore, a 40,000-square-foot art incubator founded by artist Theaster Gates and the city's only Fatburger and Buffalo's Express. She also wants to see the expansion of Art in Motion charter school for high school students come to fruition, she said.
In the next four years, Harris said she plans to work with doctors and staff at Jackson Park Hospital in South Shore to build a cafe and bring a hotel near Gately Park to host students competing in NCAA Track and Field competitions, she said.
"I'm working so hard to transform our parks and our community to leave a legacy for our children," Harris said. "We deserve new, we deserve fresh, we deserve better for our community."
Tackling crime will also be a top priority in the days ahead, Harris said. 
Harris will work with local leaders to install more plate readers and police observation device cameras in her ward to divert car theft and speeding, Harris said. 
Earlier this year, Harris installed more cameras and plate readers along Stony Island Avenue — amid pushback from neighbors — which she said has led to fewer incidents in her ward.
The new technology "adds another tool in officers' tool belts," Harris said. 
"I never campaign on making this a perfect community because I can't, but what I can say is that I'm going to address some of our safety issues regarding speeding cars and thefts," Harris said. "We're going to work with the police by putting up cameras everywhere I can get them."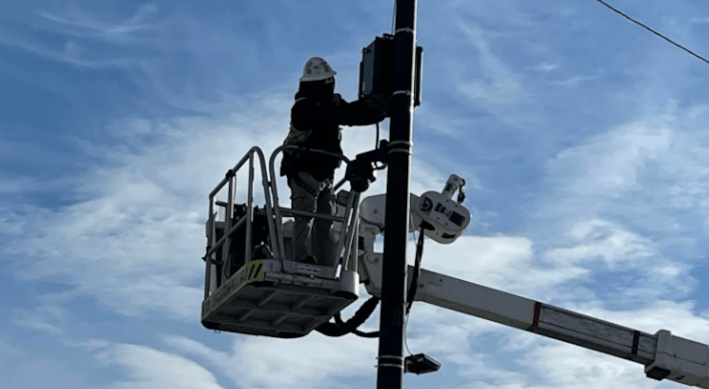 Eleven alderpeople have resigned recently or will not seek reelection, while three others are challenging Lightfoot for mayor. Lightfoot said she expects more in the coming weeks as the City Council reckons with the Great Resignation. 
RELATED: Here's A Full List Of City Council Seats Likely Up For Grabs In 2023
But Harris insists she isn't "on that boat."
"I'm still enjoying it," Harris said. "I think you should leave when you stop having love for the job. This job can be very demanding on people, but I'm still loving helping to transform my community. I will do whatever I can to get someone to come here, invest in and transform my community. I'm going to use all the resources I have at my fingertips to do that."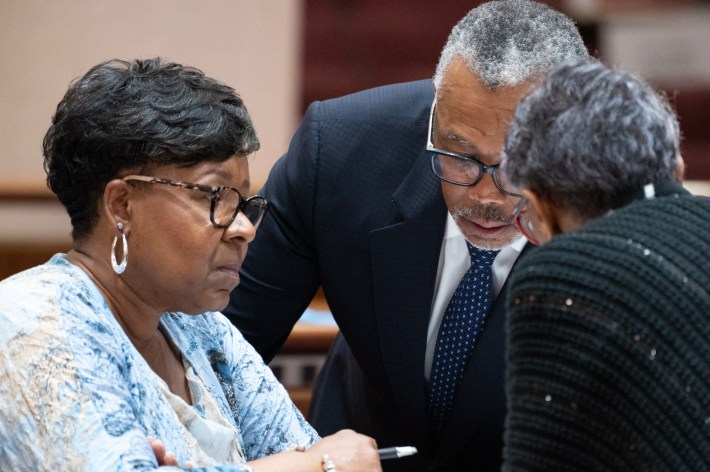 More contenders might come along, but they should remember "relationships matter, and it's not just about the title," Harris said. 
"It took me a long time to build relationships with state and federal partners to be able to get things done," Harris said. "A new alderman will lose all of that. They won't have those relationships because they don't transfer over. You have to earn people's respect, and I've worked hard to do that. 
"I'm pulling the train along. We're chugging along, and we won't stop moving."
Listen to "It's All Good: A Block Club Chicago Podcast":