PULLMAN — There was a time AJ Tillmon wasn't sure he wanted to run.
But encouraged by his younger brother and his parents, the 11-year-old began training. And now he's the fastest sixth-grader in the city.
On Saturday, AJ ran away with the title of "Fastest Kid in Chicago" for his division, outpacing all other sixth-grade boys in the 60-meter dash. He was one of many champions across the divisions on a day that also saw a new neighborhood star: the building itself.
The finale of the Fastest Kids competition — featuring 265 quick-footed finalists, ages 10-15 — was a housewarming for the indoor track and field center at Gately Park in Pullman. With a competition-level indoor facility that's accessible to the public, the $53.6 million complex at 10201 S. Cottage Grove Ave. is the only of its kind in Chicago.
It's an idea 35 years in the making.
Saturday's event gave a firsthand look at the young athletes the Far South Side can now serve. The 118,000-square-foot field house promises to increase access to one of the country's top youth participation sports. For a city that often lacks basic track equipment and proper indoor running spaces, the newest doors of Gately Park open year-round opportunities.
The space is intended for kids of all skill levels — from those just getting started, to those striving toward top times, college scholarships and even Olympic dreams.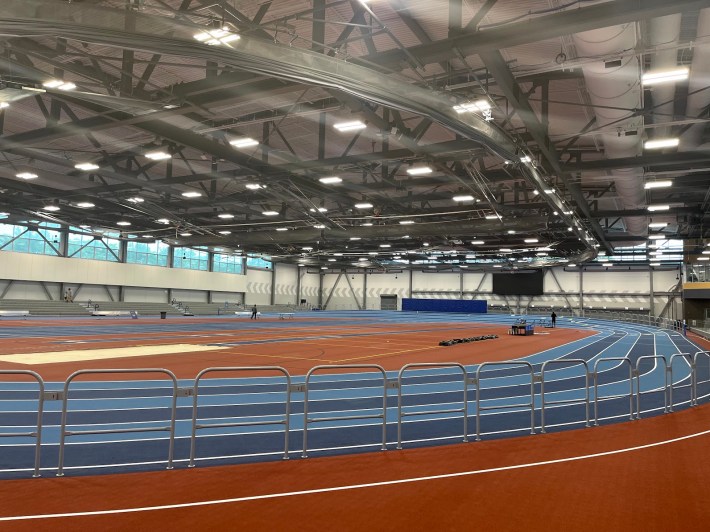 The indoor track and field is designed for kids seeking to reach new heights in the sport. The hydraulically banked 200-meter track is suited for top-level competition, giving elite runners the surfaces needed to break records. The site also features high jump and long jump pits, pole vaults, hurdles, relay areas, shot put cages and sprint lanes.
"This wasn't just a Park District field house; this is a world-class facility," said Greg Hipp, executive director of Chicago Area Runners Association, a running advocacy group. "There's very little that it doesn't have that the top facilities do."
Treyshun Green, 15, flashed a smile as he went past his competition, taking home a big gold medal and the day's top time: 7.84 seconds. Symone Frison, also 15, had everyone in her rearview when she finished in 8.02 seconds, a personal record naming her the fastest girl in the city.
The kids zipped past Mayor Lori Lightfoot, Rev. Jesse Jackson Sr. and six-time Olympic medalist Jackie Joyner-Kersee, who cheered from their front-row seats.
"I hope they realize what truly a blessing this facility is," said Joyner-Kersee, a native of East St. Louis, Illinois. "You can see how time has evolved. We ran in the hallways on tile. And today to have a facility like this, during the winter months, it's going to introduce young people to the sport."
Brothers AJ And Eli Tillmon Go For It Together
Before running, AJ Tillmon was more into anime and playing Minecraft with his 10-year-old brother, Eli. But Eli loves sports — all of them. Despite being a foot shorter than his big brother, Eli would challenge AJ to race to church on Sundays in Garfield Park. Mom and dad Heather and Amos Tillmon quickly took notice of their children's speed.
When signups for Fastest Kids came around, the two brothers, students at Mark Sheridan Math & Science Academy, decided to go for it together. Their parents turned into coaches. For the Tillmons, racing is an exercise in family bonding.
"I guess it would be fun, but just to warn though, I don't really like fame," Eli Tillmon said. "Because it attracts a lot of people."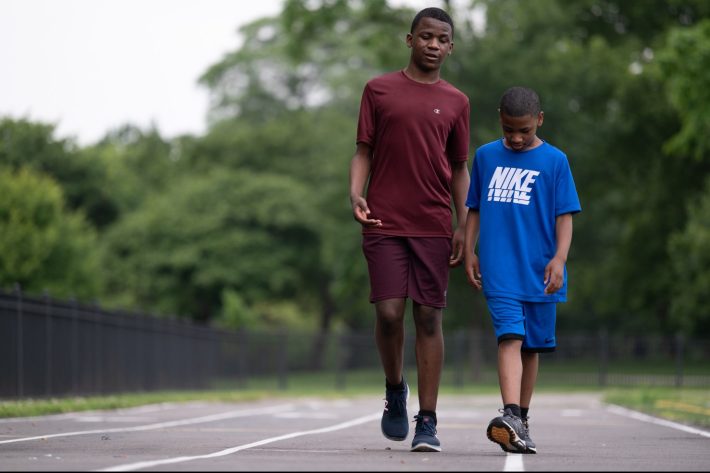 Several hundred people filed into the new Indoor Track & Field on Saturday, but on Wednesday, it was just the Tillmons practicing in Douglass Park. Heather Tillmon shouted, "Ready, set, go!" while Amos Tillmon acted out proper running form. Amos grew up in the neighborhood, and he's been a morning jogger at Douglass Park for his whole life.
Now, he runs with his two sons behind him.
"It's a dream come true. To see the boys out here following my footsteps," Amos said. "This is just a milestone, you get the interest in the sport, and we can move on to bigger and better things."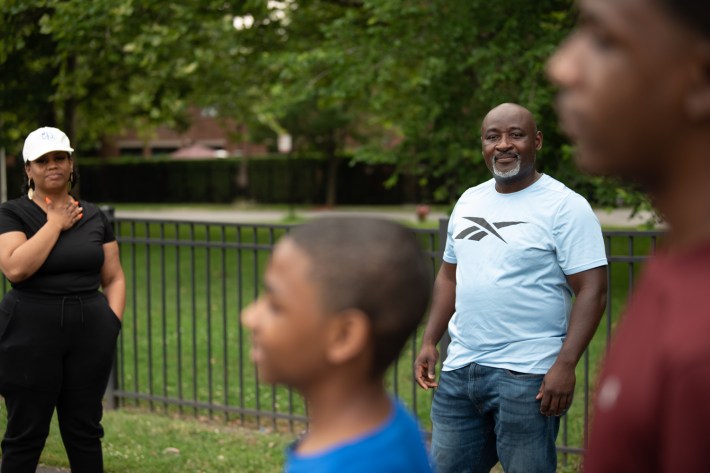 Getting Chicago's youngest residents interested in track and field is a main goal of the Park District's newest facility. Over 3,000 kids registered for the chance to race at Gately Park, with qualifiers for Fastest Kids being held at eight locations around the city.
Younger kids, grades first through fourth, were offered beginner clinics on site, learning the basics of the sport: running, pole vaulting, long jumping. Park District organizers hope to host similar programs at Gately Park moving forward.
"It's about getting people excited about track and field in the city of Chicago," said Trena Harris, the deputy director of revenue for sports facilities and a lead organizer for Fastest Kids. "We have this incredible facility on the South Side now, and the event was just kind of a way to connect the dots,"
Members of Chicago's running community sense an enthusiasm bump that comes with a state-of-the-art field house.
"I think more than anything, it's going to inspire kids to take part in a sport that's really made for anybody," said Hipp, of the of Chicago Area Runners Association. "You can be a thrower, a pole vaulter, a distance runner. It's one of those rare sports where nearly every type of athlete can find a place."
Hipp thinks Chicago was much in need of an indoor facility, one that could service an inclusive sport that often doesn't cut players at the youth and high school levels.
"For any part of the sport to grow in the Chicago area, there needs to be an investment in facilities," Hipp said. "It's something worth investing in when it's a sport anyone can be a part of."
On Wednesday, AJ was nervous — but excited — for his first competitive race, his chance to be a fastest kid.
"Just to know that would be pretty cool by itself," AJ said. "I guess I would want to try to run more with the motivation and all that. Getting a breath of fresh air and running, it's just nice."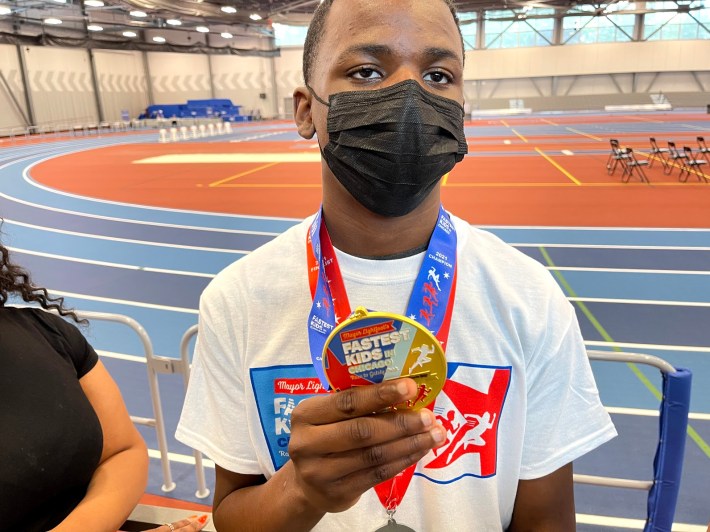 Symone Frison Impresses The Mayor
Symone Frison came into Saturday's race with an impressive runner's resume. At her family home in Beverly on Wednesday, she showed off a handful of medals with pride: AAU championships, USA Track & Field honors, her recent Illinois State Championship for the 100-meter dash in the girls 15–16-year-old age group. And she's only headed into her sophomore year at Lindblom Math and Science Academy.
"Symone is a self-starter. She's a high-skilled, high-willed kid, no matter what genre she chooses," said her dad, Shawn Frison. "From an early age, she wanted to win and compete so much, and I could see the fire in her stomach."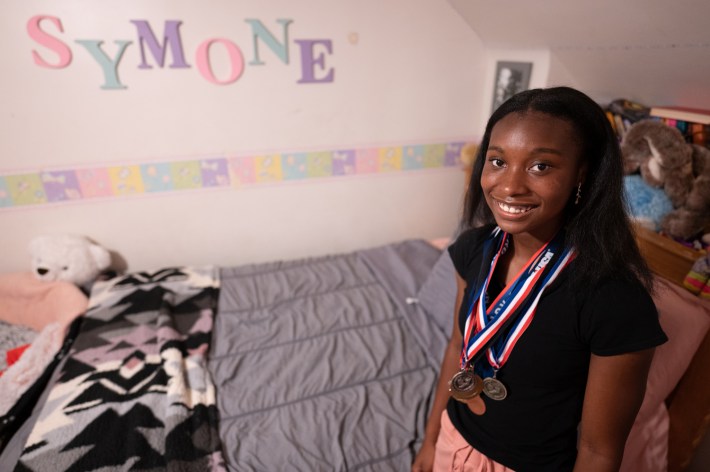 Shawn is a former semi-professional basketball player who posted a 45-inch vertical during his athletic peak. He met Evelyn Frison when they were kids growing up around Jesse Owens Park. It seemed right when their daughter Symone became a runner. Her parents knew she was fast the day she outran the family's shih tzu Yorkie, Hershey.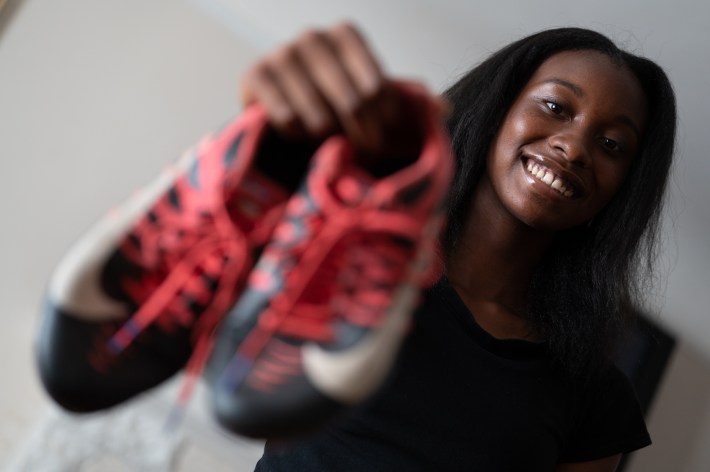 "I like to run to know that I can do this," Symone said.
She's already thinking ahead to regionals later this month, to getting under 12 seconds in the 100-meter dash by her junior year, to earning a college scholarship and eventually becoming a doctor.
Symone Frison said Chicago runners often face hurdles, on and off the track.
"Down South, they always have the heat. At Lindblom, when it's cold, we have to run up and down the stairs, we have to run through the hallways," Frison said. "There's people in the hallways just getting out of school, and bookbags and computers and stuff like that."
The Frison family, long-time South Side residents, hope the nearby facility will give kids the resources to excel at the sport.
"The more outlets we give our children in the inner city, the more programs, that's what our kids need," Shawn Frison said. "For the youth to have a place of refuge and a place to hone their talents, get a chance for people to view them, it's an awesome thing."
Hipp hopes the facility is just the beginning.
"It's a huge positive, but it's certainly not enough. One facility can't serve all of Chicago," Hipp said. "If you really want to serve all the kids of Chicago, you're going to need multiple facilities on the South Side, multiple on the West Side. And that's a long process."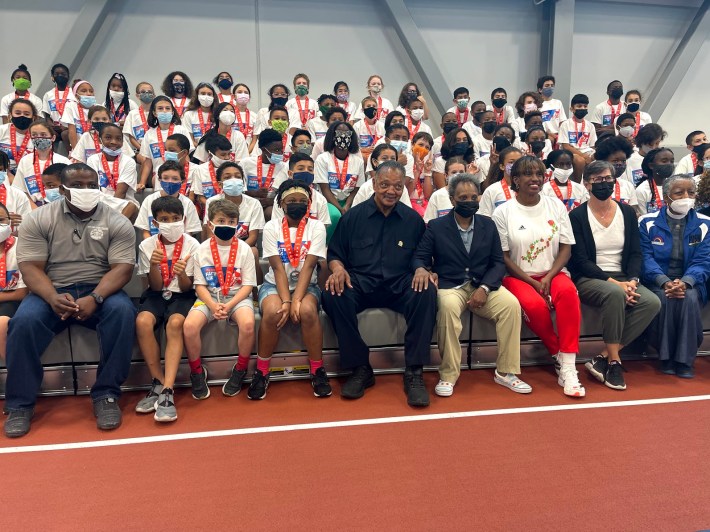 Conrad Worrill's Dream Fulfilled
Anyone who knew Conrad Worrill knew the man wouldn't stop talking. The long-time Northeastern Illinois University professor and activist, who died last year, had a lifelong hope for student-athletes of color: they wouldn't have to run in CPS hallways like he did. Worrill asked every mayor for 35 years, dating back to Harold Washington, to build a indoor track on the South Side.
After plenty of stops and starts, Mayor Rahm Emanuel finally proceeded with the project and broke ground in 2018. Ald. Michelle Harris (8th) sat around the table with Conrad through all his efforts to put a track in her district.
"He's going on and on, and the man finally said, 'OK.' And he's still fussing, and I'm pulling his coattails like, 'We won!' And it took him another tirade anyways," Harris said. "He might've taken it back in another minute."
The Park District will consider naming the facility after Worrill soon. Harris sees the space as a "game changer" in the overall development of the Far South Side.
"In order for this facility to be successful, we have to have restaurants and hotels, so it becomes an economic driver that drives the development of this community," Harris said. "It's a great opportunity for growth and redevelopment of a community that really needs it."
Harris hopes to build up a majority Black-owned business district around the facility, which now has the capabilities to host major events and attract Chicago athletes from all over the city.
Hipp said Gately Park is strongly equipped to host USA championships and major NCAA conference championships.
"Some of these major indoor championships, or just college and high school championships, are bringing in 100-plus teams," Hipp said. "There are definitely economic benefits to it."
The complex could interest more than just runners. The building's additional 22,000 square feet includes a public fitness center, multiple purpose rooms and a west-wing for After School Matters. The two-floors occupied by After School Matters is equipped with art and dance studios, music and recording rooms, a full culinary kitchen, tech labs and a rooftop garden.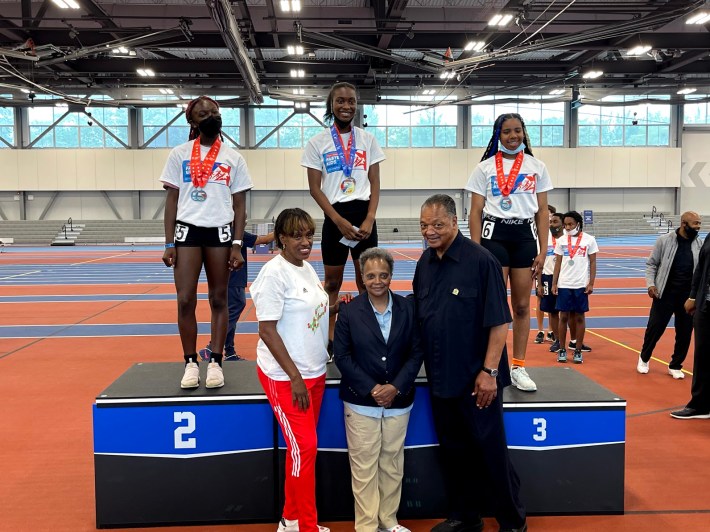 Femi Skanes, a daughter of Worrill and principal of Morgan Park High School, addressed the crowd at Fastest Kids.
"My father had a vision," Skanes said. "It's where we are standing today."
On Saturday, Symone Frison flew out the starting blocks and completed her opening round time in 8.09 seconds — at the moment Lightfoot walked into the building. Impressed, the mayor approached the 15-year-old for a fist bump.
"That was some serious running!" Lightfoot told Symone.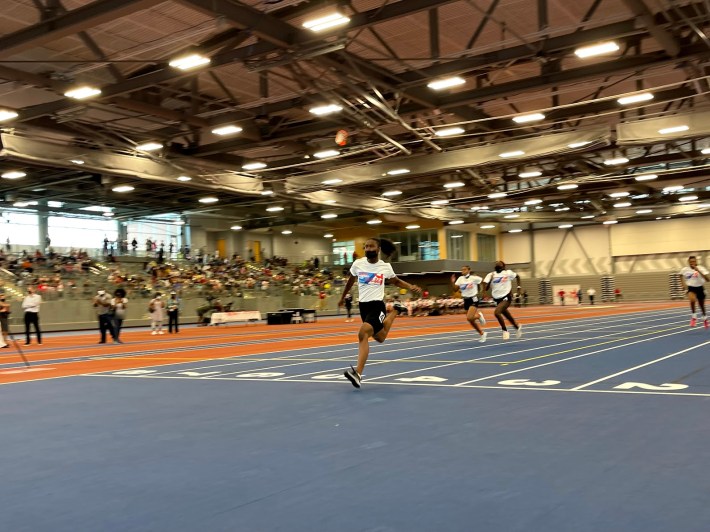 The mayor embraced Jackson and Joyner-Kersee as the three took their seats for the remainder of the opening heats. Prior to the final round, the event paused for group photos and speeches.
"When we love and support our young people, they thrive," Lightfoot said. "When they see they have opportunity at their fingertips, and the city comes together to support them, there is nothing they can't do."
Jackson spoke next, but first asked the crowd to give a standing ovation. Jackson was the one who approached Lightfoot with the idea of a "Fastest Kids" competition, trying to come up with ways to get young people active after COVID-19. The reverend led the crowd in a chant.
"Fastest runner, not the fastest gunner," Jackson said.
Symone waited as her race neared.
"I'm a little nervous, but not super nervous," Frison said. "I just want to run my best and do the best that I can."
The best is what she did. Frison hustled her way to her personal record time in the 60-meters, over .8 seconds faster than her nearest competitor. Moments earlier, AJ Tillmon cruised to his own victory, standing tallest amongst the other sixth-graders. Joyner-Kersee draped gold medals on the winning kids.
Eli, who finished second in his opening round heat, showed AJ brotherly love. While Douglass Park is the family's home base, they hope to revisit the track and field soon and stay involved with the sport.
"It feels weird. It feels very weird," AJ said. "Knowing that I'm fast."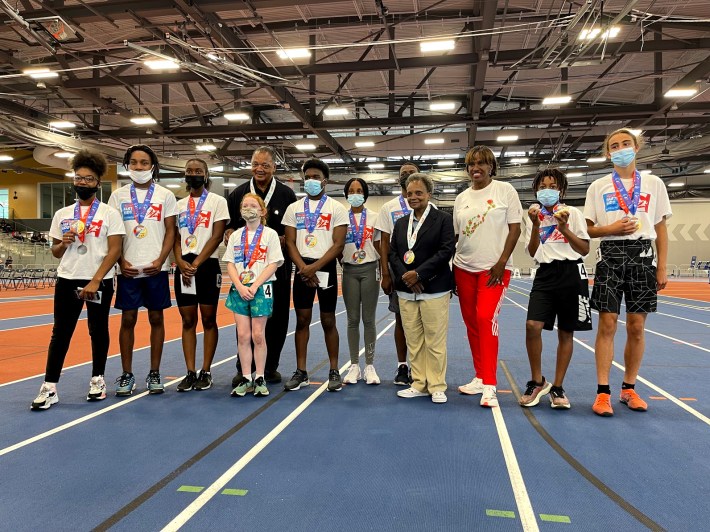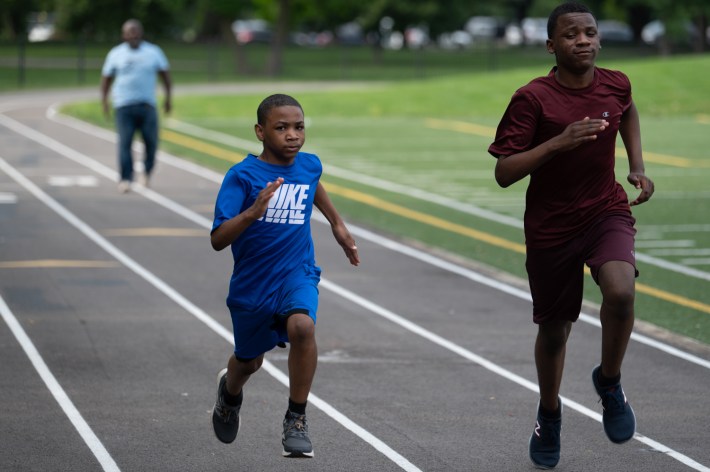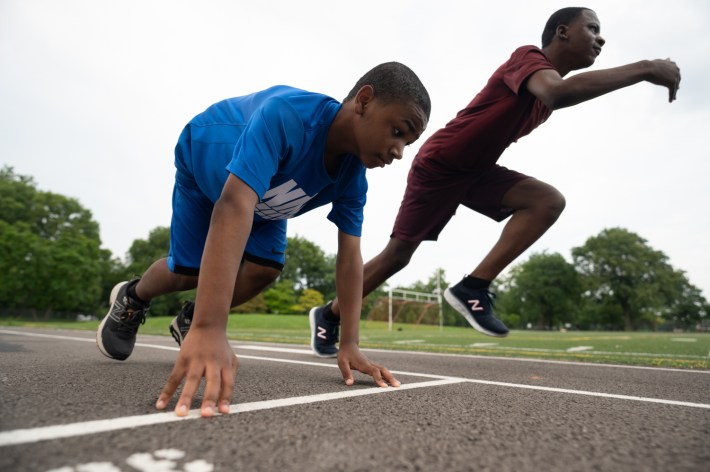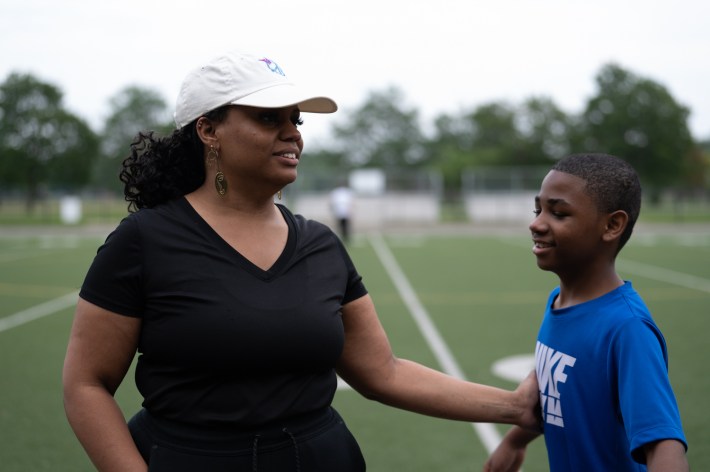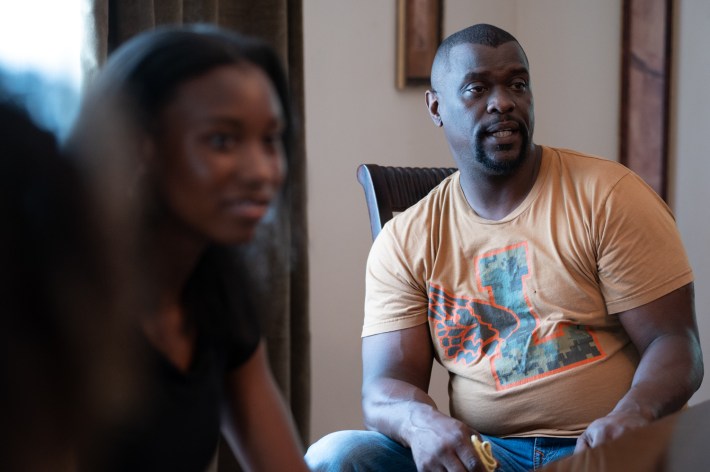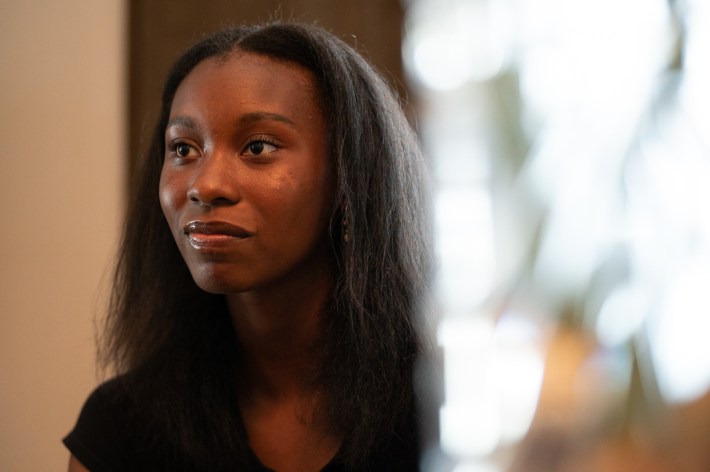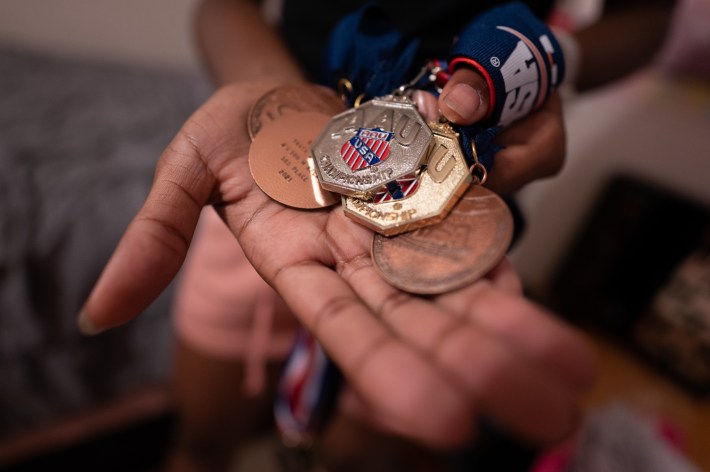 Subscribe to Block Club Chicago. Every dime we make funds reporting from Chicago's neighborhoods.
Already subscribe? Click here to support Block Club with a tax-deductible donation.