FOREST GLEN — Several tall ash trees sit on a residential street in Forest Glen, with magenta and silver tags pinned into the bark.
The pins denote when each tree was inoculated with insecticide to guard against emerald ash borer, an invasive species that has destroyed tens of millions of ash trees over the past two decades.
The city of Chicago stopped treating ash trees in 2019. But dozens of Forest Glen residents were determined not to lose the trees in their community, so they raised $10,000 last year to treat 55 ash trees themselves.
Not all of the money was used, and neighbors say they will put the extra toward inoculating the trees again in two years.
"We are fortunate that we are a community that could do this," said Gayle Paprocki, a member of the neighborhood club who donated to the fund. "We are rightfully boasting about the money we raised, [but] if you imagine we couldn't do it and every one of these got lost, what a change in the neighborhood it would be."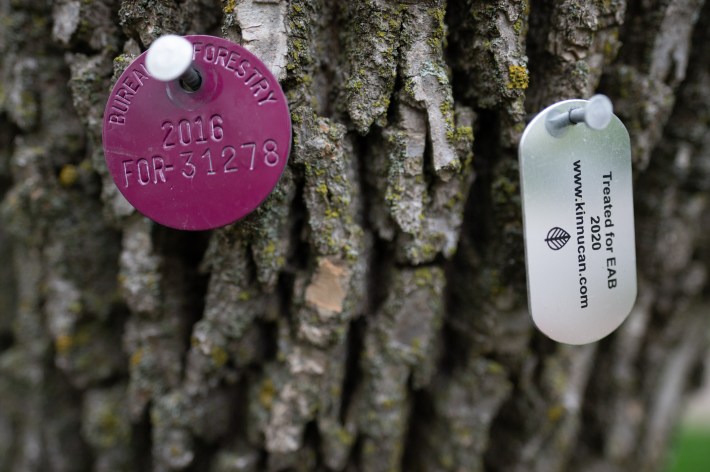 The emerald ash borer beetle only feeds on ash trees. It was unknown in North America until 2002, when it was discovered as the cause for the decline of many ash trees. More than 30 million ash trees in the northeastern United States and Canada have been lost.
Beetle larvae feed under the bark and outer sapwood of ash trees, disrupting the tree's ability to transport water and nutrients and eventually killing the tree. The Illinois Department of Agriculture has said the beetles could wipe out every ash tree species in the continent.
The city has not been spared. When the city began treating trees to keep away emerald ash borers in 2013, there were 94,000 ash trees on Chicago's parkways. Now, about 52,000 remain. Illinois lost about 46 percent of its ash trees 2010-2020, primarily because of emerald ash borer, according to the 2020 tree census report by the Morton Arboretum.
Now that the city is no longer treating the trees, the Forest Glen Community Club is one of several neighbor-driven efforts to protect them.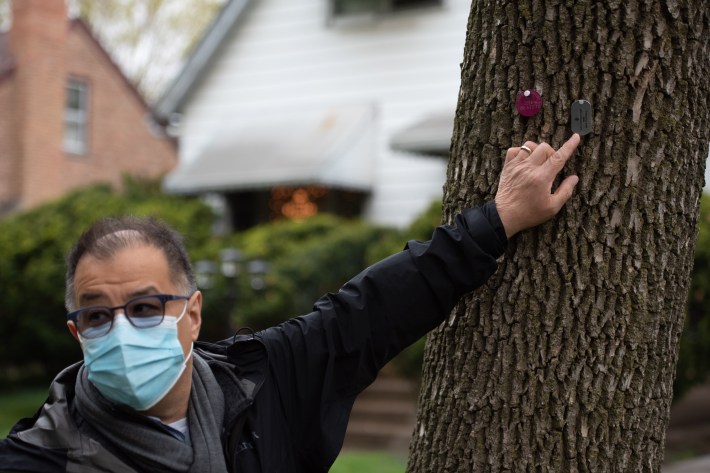 The club already had experience with treating the trees. Paprocki said the club saved four trees near the Forest Glen Metra stop before the city got involved.
Seeking to broaden their efforts, another group member, Bill Chin, said they consulted with John Friedmann, who founded Save Your Ash in 2013 to raise the alarm about emerald ash borers and educate people on treatment options.
Friedmann, president of the North River Commission, has worked with Northwest Side groups preserving trees in their area. Save Your Ash also partnered with organizations in the North River Commission area to create the Civic Association Map, which shows neighborhood groups raising awareness and funds to treat ash trees.
"We're in the middle of our last-ditch effort to save these trees," Friedmann told Block Club last year.
Ash tree inoculation should occur every two to three years, experts say. Far Northwest Side trees were last treated by the city in 2016, so waiting any longer could have meant the Forest Glen trees were beyond saving, Chin said.
Chin worried there wasn't going to be enough interest to pull off the fundraising effort, but after he and his wife knocked on doors and put up flyers, it was clear people who had the means wanted to help.
"A lot of the people who donated were dog walkers — the reason being the trees give you this shaded canopy in the summertime," he said.
Eventually, they raised more than enough to cover the $8,000 project treating trees throughout the neighborhood and along the North Branch Trail. The extra $2,000 will be saved to treat the trees again in 2023.
The loss of ash trees means reduced urban canopy cover, which is vital for reducing energy use and air pollution in the summer, blocking wind in the winter and providing wildlife habitat. A 2020 Morton Arboretum tree census report found that while urban canopy increased in six neighboring counties, Chicago's tree cover has decreased 3 percent since 2010.
For decades, local nature conversation group Openlands has helped protect more than 55,000 acres of land for public parks, forest preserves, urban farms and more. Director of Forestry Michael Dugan said the decline of Chicago's urban canopy is a big problem for the urban forest and everyone living in it.
"A large tree provides exponentially more benefits than a newly planted tree," Dugan said. "If we can be doing things to support and keep large, healthy trees to support our canopy in the ground, that's what we want to be doing."
RELATED: Here's How You Can Help Protect Chicago's Trees From Emerald Ash Borer
Aside from preserving and planting trees, Dugan said people need to push for public policy that will increase protection and adequate management of the city's nearly 4 million trees. The decline of ash, elm and maple trees, which have all suffered from invasive pests, can be a learning experience for forestry experts and nature conversations, he said.
"Hopefully, the lesson we can learn from the story is that we need to continue to plant a diverse amount of trees to have a more sustainable urban forest that will be able to take whatever the future will throw at us," he said. "What we do after planting those trees is even more important."
Chin, who has lived in Forest Glen for 26 years, said it's clear ash trees have an important impact on community wellness and maintaining them is in everyone's best interest.
"Trees are sponges to soak up carbon and heat island issues. If you start taking away these trees, you start seeing a very slow, nefarious degradation of wellbeing to people," he said.
There's another, more basic incentive to care for the local trees.
"Aside from the other effects of what it does, our community is named Forest Glen," Chin said. "So we have this ironic commitment that we have to maintain some level of forest."
Subscribe to Block Club Chicago, an independent, 501(c)(3), journalist-run newsroom. Every dime we make funds reporting from Chicago's neighborhoods.
Already subscribe? Click here to support Block Club with a tax-deductible donation.
Listen to "It's All Good: A Block Club Chicago Podcast" here: