CHICAGO — Rare letters from Al Capone written during his Chicago Outfit days — including one where he talks about nearly being murdered just days before — are being put on the auctioning block.
The three letters are going on sale for the first time through Hindman Auctions. They are the only letters of Capone's known to have survived from his heyday as a leading Chicago gangster during Prohibition, some of the city's most infamous and violent days.
"We know of no examples of Capone letters to come to market from this prime period of his life, when his influence on organized crime in Chicago was at its apex," Hindman Vice President Gretchen Hause said in the news release.
The letters were written by Capone to William and Lowrene Sells, brothers who owned Capone's favorite resort in Wisconsin and were the gangster's friends, according to Hindman. The cheapest is expected to go for at least $3,000, while the most expensive could start at $12,000, according to Hindman.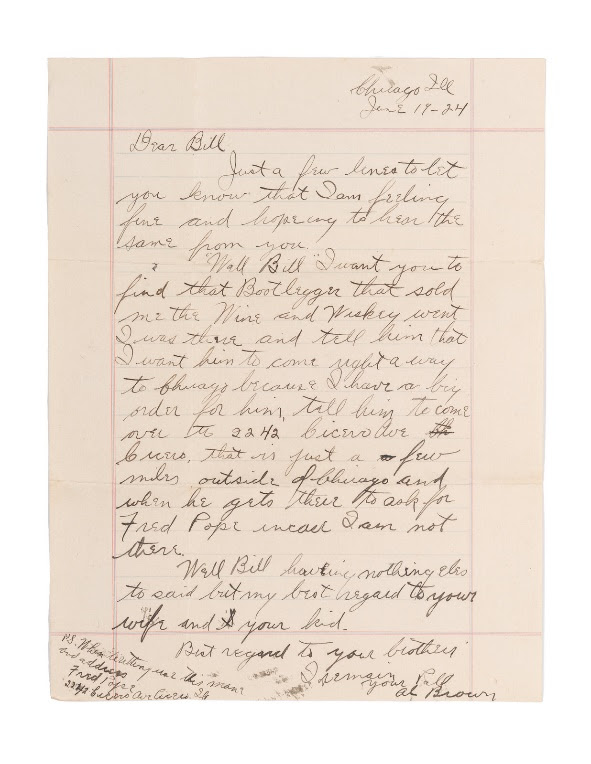 In a letter from 1924, which Capone wrote from suburban Cicero, he told Bill Sells to get ahold of a bootlegger so he could place a "big order" with him, according to Hindman.
In a January 1925 letter, just two days after Capone was nearly assassinated in Chicago, the famed gangster wrote to the Sells brothers to tell them he was doing all right but, "Things have been so darn exciting that I haven't had time to change clothes," according to Hindman.
A 1929 letter from Capone to the Sells features Scarface asking about real estate in Wisconsin.
The letters will be auctioned alongside an 1896 Colt revolver thought to have been used by Capone and reprints of photos from Capone's family of the gangster, his accomplices and a woman, according to Hindman. Other ephemera will also be available.
The auction starts 9 a.m. Nov. 9, with people able to bid in person at its showroom, 1338 W. Lake St., online, absentee or via phone.
Listen to "It's All Good: A Block Club Chicago Podcast":