AUBURN GRESHAM — Community leaders and local officials cut the ribbon on a healthy living center Friday, welcoming an abundance of new businesses and neighborhood essentials to the South Side. 
The Healthy Lifestyle Hub, 839 W. 79th St., is open and ready to serve the community. The Greater Auburn Gresham Development Corporation, which spearheaded the hub, celebrated the occasion in a packed lobby with dozens of attendants. 
The hub will repurpose a nearly 100-year-old vacant building into a neighborhood destination for medical care, healthy food, banking and educational resources after years of disinvestment. 
Neighbors can visit the four-story hub for a meal at Mikkey's Retro Grill or refine their culinary skills at a high-tech kitchen and training center sponsored by a $600,000 donation from the Chicago Bears. 
A UI Health Clinic and Urgent Care Center will provide medical, dental, and mental health care and pharmacy services to thousands of new patients. A UIC Neighborhood center will offer tutoring and small business workshops, and a Bank of America will supply banking services years after unexpectedly closing in the community. 
The $20 million investment years in the making is the "miracle on 79th Street," Maurice Cox, commissioner of the city's planning and development department, said Friday.
It's a "joyous occasion," said Carlos Nelson, director of the Greater Auburn Gresham Development Corporation.
"This project is a testament to what can be done and what can be accomplished when public, private and philanthropic partners come together to support a community's vision," Nelson said.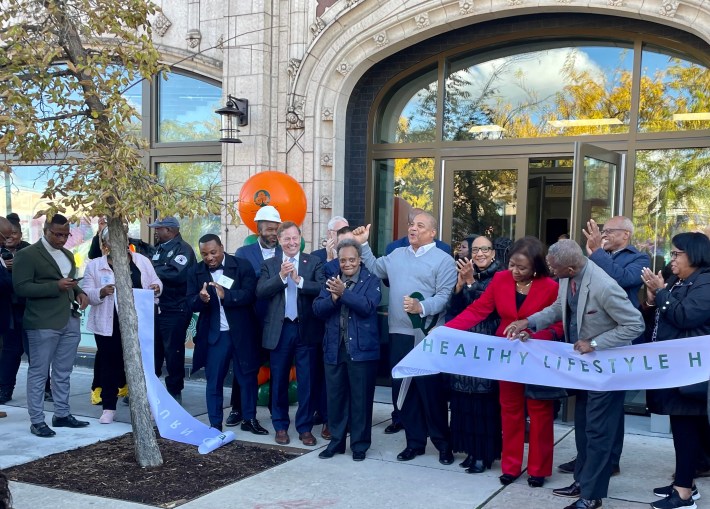 The terra cotta building that will house the Healthy Lifestyle Hub was first home to the Rusnak Bros. Furniture Store and Showroom in 1925. 
In the 1970s, the building became a windowless, dark public aid office that "wasn't fit for an animal," State Rep. Mary Flowers said. For years, she witnessed grandmothers "beg for food stamps," crying, as their children went hungry, Flowers said. 
The building stood vacant for more than two decades before the Greater Auburn Gresham Development Corporation used "a lot of money and a lot of time" to restore it, Nelson said.
The South Side development corporation received $4 million from Mayor Lori Lightfoots' Invest South/West program to create the lifestyle hub. Months later, the project won the first ever Pritzker Traubert Foundation's $10 million Chicago Prize in 2020. 
The Chicago Prize "was the catalyst that turned the vision into reality," Lightfoot said. 
After "sitting vacant for decades as a constant symbol of disinvestment," the Healthy Lifestyle Hub signals a "new chapter in this neighborhood's history," Lightfoot said.
"I want the young men that go to Leo [High School] to be able to walk down this street with incredible pride at the transformation that's happening along 79th Street," Lightfoot said. "For too long, their walk has been marked with vacant buildings sitting empty, underutilized. A child sees that [and] it does something to them. What it says is, 'We don't care about you or your neighborhood. We don't care enough to invest.'
"Kids that are freshmen, and by the time they graduate as seniors at Leo, will say this is a community that is vibrant and thriving and cares about my future in the city of Chicago."
The Healthy Lifestyle Hub is the first project in Auburn Gresham to take flight, but more are on the way. 
Leaders gathered in August for a ceremonial groundbreaking for the $43 million Auburn Gresham Apartments, a two-building, mixed-use complex with 58 apartments slated for long-vacant land. AYO Foods, a West African food producer, The Park Supper Club and KLEO Community Center will operate commercial space on the ground levels of the building. 
The $35 million Auburn Park Metra station at 79th Street and Lowe Avenue could be completed as soon as 2024. And Jamaican Jerk Villa is opening a bar and grill steps away from the station. 
An extravaganza with the community celebrating the hub will happen in November, Nelson said.
For now, the grand opening of the Healthy Hub marks a new day for the community, Flowers said. 
"I know that these doors are going to bustling with children and laughter and music and the smell, the aroma of good food, and we're going to have healthy people living a healthy lifestyle in a healthy community," Flowers said. 
Watch our "On The Block" TV show on The U, CW26 and MeTV.
Listen to "It's All Good: A Block Club Chicago Podcast":