LAKEVIEW — What would happen in a post-apocalyptic world in which only cockroaches and Cher survive? Or how would pop icon Britney Spears react after a mega fan revives her from the grave hundreds of years from now?
These outlandish scenarios are the basis for a double feature of comedy cabarets created by local drag queen Maureen SanDiego.
The two shows — "Cher + Cockroaches" and "Britneyjuice" — will happen 9:30 p.m. Saturday at the Newport Theater, 956 W. Newport Ave.
The cabarets mix SanDiego's love for the absurd with her drag, vocal and parody songwriting talents. They're also the last chance to see Chicago's "female female impersonator" — or woman who performs as a drag queen — live before she moves to Los Angeles in pursuit of new opportunities.
"The shows are really fun, silly and stupid," SanDiego said. "There's this deep investment and love of Cher and Britney among queer people, so fans will get all the references to things like how crazy Cher's Twitter is. It's going to be a fun night."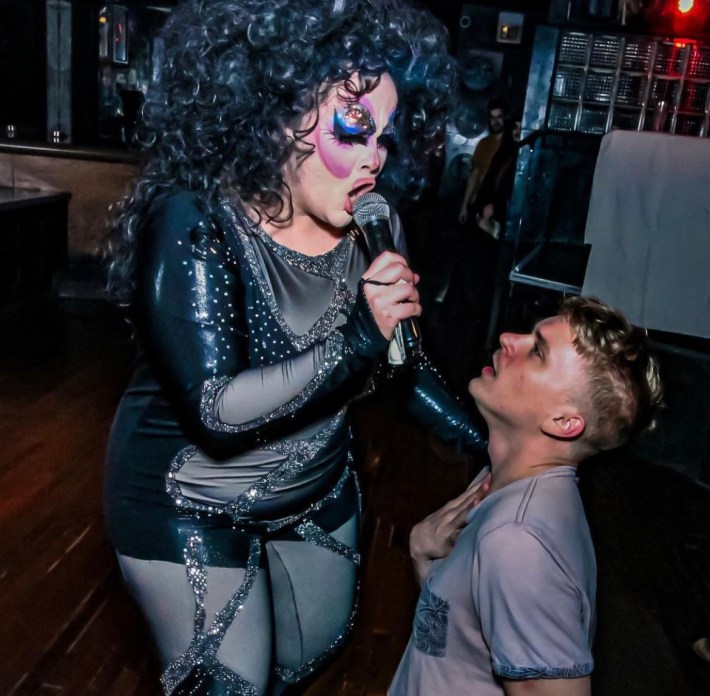 A Diva Double Feature
The cabaret double feature marks SanDiego's fourth show at the Newport Theater, but the artist has produced more than a dozen cabarets since she started performing as her alter ego around 2013.
The evening will start with "Britneyjuice," a campy story set in a future where Spears dies at 254 years old, SanDiego said. The pop princess's death sparks rumors that she faked her own death and sends shockwaves through the gay community, which relies on Spears' music to stay youthful.
"The gays start aging rapidly, so they're very upset," SanDiego said. "That's why one superfan uses the occult to bring her back from the dead and it all spirals from there."
"Cher + Cockroaches" follows Cher's antics in a post-apocalyptic world where she's "just doing her thing, eating radioactive Twinkies and singing songs about missing her fans," SanDiego said. But the story takes a twist when Cher learns her son, Chaz Bono, also survived the apocalypse and chaos ensues from there.
This is SanDiego's third time performing "Cher + Cockroaches," which was revived for the double feature due to popular demand, SanDiego said. The show was previously performed at Jackhammer in Rogers Park, and this will be its first time happening at Newport Theater.
Both shows are set to parody songs of Spears' and Cher's discographies that SanDiego wrote herself with help from her creative circle, she said. They feature live singing, dancing, acting and guest appearances from other local artists like drag queen Sheeza Woman, also known as Joshuan Aponte, who's designed outfits for the likes of Megan Thee Stallion, Cardi B and numerous "RuPaul's Drag Race stars."
"The shows are just very campy and fun," SanDiego said. "They're not typically interwoven with some deeper meaning, although sometimes that happens by accident."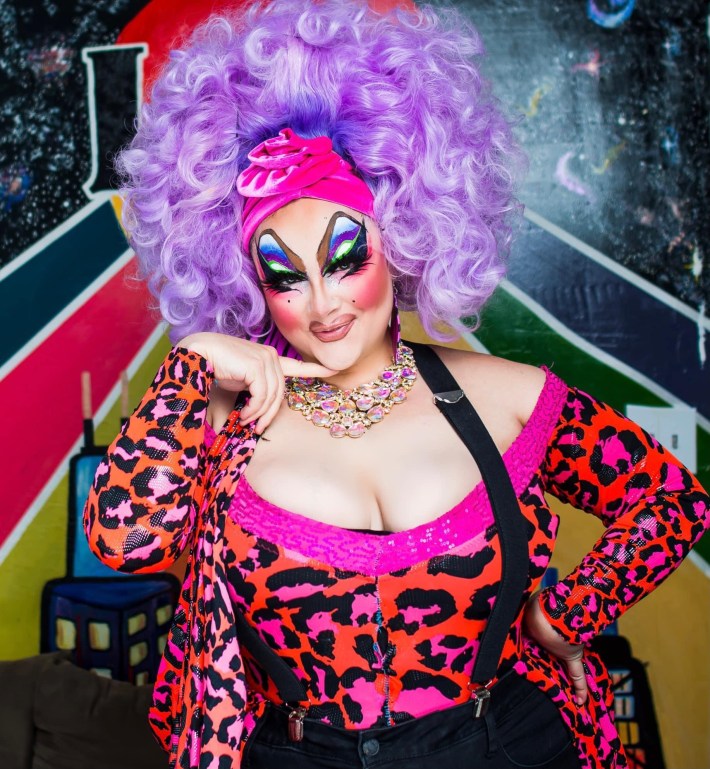 Becoming Maureen SanDiego
SanDiego got her start performing in drag while studying acting at Illinois State University — although she likened her performance act to comedians like Weird Al Yankovic and Neil Hamburger rather than drag queens.
At the time, much of drag culture in Chicago didn't understand the concept of women performing as drag queens, SanDiego said.
"People would tell me not to say I was a drag queen because it would be considered offensive to the gay community," SanDiego said. "In many ways I still am offensive to the gay community, just not in that way."
But the culture started shifting around 2015 when SanDiego started visiting Queen!, a weekly party every Sunday at SmartBar, and met other women who perform in drag.
Queen! was in its early days and viewed as an event for club kids and drag performers to show out in extravagant looks, SanDiego said.
"It was a place to be seen, and from that I just started booking drag shows from there," SanDiego said. "I kind of just started being considered a drag queen, which I hadn't experienced before."
SanDiego draws her first name, Maureen, from a grade school teacher she had growing up who threatened to expel a 10-year-old SanDiego for making a joke about Bill Clinton's affair with Monica Lewinksi.
She then adopted SanDiego as her last name after creating a show centered on video game character Carmen Sandiego's relationship with her overbearing stage mom, Maureen.
"And Maureen SanDiego is shameless, but in a sort of joyful way," SanDiego said. "I think the character is all about relinquishing shame and in addition to that, taking the sh-t and manure of your life and using it as fertilizer to grow some sort of weird, beautiful flower."
SanDiego's signature performance style draws on the absurd and themes of sex, relationships, depression or marijuana, she said.
Anyone plugged into internet culture might recognize SanDiego from a viral clip of her last show, "The RuseSical," in which she begins a dance number on stage before switching places with a stunt double wearing the same costume who performs elaborate choreography.
"It was very fun and the people seemed to love it," SanDiego said.
SanDiego also competed in famous drag queen Alaska Thunderf-ck's "Drag Queen of the Year" pageant in 2021, where she won in the Q&A category.
The pageant was held virtually due to the pandemic, so SanDiego's Q&A with the judges happened over Zoom. When the cameras cut to her, she was surrounded by a fake glam squad performing last-minute touchups on SanDiego, who acted like she was unaware the interview had begun.
She also had to prepare and film an evening gown presentation and digital drag performance. SanDiego's evening gown was made out of green screen material, which was manipulated to show images like sparkling sequins, bottles of poppers and other silly patterns.
"It was one of those concepts that just hit me and I was like, 'That's an idea for a lifetime,'" SanDiego said. "You get a few of those, and the green screen dress was one of them."
SanDiego said part of why she's moving to Los Angeles is because she feels she's hit a "glass ceiling" of opportunities in Chicago.
"I'm really proud of everything I've done here in Chicago, and this city turns out some of the most badass performers on Planet Earth," SanDiego said. "But I want to do more in terms of writing and take my act to a bigger platform."
Tickets for SanDiego's last cabaret in Chicago are available now on EventBrite. They cost $28 for general admission and $40 for VIP seating.
Listen to "It's All Good: A Block Club Chicago Podcast":