CHICAGO — Chicago's public school students could be back in classrooms Wednesday.
The Chicago Teachers Union's House of Delegates voted Monday night to approve a deal with the city to end their days-long remote learning action and resume in-person learning Wednesday. Sixty-three percent of the delegates voted to send the proposal to 25,000 rank-and-file members for final approval this week.
Teachers were told by their union representatives late Monday to return to classrooms Tuesday, ahead of students coming back Wednesday.
The news came hours after dozens of schools already had called off classes Tuesday. CPS CEO Pedro Martinez confirmed Monday night that classes are off throughout the district.
RELATED: Some Chicago Schools Canceling Classes Tuesday For 5th Straight Day
The deal potentially resolves a bitter battle around school safety as the city endures its worst-ever COVID-19 surge fueled by the Omicron variant.
Mayor Lori Lightfoot said the city would release details of the reopening agreement if the union's rank-and-file ratifies the deal, but both sides outlined some of the terms Monday night.
Previous sticking points had been requirements on testing and when, if ever, coronavirus spread should force the district to flip remote learning.
Lightfoot, Martinez and health Commissioner Dr. Allison Arwady all strenuously opposed any provision to compel the whole district to go to remote learning, saying it wasn't necessary for public health and jeopardized overall educational quality too much.
Lightfoot said CPS lost track of 100,000 students when the district was all-remote.
Lightfoot also blasted the union's demands to have opt-out testing rather than opt-in, saying it was "morally repugnant," even though dozens of schools districts use similar policies.
RELATED: Chicago Schools COVID Vaccination, Testing Rates Vary Widely By Campus, Data Shows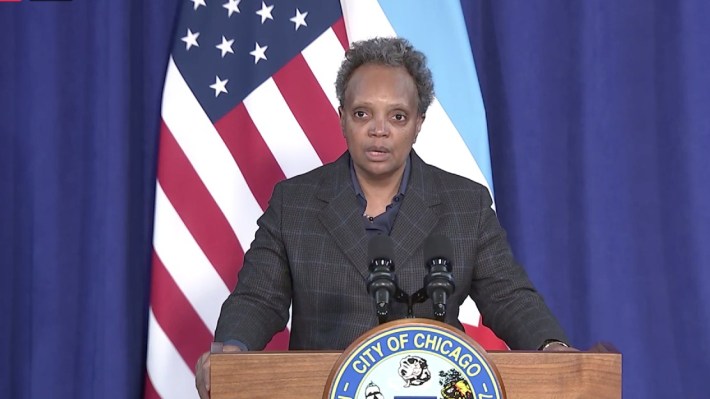 Instead, teachers and other staff members will be able to contact families they work with and encourage them to sign up for testing and vaccinations, union leaders said in a separate virtual press conference Monday. There will also be a stipend given to staff members who offer to coordinate testing expansion at their school.
Union leaders said they expect opt-in numbers — only about 16 percent of CPS families have signed their children up for regular testing — to explode once they are able to get involved. The union also said parents will be able to orally opt-in to testing, and phone banks will be set up to get more families on board.
Lightfoot said the two sides also agreed on metrics for having an individual classroom or a school — not the entire district — switch to virtual learning, which will depend in part on staff and student absences.
The Sun-Times reports CPS agreed to shut down a building for at least five days "if 30 percent or more of its teachers are absent for two consecutive days because of positive cases or quarantines, and if substitutes can't get the absences under 25 percent. A school would also close if 40 percent of its students were quarantining."
Union leaders said at least two schools already have so many students or staffers out with COVID-19 that they will likely be learning remotely Wednesday under those metrics.
The two sides also agreed on more contact tracing, masks and incentives for getting more substitutes into CPS, Lightfoot said.
This is the second year in which the district and union have had prolonged disagreements about school safety during the pandemic, forcing delays of in-person learning. Last year's standoff kept student remote for two weeks before the district and union reached a deal.
Lightfoot said the proposed deal would be in effect through the end of summer school.
"I'm hopeful that this is the end, at least for this school year. … I'm hopeful that we will have a stable, uneventful rest of the school year."
Union leaders outlined some of their wins — and acknowledged they were unable to secure all of the things they wanted.
CTU Vice President Stacy Davis Gates rejected the mayor's claims that the past week was about teachers wanting to stay home, saying Lightfoot "doesn't deal in reality."
"We've said this a million and five times," Davis Gates said. "This remote work action was about securing more safety for our school community."
CTU President Jesse Sharkey agreed, saying CTU leadership had been sounding the alarm about lax COVID-19 protocols in schools for a year — only to be ignored. Sharkey said the district has had a "callous disregard" for the people working and learning in school buildings every day, and their families.
Ultimately, union leaders said they got all they were going to get out of "this mayor," saying her control over CPS, the school board and the health department made it incredibly difficult to reach an agreement.
"All of the power is concentrated in one person and I think we've seen some of the worst effects of that," Sharkey said. "We're happy it's over, we're not happy we had to go through it in the first place."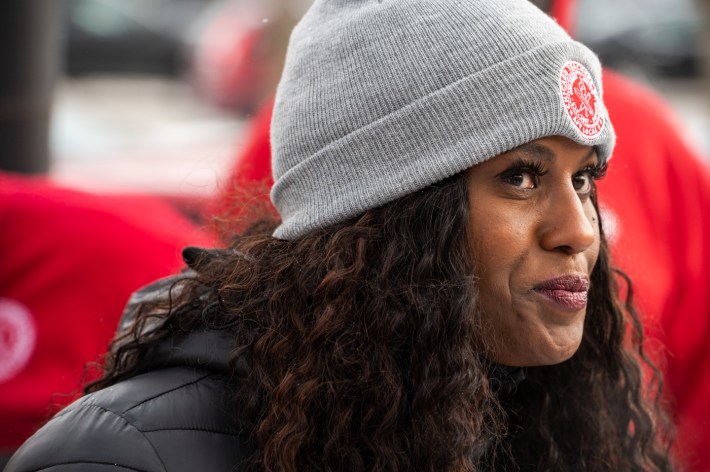 Here's more on how we got to this point.
Subscribe to Block Club Chicago, an independent, 501(c)(3), journalist-run newsroom. Every dime we make funds reporting from Chicago's neighborhoods.
Click here to support Block Club with a tax-deductible donation. 
Listen to "It's All Good: A Block Club Chicago Podcast" here: