CHICAGO — As Chicago's second weed rush is set to kick off, Mayor Lori Lightfoot is aiming to overhaul the city's cannabis rules for dispensaries and other pot businesses by allowing more types of locations to house the companies without requiring the blessing of the local alderman.
For the second time since recreational cannabis was legalized, a new batch of dispensary owners will hold a ticket to open in the city, but they will also have the option to take their pot shops and lucrative tax revenue to the suburbs or beyond.
Three state lotteries, the first of which took place last week, will distribute 185 conditional dispensary licenses statewide, with 119 pegged for the Chicago/Naperville/Elgin region, which is one of 17 cannabis regions carved out across the state.
Lightfoot introduced legislation at the City Council's July meeting to do away with the current cannabis zoning rules she narrowly pushed through the council in 2019. But the ordinance is facing headwinds from aldermen who want to retain influence over the zoning process in their wards.
The city is currently split into seven cannabis districts with caps on the number of pot shops allowed in each. A Downtown exclusion zone blocks dispensaries in the Loop and a large portion of River North. Lightfoot's proposal does away with the cannabis districts altogether and reduces the size of the exclusion zone.
Dispensaries and other weed businesses are prohibited from opening without a zoning change in the vast majority of properties throughout the city, including in buildings found along neighborhood business corridors. Those barriers force companies to seek the support of the local alderman to get a change approved by City Council.  
Lightfoot's proposal would loosen the rules to allow dispensaries and other cannabis businesses to open in a far greater number of locations, opening up many neighborhood retails corridors. (Technically speaking, Lightfoot wants to allow weed in buildings designated with B-3 and C-1 zoning tags).
The ordinance retains the requirement that every cannabis company must hold a community meeting ahead of applying for a special use permit from the Zoning Board of Appeals. 
According to Steven Vance, creator of the real estate information site Chicago Cityscape, opening up properties in the B-3 and C-1 zoning districts would see a huge increase in the number of properties available to be converted into a dispensary without having to navigate City Hall for a zoning change.
"Based on my assumptions of what's easily developable into a cannabis dispensary, there would be an eight times increase in the number of properties eligible to have a cannabis dispensary," Vance said.
Vance estimated the current eligible properties at around 2,600, which would blossom to around 21,000 under the proposed ordinance. Even with the changes, there would still be over 30,000 commercial and mixed-use properties in Chicago that would not allow a dispensary.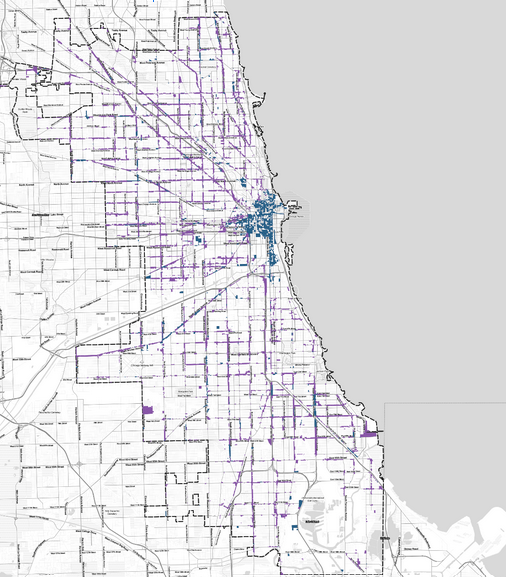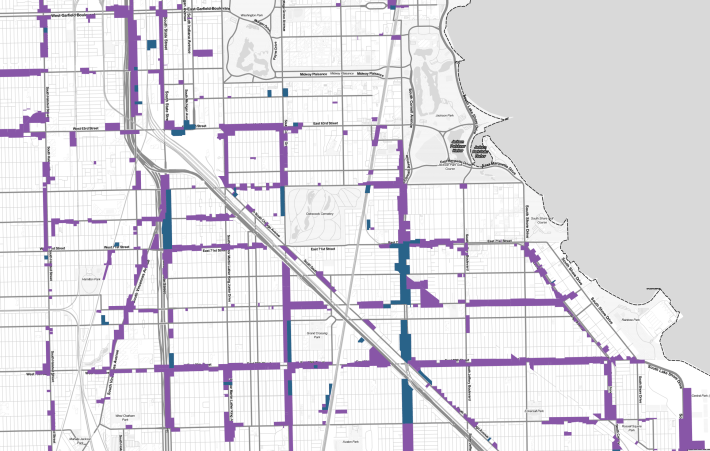 The proposed legislation is a conversation starter, Lightfoot said during her post-City Council press conference in July. But, she said the city must make changes soon to welcome the new batch of dispensary owners, which for the first time, will feature companies primarily owned by minorities.
Social equity provisions were baked into the 2019 state law that legalized weed in an effort to boost minority ownership in the industry. But the state's handling of the applications and process to award the licenses had been delayed by the coronavirus pandemic, lawsuits and outrage from groups critical of the process.
But allowing companies into the previously off-limits districts is being met with a mixed response in City Council.
Ald. Gilbert Villegas (36th), Lightfoot's former floor leader and current chair of the City Council Latino Caucus, put forward his own zoning ordinance in June. It would get rid of the seven cannabis districts across the city and allow social equity license holders into the Downtown exclusion zone.
Villegas said changes must be approved soon so new businesses can move quickly to lock down their desired locations. The state allows license holders 180 days to find a location, although that timeline can be extended for an additional 180 days.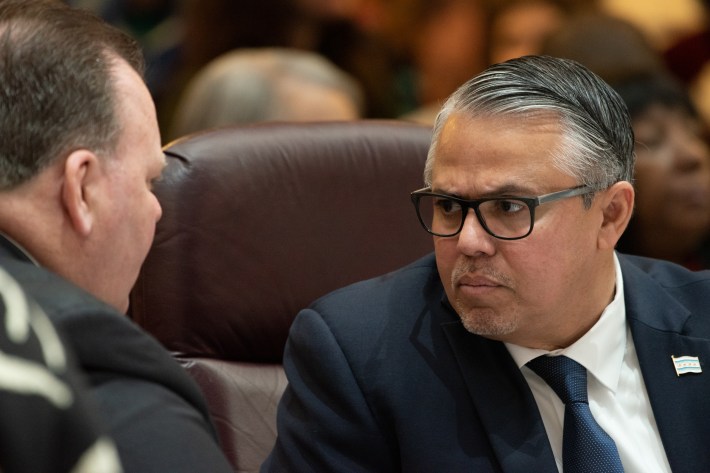 But, opening up the B-3 and C-1 zoned buildings is a "non-starter" based on conversations he's had with City Council colleagues, he said.
"We're not talking about a deli or bakery, we're talking about cannabis," he said. "Like it or not, there's still a stigma and I think it's important that the aldermen have the ability to educate the community that he represents and have the business come forward and talk about hours of operations … so that way the community feels comfortable."
"I think that zoning, the B-3 and C-1s, still being at the hands of the aldermen allow for those discussions and that education to take place," he said.
Ald. David Moore (17th) said he "definitely would not be supportive" of allowing dispensaries into buildings zoned B-3 and C-1 without aldermanic approval because he'll "be blamed for a dispensary opening in my ward" in a location opposed by the community, even if he also opposed it.
"They want grocery stores," he said. "Before someone talks about throwing a dispensary in there" they should seek input from his office and the community.
The City Council's Black Caucus will meet soon to discuss the changes and weigh whether to support Lighftoot's ordinance, said Ald. Walter Burnett (27th).
Four pot shops have opened in Burnett's ward since recreational weed was legalized, and he said he has "no issues" with opening up buildings zoned B-3 and C-1.
"All of the preconceived notions about cannabis are gone now," he said. "These are just stores, they aren't attracting negative activity.
"I feel like now, you see people and they smell like weed, it's not a big deal anymore. … It used to be like 'Oh God, they breaking the law,' but now everyone is smoking weed."
Opening up more buildings to dispensaries is necessary if the city wants a diverse industry, Ald. Andre Vasquez (40th) said. 
"If it becomes difficult to do it in Chicago, we won't' have social equity businesses here because they'll all go to the suburbs," he said. "Cannabis is such a capital upfront business, these larger corporations can wait it out, maneuver in ways that you're smaller, first time social equity business owner, or some of the smaller ones who may not have that capital could never endure that process," he said.
Although he would welcome dispensaries into his North Side ward, Vasquez predicted pushback to the ordinance from aldermen who object to having dispensaries open in their business districts without their approval and from others who "generationally have these preconceived ideas of what it means to have a cannabis business in your ward or in your neighborhood."
In response to questions for this story, Lightfoot spokesman Alex Murphy said the mayor is "committed to ensuring that social equity applicants have a straightforward path to opening their businesses and thriving in the emerging cannabis market.
"Opening up additional zoning districts will provide a drastic increase in viable real estate for cannabis businesses, and minimize the red tape for social equity applicants looking to open their businesses in Chicago," Murphy said. "Using the feedback from social equity applicants as the springboard for this important process, Mayor Lightfoot looks forward to working with City Council, the Cannabis Working Group, and other stakeholders to determine the best path forward," he said. 
Lightfoot and the City Council will be pressured to overhaul the zoning process quickly by a coalition of cannabis advocates that have become a powerful force in the industry. The coalition worked with State Rep. LaShawn Ford (D-Chicago) to craft the bill that created 110 new recreational dispensary licenses that will ensure more Black and Brown ownership in the industry.
Two of those coalition members won licenses in the lottery held last week. Edie Moore, executive director of Chicago Norml, is tied to a group that received a conditional license pegged for the Chicago area. 
Prior to the lottery, Moore said the changes in Lightfoot's ordinance are "adequate for now," but she hopes the city will eventually open up more buildings to dispensaries.
"They want to make sure that somebody comes and kisses the ring, but ain't nobody got time for that," she said of aldermen reluctant to allow dispensaries in the buildings zoned B-3 and C-1 without their approval.
It's "not absolute" her group opens in the city, she said. "It depends on how much money, on how much time and what the properties look like."
Retired lawmaker and new dispensary license holder Rickey Hendon said he believes Lightfoot's ordinance is a good compromise, but he'd like to see the Downtown exclusion zone opened up to Black and Brown entrepreneurs.
Hendon plans to open on the West Side near the United Center if the Downtown exclusion zone isn't opened.
"Having been an alderman and not being a hypocrite, I do believe aldermen should maintain some power and authority, because you don't want just anybody coming into your ward without your say," he said.
"At the same time, we don't want them to be so burdensome they stop this expansion" of new dispensaries in the city.
The cannabis ordinance must be approved by the Committee on Zoning and the full City Council. The City Council won't meet in August, so the earliest the legislation could be approved is the September 14 City Council meeting.
Subscribe to Block Club Chicago, an independent, 501(c)(3), journalist-run newsroom. Every dime we make funds reporting from Chicago's neighborhoods.
Already subscribe? Click here to support Block Club with a tax-deductible donation. 
Listen to "It's All Good: A Block Club Chicago Podcast" here: