BRONZEVILLE — The Bronzeville Lakefront project is officially a go after years of navigating the city approval process.
The $3.8 billion redevelopment of the former Michael Reese Hospital site stands to make history on two fronts: It's the first project helmed by a team of predominantly Black developers, and it's the first to introduce a "social impact" program in hopes of ensuring no resident is left behind.
Residents will get a "full showcase of everything" planned for the site during a kickoff week in late September, said Morgan Malone, Farpoint Development's director of development and external affairs.
"We're trying to reframe the landscape of what it means to be a developer. This is not the traditional development crew," said Malone, pointing to the participation of Black-led entities like Loop Capital, McLaurin Development Partners and Bronzeville Community Development Partnership.
Those three groups joined forces with Farpoint, Chicago Neighborhood Initiatives and real estate behemoth Draper and Kramer to form GRIT Chicago. GRIT was then selected by the city to buy and develop the site.
"For this to work, it's got to be the government, it's got to be us, it's going to be philanthropy, community, cultural institutions and organizations, all in lockstep for our portion of the ecosystem to make impact and equity real," Malone said.
A Metra station is also coming, but not for another few years as planning and infrastructure needs to be handled first, Malone said.
Malone will answer questions from residents 7 a.m.-5 p.m. Sept. 27 at 78 E. 47th St.
People who attend will be able to learn about contracting opportunities at the development, as well. GRIT is exploring the possibility of hosting "certification clinics" to help people who want to work there but aren't yet certified.
Here's a look at what's is coming to Bronzeville Lakefront during its first phase: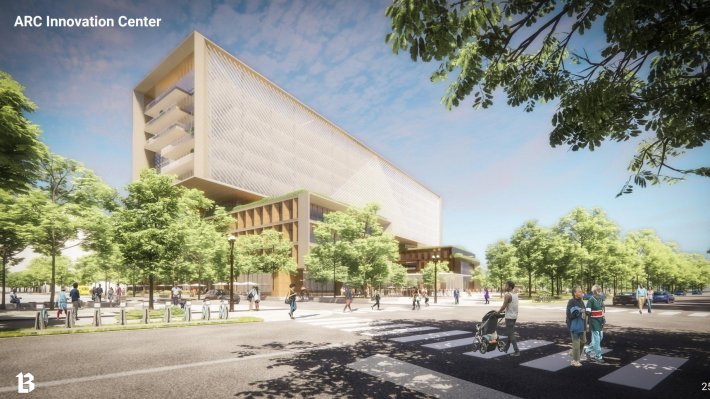 Chicago ARC Life Sciences Center
Malone said the GRIT team is designing the 500,000-square-foot ARC Innovation Center this year, which will be home to a life sciences center focused on health equity.
After it's designed, they'll be able to figure out which businesses would work for the center's incubator.
The ground floor will likely feature shops and retails, with mostly food and beverage businesses. The developers have said they want to keep an eye on cultivating a commercial corridor that supports Black-owned enterprises.
A mixed-income senior housing development and a renovated Singer Pavilion are also part of the development's first phase, which is projected to cost $600 million.
Bronzeville Welcoming Center
Bronzeville Lakefront will be the home of the Bronzeville Welcoming Center, where visitors can learn the history of the area and hear about cultural landmarks.
The center would be the first stop of the Black Metropolis National Heritage Area, a proposed tourism district that would honor the legacy of Black Chicago while creating economic opportunities to cement its future. Ald. Sophia King (4th) and the Michael Reese Advisory Council are leading development of the center, which is a continuation of the Bronzeville Information and Tourism Center spearheaded by team member Paula Robinson in 1989.
A bill that would create the Black Metropolis National Heritage Area is waiting to pass the House Committee on Natural Resources.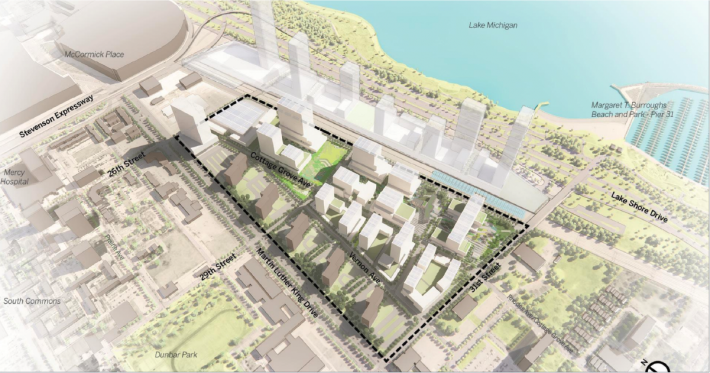 Infrastructure
Construction on streets and green space could begin as early as the fall, with a focus on transforming the Cottage Grove corridor into a must-see commercial area, Malone said.
The city is committing $60 million to building roadways and improving existing ones between 26th and 30th streets and Lake Park and Cottage Grove avenues. Work could be done as early as 2024.
Subscribe to Block Club Chicago, an independent, 501(c)(3), journalist-run newsroom. Every dime we make funds reporting from Chicago's neighborhoods.
Already subscribe? Click here to support Block Club with a tax-deductible donation. 
Listen to "It's All Good: A Block Club Chicago Podcast" here: