AUBURN GRESHAM — After months of pushback against a $20 million affordable housing project in their neighborhood, Auburn Gresham residents learned Thursday that the controversial building would be redesigned and split into two buildings.
Some neighbors, however, are still wary of the city's plans. 
Nearly two dozen neighbors tuned into what Ald. David Moore (17) called a "final" community engagement meeting Thursday evening to discuss the future of Auburn Gardens, a multi-million retail and residential project with 62 affordable apartments slated for vacant land at 838-58. W. 79th Street.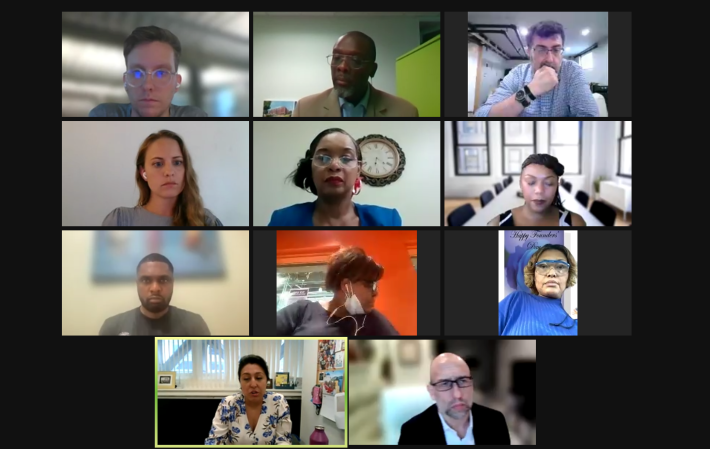 The affordable housing complex is part of the INVEST South/West plan, an initiative created by Mayor Lori Lightfoot to bring development to West and South Side neighborhoods.
Evergreen Imagine JV, a joint venture between the Imagine Group and Evergreen Redevelopment, was the only bidder for the site and got the green light to move forward in March.
For months, residents have pushed back against plans for the development, asking the city to address the absence of businesses like a grocery store, bank or pharmacy in the area. Other residents questioned the density of the housing, saying that 62 new apartments on the already crowded street would be too much for the community to handle. 
At a June community meeting, Moore said the affordable housing project would not go forward without community approval. But during an explosive meeting later that month, residents learned — some for the first time — that if they did not accept the city-backed project, they could end up with nothing. 
"I feel like we're dancing around this question, and if we're going to be straight with one another here, it's important that we address this issue honestly," David Block, director of development at Evergreen Imagine, said at the June meeting. "My view as a developer is that there really is no development opportunity without housing."
At Thursday's community meeting, officials from the Department of Planning and Development, Department of Housing, Evergreen Imagine, and Ross Barney Architects, the lead architects in charge of the development, shared an update they hoped would appease most neighbors. 
Rather than building one affordable housing complex along 79th Street, developers will, instead, split the project in two. One building is slated for 79th and Green, and the other on 79th and Halsted. 
The building on 79th and Green will have 8 one-bedroom apartments, 14 two-bedroom apartments, and four three-bedroom apartments. In addition to 27 residential parking spaces, 13 additional parking spaces will be available to the public. Retail space will also be available on the first floor of the apartment.  
The building on 79th and Halsted will have 24 units, including 6 one-bedroom apartments, 15 two-bedroom apartments, and 3 three-bedroom apartments. Retail space will live on the first floor of the building, and tenants will have 16 parking spaces. 
The Park Supper Club, a restaurant, and the Sports Shed, a non-profit organization that gives athletic equipment to students, have expressed interest in taking up retail space in the building. 
But as officials shared plans for the neighborhoods, residents questioned why other ideas, such as a fresh grocery store, weren't considered in lieu of a second building. 
"Any plans for a healthy food store, such as a Whole Foods, Mariano's, etc.?" resident Karen Blackman questioned in the chat. "You are adding additional housing to an area already designated as a food desert. 
"We don't want another Aldi's or Save A Lot," one neighbor said in the chat. "We need a quality grocery store with fresh, not wilted, produce."
Other neighbors wondered why officials decided to offer affordable housing rather than condominiums that tenants could eventually own, boosting ownership in the community. 
"It is refreshing to see that the feedback that was given through those rounds was incorporated into the revised presentation," resident Tiffany Smith said. "Everyone doesn't get everything they want, so I'm still biting my bottom lip because there isn't an option for ownership, which I think is important and which I think could have been leveraged…"
Officials and neighbors are expected to gather on July 29 for a follow-up meeting, and on again Aug. 12 for a roundtable discussion. 
Subscribe to Block Club Chicago. Every dime we make funds reporting from Chicago's neighborhoods.
Already subscribe? Click here to support Block Club with a tax-deductible donation.