PORTAGE PARK — An underused city-owned parking lot in Portage Park is on the market, but some say the Six Corners area is on the upswing and may end up needing the spaces for shoppers.
The lot at 4050 N. LaPorte Ave. has 111 parking spaces and has been owned by the city since 1961, according to the Department of Planning and Development.
Visitors would pack the lot when coming to the Portage Theater, 4050 N. Milwaukee Ave. But the theater closed in 2018, and few drivers use those spaces now, said Sam Davis, owner of Distinct Bath and Body, which is next to the theater and close to the parking lot.
The lot, about 37,601 square feet, had a 3 percent utilization rate in 2019, falling to 1.6 percent in 2020, according to the city's Finance Department.
Davis said although parking can be tricky to find in the Six Corners area, he always finds a spot near his shop and does not park in the lot.
"Right now, it's underused, but if the theater comes back, it changes things," Davis said.
Amie Zander, president of the Six Corners Association neighborhood group, said the parking lot was a huge asset to the community when Portage Theater was active, but few patrons of the Six Corners shopping district use it.
"With so many of our shoppers walking or biking to the district and the ample street parking, it hasn't been needed," Zander said.
But as more developments are being proposed and built in the Six Corners area, some say the parking lot should be preserved for community use.
Ald. Jim Gardiner (45th) did not respond to requests for comment about the parking lot sale, but he told Nadig Newspapers he is opposed to it.
"I've been pushing back on [on the sale of the parking lot] for six or seven months, … but the problem is I can only do so much for a theater that is nowhere near being sold" or reopening, Gardiner said.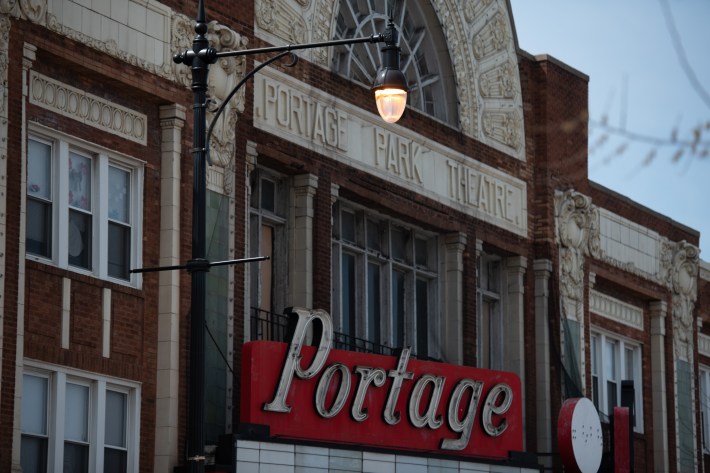 Michael DiMeo, president of the Six Corners Chamber of Commerce and a longtime Six Corners business owner, wants the lot saved. He said it could be used for overflow parking as more businesses move into the corridor and attract customers, especially as more developments come to the area.
As the owner of Singer Factory Distributor at 4914 W. Irving Park Road, DiMeo said the most frequent complaint he hears from customers is there's never enough parking.
"We have customers that come from literally the tri-state area as a regional center," DiMeo said. "If you expect [the shopping district] to thrive, you want vibrancy — not always for the locals, but also to give a reason as a destination location to be able to come in, park and then spend time and, of course, money here."
The area is transforming at a rapid pace, with retail, residents and restaurants slated to move in. Construction is underway at The Point at 4747 W. Irving Park Road, which will become a 10-story senior living facility with 258 residences called The Clarendale. It will also have 215 parking spots.
A block north at 3955 N. Kilpatrick Ave., the proposed Shops at Six Corners development would bring retail and 36 apartments with a level of parking.
And the proposed redevelopment of the old Sears building, 4730 W. Irving Park Road, would have 209 apartments with ground-floor retail shops and include 270 parking spaces and 68 bike spaces.
Like Davis, DiMeo said the future of the iconic Portage Theater is tied to keeping the parking lot as is — and the community could see a revitalization of the landmark.
DiMeo said construction on the exterior of the theater has been underway for months and the chamber has worked with the theater's owner to receive a landmark grant from the city that would allow needed interior renovations to take place.
The renovations that will bring the building up to code will cost millions of dollars, but there is a desire to turn the theater into smaller stages with separate spaces for performances, private events, school uses and more, DiMeo said.
"The theater is certainly going to influence the future and center feel of what's going on at Six Corners," he said.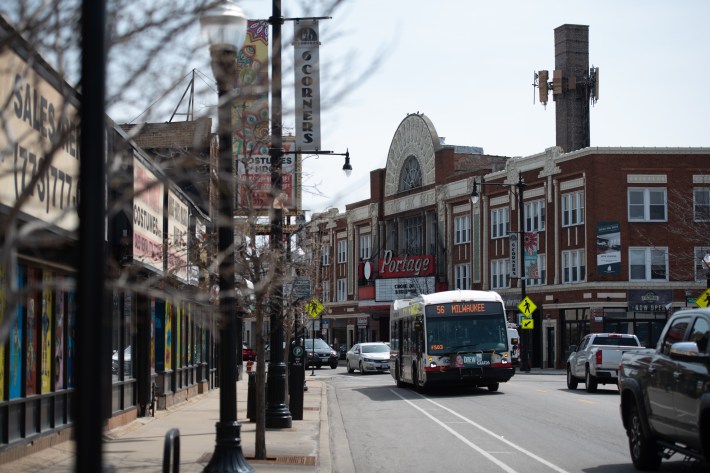 Davis said it's too early to tell how developments could impact parking in the area, but the density could bring more drivers for shopping and events, in which case the city-owned lot could prove useful.
In addition to the Portage Park lot, the city is selling three underused lots in North Center and Lakeview that have been city-owned for more than 50 years.
A lot at 1530 W. Barry Ave. holds 53 spaces, and a lot at 1635 W. Melrose Ave. has 47 spaces. 
A lot at 3840 N. Lincoln Ave. has only 26 spots and is in the process of being de-zoned.
The sales are expected to generate more than $10 million in near-term revenues for the city. 
"These city-owned properties have very limited demand for public parking anymore, so we're entertaining purchase offers that maximize their value for taxpayers," Commissioner Maurice Cox said in a news release. "Their sales will also enable improvements that contribute to local development patterns and overall neighborhood livability."
Each proposed sale would need approval by City Council following a 30-day alternative proposal period from other potential buyers. 
Subscribe to Block Club Chicago, an independent, 501(c)(3), journalist-run newsroom. Every dime we make funds reporting from Chicago's neighborhoods.
Already subscribe? Click here to support Block Club with a tax-deductible donation. 
Listen to "It's All Good: A Block Club Chicago Podcast" here: