PORTAGE PARK — Neighbors waiting for something — anything — to fill a vacant hole at the once thriving Six Corners retail district were told Tuesday that construction on a project could begin in the fall and will move forward with the support of the local alderman.
The hole has sat empty since 2017, becoming an eye sore and a point of contention in the community as a plan to build a senior living facility at the site had been stalled by new Ald. Jim Gardiner (45th). 
Gardiner told the audience at The Copernicus Center in Jefferson Park on Tuesday that he now supports the project after he "fought tooth and nail" with the developer to make changes to the plan.
The $130 million dollar The Point at Six Corners will bring a 10-story complex with 258 senior residences, 215 parking spots and 45,000 square-feet of retail space anchored by an Aldi grocery store to the corner of Milwaukee Avenue, Cicero Avenue and Irving Park Road.
Clark Street Real Estate has owned the lot since 2014, and Ryan Companies will develop the project. Dan Walsh of Ryan said if they receive city approval, construction could begin this fall, the Aldi could open 11 months after that and the senior facility could begin accepting residents 20 to 21 months from time construction begins.
The development needs approval from the city's Plan Commission as well as a zoning change from the full City Council.
In September, a week after a previous meeting on the plan, Gardiner told the community he wouldn't support a zoning change because he opposed the plans, but was "eager to work towards identifying compromises that bring in new investments to Six Corners."
Portage Park residents held a rally at the corner deriding Gardiner's decision and asked Mayor Lori Lightfoot to move forward with the project without his support.
But on Tuesday, Gardiner told the audience the delay was worth it because it allowed him time to negotiate with the developers.
"Every single one of those things that I fought for, and we got, I'm very proud of," he said.
Changes include an increase of independent living units from 103 to 114, a decrease in assisted living units from 114 to 98 and an increase of two memory care units for a total of 46.
In September, the developers agreed to include 10 units of affordable housing on-site. And because of the increase in additional independent living units they will now be required to include 11.
In addition to the new configuration of the senior residences, Gardiner said he was able to convince the developers to establish a one-time $100,000 scholarship for Schurz High School students and waive the one-time community fee for veterans who sign up to live at the facility in the first year the center is open.
Gardiner said he fought the developers over the 10-story height of the project but wasn't able to get them to lower it. He said he had traveled to other senior living facilities and realized that the uptick in independent living units would fit in better with the communities needs.
"I took independent units from 101 and I increased them to 114. I took the assisted living from 114 down to 98, which again, it greatly helps the businesses that are in that area, to have people who are able to, physically able to cross those streets and feed those businesses," he said.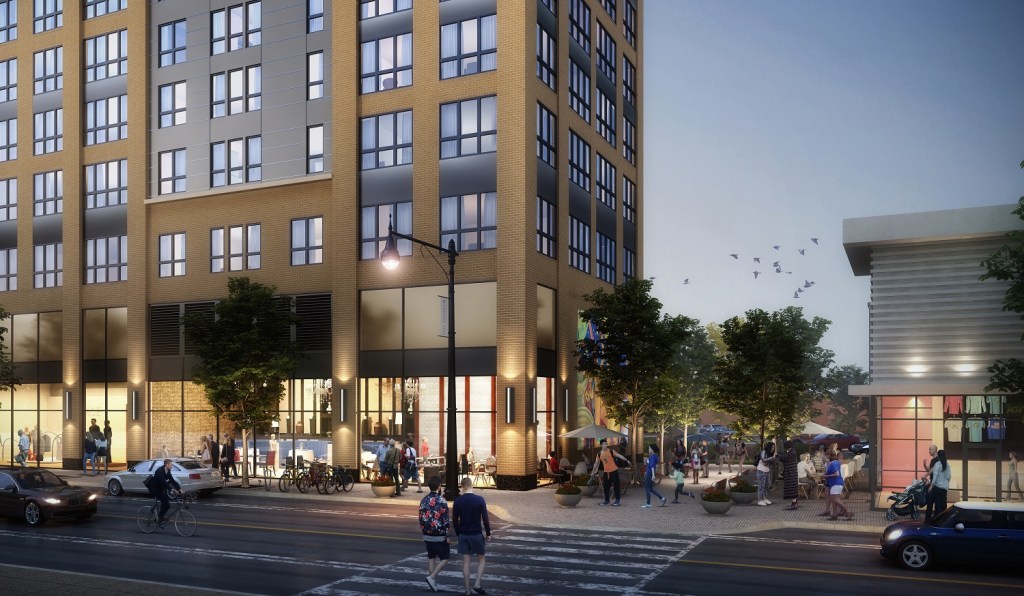 Walsh told Block Club the negotiations with Gardiner were tough, but the concessions were worth it to move forward the long stalled project.
"It was very honest and frank. I mean the alderman has always been very straightforward about what he wanted. It's a complicated development, it's a tricky site to develop, so it was a real puzzle and getting the pieces to work took time," he said.
At the September meeting, Walsh agreed to fulfill its obligation to the city's Affordable Requirements Ordinance by including the affordable housing on-site rather than paying in-lieu fees to the city.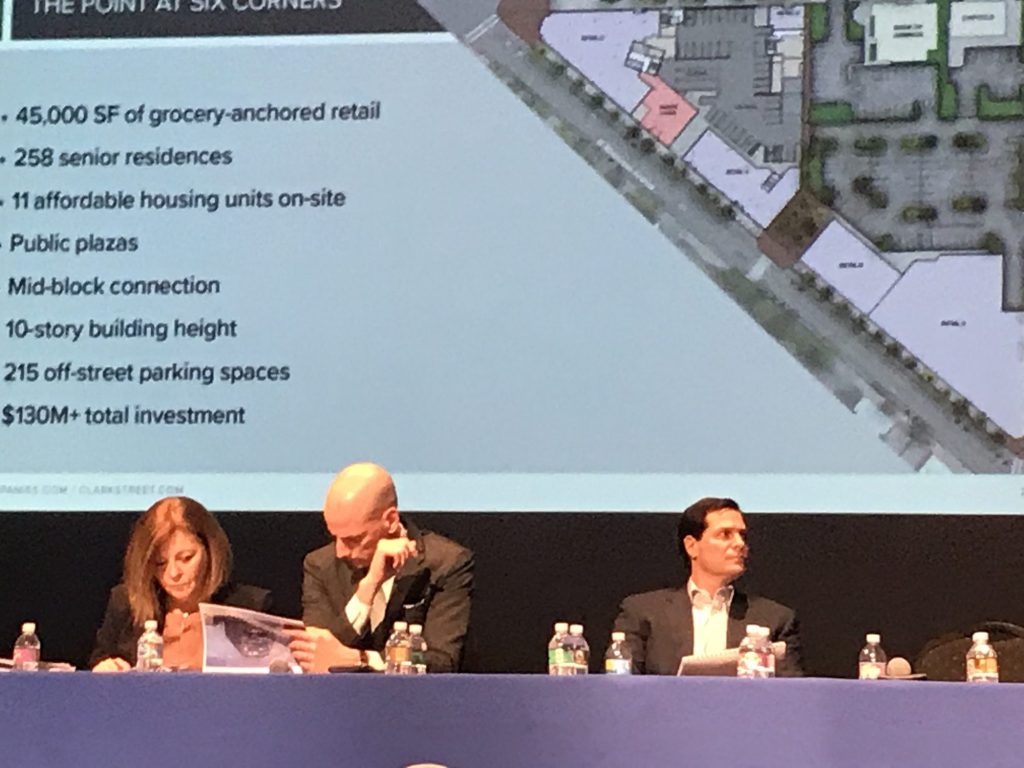 Walsh told Block Club that although there will be 258 senior residences, the 11 on-site affordable units will satisfy the ARO.
"The affordable housing ordinance in the City of Chicago is based on the independent living units. Assisted living units and memory care's are not dwelling units," he said. "… It is much different than what another standard affordable housing unit would get in terms of services, so it is a lot more expensive for us to do," he said.
Gardiner said he was initially concerned with the high cost of living at the facility but had since learned that the monthly rates are similar to other senior living facilities.
Independent living units will range from $4,100 to $5,700, assisted living units range from $5,800 to $7,600 and memory care units $6,600 to $7,700.
In response to an audience question, a representative from Living Senior Care, who is working with Ryan Companies on the facility, said that Medicare will not be accepted at the facility. 
The project has been a test case of aldermanic prerogative in the Lori Lightfoot era since Gardiner defeated former Ald. John Arena last spring. In April, outgoing Ald. Margaret Laurino (39th) — with Gardiner looking on from the gallery —blocked a vote on the project at the City Council's Zoning Committee by calling for a quorum vote at Gardiner's request.
During the summer, Block Club reported that Gardiner was holding invite-only meetings with neighbors to gain support for a revamped plan for the site. After the developer agreed to include 10 units of affordable housing, Gardiner announced in September he still opposed the plan.
Lightfoot said at the time that Gardiner "overstates his ability" to block the project. While the mayor has moved to reign in aldermanic prerogative, she has not introduced an ordinance to limit their power on zoning issues. Lightfoot has since visited Gardiner's ward.
On Tuesday evening Gardiner, who is running for 45th Ward committeeman and will face aldermanic re-election in 2023, took ownership of the project he had previously stalled. Along with another proposal to build market-rate apartments across the street at the vacant Sears Building, he touted his ability to drive development to his ward.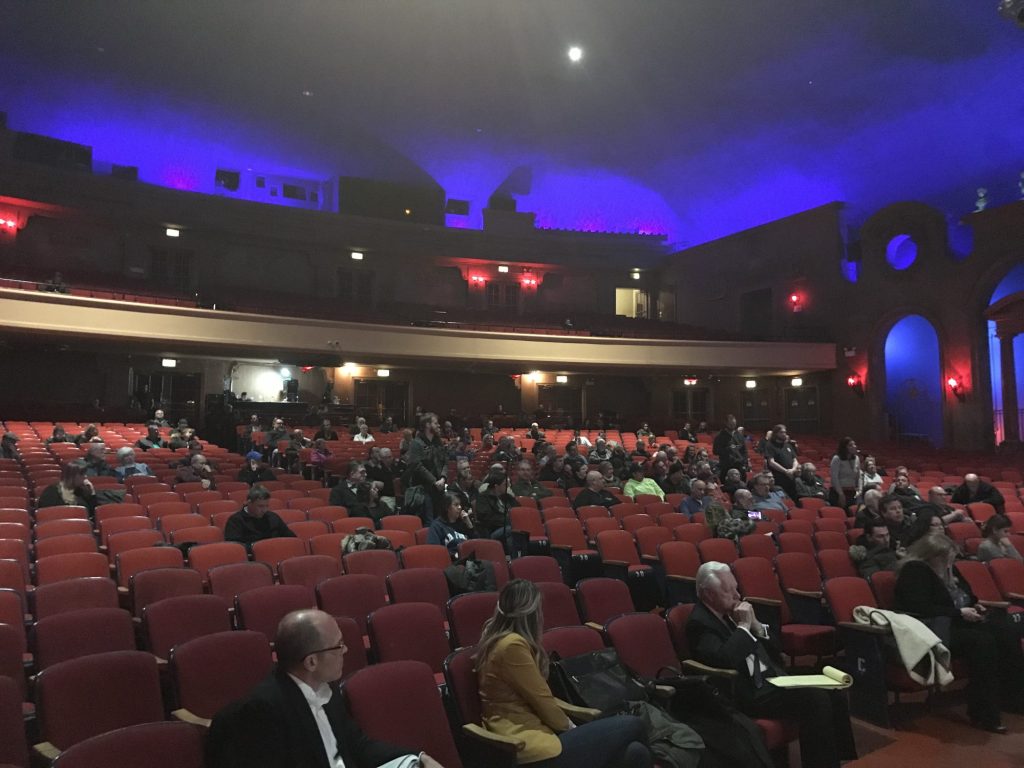 Before the meeting began, fliers promoting his committee candidacy were handed to those who attended outside the building and the developers of The Point sat with Gardiner during the presentation behind a banner bearing his name.
"I have just started. I am nine months in and we're about to solidify $330 million dollars worth of development. We're just getting started," he said.
For neighbor Jan Robertson, who spoke during the meeting, construction can't begin soon enough.
The hole "was unsafe, it was unclean, it was a litter pit," she said. "… We're really sick of looking at the crappy mess over there."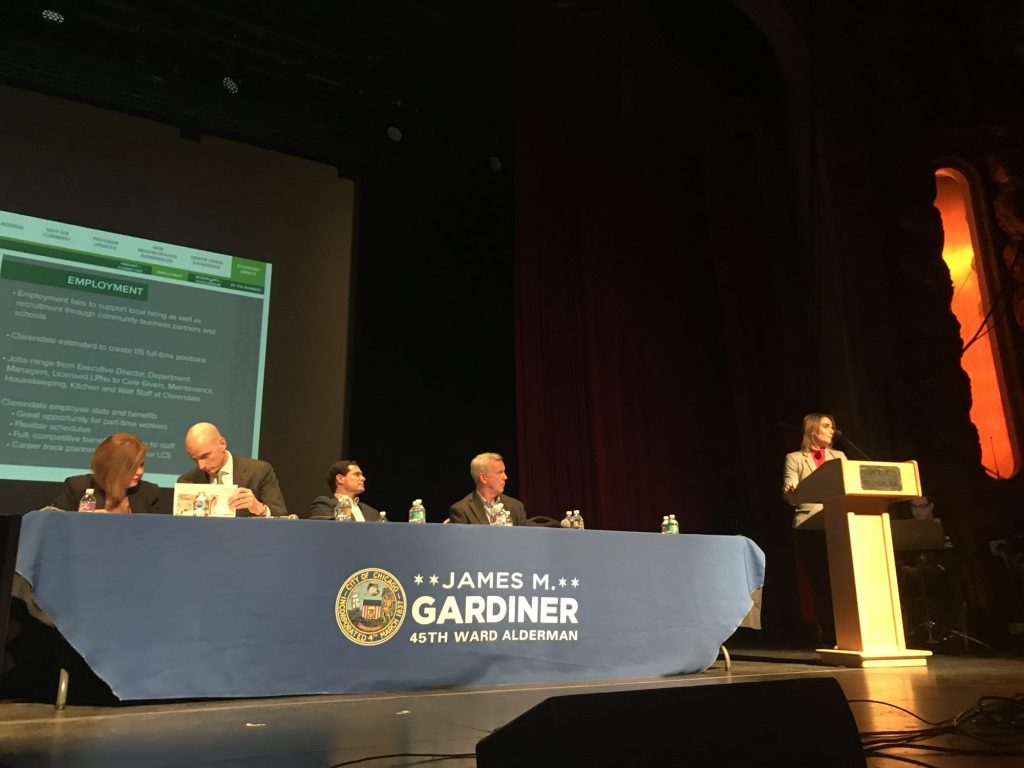 Do stories like this matter to you? Subscribe to Block Club Chicago. Every dime we make funds reporting from Chicago's neighborhoods.
Already subscribe? You can make a tax-deductible donation to support our nonprofit newsroom here.