PORTAGE PARK— Since 2018, the old Six Corners Sears building has sat vacant, frustrating neighbors and business owners who hoped to see something — anything — open on the prime neighborhood corner.
Finally, the planned Sears redevelopment is making its way through city channels to become a luxury apartment complex. As some neighbors cheer the new foot traffic the complex would bring to the area, others are criticizing the project's lack of affordable units.
Novak Construction, which bought the building at 4730 W. Irving Park and wants to redevelop it into luxury apartments, has submitted its request for a zoning change to build a six-story mixed-use development with 209 apartments. The units would sit on top of about 50,000 square feet of ground-floor retail.
Only six of those apartments would be earmarked as affordable, according to the zoning application. The developer would meet the rest of its affordability requirement by paying about $2 million into the city's Affordable Housing Opportunity Fund, according to the plan.
Kara Wagner Sherer, who works and lives close to Six Corners, said the low number of on-site affordable housing units is "completely unacceptable."
"It's so desperately needed in our neighborhood," Wagner Sherer. "My hope would be 40 units because that's what's needed."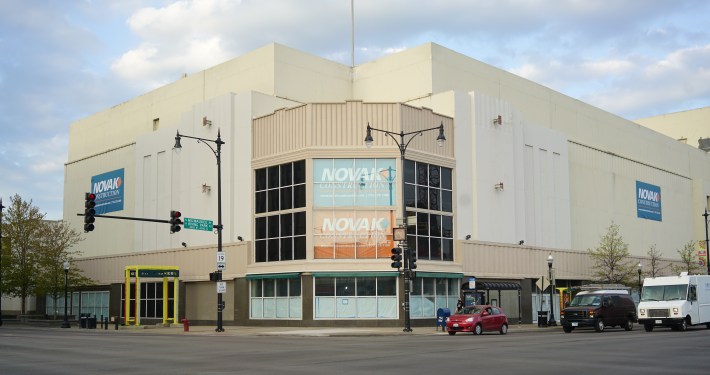 The development will include a mix of studio, one- and two-bedroom apartments ranging from $2,750 to $3,000 per month, and it will also feature amenities like a pool, dog walk and communal areas.
The building will include 270 parking spaces and 68 bike spaces.
The Six Corners Chamber of Commerce supports the project and said the community will greatly benefit by having more housing and density brought by veteran builders in the industry.
Chamber President Michael DiMeo said the company's desire to keep the famous corner façade of the 83-year-old art deco Sears is important for the building's preservation, and modern additions will complement it.
"To see [Novak] want to hold onto the Sears building and pay homage to the building is great," DiMeo said. "We hope [the approval process] can move faster because it has all the right ingredients." 
Ald. Jim Gardiner (45th) touted the project at a May meeting hosted by his office, saying it would bring needed density, economic development and businesses to the area, which has struggled in recent years with stalled developments, vacant land and empty storefronts.
"This is one of the most impactful developments in the area," Gardiner said. "It will help revitalize, attract future businesses, allow for more housing and drastically improve the landscape of Six Corners."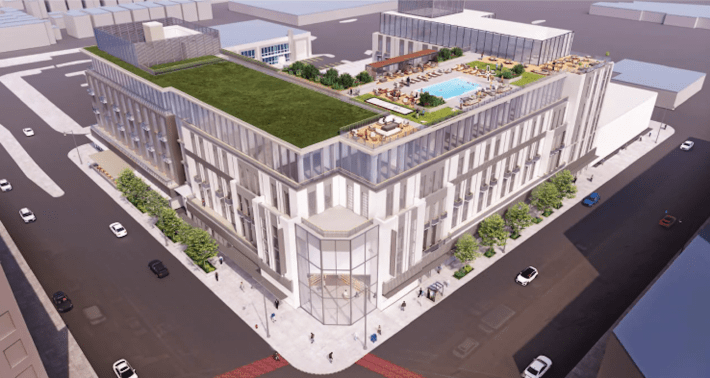 Novak's proposal falls in line with the current provisions of the city's Affordable Requirements Ordinance, which mandates that 10 percent of units in major developments be affordable and allows developers to "buy out" up to 75 percent of their affordable requirement by paying in-lieu fees to the city.
A new version of the law boosts the required percentage of affordable units to 20 percent or up to 30 percent in some neighborhoods. It also limits options for in-lieu payments. The revised ordinance was backed by Mayor Lori Lightfoot and approved in April, in response to what the mayor said was a shortage of 120,000 affordable housing units in the city.
Those provisions don't go into effect until Oct. 1 and wouldn't apply to the Six Corners project since its application was filed this month. The earliest the zoning change application could be approved is in September.
Wagner Sherer said the area needs more housing to bring people to Six Corners shops — but "we want to keep existing people in the neighborhood and be able to afford living in this neighborhood," she said.
The massive interest in a Jefferson Park affordable housing complex that is nearly complete — which received more than 700 applications for just 75 units — shows the need for affordability on the Northwest Side, she said.
Neighbors for Affordable Housing, a community group advocating for affordable, accessible housing on the Northwest Side, also wants the old Sears development to have more low-cost apartments. In a 2020 letter the group sent to Gardiner and shared with Block Club, they urged him to push for at least 20 percent of affordable units.
"The current Sears site proposal threatens the sustainability of our working-class community, and we urge you to leverage your position as alderman to push for maximal (rather than sub-minimal) application of the Affordable Requirements Ordinance," the group wrote.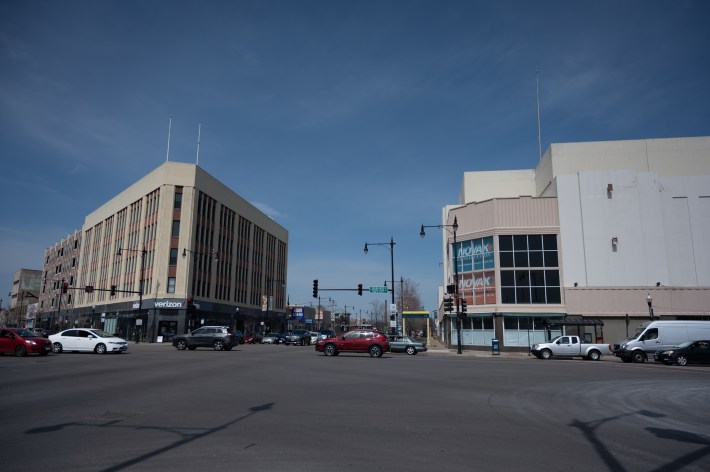 Neighbors also said they are worried about the increased traffic headaches the development would bring, especially with other nearby projects under construction.
Jake Paschen, executive vice president of development at Novak, said at the meeting a traffic study for the Six Corners area is underway.
Based on preliminary data, the development could bring 75 additional drivers during morning peak hours and about 150 drivers during evening peak hours, he said.
Paschen did not reply to requests for comment about the traffic study or concerns over affordable housing.
Gardiner also said in May he would host another community meeting as the project moves along and work with the developer to bring more affordable units if that's what the neighborhood wants. His office did not respond to requests for comment about when there will be another meeting.
The project is still far from complete, but if it gets broader community approval, a zoning amendment and full approval from the city, developers said construction could start in March and last 18 months.
Subscribe to Block Club Chicago, an independent, 501(c)(3), journalist-run newsroom. Every dime we make funds reporting from Chicago's neighborhoods.
Already subscribe? Click here to support Block Club with a tax-deductible donation. 
Listen to "It's All Good: A Block Club Chicago Podcast" here: