LOGAN SQUARE — Holding "Justice For Adam" and "We Are Adam" signs, thousands of people packed the streets of Logan Square Friday night, the day after publicly released video showed a Chicago police officer fatally shooting 13-year-old Adam Toledo as he raised his hands in compliance.
Demonstrators converged on the Logan Square monument as helicopters circled overhead and police officers guarded Mayor Lori Lightfoot's home nearby. The action, the largest yet in response to the graphic video of last month's shooting, was organized by several community groups including GoodKids Mad City, Little Village Environmental Justice Organization and Únete La Villita.
Protesters started at the Logan Square monument with performances by the Chicago Freedom Ensemble and impassioned pleas from activists calling for justice for Toledo and his family, and for many other Black and Latino people who have been killed by police in Chicago and across the country.
"We demand justice for Adam Toledo. Adam Toledo, a 13-year-old boy. He should still be alive," said Karina Solano, an organizer with Únete La Villita.
"Nothing, nothing, nothing, nothing excused CPD having shot and killed him. Nobody deserves to die at the hands of the police, especially not kids. We don't need to see the video to know that Adam deserved to live," Solano said.
Jasmine Rubalcava, who lives "minutes away" from where Toledo was shot in Little Village, brought her four-year-old son to the protest. Like many Chicagoans, she opted out of watching the footage, saying, "no matter what's in the video, he didn't deserve to die."
"As a mother of a Brown boy, I believe this issue is important, not only for Brown people," Rubalcava said. "I think it's important for all kids to grow up without fearing for their safety."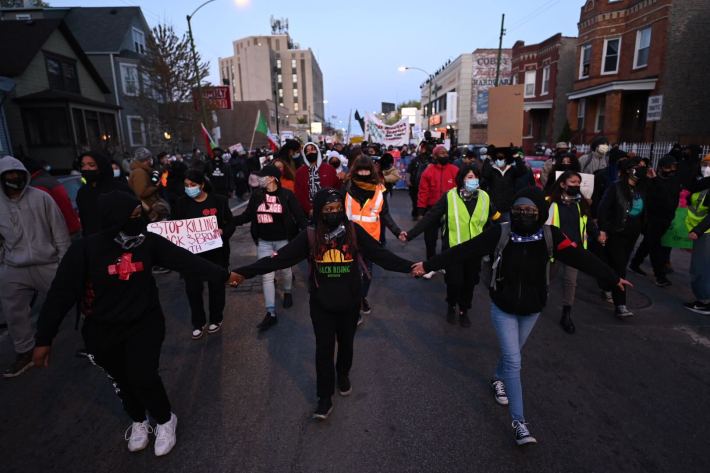 'This one was personal'
The massive action drew residents from throughout the city who said they were shocked, furious and devastated by the images and descriptions of how Toledo was killed the morning of March 29.
Video taken from officer body worn camera showed in startling detail how Toledo ran down a Little Village alley for several seconds before obeying commands from Officer Eric Stillman to stop and show his hands. Surveillance video from a nearby building appeared to show Toledo toss a handgun away, landing near a fence, moments before Stillman shot him.
As the seventh grader raises his hands and turns toward Stillman, the officer quickly fires, hitting Toledo in the chest. Police officials said less than one second passed between the end of the foot chase and the shooting. The teenager died on the scene and was buried in a private funeral last week.
The revelation Toledo hadn't been holding a weapon when he was shot, contradicting two weeks of varying statements from Lightfoot and local prosecutors, outraged many in the city and renewed calls for defunding police. An attorney for Toledo's family called it "an assassination" but his family urged demonstrators to remain peaceful.
"We understand that emotions in the community are running high in the wake of the release of police body camera and other videos depicting the March 29 police shooting of 13-year-old Adam Toledo and that protests are planned for later today," attorneys for Toledo's family said in a statement Friday. "The Toledo family implores everyone who gathers in Adam's name to remain peaceful, respectful and nonviolent and to continue to work constructively and tirelessly for reform."
RELATED: Video Shows Chicago Police Shooting 13-Year-Old Adam Toledo As He Raised His Hands (NO VIDEO IN STORY)
RELATED: Adam Toledo Shooting In Chicago: Here's What You Need To Know And What Will Happen Next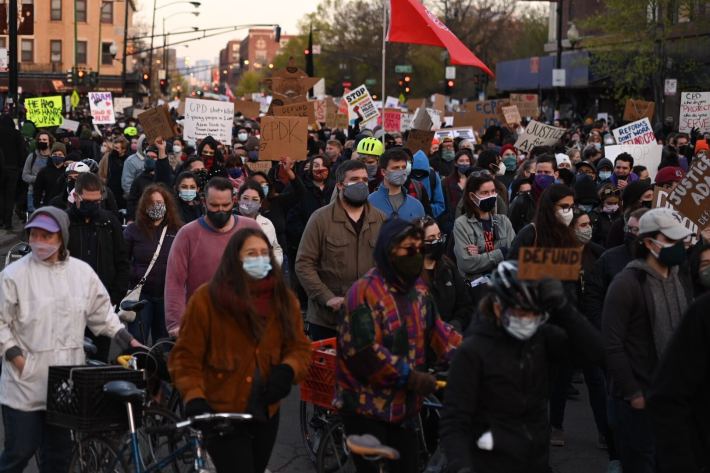 Crowds grew so large throughout the night they filled the streets for blocks on end. Multiple chants were going on simultaneously, echoing throughout the neighborhoods.
Emilio Jose Torres, 19, a resident of Belmont Central, said he watched the video and found it "truly disturbing." Torres said he only ever attended one other protest but felt compelled to show up Friday because "the police for far too long have specifically targeted Black and brown communities."
"When you see a kid holding his hands up, it was just absolutely disgusting he was able to shoot a 13-year-old child," Torres said. "This one was personal. As someone who's both Mexican and Puerto Rican, this is very personal for me."
Maria Diaz, who has lived in Avondale for over 30 years, cheered on the massive crowd as it passed her house on Diversey Avenue. She and her family came out to their porch steps and danced to the beat of the group chants and music playing on a loud speaker. 
As a mother and a Latina, Diaz said Toledo's killing was painful beyond measure, and makes her fearful for her family's safety. 
"When I see police, I have fear," Diaz said in Spanish. "They should be protecting us… but they are murdering our people and people who are not white." 
She said seeing the protest and the large turnout was emotional, especially seeing the diversity of folks who attended. 
"It gives me hope that things will get better and that the police will stop being so racist," she said. "It's beautiful to see my people and my community united."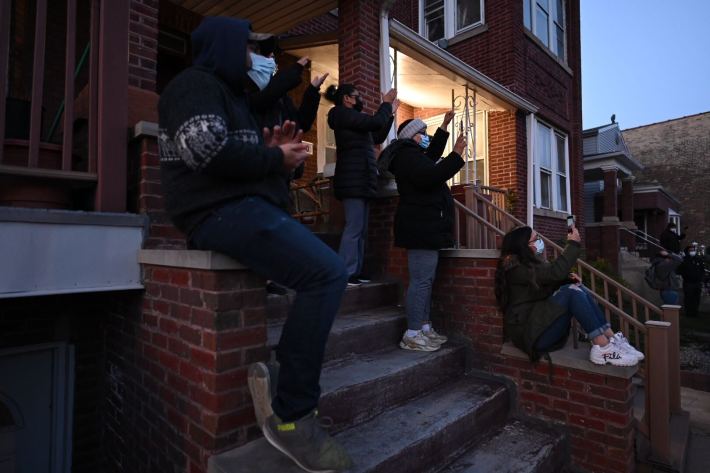 Sisika Vpreti and Angela Pumford traveled from Chinatown and Bridgeport to Friday's protest to show their support for Toledo and his family.
"Just hearing about it makes me so emotional 'cause it could've been anyone. It could've been [her] brother," Vpreti said, gesturing to Pumford.
Added Pumford: "The cops aren't doing their jobs. All they're doing is killing these kids."
Phoenix, who did not want to give her last name, said she came from Rogers Park to show there is power in numbers, and to stand up to police violence that has long plagued Chicago's neighborhoods and hurt marginalized communities. 
"We are hurting," said the 22-year-old. "This is healing… I hope we can heal through this together."  
Cook County Board President Toni Preckwinkle, who lamented police violence in a statement after the video was released, also attended the demonstration.
"Let us pray for peace, which, I must admit, even I cannot find in this moment and every single time a person of color is killed by an officer," Preckwinkle tweeted Thursday. "There are far too many of these times now. Adam Toledo was just a child and should still be alive."
The indignation over Toledo's fatal shooting comes as communities of color already are grappling repeated instances of police violence throughout the country.
As Chicagoans waited for the video of Toledo to be released, a police officer outside Minneapolis fatally shot 20-year-old Daunte Wright on Sunday. A few miles down the road is where former police officer Derek Chauvin is on trial for killing George Floyd last year, which sparked a massive social justice movement and broad unrest throughout the country.
Earlier Friday, neighbors and business owners in Logan Square said they're pushing for justice for Toledo and his family the same way the protesters are. Ald. Carlos Ramirez-Rosa (35th), who represents part of the neighborhood offered "Justice for Adam Toledo" signs for protesters to pick up and was working with local organizations to provide masks and mutual aid for demonstrators.
"It's terrible what happened to the kid. It could be my kid. I have a 15-year-old at home," said Esam Hani, who owns several restaurants and bars in the 2800 block of North Milwaukee Avenue.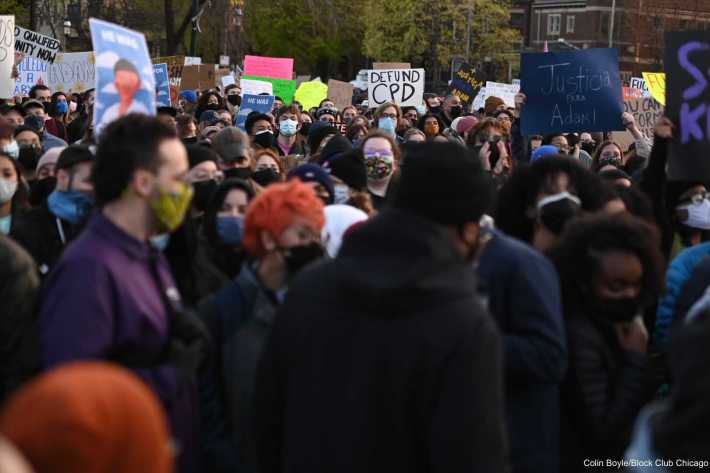 That area near Lightfoot's home has become a common location for community action protesting police violence to environmental justice. As early as Thursday night, police began cordoning off the mayor's block with officers and barricades. Multiple helicopters could be seen circling overhead, often
Some of Lightfoot's neighbors, like Bethanie Omiecinski's husband, said they were joining Friday's protest.
Omiecinski and her family, who live just a couple doors down from Lightfoot, put up a sign in their window that reads, "Black Lives Matter, Rebuild Trust, CPAC Now" in reference to a push to install civilian oversight for the police department.
Omiecinski said they did it to send a message to Lightfoot the Chicago Police Department — and the city's relationship with it — needs to change.
"It's just not people different than you that want changes," Omiecinski said. "We're trying to send those messages in the best way we can."
Subscribe to Block Club Chicago. Every dime we make funds reporting from Chicago's neighborhoods.
Already subscribe? Click here to support Block Club with a tax-deductible donation.
RELATED STORIES
Video Appears To Show Adam Toledo Wasn't Holding Gun When He Was Shot By Cop, Refuting Claim Of Prosecutor, Cop's Lawyer
Chicago Police Officer Who Killed 13-Year-Old Adam Toledo Won't Be Charged With A Crime, His Lawyer Says
'I Saw A Child With His Hands Up': Chicago Reacts To Video Of Police Shooting 13-Year-Old Adam Toledo
Lightfoot, Toledo Family's Attorneys Call For Peace As City Releases Video Of Police Shooting 13-Year-Old
Adam Toledo, Holding A Gun, Was Told To 'Drop It' Before Cop Fatally Shot 13-Year-Old, Prosecutors Allege
After Chicago Police Kill 13-Year-Old Adam Toledo, Little Village Neighbors Demand Answers At Vigil: 'We Want To See Justice'
13-Year-Old Adam Toledo's Mom Thought Her Son Was Missing — Until Cops Came Knocking 2 Days After Killing Him
Police Foot Chase Policy Should Be Changed, Lightfoot Says After 13-Year-Old Boy Killed By Officer