LITTLE VILLAGE — Community leaders and neighbors gathered in Little Village on Monday night to memorialize 13-year-old Adam Toledo, shot and killed by Chicago Police last week.
White balloons in hand, about 100 people listened near 24th Street and Spaulding Avenue as speakers called for police accountability at the event organized by Enlace Chicago and New Life Centers.  
"We are here to stand in solidarity with Adam's family and our community in creating a space for us to grieve together, pray together…and a space to call for accountability from CPD, COPA and the city of Chicago," said Jaqueline Herrera, Violence Prevention Director of Enlace.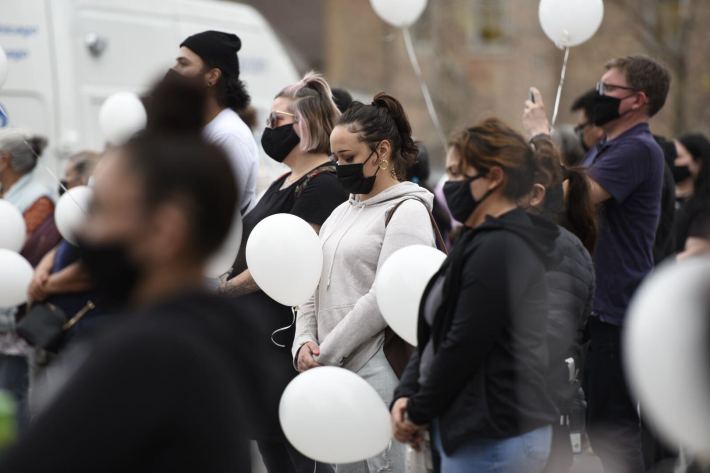 Like many others over the past week, Herrera pushed for city officials to speed up their investigation into the shooting.
"A young life was lost, and while this vigil is in the remembrance of Adam Toledo, we know this is not an isolated incident," Herrera said. "There have been too many Black and Brown lives taken at the mercy of the Chicago Police Department — and we need this to stop now. We are tired of this continuing to happen."
New Life Center Pastor Matt DeMateo said having a life of a 13-year-old taken from the community was "unacceptable." During a prayer for the family, DeMateo called for unity amid a "difficult moment, in an impossible year…we want to see justice."
Little Village resident Ana Solano attended in "solidarity with [Elizabeth Toledo], my community and the youth."
"It's important to celebrate his life and not just point fingers," Solano said.
Mourners released balloons into the sky in tribute.
Adam's family did not attend but attorneys for the family issued a statement late Monday thanking people who have reached out to support them and saying they will continue to push to find out what happened.
"We are working diligently to learn the truth about what happened in the early morning hours of March 29 when Adam's life was so tragically cut short by a police bullet," Adeena Weiss Ortiz and Joel Hirschhorn said in the statement.
"We are not going to let the anguish and emotion of the moment interfere with our objective to obtain the facts. We will address all public statements about the circumstances of Adam's death once we have the facts before us."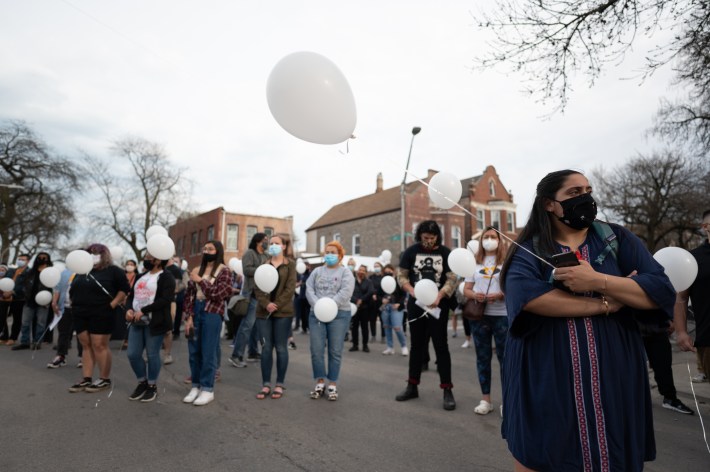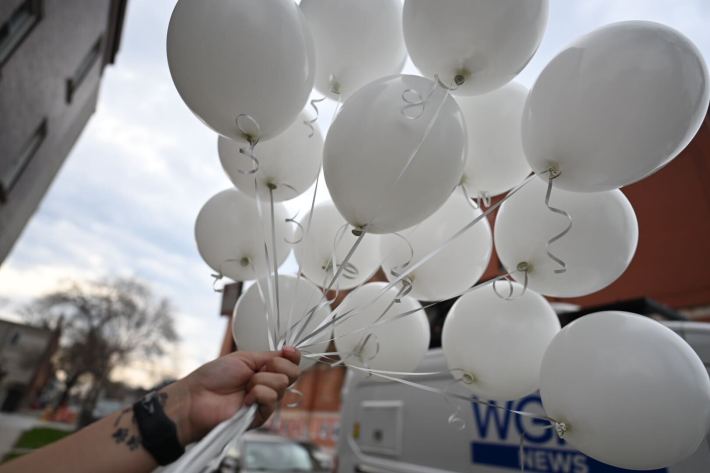 Following the vigil, about 100 people joined a rally organized by Unete, Little Village Environmental Organization and GoodKids MadCity. The group marched through the streets of Little Village temporarily halting traffic at 26th and Spaulding. They called for the video to be released within 48 hours — the same amount of time it took to identify Adam Toledo's body.
"We need to come together as a family…this is not right….we keep us safe," a 16-year-old organizer from West Lawn said.
The group marched down 26th Street with a marching band, chanting: "No justice, no peace!"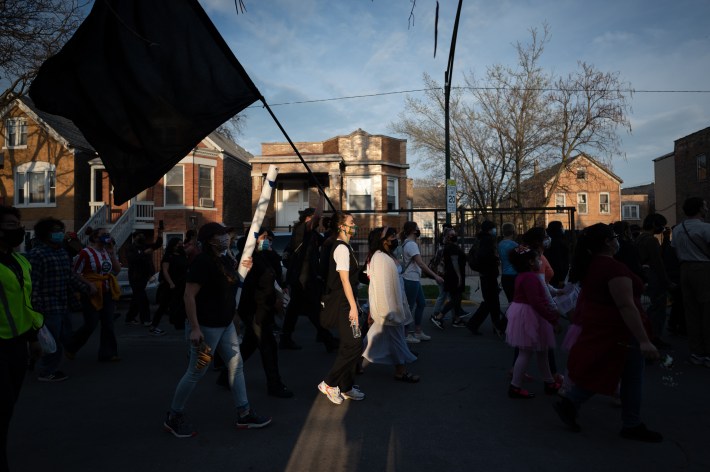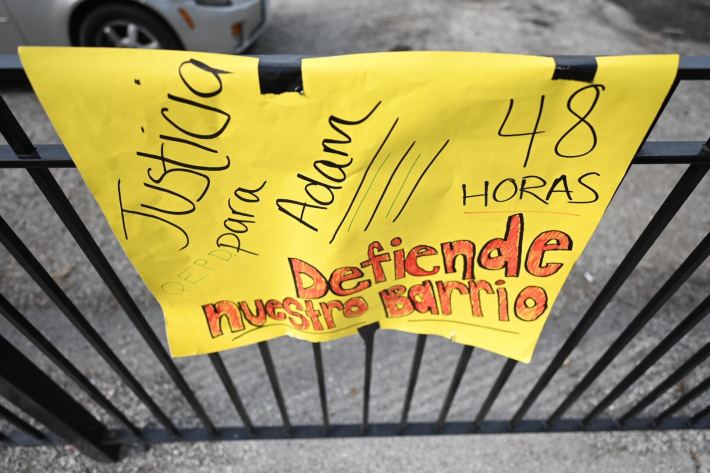 The shooting happened about 2:30 a.m. March 29.
Officers were responding to a ShotSpotter alert of eight shots fired in the 2300 block of South Sawyer Avenue when they saw two "males" in an alley, and one of them had a gun, Brown said. The officers chased, "which resulted in an armed confrontation," Brown said.
An officer shot, fatally hitting Toledo in his chest.
At a press conference earlier Monday, Police Supt. David Brown refused to answer questions about which of the "males" had a gun.
Brown said detectives were stymied in notifying Adam's family because he was not carrying any identification and the other person arrested at the scene gave officers the wrong name.
It wasn't until two days after Adam was killed that police contacted his mother, Elizabeth Toledo, and told her the description of her son matched that of an unidentified person in the morgue, Brown said.
Elizabeth Toledo went to the morgue and confirmed the boy killed by police was her son, Brown said.
The shooting is being investigated by the Civilian Office for Police Accountability. The officers involved have been placed on administrative duty for 30 days.
RELATED: 13-Year-Old Adam Toledo's Mom Thought Her Son Was Missing — Until Cops Came Knocking 2 Days After Killing Him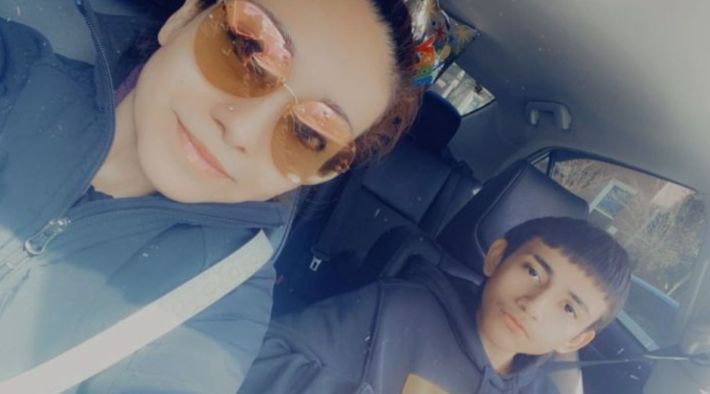 'Adam was not alone'
A week after the seventh grader was killed, details about why Chicago Police shot him remain sparse and vague as his family and local organizers press city officials to release police body cam video of the shooting.
RELATED: Why Did Police Shoot Adam Toledo? Week After 13-Year-Old Slain, Few Details Revealed
Brown said Monday he has watched the video but he refused to answer questions about whether Adam was armed. Mayor Lori Lightfoot, who said she has not watched the footage, said Adam did have a weapon but she offered no explanation for that claim.
"We are concerned by presumptions, implications, and statements made today that are not supported by the facts made public so far regarding what transpired on March 29, 2021," Toledo family lawyers said. "We are unable to refute or respond to these statements until we obtain the evidentiary facts, which so far are known only to the police."
After initially refusing to release video because of Adam's age, the COPA changed course Friday and said it would publicize all the footage within 60 days.
When, specifically, remains to be seen.
Both COPA officials and city leaders said they want Adam's mother to be able to view the footage first, but it's not clear when that will occur. City officials have not committed to any sort of timeframe and lawyers for Toledo's family said Monday they've not been given a scheduled time to review it.
Adam's family also pushed back against statements from some city officials Monday saying the teenager lacked a close support system.
"We do, however, want to correct the hurtful and false mischaracterization of Adam as a lonely child of the street who had no one to turn to," the family's lawyers said.
"This is simply not true. Adam was a loved and supported 13-year-old boy. He lived with his mother, his 90-year-old grandfather, and two of his siblings. His father was in his life. They all loved him very much. The Toledo family is a close-knit family. They look after each other. Adam attended Gary Elementary School where he had the support of his teachers and his classmates. Adam was not alone."
Adam's family is raising money for his funeral. A GoFundMe to support them has raised over $49,000 as of Monday.
Adam was one of five children and attended Gary Elementary School. He was a "happy boy" who played with Hot Wheels cars and liked to ride bikes with the youngest of his four siblings, his mother told Block Club last week.
"He would cheer everyone up just with his smile, with his thoughts," his mother said. " …He was only a kid. [Police] could have done something else, not kill him…If they are trained to shoot, why shoot to kill him?" 
One of his dreams when he grew up, his mother said, was to become a police officer.
"No mother should have to go through this…I am devastated." Elizabeth Toledo previously said. "I want justice for my son. I just want all those answers."
Subscribe to Block Club Chicago. Every dime we make funds reporting from Chicago's neighborhoods.
Already subscribe? Click here to support Block Club with a tax-deductible donation.