This story has been updated with further comments from the Chicago Police Department.
LITTLE VILLAGE — The family of a 13-year-old boy killed by Chicago police Monday are calling for justice for their son — and want to know why they weren't told he was killed until two days after the shooting.
At around 2:30 a.m. Monday, a police officer shot and killed seventh grader Adam Toledo in the 2300 block of South Sawyer Avenue. Chicago police have released few details about the incident, saying officers were responding to a ShotSpotter alert of shots fired when they encountered two people in an alley.
After one person ran away, an "armed confrontation" took place and an officer shot a person in his chest, police said in a statement. Police did not explain what they meant by "armed confrontation," but Toledo was pronounced dead on the scene.
"Adam had many dreams that he will never get to live out," the boy's mother Elizabeth Toledo wrote on a GoFundMe page to raise money for his funeral. "Ironically one of his dreams was to become a police officer."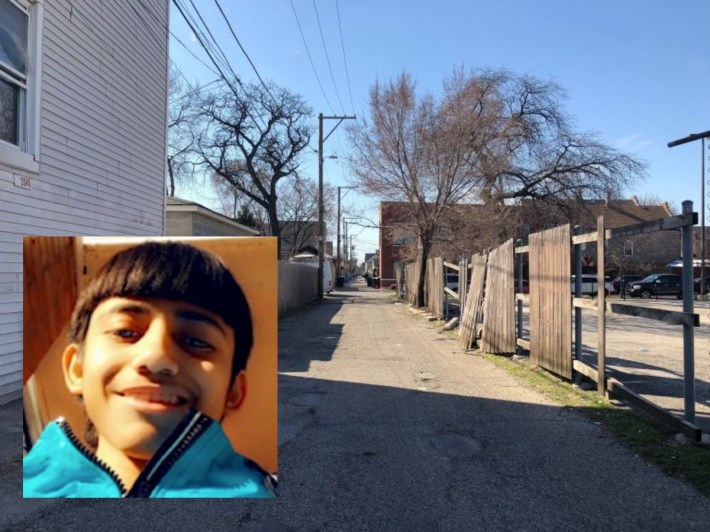 Elizabeth Toledo reported her son missing days before the shooting, she told Block Club. On Wednesday, two days after the shooting, police reached out to the family asking for a photo, she said. She thought they were asking for the missing persons report. But about a half hour later, they knocked on her door asking her to go to the Cook County Medical Examiner's office to identify his body, Elizabeth Toledo said.
"They told me I had to identify my son's body and I couldn't even see him, they showed me a picture of my son Adam for just a couple of seconds," his mother said.
Adam Toledo attended Gary Elementary School, his mother said. He was a "happy boy" who played with Hot Wheels cars and liked to ride bikes with the youngest of his four siblings.
"He would cheer everyone up just with his smile, with his thoughts," his mother said. " …He was only a kid. [Police] could have done something else, not kill him…If they are trained to shoot, why shoot to kill him?" 
On Friday afternoon, Don Terry, director of the Police Department's Office of News Affairs, told Block Club that Adam Toledo was reported missing on March 26. The following day, police checked with the boy's mother, who told them he had returned home.
She did not report him missing again, Terry said, so that case was considered closed. As for the delay in telling Adam Toledo's mother about the killing, Terry said police spent two days trying to identify the boy's body. He said they called Adam's mother after seeing his description matched the recently closed missing person case.
The Civilian Office of Police Accountability is investigating the killing.
According to their preliminary investigation, COPA officials determined responding officers came across two people and chased after them on foot, at which point one of the officers shot and killed Toledo, spokesman Ephraim Eaddy said in a statement. That officer fired his weapon once, Eaddy said.
After the shooting, police spokesman Thomas Ahern tweeted a photo of a gun, which he said was found at the scene. Police declined to answer additional questions about the shooting or who the gun belonged to.
COPA has not said whether Toledo or Ruben Roman Jr., a 21-year-old man arrested nearby following the shooting, had a weapon.
In a statement, Brown released no further details, but said "the split-second decision to use deadly force is extremely difficult for any officer, and is always a heavy burden to bear for officers involved in fatal shooting incident."
"My greatest fear … has been a deadly encounter between one of our own and a juvenile especially given the recent rise in violent crimes involving juveniles throughout our city," Brown said. "Unfortunately, this fear became a reality earlier this week. Any loss of life is tragic, especially when it involves youth."
The officers involved have been placed on administrative duty for 30 days.
The fatal shooting was captured on the officer's body worn camera, Eaddy said. As outrage over the shooting intensified, city agencies pressured each other to release the police footage.
Eaddy initially said state law bars the agency from publicly releasing videos that involve children.
Mayor Lori Lightfoot then pushed COPA to expedite the release of police video in a series of tweets.
"As a mother of a 13-year-old myself, I can only imagine the incredible pain this boy's parents are experiencing at this moment. My heart goes out to them," she wrote. "While the investigation is ongoing it is critically important that COPA release relevant videos first to the family, and then to the public, as quickly as possible, with appropriate protections, given his age.
Police Supt. David Brown also called on COPA to release video of the shooting.
United Working Families, a group dedicated to advancing social justice causes and supporting Black and Brown people, said Lightfoot was the one with the power to release the video. They urged Chicagoans to sign a petition calling on the city to do so.
Attorney Matt Topic, who specializes in government transparency, said the courts have repeatedly rejected COPA's interpretation of the Juvenile Court Act they said prevented them from releasing the footage.
Friday afternoon, COPA officials reversed their decision, and said they would release the footage within 60 days in accordance with city law.
The family's attorney, Adeena Weiss Ortiz, told reporters the family will be able to view available body cam footage next week.
"Adam…was a good kid without a criminal record. She is a good mom. She didn't work, she spent time taking care of her children. On Sunday night, she put Adam to sleep in his room that he shared with his brother," Weiss Ortiz said.
"At this time, the family doesn't have all the information. All we know is that a child died," Weiss Ortiz said. "We are waiting for the full cooperation from the police and COPA and transparency in obtaining the video as soon as possible."
'You shot a 13 year old'
While the mayor and others call for the release of body camera video, aldermen and community members say there is no justification for the killing of a child by police.
Ald. Rossana Rodriguez (33rd) said the days when everyone would believe an officer's version of events following the use of deadly force are over.
She pointed to an incident in December, when an off-duty officer shot at two men in a parked car who pulled up behind him to look at directions, wounding one in the hand. The officer claimed he'd heard gunshots, but an attorney for the men said the officer shot at them without provocation. Brown stripped the officer of his police powers and he has been charged with a felony.
"Turns out everything the officer said about the incident was a lie. And then it turns out he's an instructor on the use of force with the police academy," Rodriguez said. "For a very long time the police have been taken at their word. We're not accepting that anymore. You shot a 13 year old."
India Jackson, the Communications Director for activist organization GoodKids MadCity, agreed. The lack of details nearly five days after the shooting is unacceptable, she said.
"I think everybody has reached a point where we've figured out the police are never going to tell the truth at all or they're only going to share what makes them look good," Jackson said. "They can't even give people transparency into why they're shooting people or explain what led up to the shooting."
Toledo's family hasn't heard what happened from police, either, his mother said. She wants justice for her son.
"No mother should have to go through this. I am devastated," she said. "I have so many questions and no answers."
Elizabeth Toledo called on witnesses to the shooting to come forward.
"I want the police report … and if anyone has seen anything, please come forward. I want justice for my son Adam," she said.
Jackson pointed out how the police version of events has already changed, as well.
"When the story first got released police originally said he was a grown man. He's not a grown man. He's 13 years old," she said. "What can a little boy do to deserve that? Not a damn thing."
While both Brown and Lightfoot said they supported releasing police footage of the shooting to Toledo's family and to the public, COPA officials say that can't happen without a court order.
COPA was exploring "all legal avenues that will allow for the public release of all video materials which capture the tragic fatal shooting of 13-year-old Adam Toledo," Eaddy said in another statement.
Subscribe to Block Club Chicago. Every dime we make funds reporting from Chicago's neighborhoods.
Already subscribe? Click here to support Block Club with a tax-deductible donation.