CHICAGO — Outraged residents, aldermen and community activists blasted Chicago police and city leaders Thursday after footage of an office fatally shooting 13-year-old Adam Toledo last month was publicly released.
Toledo, a seventh-grader, can be seen in body-camera footage running from Officer Eric Stillman through an alley, then obeying commands to stop and raise his hands. Video from a different angle appears to show Toledo toss a gun behind a fence moments before he was shot.
As the teenager raised his hands, Stillman shot him once in his chest. Toledo does not appear to have been holding a weapon when he was shot, and does not raise, point or fire a weapon at officers. Toledo collapsed into the parking lot after being shot and died at the scene.
RELATED: Video Shows Chicago Police Shooting 13-Year-Old Adam Toledo As He Raised His Hands (NO VIDEO IN STORY)
Elizeth Arguelles, an organizer with Increase the Peace, said she was "heartbroken." She visited the makeshift vigil in Little Village near where Toledo was killed Thursday, but said she does not want to see the footage.
"I'm not surprised, the systems of oppression are meant to kill us, meant to put us down," Arguelles said.
Arguelles said it was important there be some accountability. Toledo's killing has deepened suffering throughout the community that in the past year has grappled with the Hilco implosion, the pandemic and gun violence.
"There's a lot of hurt right now," Arguelles said.
Gov. JB Pritzker said in a statement Toledo's family "is living a parent's worst nightmare."
"Parents deserve neighborhoods that will nurture their kids. Children deserve to be safe. Communities deserve to live with hope for the future. Adam Toledo, a 13-year-old child, was shot to death," Pritzker said. "This is a moment that calls for justice for our children and accountability in all our public institutions. The state of Illinois is committed to this work, whether it is transforming our justice system or investing in communities to create durable and long-term progress."
Protests are planned, including one scheduled in Logan Square on Friday.
"A 13-year-old boy was murdered by the Chicago Police Department," leaders from the MacArthur Justice Center said in a statement. "The state-sanctioned shooting of a child is not only unimaginably tragic, but a reflection of how Black and Latinx people and communities are policed in this city, every day."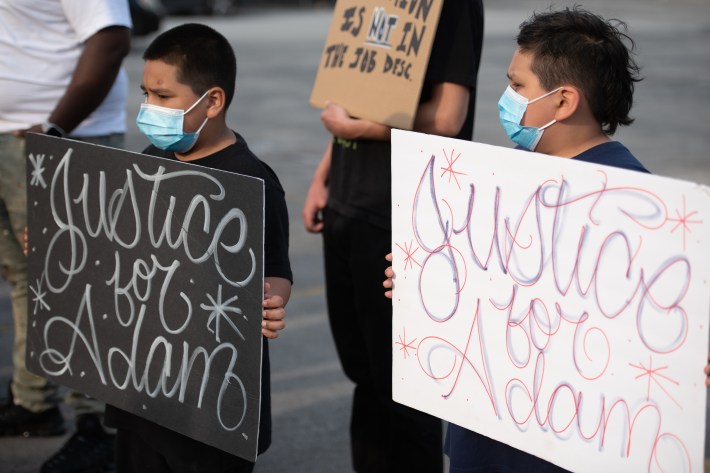 'The video speaks for itself.'
The shooting, which occurred March 29 in Little Village, has been mired in conflicting, vague and shifting details offered by Mayor Lori Lightfoot, Supt. David Brown, the Civilian Office of Police Accountability and the Cook County State's Attorney's Office for more than two weeks.
A police spokesman initially said there was "an armed confrontation" leading up to Toledo being shot, and one of the two "males" on the scene had a gun. A Ruger 9 millimeter was recovered from the scene.
Lightfoot and prosecutors said Toledo was holding a gun when he was shot. Brown has refused to answer questions who had a gun, and a spokesman for COPA has not shed any light on that detail.
Right before the videos were made public, a spokeswoman for the State's Attorneys Office said the prosecutor was wrong when he said in court on Saturday that Toledo was holding a gun in his right hand when he was shot. That prosecutor "failed to fully inform himself before speaking in court," spokeswoman Sarah Sinovic said, adding: "The video speaks for itself."
Sinovic said she could not say why the state's attorney's office waited more than five days to correct that information.
The revelation that Toledo does not appear to be armed and had his arms raised when he was killed infuriated residents and activists, renewing calls to strip funding from and overhaul the Police Department.
"We are outraged and saddened after seeing the video footage of a Chicago police officer shooting and killing a 13-year-old child," members of the City Council's Progressive Caucus said in a statement. "Our sincerest condolences go to Adam's family and community. We know that Adam's life was precious, that he was loved, and that our city can and must do so much more for our youth.
"As we grapple with the trial of Derek Chauvin over the murder of George Floyd, the murder of Daunte Wright, and now the killing of Adam Toledo, it is incumbent upon us to reimagine policing and our approach to public safety."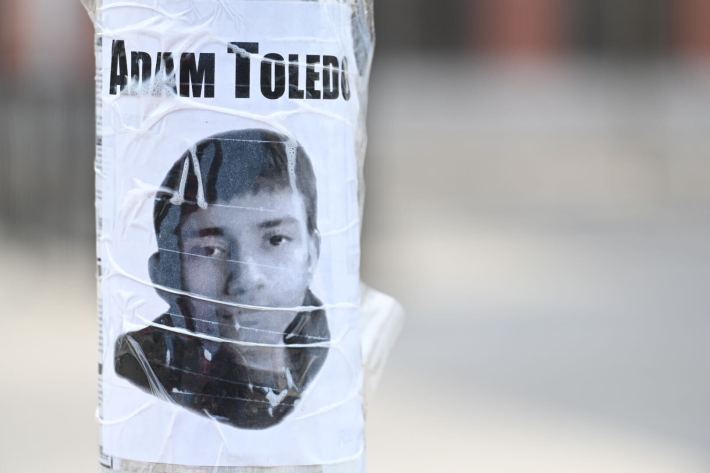 Before the video was released, Enlace Director Katya Nuques said, "The neighborhood is going through a difficult time. The sentiment is one of anger.
"We are calling for justice and major reform in the Chicago Police Department, that provides and delivers justice to all of us. We are also asking for peace and systematic reform of the police department in Chicago and across the country. We shouldn't wait for a tragedy like this to remind us that this is urgent, that we need to do this."
Illinois Latino Agenda, a coalition of Latino leaders that includes Enlace, echoed the call for police reform.
"We also must commit to substantive, sustained investments in Brown and Black communities. Let's put a laser focus on creating real futures for young Brown and Black boys," the group said in a statement.
"While we proactively work to eradicate racist policing, we as a society need to apply the same force to expanding opportunities for young men of color to excel in school, the professional world, and life. By focusing on economic empowerment and police reform in communities like the one where Adam Toledo lived, we create a foundation for success that promotes life and stymies senseless murders that kill youth and devastate our communities.
"Let's commit to these changes in Adam Toledo's memory. Let's do it for this 13-year-old boy, and for every other child of this city. We grieve for him," the group added.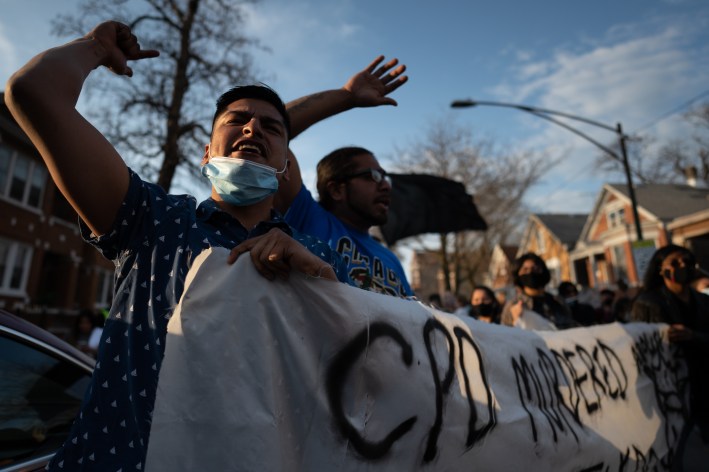 More Reactions
ACLU Illinois: "The release of the body camera footage and other materials by Chicago police today cannot obscure one, central fact: A 13-year-old boy was shot and killed by those sworn to protect and serve our community.
"The people of Chicago deserve answers about the events surrounding this tragic interaction. These answers must come through complete disclosure and public reporting, and not through careful assertions crafted by police and prosecutors. Given the long, sad history of the CPD, public accountability must be the guide post for this moment."
State Rep Aarón M. Ortíz: "Like many of you, I watched the video in absolute horror. The youth in our neighborhoods undergo constant trauma and after cataclysmic incidents like this we should all be demanding investments into programs to rehabilitate our kids; this is not and should never be accepted as a normal part of life. Our kids should have to carry the burden of this trauma for the rest of their lives."
State Rep. Chris Welch: "What happened to Adam Toledo is a tragedy that should never have happened
"While I appreciate the release of this video, I can't imagine what it's like for Adam's parents to have to relive their loss. Given that, I hope we can all learn from this heartbreaking event. Adam was a kid who deserved a full, happy life, but the system failed him. That's what I intend to focus on — not just as a legislator, but as a father. As we work through this tragedy, I plead with everyone to please keep the peace. We all have the right to protest peacefully, but please keep our streets safe so we can focus on fixing the broken system that led to this in the first place."
Subscribe to Block Club Chicago. Every dime we make funds reporting from Chicago's neighborhoods.
Already subscribe? Click here to support Block Club with a tax-deductible donation.
RELATED
Adam Toledo Video Shows Chicago Police Shooting 13-Year-Old As He Raised His Hands (GRAPHIC VIDEO)
Video Shows Chicago Police Shooting 13-Year-Old Adam Toledo As He Raised His Hands (NO VIDEO IN STORY)
Video Appears To Show Adam Toledo Wasn't Holding Gun When He Was Shot By Cop, Refuting Claim Of Prosecutor, Cop's Lawyer
Lightfoot, Toledo Family's Attorneys Call For Peace As City Releases Video Of Police Shooting 13-Year-Old
Adam Toledo, Holding A Gun, Was Told To 'Drop It' Before Cop Fatally Shot 13-Year-Old, Prosecutors Allege
After Chicago Police Kill 13-Year-Old Adam Toledo, Little Village Neighbors Demand Answers At Vigil: 'We Want To See Justice'