CHICAGO — Adam Toledo was holding a gun and was told twice to "drop it" before a Chicago police officer fatally shot the 13-year-old, prosecutors said Saturday, as the man who was allegedly with the boy faced new felony gun charges related to the events that unfolded that night.
Ruben Roman, 21, was ordered held on $150,000 bond Saturday after being charged with felony reckless discharge, unlawful use of a weapon and child endangerment, according to the Cook County State's Attorney's Office and court records. Roman was previously charged with misdemeanor resisting arrest related to the March 29 shooting in Little Village.
Roman, of suburban Maywood, was arrested Friday on a warrant issued after he failed to show up to court on an unrelated case, officials said.
The court hearing offered the most detailed narrative to date of the shooting nearly two weeks ago in the 2300 block of South Sawyer Avenue.
Prosecutor James Murphy said video from a church near Sawyer and 24th Street shows Roman and Toledo walking together on Sawyer about 2:30 a.m. Roman was wearing a gold Carhartt jacket and a gold shirt with dark pants, while Toledo wore a navy hoodie, dark pants and a white hat, Murphy said. 
With Toledo standing nearby, Roman fired several shots, Murphy said. Prosecutors did not say if Roman was shooting at anything specific. A video from Farragut High School captured the shooting, as well as a car passing by in the area.
"This video is from a distance, but you can see the defendant's gold jacket and [Toledo's] white hat, which differentiates them," Murphy said. 
Roman then ran back the direction they came, followed by Toledo, Murphy said. A ShotSpotter alert notified police of eight shots fired in the area. Police found seven shell casings near where Roman had been standing.
Roman and Toledo ran north on Sawyer together and cut into a gangway and an alley near 2324 S. Sawyer Ave., Murphy said. Two uniformed police officers in a marked car responded in less than a minute after the shots were fired, spotted Roman and Toledo and chased them, Murphy said. Both officers had body cameras that were on during the foot chase, Murphy said.
Roman was taken to the ground first and one of the officers detained him, Murphy said. Video surveillance shows Roman dropped a pair of red gloves, which later tested positive for gunshot residue, Murphy said. 
As Roman was being detained, the second officer continued to chase Toledo down the alley, Murphy said. He repeatedly told Toledo to stop but Toledo continued running. The teen stopped near a wooden fence and the officer repeated commands to show his hands, Murphy said.
Murphy said Toledo was holding a gun in his right hand, at his right side, and standing with his left side facing the officer.
"The officer tells [Toledo] to drop it — 'drop it, drop it' — as [Toledo] turns toward the officer. [Toledo] has a gun in his right hand. The officer fires one shot at [Toledo], striking him in the chest," Murphy said.
The gun Toledo was holding, a Ruger 9 millimeter, landed against the fence nearby, Murphy said. The officer immediately called for an ambulance and started doing chest compressions on Toledo, who was pronounced dead at the scene.
"If the defendant does not bring the 13-year-old with him, if he doesn't bring his gun with him while on gun offender probation, if he doesn't shoot that gun seven to eight times on a city street with the victim standing in arms length of him while he's firing those shots … none of it would have happened," Murphy said.
Toledo's right hand had gunshot residue on it. The shell casings found from where Roman had been firing the gun matched the Ruger found near Toledo after he was shot, Murphy said. Prosecutors did not say at what point the gun ended up with Toledo.
Roman gave a fake name for Toledo after he was arrested, which police previously said delayed them in identifying the seventh-grader, who was not carrying identification. Toledo's mother was not notified about her son's death for another two days after police identified him through a closed missing persons case from days earlier.
Roman must put up $15,000 in order to leave jail and must be on electronic monitoring if he is released. His public defender also said there was no evidence Roman was wearing the red gloves prosecutors allege he dropped at the scene.
Toledo died "at the hand of the Chicago police, not my client," Roman's attorney said.
Roman is scheduled to appear next in court April 19.
Attorneys for Toledo's family said they listened in on the bond hearing and did not previously know of the prosecutors allegations against Roman.
"Until we see all of the videos and examine the evidence for ourselves, we are not in a position to comment," they said in a statement.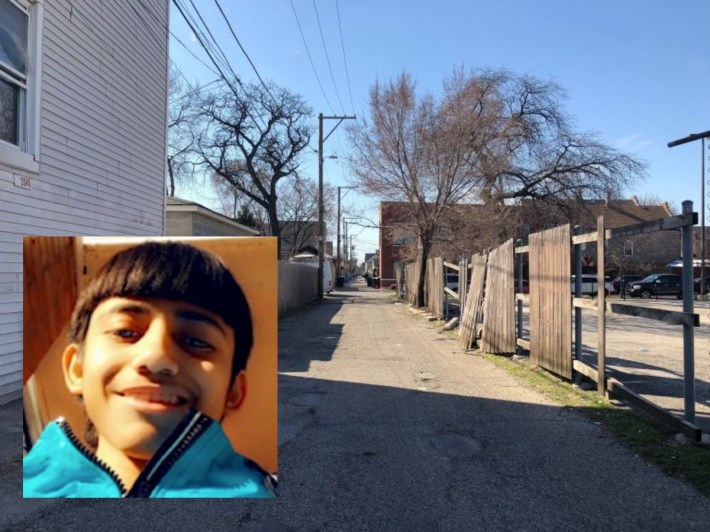 The shooting is being investigated by the Civilian Office of Police Accountability. The officers involved have been placed on administrative duty for 30 days.
Toledo's family is expected to view footage of the shooting sometime next week, according to their attorneys. A specific day was not disclosed.
City officials have committed to releasing the footage publicly but not until after Toledo's family has seen it first.
At a press conference Saturday, Mayor Lori Lightfoot, who said she still hasn't watched the video, said the public release of the footage will help shed light on what happened that night.
"I think it will only help debase a lot of urban myths that have sprung up in the void, but I want to be clear from what's been described to me, it is going to be a very tough video for people to watch," she said.
Earlier this week, Police Supt. David Brown refused to answer questions about whether Roman or Toledo had a gun. Lightfoot, however, repeatedly said Toledo had a gun, though she did not initially explain how she knew that.
Lightfoot said the city will use all its resources to track down the origins of the gun and prosecute whoever was responsible for it getting to a child.
"We must take this tragedy as a seminal moment and target all of the factors that allowed it to happen in the first place," Lightfoot said. "Let's be clear: An adult put a gun in a child's hand. A young, impressionable child, and one who should not have been provided with lethal force, a weapon that could — and did — irrevocably change the course of his life. … It's way past time for us to say, 'No more.'"
Lawyers for the family said Toledo was buried in a private funeral Friday.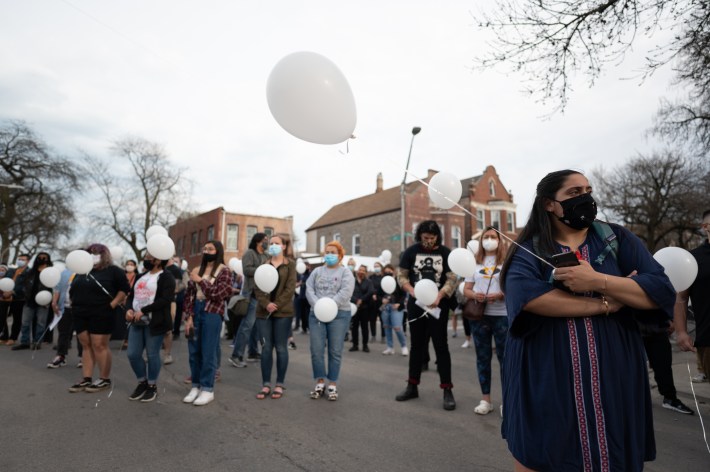 RELATED:
Adam Toledo's Family Slated To Watch Video Of Cop Fatally Shooting 13-Year-Old Next Week, Lawyers Say
After Chicago Police Kill 13-Year-Old Adam Toledo, Little Village Neighbors Demand Answers At Vigil: 'We Want To See Justice'
Why Did Police Shoot Adam Toledo? Week After 13-Year-Old Slain, Few Details Revealed
Police Foot Chase Policy Should Be Changed, Lightfoot Says After 13-Year-Old Boy Killed By Officer
Marchers Take To Logan Square Streets To Demand Justice For 13-Year-Old Adam Toledo
Video Of Chicago Police Killing 13-Year-Old Adam Toledo Will Be Released, Agency Says After Public Pressure
13-Year-Old Adam Toledo's Mom Thought Her Son Was Missing — Until Cops Came Knocking 2 Days After Killing Him
Chicago Police Killed A 13-Year-Old Boy In Little Village Monday
Subscribe to Block Club Chicago. Every dime we make funds reporting from Chicago's neighborhoods.
Already subscribe? Click here to support Block Club with a tax-deductible donation.