LOGAN SQUARE — A Chicago developer specializing in affordable housing wants to build a large complex near the Logan Square Blue Line to combat gentrification-fueled displacement in the neighborhood.
Evergreen Real Estate Group has proposed an 80-unit development with ground-floor retail at 2525 N. Kedzie Blvd., which is CTA-owned land where the original Logan Square Blue Line terminal was. Of the 80 apartments, 64 would be reserved as affordable housing, said David Block, Evergreen's director of development.
While the project appears to fit CTA's newly established vision for the site, it is far from a reality, as the agency is renewing a years-long effort to bring construction to the Kedzie location.
The CTA recently issued a request for proposals inviting developers to submit bids for projects at the site, now occupied by a brick building that was most recently home to City Lit Books and First Midwest Bank — which are closed — and a rear parking lot.
It's the second request for proposals the CTA has issued in recent years. The first effort in 2018 didn't draw any viable bids, a CTA spokesperson said.
Evergreen, the developer behind the Oso Apartments in Irving Park and the senior housing project on the old Ravenswood Hospital site, is among those floating a proposal. As part of the project, they also hope to build townhomes on Linden Avenue.
If built, the affordable housing project would be the second of its kind in the area. A 100-unit affordable housing complex is being built on Emmett Street next to the Logan Square Blue Line station after years of planning and debate.
"We have been hearing about the really pressing need for affordable housing in Logan Square for years and watching the Emmett Street project come together, and other projects in and around Logan Square," Block said. "We think we can be a part of the solution and develop something that we think is a great building, a great addition, but also helps deal with affordable housing."
Evergreen officials haven't submitted their proposal to the CTA yet, but they have met with community leaders and local aldermen numerous times, Block said. The CTA is soliciting bids through April 6.
Whatever gets built on the site, it will likely include affordable housing. The 2018 request for proposals didn't explicitly call for affordable housing, whereas this most recent one does.
The CTA lists "creation of high-quality affordable housing units" as one of its three goals for the site, along with "increased and sustainable revenue stream to support the operations of the transit system" and "creation of high-quality transit-oriented development."
A CTA spokesperson declined to comment on Evergreen's proposal, saying, "At this time, we are unable to confirm or provide any details as this RFP is part of an ongoing competitive procurement process."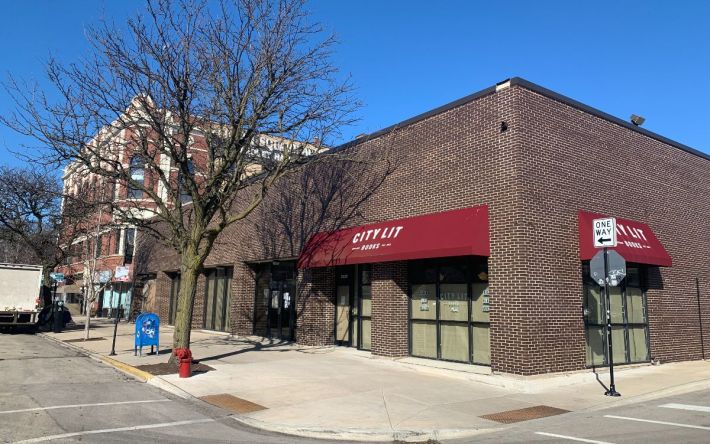 Because the site is within 600 feet of the Logan Square Blue Line station, the project falls under the city's transit-oriented development ordinance, which allows for more density and fewer parking spots.
With this project, the CTA is looking to bring more affordable housing to gentrifying Logan Square under the city's equitable transit-oriented development policy, a strategy Mayor Lori Lightfoot's office unveiled last fall.
The policy is designed to change the way Chicago approaches transit-oriented development, which officials found has suffered from two major problems: The policy has mostly benefitted North Side and Downtown neighborhoods, and it could be exacerbating displacement in neighborhoods like Logan Square.
City leaders are trying to generate more development without pricing out longtime residents, particularly in Black and Latino communities.
RELATED: CTA-Owned Parking Lot Near Logan Square Monument Could See Huge New Development
The Kedzie Boulevard building, right next to the Logan Square Auditorium, is empty, but for several years was home to City Lit Books and First Midwest Bank and, before that, Banco Popular. City Lit closed in October due to the coronavirus pandemic after eight years of business.
The building may not appear old, but it has a long history in the neighborhood. It was built in 1895 as an entrance to the Logan Square Blue Line station. The building was used as such until the late '60s, when the CTA built the current station.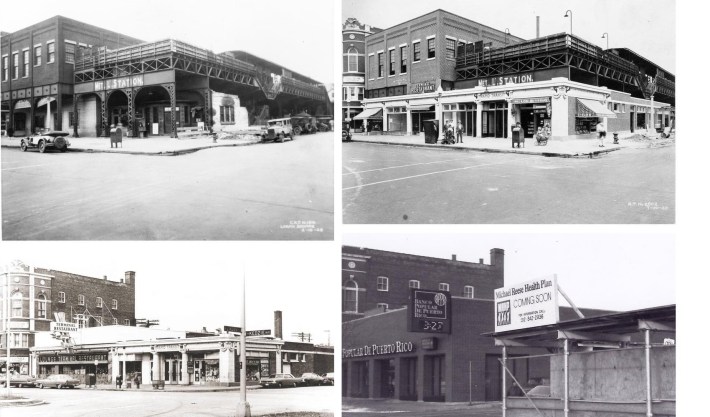 In 2018, developer Farpoint proposed a 150-unit apartment complex for the site, mostly a mix of studios and one-bedroom units with two-bedroom units sprinkled throughout. But that proposal was shot down after community leaders denounced it.
Neighborhood leaders, including neighboring Ald. Carlos Ramirez-Rosa (35th), argued Farpoint's project would displace more longtime Latino residents. Logan Square has lost more than 20,000 Latino residents in recent years, according to a WBEZ analysis. Meanwhile, Logan Square's white population has grown by more than 12,000 residents.
"It's ridiculous that CTA would issue an RFP for public land that puts developer greed before community need," Ramirez-Rosa wrote on Twitter at the time. "#LoganSquare doesn't need 150 luxury studio apts, we need affordable housing for our families!"
The Evergreen project is an "improvement" over Farpoint's proposal, said Andrew Schneider, president of the neighborhood group Logan Square Preservation. Schneider said they're "encouraged that [Evergreen] is sensitive to the historic nature of the site as the original end of the line and are trying to pay homage to that history in their design."
The group is pushing for the preservation and restoration of the building's original terra cotta, which is believed to be under the modern brick facade.
Should the project receive approval from the CTA, it will require a mix of public and private funding, including Tax Increment Financing dollars, Block said. To secure the public subsidies, city officials would have to amend the boundaries of the Milwaukee Avenue TIF District to include the Kedzie site, he said.
Development proposals are due April 6. Electronic proposals must be submitted no later than 3:30 p.m.
Subscribe to Block Club Chicago. Every dime we make funds reporting from Chicago's neighborhoods.
Already subscribe? Click here to support Block Club with a tax-deductible donation.