ALBANY PARK — The Oso Apartments development, which will feature 100 percent affordable rental housing near the border of Irving and Albany Park, officially broke ground on Thursday.

"It's windy but our hearts are warm because today we're coming together to break ground on a building that will house Albany Park's families for generations to come," Ald. Carlos Ramirez-Rosa (35th).
"A place where parents and children, seniors and workers — where Chicagoans will be able to put their heads to rest and know they'll have a roof over their head. A place they can call home and won't break the budget."

Back in May, the Chicago Housing Authority approved the use of up to $10 million in funds for the Oso project as part of CHA's Rental Assistance Demonstration program. The program is aimed at preserving the long term affordability and upkeep of public housing.

"This actually is 100 percent affordable. What that means is we didn't have to use the affordable requirements ordinance in order to accomplish and compel the affordability here," Rosa said. "The developer, from the onset, was committed to making this 100 percent affordable."

In July, developer Evergreen Real Estate bought the empty land at 3435 W. Montrose Ave. for $1.65 million. Over the past few months the developer has met with Rosa's office and the community to get their feedback on the project.

At Thursday's event, the ground had already been excavated and foundations were already beginning to be built.

"This project is absolutely a model for how community process that's inclusive, transparent and democratic can empower people to accomplish affordable housing and help us move towards housing as a human right," Rosa said. "People, when I first took office told me to be careful about hosting meetings around affordable housing."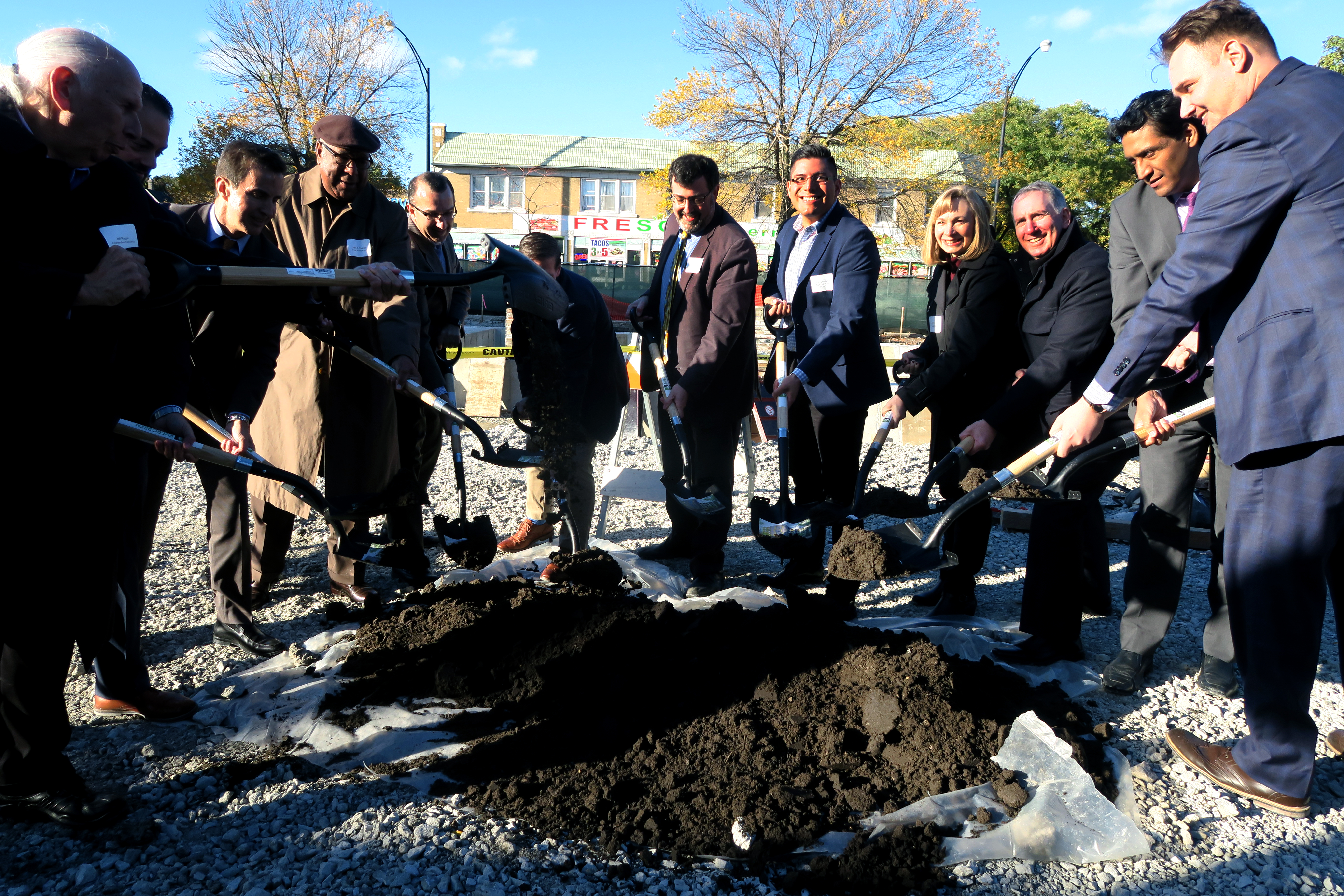 He recalls early in his term being warned that people would oppose affordable housing, as they have in other parts of the city.

"But I said no. I took it upon myself to host meetings, talk to people and bring them together," Rosa said. "What I think we accomplished here is to bring people together to collectively push forward for affordable housing."

Once completed, the Oso Apartments project, designed by Canopy / architecture + design, LLC,  is expected to be a five-story multi-family building with 48-units of affordable rental housing. Current plans for the project include 32 one-bedroom and 16 two-bedroom apartments along with 22 parking spaces, on-site laundry, bike racks, a community room and other amenities.

"This kind of project is exactly what the city of Chicago needs as rents increase. Kudos to the alderman for allowing this to happen," said Steve Rappin, principal at Evergreen.

The first move-ins are scheduled for late summer of 2019 and of the 48 units available, 32 will be set aside for CHA's renter wait list.
The remaining 16 units will be reserved for households earning up to 60 percent of the area's median income based upon 2019 earnings.
For example, a household of one would need to earn 60 percent of the 2019 area median income, currently estimated at roughly $36,000, according to the City of Chicago Department of Planning and Development.
While a household of two would need to earn 60 percent of about $40,000 to qualify, according to the alderman's Chief of Staff Jessica Vásquez.
As for rental prices, it will be dependent upon the applicant's income and 2019 area median income, but the development is expected to have rents around $900, officials said.
"What we're doing at the moment as well is collecting information from people who are interested in renting at Oso," Vásquez said. "It won't be built for another year, but if you can, contact our office we can make a note to let you know immediately when applications are being accepted."
Thomas Applegate, executive director at the North River Commission, a nonprofit community and economic development corporation for the Northwest Side of Chicago, said the project is needed.
"The commission has been working to improve the quality life for everyone on the Northwest Side for 56 years. For us, affordable housing has always been an integral part of what we do," Applegate said.

"We have natural affordable housing in the neighborhood, but we're losing it. And we've gone through cycles in the past where we've lost that type of housing," Applegate said. "But the change right now is really that our current rental housing is at 100 percent occupancy, essentially."

What that means is when a family is displaced from a home they've rented for a while they may have a harder time finding new housing within the neighborhood they can afford, he said.

"We used to be able to find relocation for those families and keep them in the community," Applegate said. "But that's becoming harder and harder, almost impossible. So while we still work very hard in preserving existing affordable housing, it's critical we create new units of affordable housing. Especially for families."

Applegate said the name of the project, Oso, came from one of the streets at the the intersection closest to the future apartment building.
Bernard is German and Nordic for a strong and hardy bear, Applegate said. And since Bernard Street runs down the east side of the future apartment the bear was translated into Spanish.

"For all the Spanish speakers in the community, it seems like an obvious name to translate that into Oso," Applegate said.
Do stories like this matter to you? Subscribe to Block Club Chicago. Every dime we make funds reporting from Chicago's neighborhoods.