RIVER NORTH — A 34-year-old gift shop on North Wells Street is going out of business and its owners are blaming the city's expanded outdoor dining for accelerating their hardship.
Jeannine Dal Pra, co-owner of Elements, a gift shop at 706 N. Wells St., said the shop's sales suffered because of coronavirus, like most businesses. But the city eliminated any chance Elements had of surviving when officials closed a stretch of Wells Street to drivers to give struggling restaurants more room to safely seat diners outdoors, she said.
The closure, from Huron to Superior streets, was done to help restaurants in the 700 block of North Wells Street, including Avli River North, Prosecco, GT Prime Steakhouse and RealGood Stuff Co.
Dal Pra said she was in favor of the city's plan to close the street to help restaurants. The program launched in early August. At first, the street was only closed Friday afternoon to Sunday evening.
But starting in September, the city started keeping the street closed daily, effectively eliminating traffic to Elements, Dal Pra said.
"I came in and called the alderman's [Brendan Reilly's] office and talked to one of his people," Dal Pra said. "She told me they were going to close the street to help the restaurants for an indefinite period. I said, 'What about us? How can our customers get to us?'"
Dal Pra said she has tried to reach Reilly since that call but has not heard from him.
Reilly did not respond to requests for comment.
Susan Hofer, spokeswoman for the Chicago Department of Transportation, which oversees street closures, said the Expanded Outdoor Dining Program relies on local businesses, neighbors, aldermen and police commanders to determine the locations and frequency of closures.
"CDOT will work with [the business department] to contact the businesses on the 700 block of N. Wells to better understand their concerns and work toward resolution," Hofer said.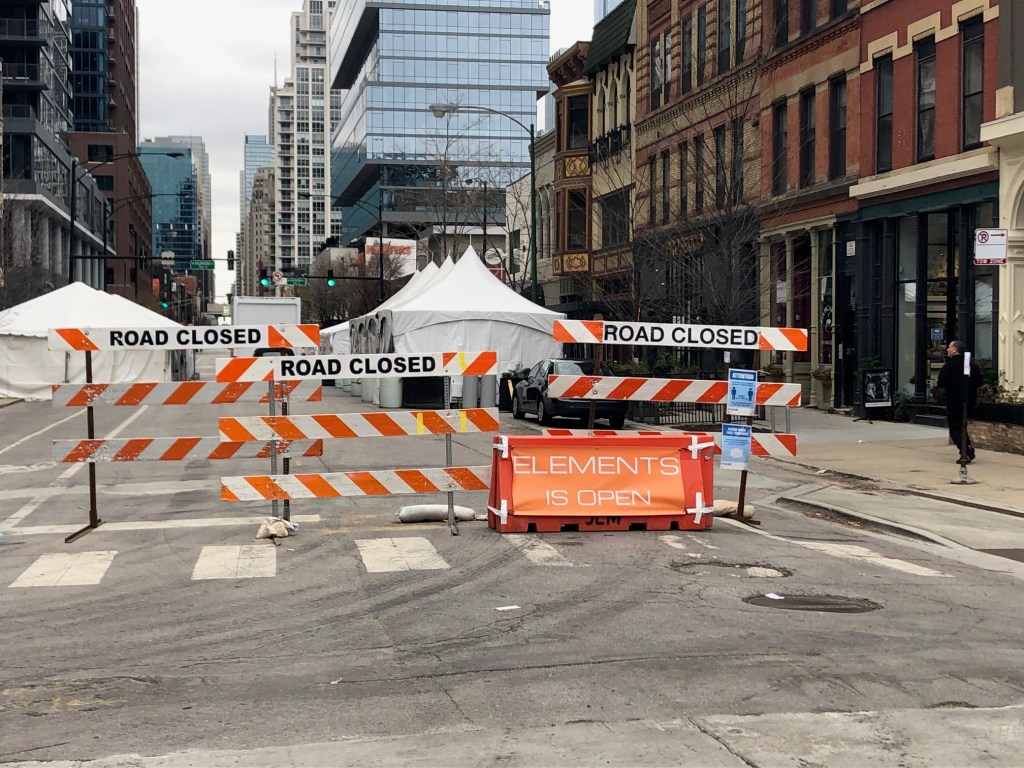 Dal Pra said the street closure has caused many of her customers to stay away, while the tents from the restaurants have moved closer to her store, making it harder to see her shop from the street.
"My ladies like to park and run in," she said of her customers. "Then the tents started going up and they started getting bigger and each restaurant started adding on to their tents. 
"Right now they have all their tables and chairs piled up on our sidewalk. If you go to where the restaurants are, it looks very nice, but all the garbage is piled up near us. The city has done everything to help the restaurants, but my customers can't get to me."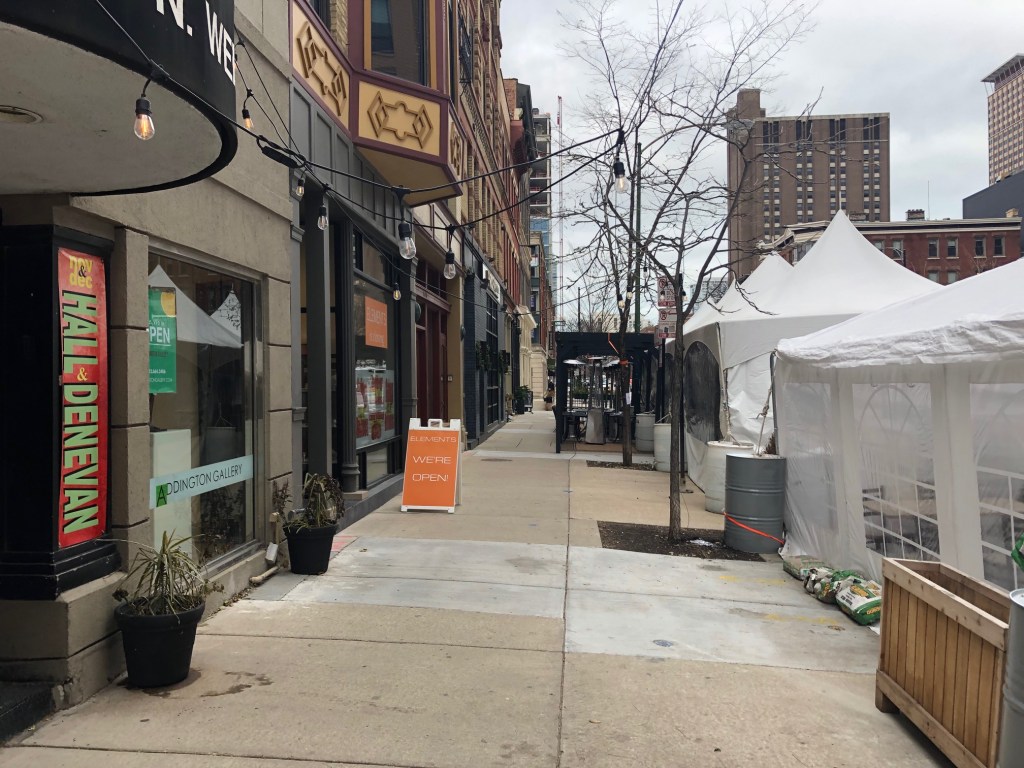 Dal Pra now plans to have a going-out-of-business sale and close Dec. 23. The shop, known for its unique collection of jewelry, home decor, fashion accessories and designer products, is selling everything, including its fixtures.
"We started our sale in August because sales were down because of COVID. Then, with all this stuff and because our lease is up at the end of the year, it was like the perfect storm," Dal Pra said. " … It's been hard to get people to get here. I put signs up on the barricades on each end of the street but it's terrible."
Avli River North, which has an outdoor patio on the side of its building, put up a tent on the street in October. Owner Louie Alexakis said the seven-days-a-week street closure helped his year-old restaurant survive.
"Don't forget, we are in a circumstance where 100 other restaurants are on streets that are closed seven days a week," Alexakis said. "It's very hard for us to not have that ability when everybody else is doing it. We just want an equal playing field."
Alexakis wasn't convinced the street closure caused Elements to go out of business.
"I believe they were having difficulty way before the street closure, Alexakis said. "Our next door neighbor is very happy."
The store next door to Avli is the Addington Gallery, 704 N. Wells St. 
Dan Addington, owner of the gallery, echoed Dal Pra's complaints. His gallery has called Wells Street home since 1998.
"There's no car traffic because there's a blockade. It's something that is hard to chart in a lot of ways, but business visibility is important. So, even when you had people going up and down Wells, which is a high-traffic street, they saw your signage and your store and that's something and that's completely gone," he said.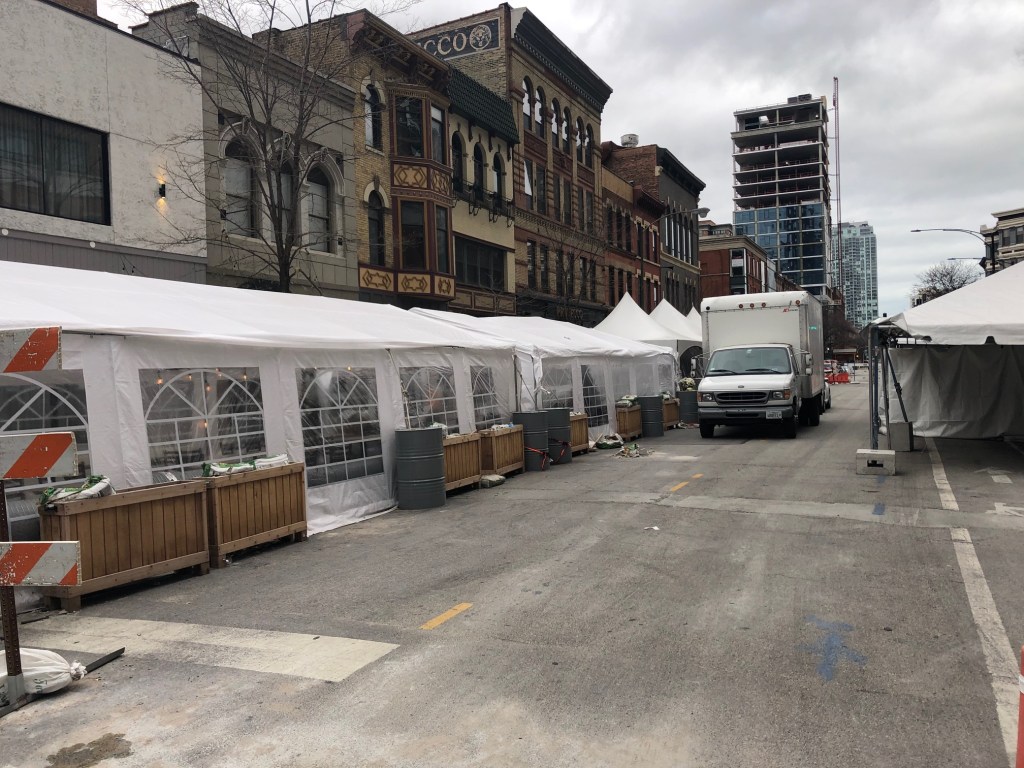 Addington said he wants to help the restaurants on the block but wishes the closure was limited to weekends.
"I was 100 percent on board initially," Addington said. "They were blocking it off just on the weekends, and I thought it was great because it brought a lot of people out and it didn't block the visibility of our storefronts."
But the daily closure and the expanded tents made the situation much worse for shops that rely on foot traffic, Addington said.
"There's debris all around the tents and they have planters that are falling apart that are stuffed in between the tents. It's gotten shoddier by the week," he said.
At Fabcakes, a coffee shop at 714 N. Wells, owner Fabiola Tyrawa said the street closure also has hurt her business.
"It's really messed us up, also," Tyrawa said. "Not everyone can afford a tent."
Nearby, Rush Street between Oak and Cedar streets has also been closed indefinitely. There, there are not many businesses that are not restaurants.
At Shinola Detroit, 1009 N. Rush St., manager Scaley Avia said the closed street hasn't impacted her store much because she said it's a destination location for customers rather than somewhere that gets a lot of random business from passersby.
However, Ian Ritch, store manager of designer clothing store Ted Baker, 1011 N. Rush St., said he did wish the shutdown was only on certain days of the week.
"If it was only certain days … we could plan our business a little bit better instead of having it closed every single day. Especially during this holiday time during the pandemic, some of our clients want to do curbside pickup, and it's very inconvenient to them. It would make it a lot easier if we could have it available for them," Ritch said.
A Block Club subscription is an excellent gift. Get a subscription now and you'll get a free tote bag — and you'll help us reach our goal of 15,000 subscribers by the beginning of 2021. We're almost there! Subscribe or buy a subscription as a gift here.


Already subscribe? Click here to support Block Club with a tax-deductible donation.