EAST SIDE — Last week, environmental justice groups learned the first permit needed for an East Side metal scrapper to begin operating was quietly granted weeks earlier by a city department.
City health officials had promised to keep residents informed on the process — but the public didn't find out about the permit when General Iron's owner, Reserve Management Group, applied. Instead, activists reached out to the city for an update, only to find the permit had already been granted.
Mayor Lori Lightfoot said it wasn't a failure. Instead, she said it was a "miss."
"There was a miss this week," Lightfoot said Wednesday, echoing what Chicago Department of Public Health officials said Monday.
From the health department's failure to notify Southeast Siders, to the mayor's pledges to work to rescind a permit after a botched demolition covered Little Village in dust, city officials have repeatedly promised this year to take action in response to residents' environmental concerns. Then, they failed to do so.
When reached Wednesday morning, Lightfoot's office and the health department did not answer several questions regarding the city's failures. Block Club asked:
Why Southeast Side residents were not notified upon receiving Reserve Management Group's application for the air pollution control permit as promised.
What caused the 15-day delay in notifying residents of the permit's issuance.
Why health officials cited past policy in explaining their failure to notify residents, despite their public commitment to reform and transparency.
How the city would ensure promises of transparency are met in the future.
Why, given the city's handling of permits for Reserve Management Group and Hilco Redevelopment Partners, residents should trust city government enough to get involved with efforts like the environmental equity working group announced in July.
Instead, a health department spokesperson said the failure to notify residents of the air pollution permit "was an oversight and miscommunication."
"However, the Chicago Department of Public Health remains committed to working in close, transparent coordination with the community and key stakeholders," the statement read.
A Botched Demolition, Little Warning And Promises In Little Village
In April, Little Village residents received little warning from city officials and Hilco Redevelopment Partners about a pending implosion of a century-old smokestack at the old Crawford coal plant.
Concerned the demolition would impact air quality amid a respiratory pandemic, activists begged the city to stop it. But the demolition went forward as planned, covering Little Village homes in dust.
In the days that followed, Lightfoot issued a stop work order and said no work would be conducted at the site until further notice. The developer was hit with $68,000 in fines, and Lightfoot promised a "full investigation."
But in May, the Department of Buildings quietly gave a contractor permission to demolish a turbine at the plant without informing Little Village residents.
Alexandra Perez, a Little Village resident who lives near the site, said she hadn't received any notice about the turbine demolition. She found out from a Block Club reporter the day work resumed.
City officials "should have informed us" about the turbine demolition, just as they should've about the smokestack, Perez said.
"They are doing it again, like the last time when they didn't tell us," she said at the time. "I'm pissed."
The lack of notification led residents to protest outside of Lightfoot's Logan Square home, while elected officials denounced the city's move at a press conference outside the Crawford site. Hours later, the mayor stopped work again.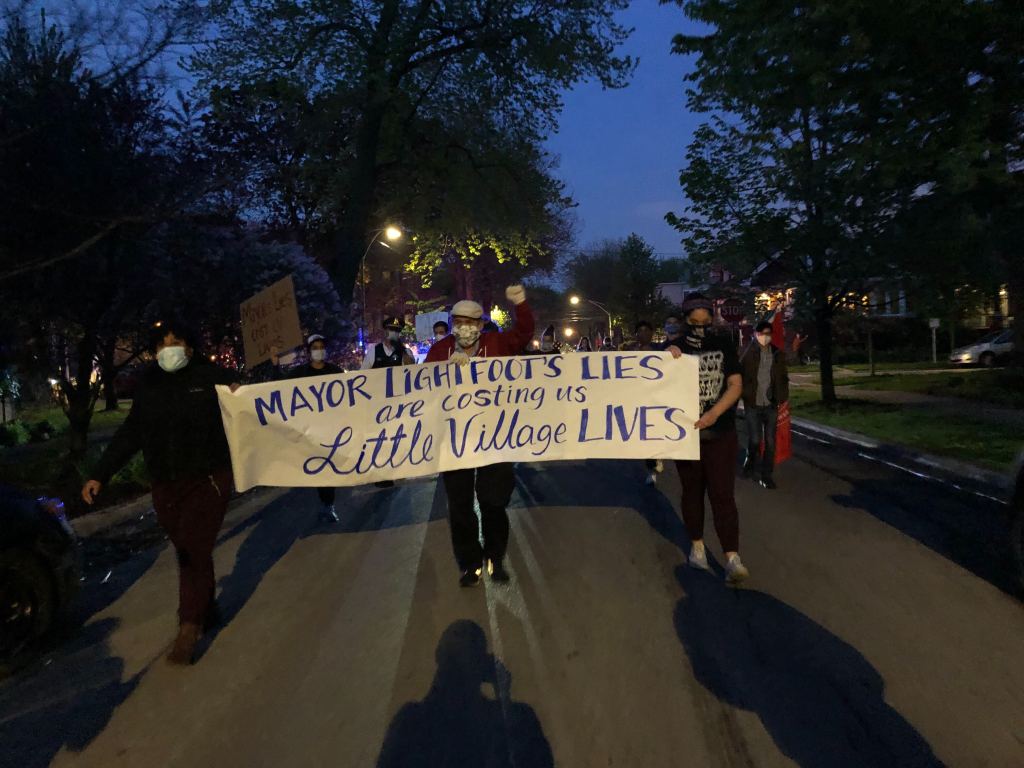 Lightfoot told the Sun-Times at the time she "should have done a better job" informing the working-class, Latino community that demolition at the Little Village site would resume.
"This is a community that really has felt disrespected, lack of resources, in the middle of a very difficult and challenging environmental problem for decades. We have to recognize that. I have to recognize it — and I do," Lightfoot said.
Then, one day later, on May 19, the city quietly issued a $40 million building permit to Hilco, yet again with no notice to residents. The lack of transparency aggravated neighbors and activists, who said the city wasn't living up to its word to keep residents informed.
When explaining what happened with the building permit, the city changed its story. City officials initially told Block Club they could not "legally withhold" the construction permit.
Hours later, the Mayor's Office reversed course, saying the Department of Buildings "inappropriately approved a new construction permit" and Lightfoot would push for it to be rescinded.
On-site work "remains on hold, and the city remains committed to keeping community members informed as the process moves forward," a mayoral spokesperson said at the time. "No further work will take place without transparency and communication to the Little Village community."
In the aftermath, the city and developer held additional meetings where Little Village neighbors voiced their strong opposition to the project and were left with unanswered questions.
And despite Lightfoot's vow to push to rescind the building permit, Hilco was allowed to begin construction in late June — two months after the botched smokestack demolition.
The lack of transparency is nothing new for Chicago, said Kim Wasserman, executive director of the Little Village Environmental Justice Organization. By failing to be transparent, the city has "facilitated" Hilco's "bad behavior," she said at the time.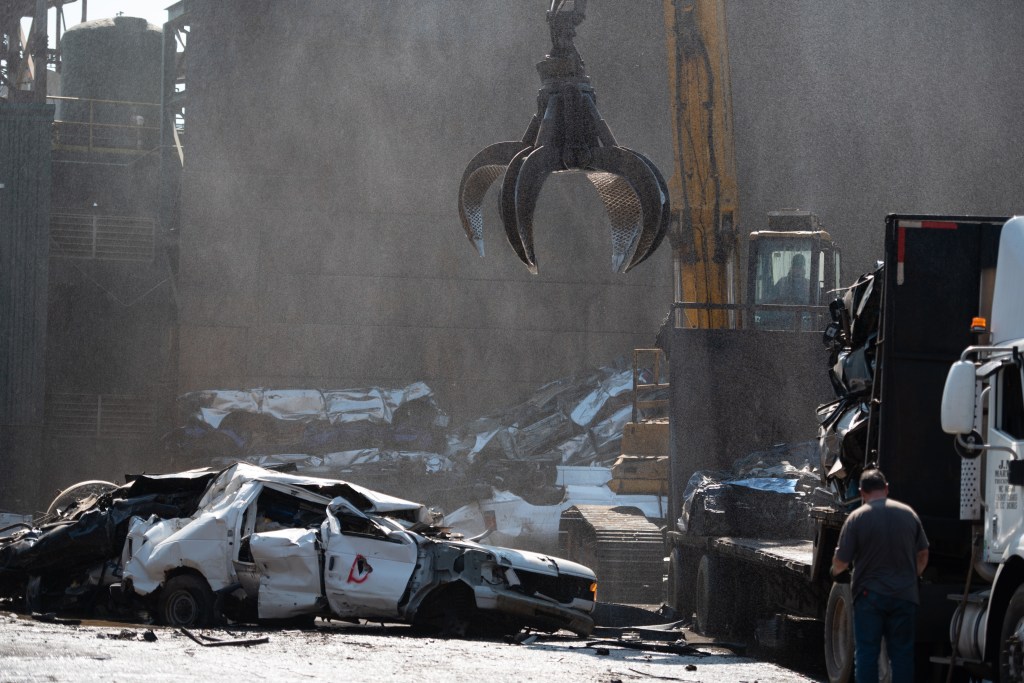 A Metal Shredder In East Side And Promises Of Transparency
In July, after state regulators approved Reserve Management Group's plans to move metal shredder General Iron's essential operations to East Side, the Department of Public Health laid out its environmental reform agenda.
In addition to strengthening regulations on industrial facilities, the city pledged to make "all documents" related to Reserve Management Group's permit process public and promised the health department would notify neighbors when the company applied, health commissioner Dr. Allison Arwady said at a July 25 town hall.
But no notice was given when the company applied for an air pollution control permit. A few residents only found out the permit had been approved 15 days after the fact.
In response to outraged neighbors, officials downplayed the permit's importance. Without acknowledging their earlier pledge, they noted Monday that such permits have historically been granted "without a community review or notification."
Arwady again downplayed the permit in a press conference Wednesday.
She acknowledged the department's pledge to give public notice "any time a permit was applied for," then clarified she was only referring to the recycling facility permit — not the pollution permit — Reserve Management Group needs to begin operating.
The recycling permit is the only one "that is of significant interest," she said, adding that Reserve Management Group has not yet applied for it.
Residents were promised updates around the entire permitting process, Ald. Susan Sadlowski Garza (10th) said Wednesday. She said she doesn't buy Arwady's explanation.
"Shame on them," Garza said. "I had to find out about [the permit's issuance] in an email. I don't know who dropped the ball or where the miscommunication was, but we were told that we were going to be part of the conversation when the permits were going to be issued."
Frustrated Aldermen Beg: 'Keep Us Abreast, Step By Step'
"People make mistakes," but the city must work harder to "make sure people are informed before these things happen, not after," Sadlowski Garza said.
Officials need to "keep us abreast, step by step, of when things are going to be applied for," she said. They need to have an "open and transparent conversation" about the permitting process "not just with the developers, but with the people in the neighborhoods that are affected by these things."
Sadlowski Garza isn't the first alderman to criticize the city's transparency around Reserve Management Group, the firm that owns General Iron.
After city officials shut down General Iron's Lincoln Park site following explosions in May, the city's Department of Buildings and Fire Department allowed the company to partially reopen the following month.
At the time, Ald. Brian Hopkins' (2nd) office was told General Iron would resume partial operations without Hopkins' input, he told Block Club.
"My office has already weighed in repeatedly," he said at the time. "I made it clear that we should tell General Iron sooner than later that they will not be allowed to resume shredding during a respiratory virus pandemic."
General Iron returned to full operations in early August after passing city inspections.
Other Questions Of Transparency
In other instances, the city has not promised action, but its withholding of information around environmental concerns has frustrated activists and neighbors. Examples of this date back to former Mayor Rahm Emanuel's administration and have continued under Lightfoot.
Under Emanuel in 2018, the city granted MAT Asphalt a one-year construction permit to build an asphalt production facility in McKinley Park.
Neither public officials nor the company told nearby residents an industrial facility was coming to the neighborhood, and there were no public hearings for residents to voice concerns about the factory's environmental impacts.
Under Lightfoot this year, no notice was given to Hegewisch residents that the Babe Ruth youth baseball field was contaminated with the toxic metal manganese. City officials had known of the contamination since 2019, as reported by the Sun-Times.
City health officials passed off the responsibility of public notification to the U.S. Environmental Protection Agency, telling the Sun-Times they "followed standard protocol" in doing so.
Why Does This Matter?
The city's Air Quality and Health Report released this summer found South and West side communities "bisected by major highways with high concentrations of industry" are overburdened with pollution.

Little Village, McKinley Park and East Side — home to the former Crawford coal plant, MAT Asphalt and Reserve Management Group's planned recycling facility, respectively — fit that profile of overburdened communities.
Interstate 55 separates Little Village and McKinley Park, two historically industrial neighborhoods. East Side, once home to the Republic Steel mill, is split by Interstate 90 and currently hosts an existing Reserve Management Group recycling facility, a dump site for polluted sediment and numerous heavy industrial facilities.
"We now know through the city's own analysis that our communities face a disproportionate burden because of pollution, and every additional permit issued adds to this," said McKinley Park resident Robert Beedle.
Beedle, a member of Neighbors for Environmental Justice — an activist group formed to stop MAT Asphalt's operation — said overburdened residents must have a voice in what is and isn't approved in their communities.
Little Village, McKinley Park and East Side are all majority-Latino, leading activists like Beedle to decry the city's decades of concentrating heavy industry in these areas as "environmental racism."
In response to Reserve Management Group's plans for East Side, environmental justice groups recently filed a federal civil rights lawsuit claiming the city's zoning policies amount to intentional housing discrimination.
From the city's failure to notify residents of the MAT Asphalt Plant, to the situations with Hilco and Reserve Management Group, some South Side residents say they no longer trust in their city government.
Southeast Siders are "accustomed to leaders in power … [running] over us," said Peggy Salazar, director of the Southeast Environmental Task Force.
"They don't consider themselves to be working with us, cooperating with us," Salazar said. "We didn't know [Reserve Management Group's permit would be issued]. This is an indication once again that they don't want to deal with the community."
Beedle sees it the same way.
"This is not a one-off thing," Beedle said. "Every time something goes wrong, or they don't follow a process or there's a horrible mistake, [the city] says it's a one-off or we're going to do better."
Neighbors For Environmental Justice members "don't have any trust left at this point to be eroded," Beedle said. "We're judging the city by their actions and not by the words, and their actions continue to put the interest of profit — and the interest of polluting industry — above the interest of the residents of Chicago."
For the city to gain back communities' trust, the McKinley Park resident said city officials need to pass reforms "informed by the community" and "enforced consistently."
To the city's credit, Lightfoot and Garza are among the sponsors of an ordinance proposal to more strictly regulate industrial developers, as promised in the city's reform agenda.
But the ordinance — expected since its September introduction to be voted on at Wednesday's City Council meeting — was instead deferred following criticism by aldermen.
Beedle said it is "extremely disappointing to work so hard" to protect the health of your community, only to see the same patterns play out again and again on the South and West sides.
"It's hard to take the city seriously when you see the same issues happening across different communities of color," he said. "… It's environmental racism, it's discriminatory and it needs to end."
Read all of Block Club's Hilco coverage here.
Subscribe to Block Club Chicago. Every dime we make funds reporting from Chicago's neighborhoods.
Already subscribe? Click here to support Block Club with a tax-deductible donation.