LITTLE VILLAGE — Mayor Lori Lightfoot on Saturday night slapped a stop work order on the redevelopment of the old Crawford Coal plant site hours after the demolition of the plant's towering smokestack sent a huge dust cloud over neighbors in Little Village.
The mayor called the thick cloud "simply unacceptable" and said the city is investigating Hilco Redevelopment Partners' implosion that "resulted in dust blanketing the adjacent community."
RELATED: Dust Cloud Falls Onto Little Village From Smokestack Demolition That Was Carried Out Despite Coronavirus Pandemic
City inspectors will be out in the neighborhood Sunday to conduct air quality checks and distribute masks to nearby residents, the city said.
"The health and safety of our residents is our top priority, which is why what happened earlier today was simply unacceptable," Lightfoot said.
"The City is issuing a stop work order and will conduct a full investigation of today's incident, including exploration of potential regulatory changes to address operating procedures," Lightoot said in a tweet. "Additionally, the City is working with Ald. [Michael] Rodriguez and community members to ensure that all residents are aware of the incident and are kept informed of our efforts to address it, and to prevent this from happening again in the future."
The cloud infuriated neighborhood residents who said the scheduled implosion, done with little notice to the neighborhood, should never have been allowed, particularly amid the coronavirus pandemic that causes respiratory damage.
Lightfoot was asked about it Saturday morning.
She said then that "obviously" the decision to do it during the coronavirus pandemic was not made by the city, and said the city's Department of Public Health was "actively engaged with the owners of the property."
City agencies were making sure there were precautions in place so there was no more dust than a normal demolition, she said.
"[They] continue to monitor the situation," she said.
Hours later, after photos of the dust cloud circulated on social media, Lightfoot shut down the site.
Before the stop work order was issued, Hilco defended the demo and said the city and state signed off on the implosion.
"Today's demolition of the former Crawford power plant off of Pulaski Road was completed in close coordination with and full approvals by City and State authorities and included significant onsite safety and dust suppression measures provided by demolition experts and the Chicago Fire Department," the company said in a statement. "Following the demolition activity, a contractor was enlisted to provide street sweepers to clean the immediate vicinity surrounding the site.
"Contractors remain in close communication with local officials to ensure appropriate post-demolition clean-up. Due to the ongoing shelter in place order, public activities during this morning's demolition were at a minimum."
Pilsen resident Maclovio, who requested to be identified just by his first name, arrived to watch the demolition of the smokestack at the former coal plant site at 3501 S. Pulaski Road early Saturday.
The photographer had been keeping tabs of the demolition of the old coal plant for the last three months. He set up in an alley of a residential block and watched as other residents came out to see the demolition.
Just after 8 a.m. "there was a loud boom and it toppled down," Maclovio said. 
Minutes later he described "a massive dust cloud" that extended "at least six blocks from the site."
"When it was first coming, you couldn't see in front of you," the 28-year-old photographer said.
"I was caught in it.  I wasn't prepared for it so I made a makeshift mask. … My lungs started hurting, I'm not going to lie," he said.
He continued to take photos 15 minutes after the smokestack until he started to see the dust subside. 
But even as he rode his bike down 26th Street back towards Pilsen, he said he could still see dust particles.
"It went a pretty good distance, but wasn't as thick," he said.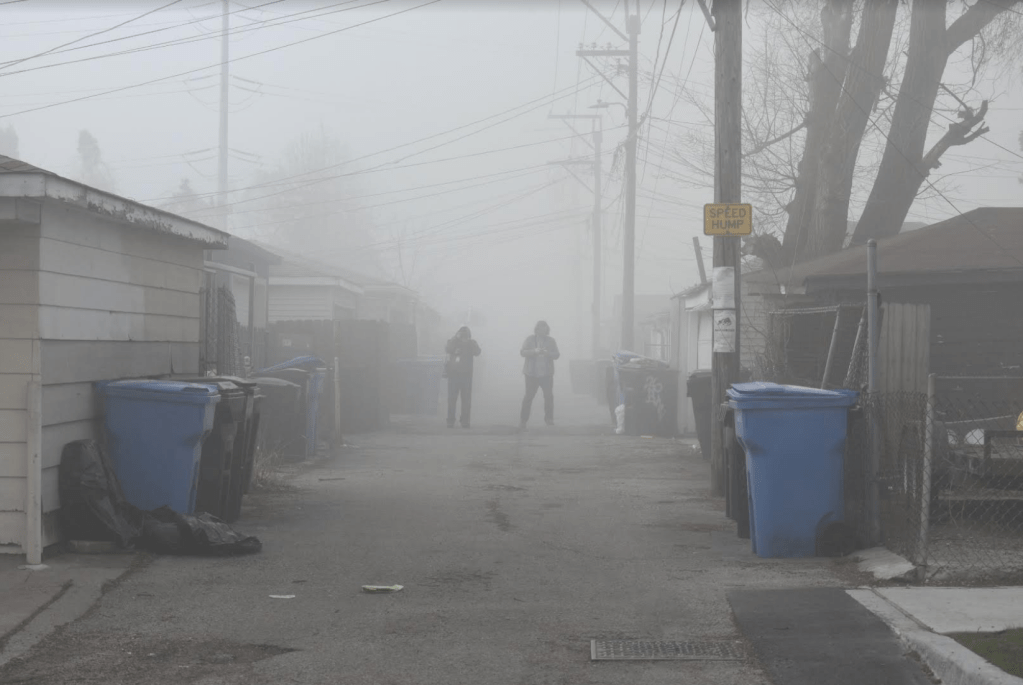 Following the demolition, Maclovio posted photos on his Instagram account that were widely circulated on Facebook and Twitter.
Despite community objections and calls for Lightfoot to halt the demolition because coronavirus is impacting the respiratory health of people across the globe, city officials permitted Hilco Redevelopment Partners to topple the smokestack.  
City officials and Hilco Redevelopment Partners told Block Club Chicago extensive dust mitigation efforts were being employed to prevent dust from leaving the site.
Following the implosion, the Little Village Environmental Justice Organization aerial photos dust several feet in the air.
Ahead of the demolition,  Little Village Environmental Justice Organization called on Lightfoot to halt the implosion from taking place. 
Lucky Camargo, a Little Village resident and member of a neighborhood group Mi Villita, said fliers were stuck in fences at some homes nearby, less than 24 hours in advance of the implosion. She found out from her brother.
"We get more notification with street cleaning, honestly," she said. "Would this be happening in Lincoln Park or Lincoln Square? Would this [notification] method be used? I doubt it. This is further evidence of political inequality rooted in environmental racism that Little Village residents have had to endure time and time again."
Kim Wasserman, the group's executive director, said they were concerned about the implosion's timing considering the coronavirus pandemic impacts respiratory health.
The implosion was putting the health of 75,000 residents at risk, she said.
The neighborhood already suffers from poor air quality from the industry. This is not an "appropriate time," Wasserman said.
The century-old Crawford Power Plant was shut down in 2012 after community-led efforts raised concerns about the impact coal pollution was having on the health of Little Village residents. 
Hilco's redevelopment plan sparked anger among residents who feared the distribution center would bring more diesel trucks and increase pollution in the neighborhood. 
After the project was approved by City Council, neighbors and activists called on the developer to install air monitors ahead of the demolition and remediation of the site.
Last year, neighbors and activists raised concerns about the health and safety of workers nearby residents. Those concerns were raised after a worker plummeted 50 feet to his death in December 2019.
Related:
Block Club Chicago's coronavirus coverage is free for all readers. Block Club is an independent, 501(c)(3), journalist-run newsroom.
Do stories like this matter to you? Subscribe to Block Club Chicago. Every dime we make funds reporting from Chicago's neighborhoods.
Already subscribe? Click here to support Block Club with a tax-deductible donation.
RELATED COVERAGE: 
Dust Cloud Falls Onto Little Village From Smokestack Demolition That Was Carried Out Despite Coronavirus Pandemic
After Old Crawford Coal Plant Smokestack Blown Up, Little Village Residents Worry About Dust During Global Pandemic
Old Crawford Coal Plant Smokestack Will Be Blown Up Saturday In Little Village
After Worker's Death, Hilco Resumes Work At Old Crawford Coal Plant Site In Little Village
Little Village Residents Search For Answers After Worker Dies At Old Crawford Coal Plant Site
Demolition Of Crawford Coal Plant Suspended After Worker Falls To His Death
Worker Falls To His Death In 'Tragic Accident' At Crawford Coal Plant In Little Village
City Tells Worried Little Village Residents To 'Limit Outdoor Activities' As Crews Demolish Old Coal Plant
Illinois EPA To Detail Clean-Up Efforts Of Old Little Village Coal Plant Site Tuesday
Controversial Little Village Distribution Center Gets $19.7 Million Tax Break Approval From City Council
Massive Little Village Warehouse On Old Crawford Coal Plant Site Approved By City Council
Semi-Trucks Are Taking Over Little Village, Neighbors Say — And Giant Warehouse Plan Will Make It Worse
After Post-Arrest Absence, Ald. Muñoz Returns To City Hall To Argue For Tax Break For Little Village Project
Massive Little Village Warehouse On Old Crawford Coal Plant Site Approved By City Council
Huge Distribution Hub Likely Replacing Crawford Coal Plant — Meaning More Dirty Air For Little Village, Critics Say
Little Village Neighbors Demand City Stop Crawford Redevelopment Plan
Developer Behind Controversial Little Village Warehouse Buys Fisk Generating Station In Pilsen, Alderman Says
Old Fisk Generating Station Site In Pilsen Would Become Giant Data Center Under Developer's Plan