PILSEN — In late October, as many Pilsen residents prepared for Dia De Los Muertos, a street vendor named Juan had his world turned upside down. 
The elderly undocumented vendor was hit with a 60-day eviction notice, forcing him to say goodbye to the affordable second-floor apartment he had lived in for five years. His neighbors, the Hernandez family, were also evicted from the apartment they called home for 34 years. 
"It took a couple of days to realize this is really happening. It was like, 'This is a dream. I'm going to wake up,'" Ruth Hernandez said of the gray A-frame they loved in the 1900 block of West Cullerton Avenue.
Juan and the Hernandez family weren't being kicked out because they were bad tenants or because they were behind on rent. They were being evicted because their landlord sold the building.
It sold in September, just weeks before the neighbors got the eviction notices. Their landlord didn't give them warning beyond the required 30 days.
"Being a loyal tenant for 34 years, he should have given us some kind of heads up. That's what really upset me. Not the fact that he sold. It's his property. He can do whatever he wants," Ruth Hernandez said.
The renters' struggle illustrates a widespread problem in Pilsen and Logan Square, two neighborhoods at the epicenter of the gentrification fight in Chicago.
Logan Square and Pilsen don't have high eviction rates compared to other Chicago neighborhoods. But evictions are happening in the gentrifying neighborhoods — they're just flying under the radar.
In Logan Square and Pilsen, instead of being evicted for not paying rent, people are being forced to leave their homes as landlords and property investors sell, rehab and flip old buildings for profit.
These cases typically go unreported. Many can't afford to fight an eviction in court, so when their landlord tells them to go, they go quietly.
Some who are evicted, including an undocumented family who lived in the Cullerton Avenue building, are forced to move miles from their jobs and their schools, libraries and other neighborhood institutions. Others, like Juan, whose real name is not being used because he is undocumented, are lucky enough to relocate in the neighborhood — for a price.
Juan's rent has doubled, and after 43 years in Pilsen, he's not sure how much longer he'll be able to hang on.
"I've been thinking of leaving the state at the end of the year," he said. 
In an effort to keep renters in their homes amid growing development pressure, a group of aldermen are drafting legislation they hope will win support from Mayor Lori Lightfoot and a City Council that's become more progressive in recent years.
'Gut Them, Upgrade Them And Double The Rent'
Evictions conjure up images of a sheriff pounding on a tenant's door and then forcibly removing them because they failed to pay rent. That scenario routinely plays out in neighborhoods across Chicago, but not very often in Logan Square and Pilsen.
The Lawyers Committee for Better Housing, a nonprofit housing advocacy group, crunched city eviction data between 2010 and 2017 and found Logan Square and Pilsen fell well below the city's average eviction rate of 3.3 percent.
Logan Square's eviction rate was 1.5 percent, while Pilsen's rate was 1.9 percent, according to the group's data. For comparison, Washington Park's rate was 7.1 percent and West Garfield Park's was 7 percent.
Instead, what happens in gentrifying areas is landlords order their tenants to be out within a certain timeframe because they are remodeling the building in hopes of getting higher rent or selling the building to a developer. Faced with no other option, the tenants move out. These cases rarely involve the Cook County Sheriff's Department.
Displacement looks different in Logan Square than it does in Pilsen because the two neighborhoods are laid out differently.
Pilsen is a dense neighborhood lined with old two- and three-flat buildings and very few empty lots, said John Betancur, UIC professor of urban planning and policy. Betancur studies gentrification in Chicago.
Because of this, the neighborhood is attracting small developers, not large ones. The community has also resisted a lot of large development over the years, Betancur said.
"A lot of the development there has been building by building," he said.
Veronica Gonzalez, former vice president of real estate for the Pilsen-based nonprofit developer The Resurrection Project, said for-profit developers are flocking to Pilsen for its old housing stock.
"The developer sees an opportunity to gut them, upgrade them and double the rent," Gonzalez said. "If rents are at $1,000, they see an opportunity to take them to $2,400."
In Logan Square, there are more multi-unit buildings, the homes sit on larger lots and there are more empty lots, which is why large developers have descended on the neighborhood, he said.
Both neighborhoods, though, share characteristics that make them desirable to developers big and small. They have great access to public transportation and to Downtown.
Logan Square is largely thought of as ground zero for the gentrification fight in Chicago. The Logan Square/Avondale/Hermosa area ranks second in Chicago for areas that have lost the most affordable apartments in recent years, according to a recent study by DePaul University's Institute for Housing Studies.
But displacement pressure is mounting in Pilsen. Geoff Smith, executive director for the Institute for Housing Studies, said a number of census tracts in Pilsen jumped from moderately vulnerable to displacement to high risk in recent years.
In both neighborhoods, low-income, Spanish-speaking tenants often bear the brunt of gentrification.
Some don't have leases so they don't have any legal recourse when landlords try and kick them out. They entered into a verbal agreement with their landlord years ago and never saw any reason to formalize the agreement until it was too late. This is exactly what happened to Ruth Hernandez and her family.
The Hernandezes landed in Pilsen in the mid-'80s and never left. Ruth Hernandez, a customer service supervisor, said she and her husband wanted to provide stability for their seven kids when they were young. Their oldest is now 43 and their youngest is 22.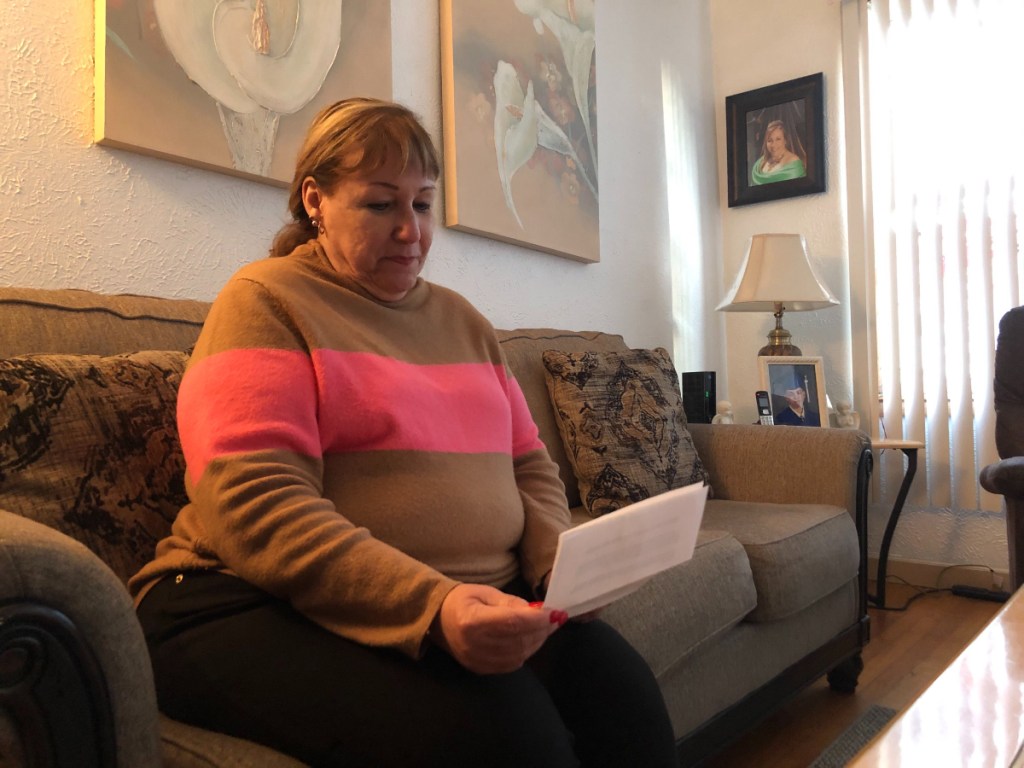 "You want your children to have memories of not jumping" around, Ruth Hernandez said. "Everyone knew us in the neighborhood. We established our roots."
Ruth Hernandez said the family never felt like they were at risk of being thrown out of their apartment despite not having a lease. Back in the day, no one required contracts in Pilsen, she said. After the 2019 eviction, she wishes they had one.
"We didn't have anything to protect us to give us more time," she said.
The Pilsen landlord who sold the building could not be reached.
There's also another form of eviction playing out in Logan Square and Pilsen with perhaps even greater frequency. In these situations, the landlord doesn't explicitly ask his or her tenant to leave but instead abruptly hikes up the rent to a level the tenant can't afford.
"Instead of getting a five-day [eviction] notice or 30-day notice, they're getting a $200 rent increase," said John Bartlett, who works with the Metropolitan Tenants Organization.
"If they said they're not paying that $200 increase, then they would end up in eviction, but most people" either pay it or move out, Bartlett said.
Local housing advocates like Bartlett are hesitant to call these situations evictions by the legal definition because they don't involve the court system. Instead, they call them forced displacements or non-court evictions. 
What's clear is there's a serious harm every time a tenant is abruptly forced to leave a home, Bartlett and other experts said.
"The main thing we want to do is prevent sudden displacement. That's what causes poverty" and homelessness, Bartlett said.
'I Felt Really Betrayed'
As a youth leader with Logan Square Neighborhood Association, Ashley Galvan Ramos spends a lot of time advocating for Latinx families who are being squeezed out of the gentrifying neighborhood.
That fight became deeply personal for Ramos when she and her family were evicted from their Logan Square apartment in March 2018.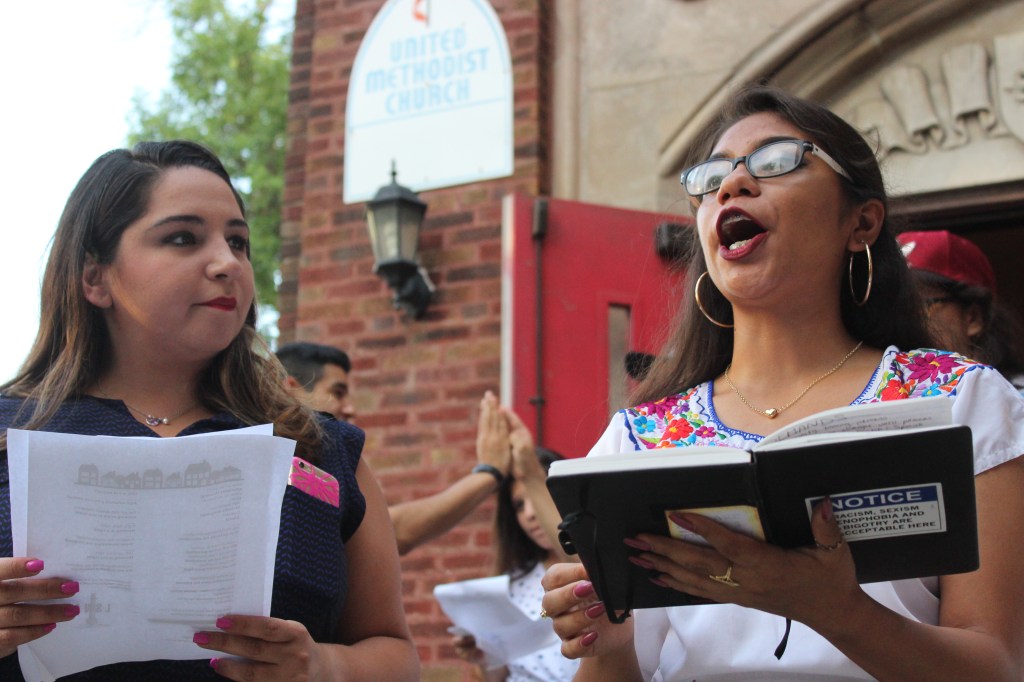 Up until the eviction, Ramos' family had lived in Logan Square for nearly 30 years. About 13 of those years were spent in an apartment in the 2500 block of North Ridgeway Avenue.
Ramos, now 21, remembers the day her family found out the Ridgeway apartment building was for sale. A neighbor told her mom in passing the building was listed on Redfin.
A few weeks later, Ramos' family received an eviction notice.
In the notice, Ramos' landlord said he was evicting them on the grounds they owed back rent, but Ramos claims they didn't owe him any money and he was just trying to sell the building.
The building sold for $525,000 a few months later, according to Cook County property records. Ramos' former landlord couldn't be reached for comment.
Like the Hernandez family, Ramos and her family never had a lease. Ramos said they were never offered one but they also never felt like they needed one. They considered their landlord like family.
"We called him our grandpa when me and my sister were growing up," Ramos said. "My mom actually babysat his granddaughter because she went to the same school as us. We'd go to his birthday parties. When he got injured, my dad would bathe him. I brought him plates of food to make sure he always ate.
"I felt really betrayed by someone I called my family member."
Without a plan or a safety net, Ramos and her family packed up and moved out of their apartment on March 1, 2018, the same day as her sister's quinceañera.
"We weren't able to hold the quince. My mom at least made a cake … without any decorations," Ramos said.
Ramos said her family was able to store their belongings in a family friend's basement on the South Side, but they didn't have anywhere to go. That's why, on the night of the move, they camped out under the "L" tracks.
Ramos and her family lived under the "L" for about a month and a half, she said. Sometimes they'd sneak into their empty apartment and sleep there, but most of the time they slept outside, under the rumbling train.
During this time, Ramos dropped out of school and her younger sister struggled to keep it together.
"It hit my sister the most. She has ADHD and her going to school … it was hard for her. Her anger was off the charts. Her grades went down," Ramos said.
Eventually a family friend found the family living under the tracks and offered them a room in her Belmont-Cragin basement.
The living situation wasn't ideal, but it was better than living outside.
"It was a tiny, tiny room. My sister's twin bed and my parents' queen bed took up most of the room," Ramos said.
Ramos and her family lived in the basement for several months before they bought a place of their own in Austin thanks to Ramos' Logan Square Neighborhood Association connections.
Ramos said she and her family love their new home. Her dad renovated the bathroom — "he got a little too excited and got a Bluetooth speaker," Ramos said — and her sister's grades are back up.
But the location isn't ideal. Ramos and her mom still work in Logan Square — Ramos for 1st Ward Ald. Daniel La Spata and her mom as a nanny on their old block.
And Austin, while welcoming, doesn't feel like home.
"I definitely have a new place to call home, but Logan Square is always going to be my home," she said.
'Life Became Really, Really Horrible'
Constructive evictions have also become more common in Logan Square and Pilsen as developers and property investors continue to scoop up old buildings, renovate them and hike up the rent.
In these cases, a landlord pushes out a tenant by making the apartment unlivable through renovations or other repairs.
That's what happened to John in August 2018. Block Club is using an alias to protect the tenant's identity because he signed an agreement barring him from disclosing what happened.
John only got to enjoy his Logan Square apartment for a couple of months before a new landlord bought his building and moved to kick out all of the existing tenants.
The landlord started renovating John's building and made his apartment unlivable in the process. His heat went out several times — "this is, like, January and February," John said. Dust, debris and large chunks of drywall and plaster constantly fell from the ceiling as crews ripped out walls and appliances in other parts of the building. Large puddles formed in John's bathroom. Water from his faucets and shower heads would either come out orange or with "black chunks of sediment."
John said the company had offered him a settlement of one month's rent to get out — $1,050 — but he refused the offer and leaned on his lease, which stipulated he could stay there until May 2019.
"I had a lease so I had a right to stay there, but they started construction anyway and life became really, really horrible," John said.
John spent his work days calling lawyers and tenants rights organizations.
"I was extremely stressed out," he said. "I really couldn't relax. And going home wasn't a pleasant experience because there was so much damage."
But when the renovations got to be too much, John packed up and left after convincing the landlord, who runs a property management company, to increase his settlement. He couldn't find another apartment he could afford in Logan Square so he moved to Pilsen.
While he's reasonably happy with his new place despite a mouse problem, John said he wishes he could've stayed in Logan Square.
"I like Pilsen, but unfortunately I don't really have many friends here," he said. "I'm far away from everyone."
Aldermen Say Tenant Protections Are Needed — Now
Ald. Daniel La Spata, whose 1st Ward includes a large portion of Logan Square, noted it's "very hard to know the real number, the real impact" when it comes to invisible evictions in neighborhoods like Logan Square and Pilsen.
La Spata said that's why he and other aldermen are drafting legislation they hope will "encourage more people to take their stories out of the shadows and fight for the kind of protection they deserve."
The Good Cause/Just Cause Eviction Ordinance is designed to protect renters by establishing landlords can only evict tenants for specific reasons like non-payment of rent and breaking terms of the lease.
Tenants rights groups have pushed for this legislation for more than a decade, but several new aldermen are throwing their support behind it.
Currently in Illinois, a landlord may evict a tenant regardless of cause with just 30 days notice.
This leaves tenants like the Hernandez family left to find a new home and pack up what they've accumulated over 34 years in a matter of weeks.
The Good Cause ordinance would likely extend the amount of time tenants have to move out when a landlord moves to sell or flip a building to at least 90 days.
The aldermen are modeling the Chicago ordinance after similar ordinances in other cities.
"Currently a landlord can evict you for any reason. It could be that they decided they don't like the color of your hair," said Ald. Carlos Ramirez-Rosa (35th), one of the aldermen drafting the ordinance.
"The reason we've seen is they want to raise the rent or completely change who lives in the community."
Ald. Byron Sigcho-Lopez, whose 25th Ward includes Pilsen, agreed.
"Right now, we have rampant speculation. We see families and longtime homeowners, low-income homeowners barely keeping up with payments. We see developers buying every day," he said. "This speculation and inequality is impacting our families. … We need to pass that [ordinance] to protect our homeowners."
Ramirez-Rosa said there's reason to believe their new ordinance will win approval from the larger City Council and Lightfoot.
"Now that we have so many progressive allies on City Council, we are revisiting the issue and looking to introduce it in very short order," he said.
But Ramirez-Rosa noted the ordinance on its own isn't the solution. The alderman said it's just a policy tool that can be implemented now while rent control advocates continue to fight to overturn the state ban.
"Having that 90 days makes a big difference. … But it still doesn't address the root cause, which is astronomically rising rents," he said.
A spokeswoman for Lightfoot wouldn't say if the mayor supports the plan.
In a written statement, the spokeswoman said the city's Department of Housing is "currently reviewing a range of policies and protections, including the city's current eviction process, to ensure that both tenant and landlord rights are protected in Chicago's rental market."
Some of the same aldermen who are drafting the latest eviction ordinance are also working on ways to slow down gentrification-fueled displacement along the western portion of The 606's Bloomingdale Trail in Logan Square and Humboldt Park. City commissioners recently approved a six-month ban on demolition permits along the popular jogging and biking path at the request of Ramirez-Rosa and Ald. Roberto Maldonado.
The legislation is a direct response to the displacement happening along the trail. Home prices along the western portion have gone up 344 percent since 2012, according to a new study by DePaul University's Institute for Housing Studies.
In 2018, a few years after the trail's debut, Logan Square saw the highest property tax hike of any neighborhood in the city compared to the previous year.
Longtime residents, many of them Latino, are being shoved out of Logan Square and neighboring Humboldt Park and Avondale and heading to neighborhoods like Belmont Cragin, Dunning and Portage Park. 
Since 2000, Logan Square's once-majority Latino population has fallen by more than 20,000. In Pilsen, more than 10,000 Latino people have left. Meanwhile, the white population in both neighborhoods has swelled.
Ramos, whose family was forced out of their Logan Square apartment, said even though her parents now own a home in Austin, she hasn't made peace with what happened.
"It's still been difficult to process all that trauma that was there, and to see the community is still changing. … It hurts even more," she said.
"It feels like I might be too comfortable in my new home, that maybe one day we won't be able to afford it again."
Do stories like this matter to you? Subscribe to Block Club Chicago. Every dime we make funds reporting from Chicago's neighborhoods.
Already subscribe? Click here to support Block Club with a tax-deductible donation.