LOGAN SQUARE — In 2018, Logan Square saw the highest property tax hike of any neighborhood in the city compared to the previous year, according to data obtained by Ald. Carlos Ramirez-Rosa's 35th Ward office.
Ramirez-Rosa, who represents part of Logan Square, is planning to submit a resolution at Wednesday's City Council meeting urging Cook County Assessor Fritz Kaegi to attend a special Finance Committee meeting and answer for the tax assessment model and formula, which he says is fueling displacement in Logan Square and other changing neighborhoods across the city.
"This dramatic increase in the median property tax bill in the aforementioned community areas increases displacement pressure in those community areas by placing additional burden on longtime homeowners, often causing longtime homeowners to sell, or lose their lifelong homes in the county property tax scavenger sale," the resolution reads.
According to the data, which Ramirez-Rosa obtained through a Freedom of Information Act request, Logan Square in 2018 saw a 24.09 percent increase in its median tax bill — more than 10 times the citywide average of 2.15 percent.
Uptown ranked second for the highest increase (19.93 percent) and Bronzeville ranked third (13.72 percent).
Ramirez-Rosa found that many neighborhoods experiencing displacement of longtime residents saw disproportionately higher property tax hikes.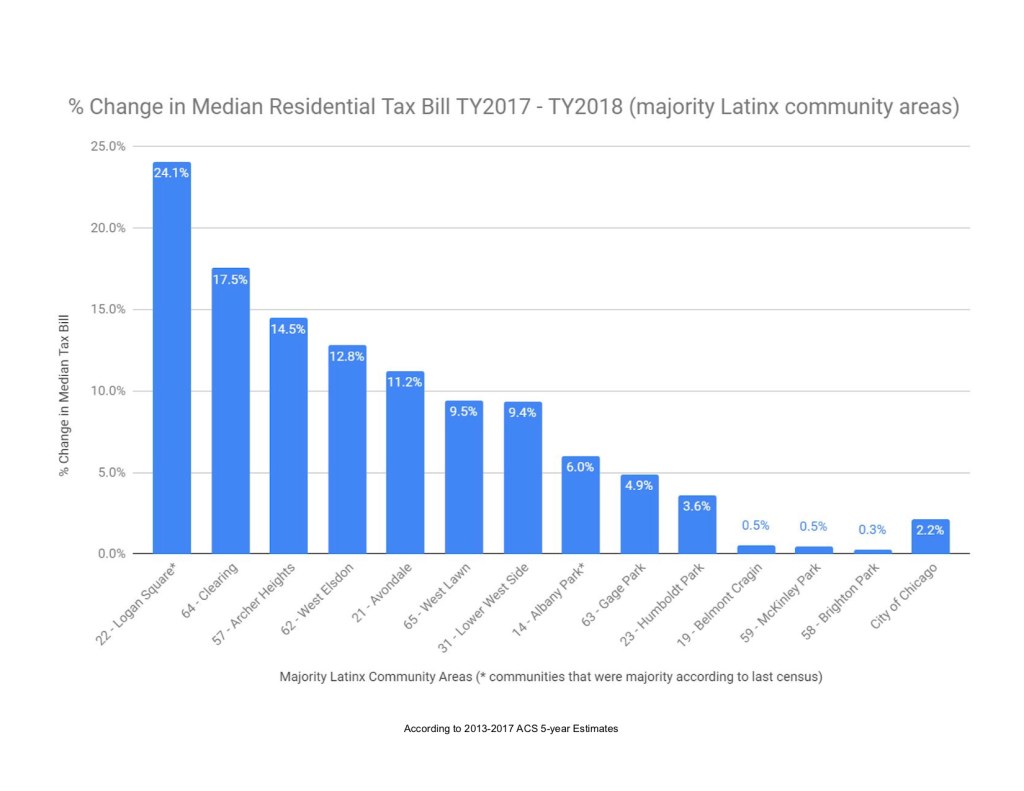 Many majority-Latinx and black neighborhoods also saw disproportionately higher property tax increases compared to the citywide average, according to the data.
A Chicago Tribune series concluded that assessments are so flawed in Chicago that people living in poorer neighborhoods tend to pay more in taxes as a percentage of their home's value than residents in more affluent neighborhoods.
Kaegi defeated former old-school establishment Democrat Joe Berrios in the wake of the Tribune series.
In the resolution, Ramirez-Rosa said Kaegi committed to implementing a tax assessment model recommended by the Civic Consulting Alliance, but it is unclear if Kaegi has taken the necessary steps yet.
The alderman said he's holding the meeting so Kaegi and experts can openly "discuss additional state, county, and city measures that can be taken to ensure working-class Chicagoans have an equitable property tax system that does not fuel displacement."
Scott Smith, spokesman for the Assessor's office, issued a written statement in response, saying his office has been "hard at work" reassessing the north suburbs, publishing reports on each re-assessed township — "a level of transparency that has never been achieved previously in this office."
"If Alderman Ramirez-Rosa is concerned about the regressivity of last year's assessments, he should speak with the former assessor Joe Berrios," Smith said.
Smith also blasted Ramirez-Rosa for submitting a resolution that contains "factual errors." He said the Civic Consulting Alliance never created a new assessment model. The group was brought in to review the assessment model, he said.
Smith said the resolution also implies that assessments are the sole determining factor in someone's tax bill, which, he said, is not true. Property taxes go up when municipal taxing bodies request more money for schools, libraries, police and fire pensions and other services, he said.
"Our office merely divides up that levy, based on property assessments," Smith said.
As for the meeting, Smith said they're "happy to engage with them, but since a meeting has yet to be called, it's difficult for us to commit to a time and date until it exists."
Do stories like this matter to you? Subscribe to Block Club Chicago. Every dime we make funds reporting from Chicago's neighborhoods.