UPTOWN — What needs to change regarding how police officers interact with some marginalized groups in Chicago?
That's the question the Chicago Police Department asked city residents at a meeting Tuesday in Uptown — and the department heard plenty of responses.
The meeting at Truman College is part of the police department's court-mandated efforts to reform the ways it handles issues of civil rights and use of force. Chicago Police previously announced a set of 14 new policy initiatives that would help overhaul its community policing efforts, and the department asked for input on those policy topics at a series of meetings, starting Tuesday in Uptown.
"We're all here because we want a better police department," Interim Police Supt. Charlie Beck said at the meeting.
RELATED: Police Plan 'Open Conversation' About Treatment Of Marginalized Groups In Series Of Meetings Starting In Uptown
Tuesday's meeting included conversations on police interactions with transgender residents, those suffering from mental health issues and those with disabilities. Also discussed was the department's use of force, police policies on sexual misconduct and how to respond to the victims of hate crimes, among other topics.
The topics were discussed in small group settings, with residents being able to attend the discussions they were interested in. Many of the participants were professionals in the fields being discussed.
That includes Darrell Dacres, a violence prevention coordinator who works in Uptown and other neighborhoods. Dacres sat in on the community policing strategies workshop, where he suggested that officers and members of the community interact in less traditional settings.
Dacres said he's working on an idea to get barber shops to host both young people and police officers in an effort to get them talking in a more relaxed, less formal situation.
"It's hard to get these groups in the same room," Dacres said. "The community is reaching out to the police. We just need to see that same interest."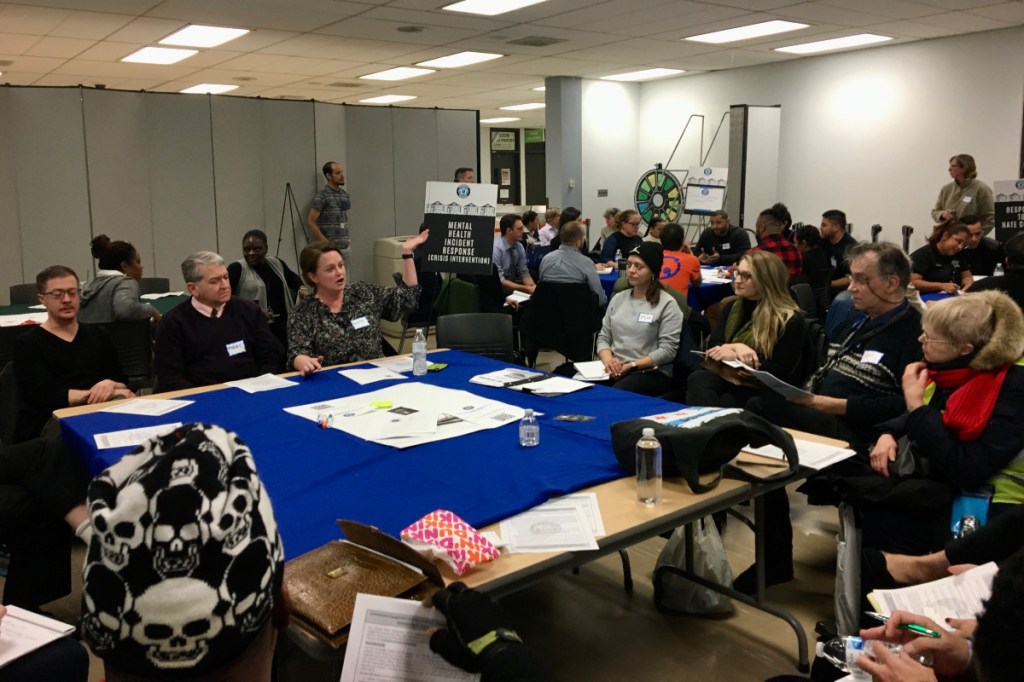 One of the most well-attended working groups was for mental health incident response.
The police department has a crisis response program and a crisis intervention team, but not all emergency calls seeking help for a mental health crisis are answered by a intervention-trained officer.
Community members asked if there's a way to only request a crisis intervention officer. That would lead to less problematic interactions between those struggling with mental health and officers not specifically trained in the field, community members said.
One resident at the meeting recounted the time a 19-year-old dyslexic man was approached for jay walking and was arrested after failing to spell his name and provide his home address. The issue could have been avoided with better training and guidelines, residents said.
Better training and policies will not only help the public — but will be helpful to officers, said Rick Schwartz, a community liaison at Riveredge Hospital, a mental health center in Forest Park.
"Police officers are expected to make a decision in a fraction of a second that mental health professionals can take weeks to make," Schwartz said. "It's not fair to them. We want these to be successful outcomes, rather than the nightmares we see now."
Another well-attended talk was the policy's interaction with the transgender community. The conversation revolved around how officers can be more respectful or preferred pronouns and how the department can revise its body search policy to make sure transgender citizen don't feel violated by physical searches. (Currently, who on the police force conducts a body search is determined by the suspect's sex organs, not by their gender identity, police said at the meeting.)
The meeting was one part of the police department's efforts to enact court-mandated reforms outlined in a federal consent decree. The reform efforts stem from the fallout surrounding the fatal police shooting of 17-year-old Laquan McDonald in 2016, which led to widespread protests and a Department of Justice review of the Chicago Police Department. An early report on how the department was adhering to the consent decree chastised police for not including more public input at the beginning of the process, the Chicago Tribune previously reported.
Eventually, the police department will take what it heard at Tuesday's meeting and upcoming community meetings before drafting new policies on community interactions. Those new policies will have to be approved by the agencies overseeing the consent decrees.
In the mean time, some residents are hoping that the police department shows it is working in good faith towards reforms by keeping the community intimately involved in the efforts.
"I was at meetings like this four years ago, and it was literally the same thing," said Esther Bloch, a volunteer with advocacy group One Northside. "Great input, great conversation, and nothing came of it."
The Chicago Police Department has scheduled three other meetings to seek input on new community policing initiatives. Those meetings will take place:
Wednesday, February 5th
6:00 to 9:00 p.m.
Kennedy King College – The Great Hall
740 W. 63rd St.
Free parking in student lot at 65th & Halsted
Thursday, February 6th
6:00 to 9:00 p.m.
JLM Abundant Life Center
2622 W. Jackson Blvd.
Saturday, February 8th
10:00 a.m. to 1:00 p.m.
Daley College
7500 S. Pulaski Rd.