PORTAGE PARK — On his first full day in office, Ald. Jim Gardiner (45th) met with residents to let them know he isn't looking to kill The Point, a senior housing facility and Aldi grocery store planned for a long-vacant lot at Six Corners.
But he's not fully on board with it, either.
Gardiner was one of eight speakers at a spring reception hosted Tuesday night by the Six Corners Chamber of Commerce at Shilas Restaurant, 3938 N. Cicero Ave.
After a prayer and greeting his new constituents, audience members began asking Gardiner about the future of the giant hole in the ground at the site of the former Bank of America at Irving Park Road and Cicero Avenue.
"I did not say I'm going to kibosh this," Gardiner told them. "I understand the amount of time, effort and foresight that went into trying to plan something like this."
During a zoning committee meeting on April 24, a procedural move by former Ald. Margaret Laurino (39th) stalled the project, and Gardiner was on hand to say he wanted more time to fully understand the development.
Gardiner did not respond to repeated requests over the four weeks after the April zoning meeting asking him to clarify what his plans are for the site. Tuesday's chamber event is the first time he spoke publicly on the issue.
To start, Gardiner wanted to clarify he objected to the project at the April zoning committee meeting because he wanted it deferred, not denied outright.
He said he didn't want the project approved under his predecessor John Arena because he needed more time to learn about the plan.
"So that when I speak to you, and you have questions about it, I'm able to answer it in the most educated form I possibly can," Gardiner said.
As the new alderman, regardless of what was discussed or agreed upon by the previous administration, whatever ends up happening at the site will be "built on my watch."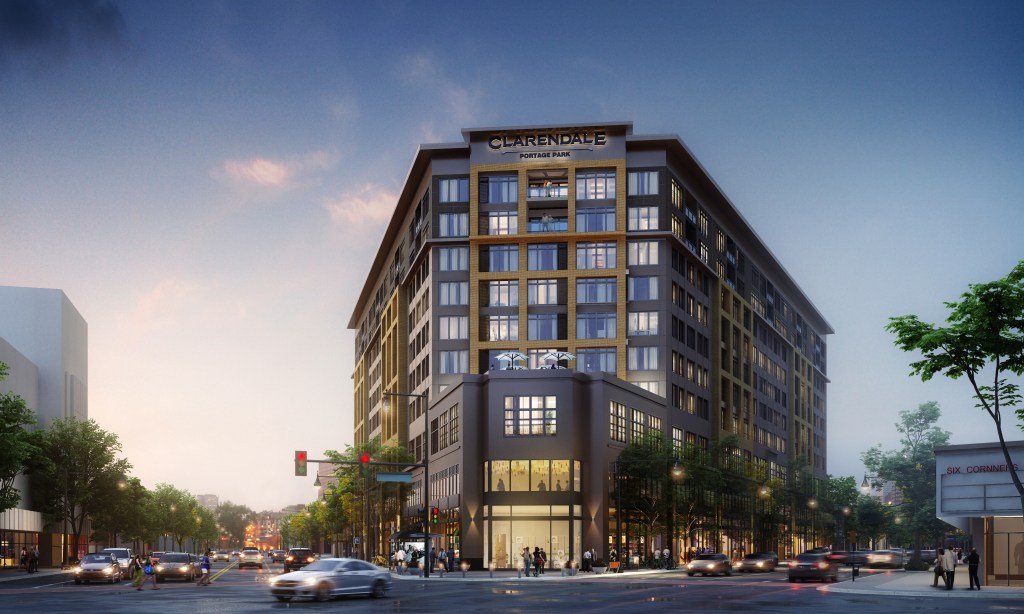 One issue he wanted more time to review was the 10-story height of the tallest part of the development project. Gardiner said it didn't fit into the 2013 Six Corner Master Plan's suggestion of three- to four-story mixed-use development at the former bank. However, he said he'd be open to the current project's height if the community approved it.
"One of the major concerns was also the pricing," Gardiner said.
Speaking of his own parents — his father is 93 and his mother is 84 — Gardiner said they wouldn't be able to afford the cost of living at The Point.
"I want to fight for the opportunity for the people in this community to stay in their community if they spent many years, which many of us have, in this community," Gardiner said.
Back at a June 2018 meeting showcasing the latest version of the development, Dan Walsh, senior vice president of real estate development at Ryan Companies, said independent living at the site would be $4,400 a month, assisted living would be $6,000 a month and memory care would be $7,200 a month — which is in line with other facilities that offer both housing and healthcare services for seniors.
The average cost of assisted living in Chicago is $4,089 per month, which is higher than the national median of $3,355, according to caring.com, which specializes in referrals to senior care providers.
For comparison, Norwood Crossing at 6016 N. Nina Ave. in Norwood Park has their assisted living services begin at $5,700 a month. At Autumn Green at Wright Campus, 4239 N. Oak Park Ave. in Dunning, the price of assisted living begins at $3,520 a month. And at Bethesda Rehab & Senior Care, 2833 N. Nordica Ave., the price of assisted living begins at $4,712 a month.
Cheaper nearby regions include suburban Oak Park, which has an average starting cost of $4,085 for assisted living.
Gardiner took a few questions and listened to comments from the audience during Tuesday's meeting. One resident said senior living rates are inherently different than market rate rents.
"People think that you have to actually come up with rent but it's not rent," the man said. "It's an annuity. You're giving up your assets [to pay to live there until you die]."
Veteran's benefits, life insurance, long-term care insurance, annuities, a reverse mortgage, renting out a home, Medicaid as well as pooling family resources are all different ways seniors pay to live at facilities like the one being proposed at The Point, according to caring.com.
At another point a woman from the audience said she'd prefer a project like The Point elsewhere in the neighborhood — but she didn't want a "hole" either.
"I don't think [the site of the former bank] is the right location for The Point to revive a distressed area," she said. "But I guess my major question is if that's not going to proceed forward how long do we residents have to look at that hole in the ground?"
"That's the difficult position that I'm in right now, right? I understand that people say, 'Just fill the hole. Just fill the hole,'" Gardiner said.
The concern is that whatever ends up filling in the hole is going to be a permanent part of Six Corners for the long term, he said. So whatever is built there has to have community buy- in because it's very unlikely a current or future developer will tear down The Point just to start from scratch again.
Gardiner hinted at a desire to bring younger renters to the area, noting the wave of development coming north on Milwaukee Avenue from Wicker Park, Logan Square and Avondale.
"It's working its way up," he said. "If I was starting anew, I would like to see market rate apartments [at the former bank]. If you had young professionals in their 20s and 30s who'd like to rent that, I think that would make this corner boom."
"I think it's very important to keep the long run in mind. But I understand though, too, you've been looking at the hole for a long time and you're sick of it," Gardiner said.
Another audience member asked if the Aldi aspect of the project would still be built if the senior housing component was shelved.
"From what I understand, I don't think Aldi would be a part of it if that senior housing wasn't being built," Gardiner said. "But again, it's a process that I'm trying to get further along as far as trying to best understand what's best for that development."
Gardiner said Wednesday he's in "continued talks with the developer" and working on next steps.
Block Club Chicago reached out to representatives from Ryan Companies and Clark Street for comment.
The History Of The Hole At Six Corners
In March 2016, city officials approved plans for a shopping center at the site anchored by Ross Dress for Less and Aldi. However, that plan fell apart. After multiple attempts to get mid-size big box retailers like Target or Best Buy on board, developers pivoted and pitched the senior housing plan, according to then-Ald. John Arena's office.
Developer Clark Street paid more than $10 million in June of 2014 for the 140,000-square-foot triangular property at the corner, as well as a 1-acre parking lot in the 3900 block of North Milwaukee Avenue, according to public records.
The corner has been a large hole in the ground since the Bank of America branch that once stood there was torn down in 2016.
At a June 2018 meeting about the project, developers said the senior living facility would be a "cruise ship on land" and defended the high price as on par with other assisted living facilities in the area.
They expected to break ground as soon as this summer, but Gardiner's victory over Arena in the February primary has made the project's timeline less certain.
Meanwhile Ross Dress for Less has since signed a lease to move into Six Corners Plaza, 3970-3982 N. Milwaukee Ave., once it's finished being redeveloped.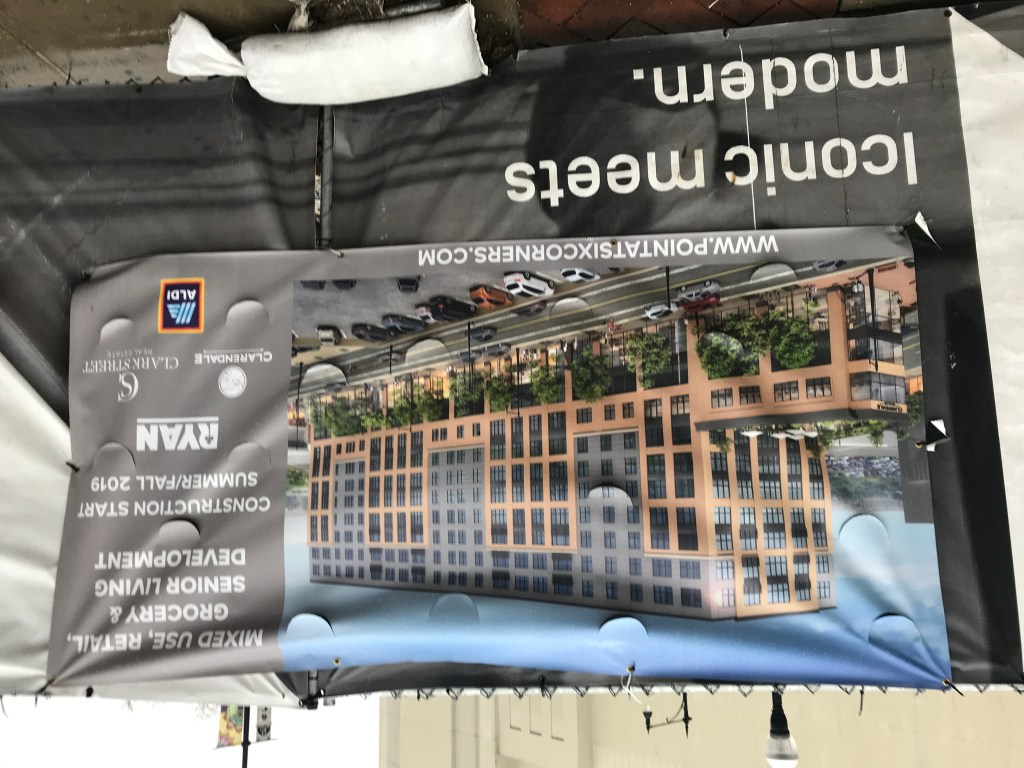 The chamber hosting Tuesday's event is a separate entity from the Six Corners Association and was originally established in October 2017 to "influence public policy and foster a climate in which businesses can operate profitably as well as encourage and promote positive, well-balanced economic growth through business development."
The Six Corners Association has been around since 2002 and is the nonprofit economic development organization that manages the shopping district's special service area funds collected via a localized property tax.
Gardiner was sworn into office Monday morning and later that evening announced that his new ward office would be located at 5425 W. Lawrence Ave.
At Tuesday's meeting, he said Tanya King, Gina Munoz and Rita Howard had all been hired as staff for his new ward office.
"We're renting an old doctor's office. We converted it into an alderman's office now," Gardiner said. "We're going to have a newsletter. I was unable to get the emails from the previous administration, so we are slowly but surely growing our email list."
Additional announcements at Tuesday's event were that Shilas Restaurant is in the process of getting a Small Business Improvement Fund grant and Tatas Tacos, 4929 W. Irving Park Rd., had its sidewalk cafe permit approved.
Chicago Police Office John Garrido was also on hand Tuesday night to announce the Rock The Badges charity event would be moving to Six Corners this summer.
The two day event is going to take over Milwaukee Avenue on July 21 and July 22 and feature bands comprised of first responders, their children and other family members.
Money raised at the event is donated to charities that benefit the families of fallen police officers and firefighters. A $5 donation is being asked as an entrance fee.
RELATED:
After Being Sworn In As New Northwest Side Alderman, Jim Gardiner To Appear At Six Corners Chamber Spring Reception
As Plans For Dreaded Hole At Six Corners Intersection Stall, Area Business Owners Plead: 'Just Put Something There'
Is The Point At Six Corners Dead? Neighbors Try Convincing New Alderman To Support Senior Center At Long-Vacant Intersection
Six Corners Senior Housing Complex Fails To Advance Amid Opposition From Alderman-Elect
Six Corners Could Get A New Public Plaza Using $1.5 Million In TIF Dollars
Six Corners Senior Housing Complex Gets OK From Plan Commission
Critics Of Current Plan For The Point at Six Corners Say Building Would Be Too Tall
Pricey Six Corners Senior Housing Will Be Like A 'Cruise Ship On Land,' Developer Says
Do stories like this matter to you? Subscribe to Block Club Chicago. Every dime we make funds reporting from Chicago's neighborhoods.