PORTAGE PARK — Business owners around the Six Corners shopping district are tired of the hole in the ground at Irving Park Road and Cicero Avenue.
Up until last week, a plan for a new Aldi and a senior housing development — dubbed The Point at Six Corners — was on track to fill the dreaded hole at Irving Park Road and Cicero Avenue. But during a zoning committee meeting on April 24, a procedural move by outgoing Ald. Margaret Laurino (39th) stalled the project, and Ald.-elect Jim Gardiner was on hand to say he wanted more time to fully understand the development.
What comes next is a mystery, and Steve Vrettos, owner of Jeff's Red Hots at 3901 N. Cicero Ave., is over it.
"That's been a hole in the ground for a while already," Vrettos said.
Vrettos has been in business since 1989 and worries that between the hole in the ground and the now-vacant Sears at 4730 W. Irving Park Rd., the Six Corners area will become a "dead zone."
RELATED: Is The Point At Six Corners Dead? Neighbors Try Convincing New Alderman To Support Senior Center At Long-Vacant Intersection
"I don't like that it's a still a hole and looks like it will continue to be a hole now," Vrettos said. "I went to one meeting we had down the street in June and they were talking about putting senior living and an Aldi and other restaurants. I told [Ald. John Arena], it doesn't matter what, just put something there so it's not a hole in the ground."
Across the street, Syed Ehmad echoed Vrettos' concerns. Ehmad owns Mr. Submarine, 3924 N. Cicero Ave., and said all the vacancies have hurt area businesses.
"Having people living there and an Aldi at that corner, I think it's a good idea because it'll help bring business back. Bring more traffic to the area," Ehmad said.
His business has been around since 1976. Between the street construction that began in 2017 on Cicero Avenue and took about eight months to complete and then the closing of the Sears last year, Ehmad said fewer and fewer people are popping in to grab a sandwich.
"I think we need to have something that can help generate business in the area so we can all stay here longer," Ehmad said. "Someone visiting their family there can pick up food, like a sub, on the way to visit. I think that's a great idea and they should move forward on it today already."
In March 2016, city officials approved plans for a shopping center at the site anchored by Ross Dress for Less and Aldi. However, that plan fell apart. After multiple attempts to get mid-size big box retailers like Target or Best Buy on board, developers pivoted and pitched the senior housing plan, according to Arena's office.
Developer Clark Street paid more than $10 million in June of 2014 for the 140,000-square-foot triangular property at the corner, as well as a 1-acre parking lot in the 3900 block of North Milwaukee Avenue, according to public records.
The corner has been a large hole in the ground since the Bank of America branch that once stood there was torn down in 2016.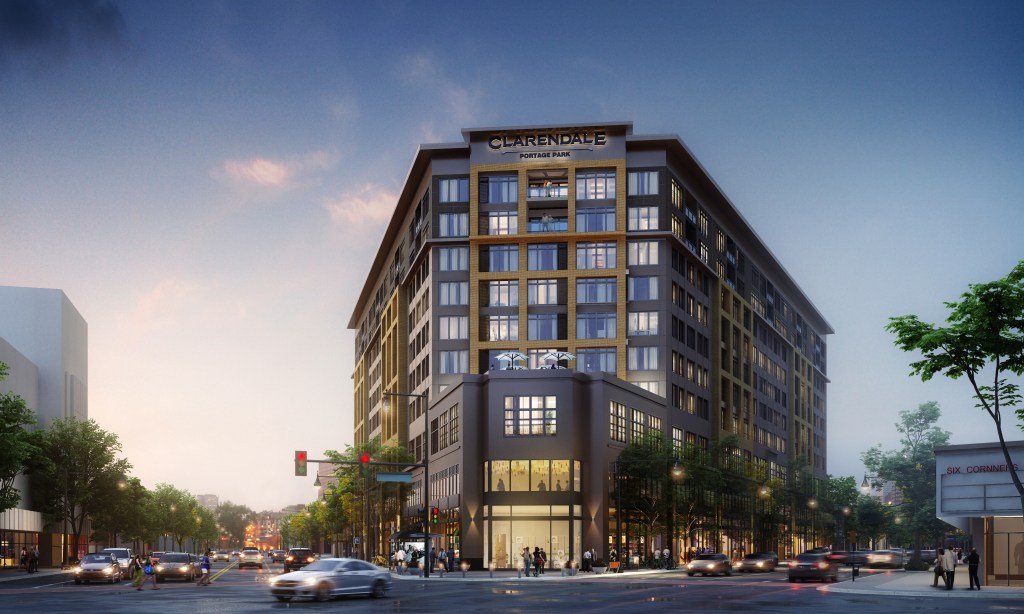 At a June 2018 meeting about the project, developers said the senior living facility would be a "cruise ship on land," with rents for independent living costing $4,400 a month, assisted living rents at $6,000 a month and memory care rent at $7,200 a month. They defended the high price as on par with other assisted living facilities in the area.
They expected to break ground as soon as this summer, but Gardiner's victory over Arena in the February primary has made the project less certain.
Gardiner has not returned multiple calls and emails requesting comment on whether or not he'll support the project moving forward, or what plans he has for the space.
Owen Brugh, chief of staff for Ald. Arena, said there could be another zoning meeting called before Gardiner is sworn in on May 20, but as of now, nothing is listed on the city's website.
"The next zoning committee meeting we heard may happen is on May 13," Brugh said. "That's what we last heard, but the chairman of the committee may change his mind."
Ald. James Cappleman (46th) is chairman of the Committee on Zoning, Landmarks and Building Standards. He said a meeting in May is possible, but not yet scheduled.
"I'm not sure myself. I'm hearing some discrepancies so I'm still trying to figure that out," Cappleman said.
Arena hinted that Aldi may be getting fed up with all the roadblocks.
"Aldi has been resilient for the past eight years and been a part every version of this project," Arena said. "I have nothing but good things to say about Aldi, but even they have their limits."
A spokesman for Aldi said "at this time, we do not have any details to disclose regarding a potential new store in Portage Park."
The Old Irving Park Association and the Six Corners Association, which manages the shopping district's special service area funds, are hoping the project gets approved soon. They said they were frustrated by what happened at the last zoning meeting.
Rich Buckwalter, co-owner of Rasenick's, a workwear shop at 3940 N. Cicero Ave, is also anti-hole.
"If someone is willing to invest the money and take the chance they can rent a place to someone for $4,500, or whatever outrageous amount they're asking, I think these guys sorta know what they're doing," Buckwalter said. "These people have built bigger buildings. We met one of the guys, one of the partners that's working on it, and he seemed smart."
Buckwalter attended last summer's meeting with the developers and, regardless of what ends up getting built there, thinks something sooner is better than letting the hole in the ground linger for another few years.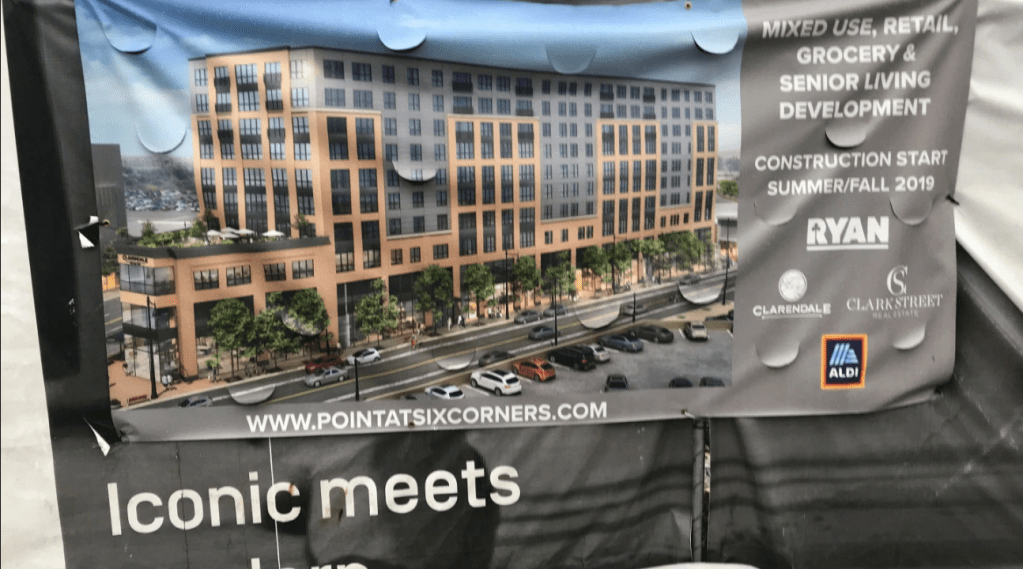 "And I don't think the people who are proposing it are stupid," Buckwalter said. "I think they got an idea they can make work. But you know, I guess you can't blame the new alderman for wanting to make sure because if something goes wrong he's the one that's going to get blamed."
At the zoning meeting last month, Gardiner said the project needed to be made more affordable for residents of Portage Park, but has since refused to speak with reporters and directed opponents of the project to do the same.
Gardiner met with Six Corners Association last Friday and posted a photo of himself with its board members and staff to his campaign Facebook page. The association supports The Point plan, but said they did not discuss the issue with the future alderman.

Kelli Wefenstette, the association's outgoing executive director, said Gardiner had been invited by the association so he could understand their mission.

"We were making ourselves available to help with the transition in any way," Wefenstette said. "The development was not discussed by his team at all. But our president, Marc Sussman, gave a history of the association and I gave an overview of our three primary programs, which are neighborhood business development, our SSA and our community outreach."

As for The Point, Gardiner ally Joe Angelastri, owner of City Newsstand, 4018 N. Cicero Ave., is glad there's a bit of a standstill.
"I think it's a good thing that it's been delayed because we'd like to see everyone sign onto it," he said.
Do stories like this matter to you? Subscribe to Block Club Chicago. Every dime we make funds reporting from Chicago's neighborhoods.