LOGAN SQUARE — As new apartment towers and condo projects dot the fast-changing landscapes of hip Northwest Side neighborhoods Logan Square, Wicker Park and Bucktown, the campaign war chests for some aldermen overseeing those wards have grown — thanks to donations from the very developers behind those projects.

While giving donations to political campaigns is legal, the practice of developers giving to alderman whose support they need to build projects in their ward is often criticized as pay-to-play politics.

That dynamic is playing out in the development-heavy 1st Ward, which includes parts of Logan Square, Humboldt Park, Wicker Park, Ukrainian Village, West Town and Noble Square.
When people talk about all of the changes in Logan Square, the first thing they point to is the 1st Ward stretch of Milwaukee Avenue. In recent years, several mid-rise and high-rise residential towers have sprouted up along the corridor, giving it a "Manhattan-style skyscraper" feel, as one resident put it.
See where developers have donated:
To people who have lived in the neighborhood longer than a few years, the Milwaukee Avenue stretch today is unrecognizable. And with more projects in the works, the corridor is on its way to becoming even more dense.
Many of the developers — and related parties like zoning lawyers and architectural firms — who sought and later got zoning approval to build those new developments and nearby projects have given to 1st Ward Ald. Joe Moreno's campaign, according to a Block Club Chicago analysis.

Enrico Plati, the developer behind the micro-apartment project at 2342-48 N. California Ave., is one of those developers.
Since 2014, Plati has donated $8,000 to Moreno's campaign. One of those donations was recorded on June 30, 2016, just eight days after city planners approved the project.
Asked why he donated, Plati said: "It's so long ago that I don't remember."
"I occasionally attend aldermen fundraisers. I attend because I think they do a good job in the ward," the developer said.
Plati said Joe Moreno isn't the only alderman who has received a check from him. A search of Illinois State Board of Elections records shows Plati has also donated to the campaigns of Ald. Brendan Reilly (42nd) and Ald. Walter Burnett Jr. (27th) in recent years. Plati has also done business in both Reilly and Burnett's wards.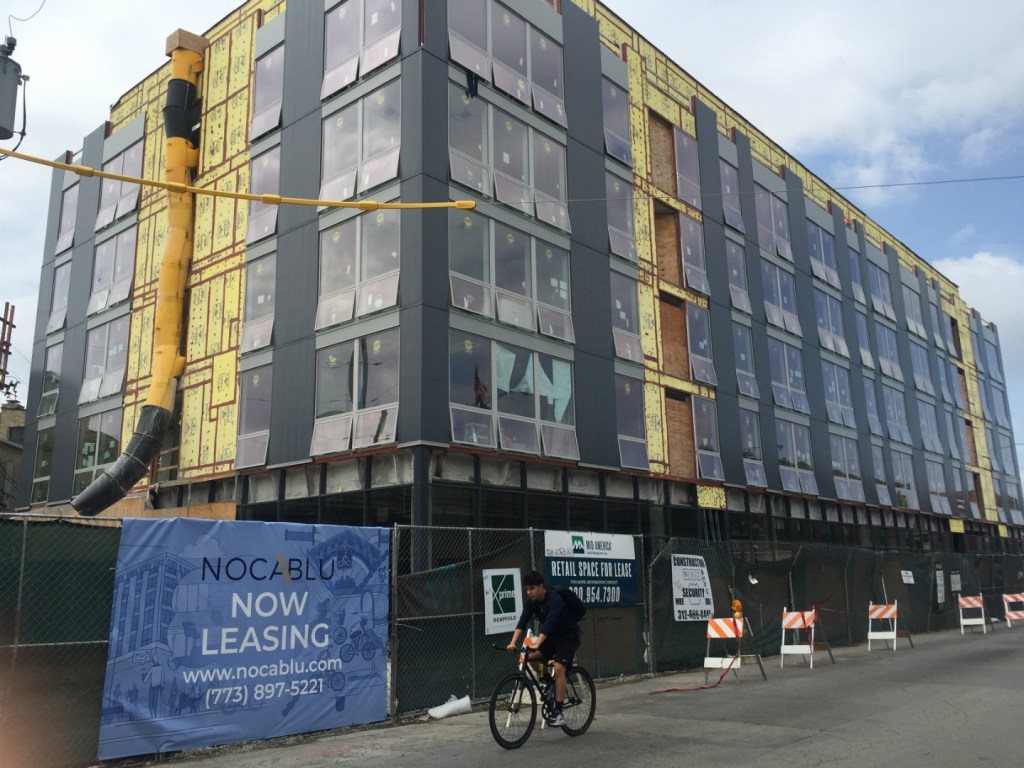 Robert Clark, CEO of Clayco, a development firm, donated $1,000 to Moreno's campaign on Dec. 23, 2016. About a year later, his 132-unit apartment building at Milwaukee and Armitage avenues got the green light from the city. Clark didn't return requests for comment.
Both projects received a fair share of opposition from neighbors. At a community meeting for the Clayco project, several neighbors voiced their disapproval. Plati's development wasn't just unpopular — it also sparked a legal battle between the longtime tenants living in the vintage building on the development site and their landlord.
Another 1st Ward developer who has donated to Moreno's campaign is Mitch Goltz of GW Properties.
Goltz donated $1,000 to Moreno's campaign on March 1, 2018. About six months later, his 109-unit luxury project along The 606 was approved by the city.
Asked why he gave to Moreno's campaign, Goltz said: "We donate to a variety of aldermanic and charitable organizations whose missions, initiatives and causes we support. Those interests are irrespective of any proposed projects or properties which we may have in wards."
The timing of the payments are tied to scheduling of community events and fundraisers, he added.
"Any contributions are a taxable writeoff for us and not tied to anything more than general support," Goltz said.

Michael Moyer, the developer restoring the Congress Theater and building a 72-unit residential project next door, has also given to Moreno's campaign ($1,000 in November 2015), as has Rob Buono ($2,500 in 2011 and 2013), the developer behind the highly controversial MiCa Towers, the largest development in Logan Square. Neither responded to messages seeking comment.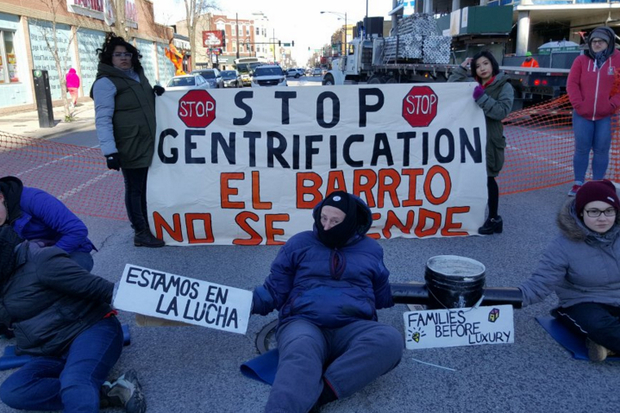 Some developers give multiple donations to aldermanic campaigns, but from different sources, i.e., using their name for an individual donation and company name for a corporate donation.

One such example is Gary Levitas, owner of Wheeling-based Northfield Group, a real estate developer which has built several new condos and single-family homes in Humboldt Park.

From 2014 to 2016, Levitas gave six donations totaling $3,750 to Moreno's campaign; those contributions were under Levitas' name. Under his company name, Northfield Group, of which he is the sole proprietor, Levitas gave Moreno's campaign two donations totaling $1,000. Levitas didn't return a message seeking comment.

Back in 2015, a trio of developers from Centrum Partners seeking to build the Wicker Connection development, located directly next to the 15-story, 140-unit tower at 1640 W. Division St., donated a combined $15,000 to Moreno two weeks before they planned to put the project in front of city planners.
At the time, one of the developers told DNAinfo, "We have been working in a very collaborative and cooperative way with the Wicker Park Committee and we expect our plan to gain their support. Our support for Moreno has not factored into those discussions in the slightest."

Moreno insists developer donations have no impact on whether developments get built in his ward.
The donations are legal provided the gift does not exceed limits set by the Illinois Board of Elections of $5,600 per year from individuals and $11,000 from a corporation.

Moreno has a community-driven zoning process, in which neighborhood groups review potential developments and host community meetings. The practice of accepting donations from developers seeking to do business in his ward would be "problematic" if he didn't work with neighborhood groups on each zoning application, Moreno said.
"If I didn't have a transparent, open community process, I could see how you could be like, 'Look, Joe, you've passed this thing, and no one in the community wanted it,''' he said.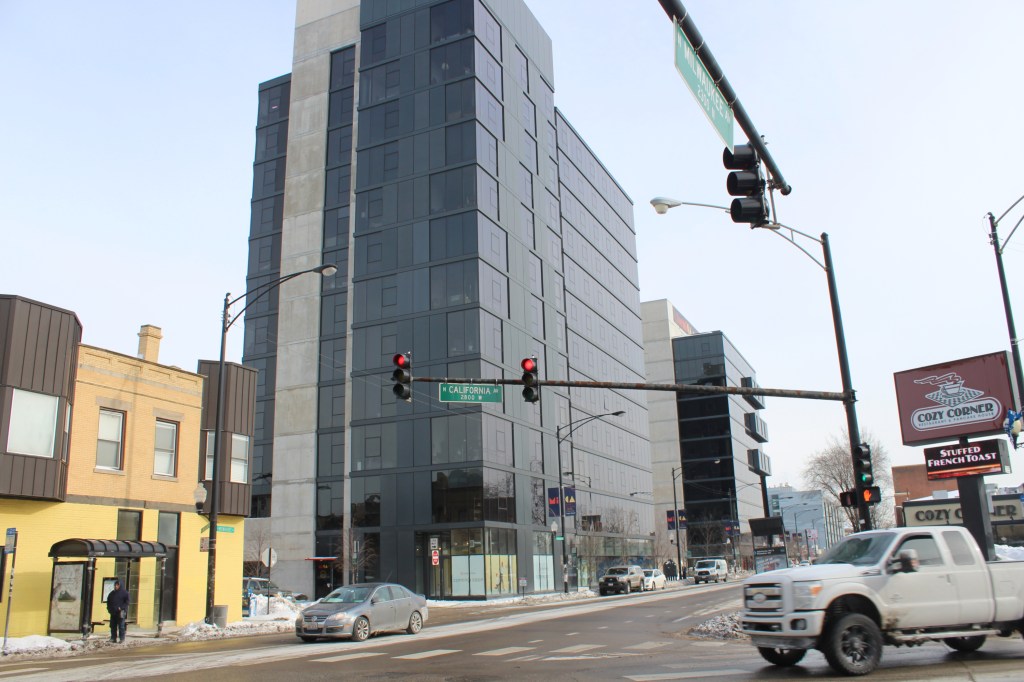 Moreno said he almost always follows the recommendations of the community, and he only overrides those recommendations when it's warranted — like when neighbors oppose affordable housing.
The process "is not perfect. There were community members upset at me about the Pennycuff Lofts — comments like, 'Why are you bringing Cabrini-Green here?' These are community voices, people who are part of the community groups," Moreno said.
The alderman was referring to the affordable housing development underway at 2031 N. Milwaukee Ave., called the Pennycuff Lofts. The project will bring 88 more apartments, all affordable, to the Milwaukee Avenue corridor.
Moreno said he puts most of his campaign cash back into the community. He uses the cash for re-election and office expenses, as well as ward services like graffiti removal and community events, according to a Block Club Chicago analysis.
Asked to explain the timing of certain donations, including one from Plati, the micro-apartment developer, Moreno said, "I have no idea. When someone files to when they actually get a change, that could be months. It could be a year."

Moreno insists he had community support for each development.
"There's not a development that's on Milwaukee [Avenue] that the local community organization didn't support. Not one. … These organizations have been around for 30 years," he said.
Moreno has rejected some zoning change requests — even in cases when the developer has donated to his campaign. Take the 16-story, 121-unit apartment tower project at 1628 W. Division St., for example.
Planned developments in Logan Square, Wicker Park and Bucktown:
Approved planned developments in Logan Square (purple), Bucktown (blue) and Wicker Park (orange) since the last municipal election in 2015. By the city's definition, planned developments are large buildings that must be negotiated with city planners. Map courtesy Steven Vance with Chicago Cityscape.
At a community meeting in mid-March of last year, Wicker Park resident Claudia Langman expressed concern over a $1,000 donation that developer Robert Mosky gave to Moreno's campaign on March 1.
The proposed 16-story tower from Mosky's firm RDM Development, on a now-empty lot behind a CVS and near the CTA Blue Line Division "L" station, would be the third-tallest building in Wicker Park.

Langman confronted Mosky about the donation at the meeting, saying, "I'd just like to point out that people [donate] and then they want to pass the project, they write a check to the fundraisers, the campaign. Isn't it the same thing, really?"

Mosky replied, "I've been here since 2004 and I have had a couple of restaurants, we have donated money to [Moreno] regularly."  
Despite getting the go-ahead from the city, the tower plans appear to be on hold for now. Moreno said he had listened to concerns from neighbors about whether Blue Line trains can handle the influx of new residents on Milwaukee Avenue and agreed to stall Mosky's project until he had clear answers from the Chicago Transit Authority. The matter has been taken off the City Council schedule.
Earlier this week, Moreno made headlines for being mentioned in a secretly recorded phone call between Victor Reyes, attorney and longtime political aide to Mayor Richard M. Daley, and embattled Ald. Danny Solis (25th).
In a federal affidavit obtained by the Sun-Times, Reyes, former chief of the now-defunct Hispanic Democratic Organization, complained to Solis that he hadn't sent business to him like Moreno, George Cardenas (12th), Ricardo Munoz (22nd) and Roberto Maldonado (26th) had.
"How about anything? How about anything, Danny?" Reyes is quoted as saying in the transcript. "How about anything. Not just the big one. How 'bout one f—ing thing … Maldonado sends me business. Moreno sends me business."
Moreno acknowledged he's received campaign cash from Reyes, but denied any quid pro quo.
"I only refer if people ask me. I don't ever say, 'You need to use this person' — ever. But people do ask. They have asked many times: 'Do you know of a zoning attorney? Do you know of an architect?' And I always say the same thing: 'I can give you a couple of names. But if you don't want to use them, that's totally up to you. And it doesn't determine anything,'" Moreno told the Sun-Times.
'Just another way of saying, We think you are a good alderman'

George Nediyakalayil is building a 99-room hotel on the site of his now-shuttered Wicker Park gas station at 1551 W. North Ave. in Ald. Brian Hopkins' 2nd Ward.

Nediyakalayil donated a total of $1,500 to Hopkins in four separate donations, three from Nediyakalayil and one from his zoning attorney, Mark Kupiec. The donations spanned from August 2015 to December 2017. The hotel won city zoning approval just two months after Nediyakalayil's last donation, in February 2017. Nediyakalayil didn't respond to requests for comment.
Brian Goldberg of LG Development donated a total of $4,500 to Hopkins' campaign. The last donation came in right around the time the city approved Goldberg's controversial 32-unit studio project at 1665 N. Milwaukee Ave. Goldberg didn't return messages seeking comment.

When asked about the timing of LG Development's donation, Hopkins said the project was fully vetted by the community.

"One of my reasons in supporting that project was a series of modifications and requests by the community, and the developer agreed to all modifications," Hopkins said.

"When you make a request for compromises and achieve them, you have to support that compromise. I thought it was appropriate to approve the design. If you look at the manner in which I vet various development projects, it's consistent. It's transparent, and with the neighborhood organization of record, I have become their advocate. I will push the developer to meet those conditions. If they get approved I do it without any attempt to correlate the decision and the development with any contributions that may have come in."

Hopkins, whose 2nd Ward includes part of Wicker Park and Bucktown, said he doesn't see a conflict in accepting donations from developers doing business in the 2nd Ward, save for one exception: Sterling Bay.

"I will not and have not accepted any contributions from Sterling Bay. I have adopted that as my new strict policy that I won't accept financial support from Sterling Bay. They are unique in that they have an incredibly large project [redevelopment of former Finkl Steel site and proposed mega-project Lincoln Yards]. We can't afford the perception of anything improper," Hopkins said.

"When it became apparent who was going to be the big developer [of former Finkl steel site and other properties along the North Branch] I made that decision early on [to not accept campaign contributions]. The amounts we are talking about [from other developers, not Sterling Bay] are a relatively small amount of money. We are talking about smaller sums in the bigger picture. Lincoln Yards is unique and we are not going to see anything on this scale for a while."

As for donations in general, Hopkins said, "I accept support in any form whether it's campaign contributions or someone voting for me. A financial contribution to me is just another way of saying, 'We think you are a good alderman.'"

Hopkins added, "I don't pour over my D-2s and pay attention to every contribution. My government staff has a strong firewall between my campaign staff."

Ald. Walter Burnett Jr., whose 27th Ward includes a small portion of West Town and Humboldt Park, rakes in more developer money than any other alderman who represents the Northwest Side. That's in large part because he also represents two booming Chicago neighborhoods — the West Loop and the Gold Coast.

Burnett said he accepts money from anyone who wants to donate to him, adding he usually centers donations around a campaign fundraiser.

"It's one of those necessary evils in order to survive as an elected official and to be re-elected," Burnett said.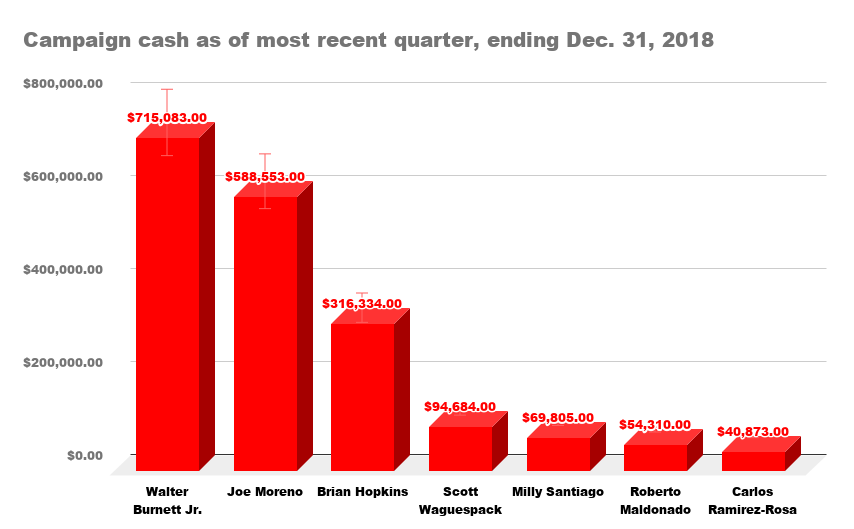 "What I do is I try to have a distance from it, through a fundraiser, and seek things out broadly, not specifically. I have a policy where I don't call people up directly. I have maybe done that three times in 20-some years and it was where you read a script and someone is next to you and you can't talk about anything not in the script. I have a fundraiser guy [Sam Smith]. He gets 10 percent of what I make. He does the invitation, he finds the venue. I try not to communicate with donors."

"People who want to donate, we accept their donations as long as it meets city ethics guidelines. If they do more, we give them the money back," Burnett added.
When asked how he handles concerns from constituents who might raise eyebrows over accepting donations from developers who also need an aldermanic blessing on a zoning matter, Burnett said, "It's not a quid pro quo."

"People [developers] know my process. They know that 1) he'll make you go to a community organization first 2) he'll make you have a community meeting and 3) he'll ask for affordable housing [in the development] and 4) he'll want the community to get jobs," Burnett said.

'We can say we were objective as possible'

In the first year or year and a half Ald. Scott Waguespack (32nd) was in office, back in 2007-2008, he said he had to give back $75,000 donated by developers seeking to do business in the 32nd Ward. He was fulfilling a campaign promise.

Giving back the donations "set the tone when it was coming in. We had a fundraiser and a check would show up and we'd say, "Who's this guy?' and then realize he is a developer and give it back," Waguespack recalled.
"If I took the developer money my accounts would be as hefty as some of the others," Waguespack said, referring to aldermen who accept developer donations during the same time frames when they are also reviewing zoning changes.

Waguespack's stance helped him garner community favor and defeat incumbent Ted Matlak in a run-off in May 2007. Rallying against Matlak's practice of taking developer donations at the same time key zoning decisions were being heard was a big part of Waguespack's platform.

"Because there is so much development around here I could make more money. I have looked at it in past and thought with the amount of development going on in the 32nd Ward there could have been hundreds of thousands but we have not taken this path. People still disagree with projects but we can say we were objective as possible and not influenced by a donation of any kind. It's a lot easier to do zoning and development" without donations from developers, he said.

He added, "These other guys, I can't speak for them, they could rack up a lot."

Like Moreno, Waguespack's campaign money fuels his re-election campaigns every four years, but it also goes back into the ward, to schools, park project, non-profit groups and rent for his campaign office.

Less development, less campaign cash from developers

The remaining three wards that cover parts of Logan Square, Wicker Park and Bucktown haven't seen as much large new development in recent years. Perhaps as a result, the aldermen overseeing those wards have considerably less campaign cash.

The strip of southern Logan Square that Ald. Roberto Maldonado (26th) represents, which includes Armitage Avenue from Pulaski Road to Kedzie Avenue, is exploding with new bars and restaurants, but not large new housing complexes.

Maldonado declined to be interviewed for this story. He was also one of the four aldermen named in the secretly recorded phone call between attorney and former political aide Victor Reyes and Ald. Danny Solis. In the call, Reyes complained that Solis hadn't steered business to him — but the four aldermen had, according to the Sun-Times.
Ald. Carlos Ramirez-Rosa's portion of Logan Square, which includes the northern stretch of Logan Square's Milwaukee Avenue corridor, isn't seeing a lot of large new development either, though the alderman did approve the construction of a new boutique hotel at the site of the old Grace's Furniture building at 2618 N. Milwaukee Ave.
Up until recently, LG Development was behind the roughly 40-room boutique hotel. On Feb. 17, 2016, LG donated $1,000 to Ramirez-Rosa's campaign. LG has since dropped out of the project, however. The new development partners — Marc Realty and Blue Star Properties — won zoning approval last month.

Ramirez-Rosa said he accepts donations from any individual or business that wants to support his re-election, but stressed those donations don't have any bearing on zoning decisions, which, in his ward, are driven by the community's wants and needs.

"If any developer is under the assumption that a campaign contribution will result in a favorable position toward a project, they are absolutely wrong and they're wasting their money and time," Ramirez-Rosa said.

"I think the most important question that an alderman faces is how they will relate to developers and how they will ensure that it's the community's best interest that is driving development in their ward."

The redevelopment of the old Marshall Field's warehouse on the westernmost end of Logan Square caused a stir in the community when it was revealed Paul Fishbein of 4K Diversey Partners and development partner John McLinden wanted to change it from a live/work apartment project to a high-density 120-unit studio project.
The project sits in Ald. Milly Santiago's 31st Ward. Despite contentious community meetings, during which many residents called on Santiago to reject the proposal, the alderman ended up approving the zoning change.

Since 2015, Santiago has received $5,000 from 4K Diversey Partners. McLinden has also donated to Santiago's campaign: $1,000 on Aug. 13, 2018. Attempts to reach both Fishbein and McLinden were unsuccessful.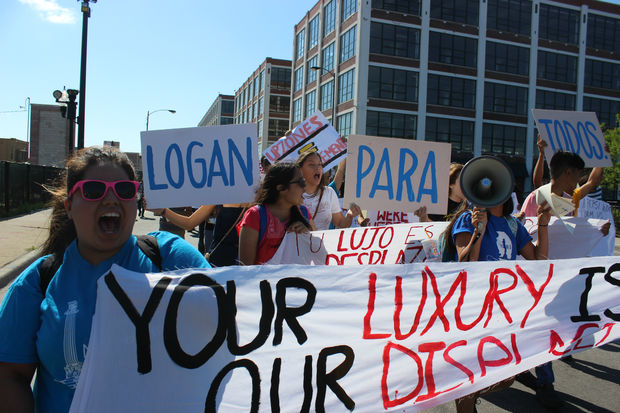 Asked whether she sees the donations as problematic, Santiago said: "If you're suggesting I got a donation in exchange for a vote, that is completely wrong. It was probably coincidental with the timing. I would not take it as an exchange."
Santiago said she approved the zoning change in large part because the developer agreed to include 13 units of affordable housing, one more than the city's Affordable Requirements Ordinance requires.

"I take great pride in that," Santiago said, adding, "Overall, I think the [community] meeting was very successful because, right there, I was able to make the developer commit to the maximum amount of affordable units."
'Don't hate the player, hate the game'

Melissa Rubio, senior community organizer with Reclaim Chicago, a grassroots organization that aims to get progressive candidates elected, said the practice of aldermen accepting donations from luxury developers seeking to do business in their ward doesn't just look bad — it hurts people who are being priced out of their neighborhoods.
In gentrifying Logan Square, that number is growing as two-, three- and four-flat rental buildings continue to disappear, demolitions mount and luxury housing proliferates.
"Our elected officials have a choice to make. They can either continue to house people in the community who have lived here for decades, who can't afford very high rents, or they can develop and make decisions that are based on the needs and wants of the developers," said Rubio, who lives in Avondale.
"They are making that decision. It is very clear from their campaign coffers and people who are getting the contracts in these neighborhoods. They're making those decisions for a reason."

But some aldermen argue it's the system that's flawed — not individual politicians.
Aldermanic prerogative, recently explored in a Shriver Center study, gives aldermen virtually unchecked control over their wards, allows housing and community development decision-making to be hindered by political influence and opposition to neighborhood racial change.
Speaking more broadly on the subject of aldermanic prerogative, Moreno quipped, "Don't hate the player, hate the game."
Reporter Alisa Hauser contributed to this report.
Do stories like this matter to you? Subscribe to Block Club Chicago. Every dime we make funds reporting from Chicago's neighborhoods.