PORTAGE PARK — With Lincoln Square's popular Giddings Plaza in mind, planners are looking to create a pedestrian-friendly plaza near the Six Corners shopping district in Portage Park.
Outgoing Ald. John Arena (45th) announced Friday that he and the Six Corners Association secured $1.05 million from the Irving/Cicero Tax Increment Financing fund to design and construct a plaza on Cuyler Avenue at Milwaukee.
"The idea has certainly been bouncing around for quite a while. We looked at how Giddings Plaza has been used in Lincoln Square and it's a tremendous public gathering space," said Owen Brugh, Arena's chief of staff.
The current rendering is a placeholder from the Six Corners Master Plan from 2013. That plan called for public spaces that could serve as "outdoor gathering spots [to] help create a sense of place and encourage more people to come to Six Corners."
"It takes time to develop this kind of project, and the TIF is expiring in 2020. So we wanted to make sure the process was up and running to bring this tremendous amenity to the shopping district there," Brugh said.
Preliminary plans show the plaza on Cuyler just west of Milwaukee. Cuyler is a one-way street there headed west, but part of the plan is to study making Cuyler a two-way street.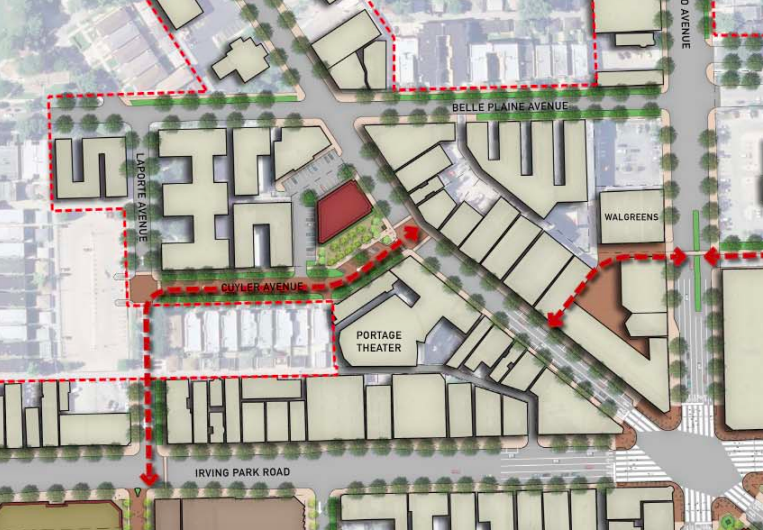 Additionally, Arena's office and Six Corners Association are working with the Chicago Dept. of Transportation to see if converting the nearby 4000 block of North LaPorte Avenue into a two-way street would improve traffic flow.
"We will meet this summer with the public to get more input on the plan, but a date has not been finalized yet," said Kelli Wefenstette, association executive director. "We're still awaiting the official go-ahead from CDOT. Once we have that, we can proceed with that public meeting to get more feedback."
CDOT is in the process of requesting bids from their engineering contractor pool.
Once a contract is awarded and approved by the Department of Procurement Services, there will be plenty of opportunity for community engagement to inform the final design, according to Arena's office.
"This public space we set aside TIF funds for kind of creates a nice bookend to the other public space that's being created at The Point at Six Corners, which fits together very nicely," Brugh said.
On Thursday, the Chicago Plan Commission voted unanimously to send The Point — a $125 million project to build a 248-unit senior living facility in a former Bank of America branch — to the City Council's Zoning Committee, which could consider the proposal Wednesday.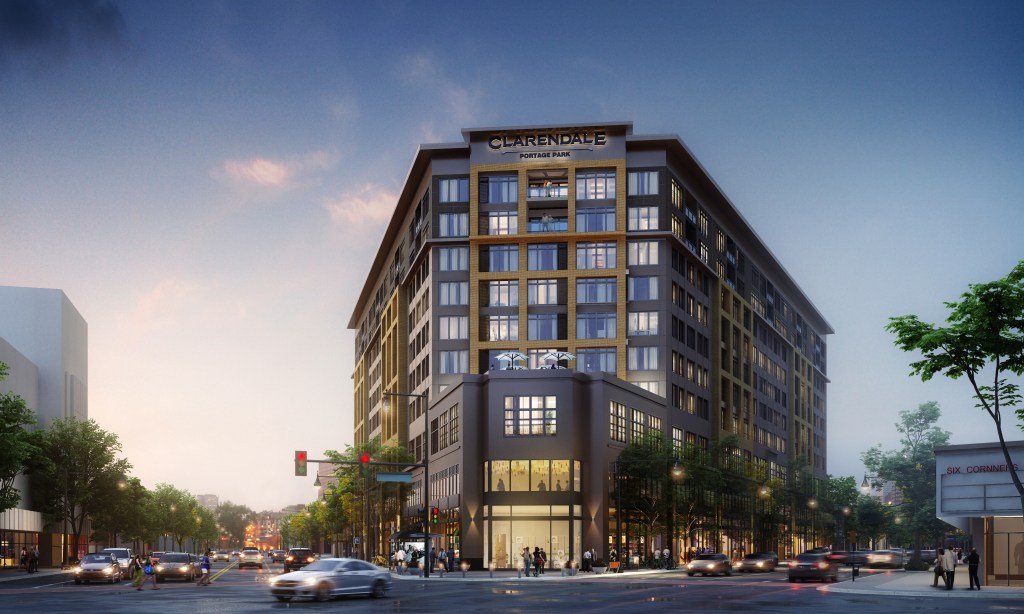 Do stories like this matter to you? Subscribe to Block Club Chicago. Every dime we make funds reporting from Chicago's neighborhoods.